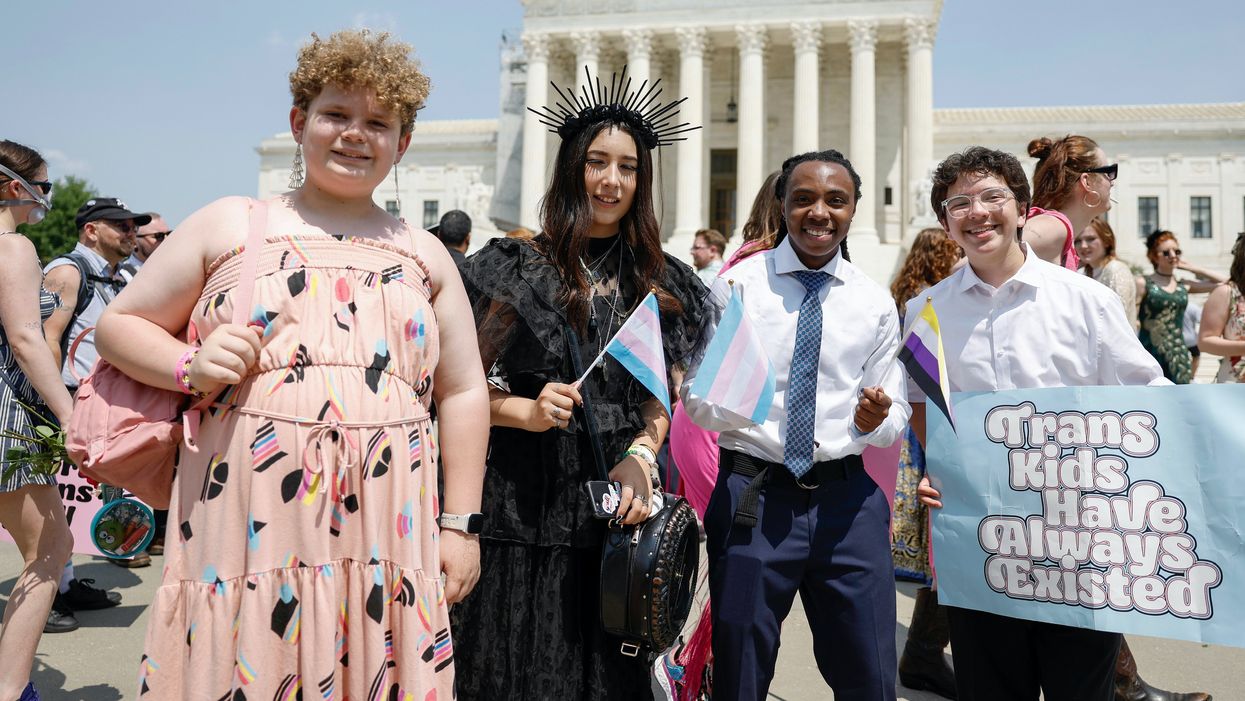 "Today we said enough is enough of the anti-trans rhetoric and laws," said event co-organizer and ACLU attorney Chase Strangio.
Amid relentlessly rising attacks on the rights and even the very existence of transgender people in the United States, a group of trans students and their supporters on Monday held a prom on the National Mall within sight of the U.S. Capitol.
Around 150 youth from 16 states—along with parents, friends, and other allies—attended the first-ever Trans Prom, according toVice.
As Timereports, the event was organized by activists including students Libby Gonzales, age 13; Daniel Trujillo, 15; Grayson McFerrin, 12 ; and Hobbes Chukumba, 16.
"The Trans Prom is meant to emphasize the pride and joy and happiness that is within the trans community that cannot be broken," Chukumba, who's from New Jersey, told Time. "We're trying to show that trans people can and will continue to be brilliant and great. And really, it's meant to be a space that lets trans kids be kids."
\u201cYeah just hanging out at #transprom in a sea of new friends celebrating #transjoy. I love my job!\u201d

— Kierra Johnson (@Kierra Johnson) 1684779367
The teens worked with co-organizers including Chase Strangio, the deputy director for transgender justice with the ACLU's LGBT & HIV Project, whom some attendees called their "trans-fairy godfather."
"These young people are here with the families and trans adults who love and care for them," Strangio was quoted by Democracy Now! "Today we are choosing to build on the legacies of our transcestors, embracing the possibilities of our futures, and refocusing our collective imagination on the freedom, beauty, and joy that we represent."

"Our joy is ours. You may not see it. You may not think it exists. You may try to take it away. But it is ours," he added. "And today, and every day, we celebrate, cultivate, and embrace it."
\u201cToday we said enough is enough of the anti-trans rhetoric and laws. We showed UP at the Capitol for #TransProm. Our joy is OURS.\u201d

— Chase Strangio (@Chase Strangio) 1684795323
Guests on Monday entered the prom through a "tunnel of love" replete with the colors of the trans flag before being treated to live music, a drag performance by MC Stormie Daie, and decor inspired by the trans-led 1969 Stonewall revolt that catalyzed the nascent LGBTQ+ rights struggle in the United States and beyond.

Trujillo—who is from Arizona and says he's been an activist since age 9—toldVice that "Trans Prom is a big statement of what schools and public life would be like if trans people were celebrated and protected."
The organizers enjoyed the support of their parents. Stephen Chukumba, Hobbes' father, told Vice that he's trying to empower his son "to understand what's happening and to not feel defeated or not feel afraid."
"Because at the end of the day, the reality is that there have been marginalized people fighting for equality since the inception of this country," he added. "That's just a fact. And so those communities that have achieved any level of equality have done so by fighting tooth-and-nail."
\u201cThe \u2728\u2728vibes\u2728\u2728 at #TransProm at the U.S. Capitol.\n\nWhile state legislatures attack trans rights, young people celebrate being true to yourself.\u201d

— Working Families Party \ud83d\udc3a (@Working Families Party \ud83d\udc3a) 1684769970
Lizette Trujillo, Daniel's mother, told Vice that "in a moment where they're trying to strip you of all of your rights and access to care and being able to participate in school sports like your peers, or being able to use your pronouns in the classroom, like it's transgressive to say, 'I'm going to be joyous regardless and I'm going to exist whether you want me to or not.'"

The idea for the prom was born when Daniel Trujillo and Gonzales—who met on a camping trip in 2019—were discussing their angst over the nearly 500 anti-LGBTQ+ bills that Republicans have introduced in state legislatures so far this year.

"Having to sit through testimonies for people who are saying that I'm mentally ill, it's really hurtful and frustrating," Trujillo told Time. "My GPA dropped from going [to the state capitol] consistently, and it threw all of us into a really stressful space because my parents had to keep working [and then] drop what they were doing to drive to Phoenix."
According to a January survey by the Trevor Project, which focuses on preventing LGBTQ+ youth suicides, 86% of transgender and nonbinary youth said their mental health has been harmed by Republicans' anti-trans legislation and rhetoric.
"Even though I'm not directly struggling, I still feel overwhelmed by it every now and again," Hobbes Chukumba told Vice. "I feel the pain and the struggle that the rest have to go through, because that's what it means to be part of a community. It means [having] that connection."
News