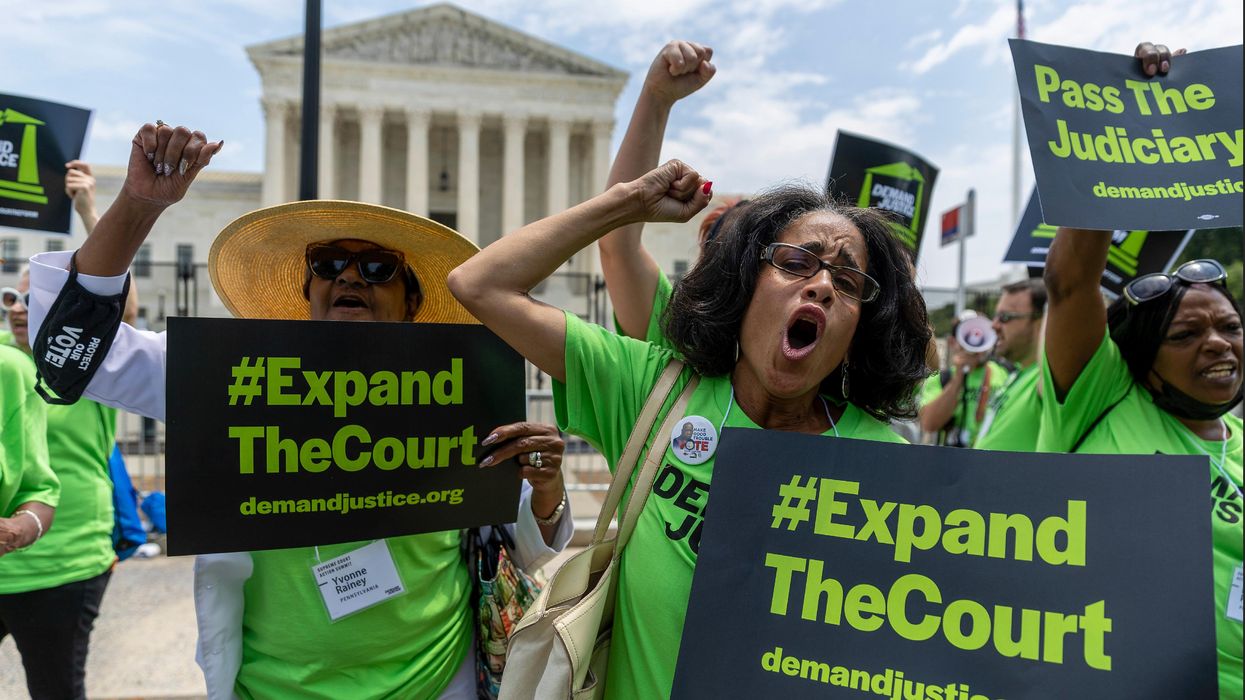 The belief that Supreme Court justices "should not be held accountable or even disclose lavish gifts from wealthy benefactors is an affront to the nation they were chosen to serve," said one lawmaker.
As the U.S. Senate Judiciary Committee prepared to mark up legislation aimed at reining in the Supreme Court, on which the nation's nine top justices are not required to abide by a code of ethics, a new survey released Wednesday suggested that supporting such a proposal would help rather than harm a political candidate.
In a poll commissioned by court reform group Demand Justice, YouGov found that 59% of Americans are less likely to support a congressional candidate who opposes ethics reform at the Supreme Court.
More than three months after ProPublicafirst reported on previously undisclosed gifts right-wing Justice Clarence Thomas received from GOP megadonor Harlan Crow—a revelation that was followed by other news of alleged ethical breaches by Justices Neil Gorsuch, Samuel Alito, Amy Coney Barrett, and John Roberts—the new poll found that a candidate who opposes requiring the Supreme Court to follow a binding code of ethics would have the support of just 23% of respondents.
The poll was released as Senate Republicans signaled that they won't support the Supreme Court Ethics, Recusal, and Transparency (SCERT) Act, which was introduced by Sen. Sheldon Whitehouse (D-R.I.).

Sen. John Cornyn (R-Texas) told The New York Times this week that the Supreme Court is "accustomed to dealing with these issues on their own."

Despite Republican opposition, said Demand Justice, Democrats' case will only be bolstered by proceeding with the bill markup and forcing the GOP to vote on the SCERT Act.

"Defending blatant corruption is always a losing proposition in politics, and Republicans have backed themselves into a corner by opposing ethics reform in order to give cover to the likes of Clarence Thomas," said Brian Fallon, executive director of Demand Justice. "Senate Democrats should feel confident in bringing this bill to the floor of the full Senate even if it may lack the votes. Passing the bill would obviously be ideal, but short of that, exposing the Republicans on this issue is a surefire political winner for Democrats."
In addition to requiring the justices to follow a binding code of conduct—as other federal judges do—the SCERT Act would create a system for investigating alleged ethics violations; improve disclosure and transparency rules when a justice has connection to a party that has business before the court, including those that file amicus briefs; and require justices to publicly explain their decisions regarding recusal from certain cases.
Despite several of the court's right-wing justices having accepted financial gifts from and completed real estate transactions with conservative groups and operatives with business before the Supreme Court, they have not recused themselves from the cases in question.
The court's recent overturning of "longstanding decisions" including Roe v. Wade is "especially alarming in light of the reported conflicts of interest and failures to disclose financial transactions as required by law," said Marc Egan, director of government relations for the National Education Association, in a letter to the judiciary committee regarding the markup.

"This behavior is unethical, unacceptable, and undermines the promise engraved above the entrance to the Supreme Court: Equal justice under law," wrote Egan. "As the Code of Conduct for United States judges, which applies to lower federal court judges, states, 'A judge must avoid all impropriety and appearance of impropriety.'"

Sens. Dick Durbin (D-Ill.), who chairs the Senate Judiciary Committee, joined Whitehouse last week in announcing the bill markup planned for Thursday, rejecting Republican claims that court reform is a "radical or partisan notion."
"Whether you agree or disagree with the most recent historic decisions by the Supreme Court, we hope we can all agree on one thing—these nine justices have extraordinary powers under our constitution," said Durbin and Whitehouse. "The belief that they should not be held accountable or even disclose lavish gifts from wealthy benefactors is an affront to the nation they were chosen to serve."
"Since the court won't act," they added, "Congress will."
Demand Justice's poll was released as a separate survey by Data for Progress found that 62% of Americans believe the court is increasingly corrupted and has a legitimacy crisis, including large majorities or Democrats and Independents and more than 40% of Republicans.
"Senate Democrats are right to advance Supreme Court ethics legislation because Americans overwhelmingly view this court as corrupt and facing a legitimacy crisis," said Adam Green, co-founder of the Progressive Change Institute, which joined Data for Progress in conducting the poll. "Clarence Thomas and Samuel Alito took money from billionaires and then did their bidding—trampling on the freedoms of women, workers, and all Americans. We hope Republican leaders join Democrats in supporting Supreme Court ethics."
News