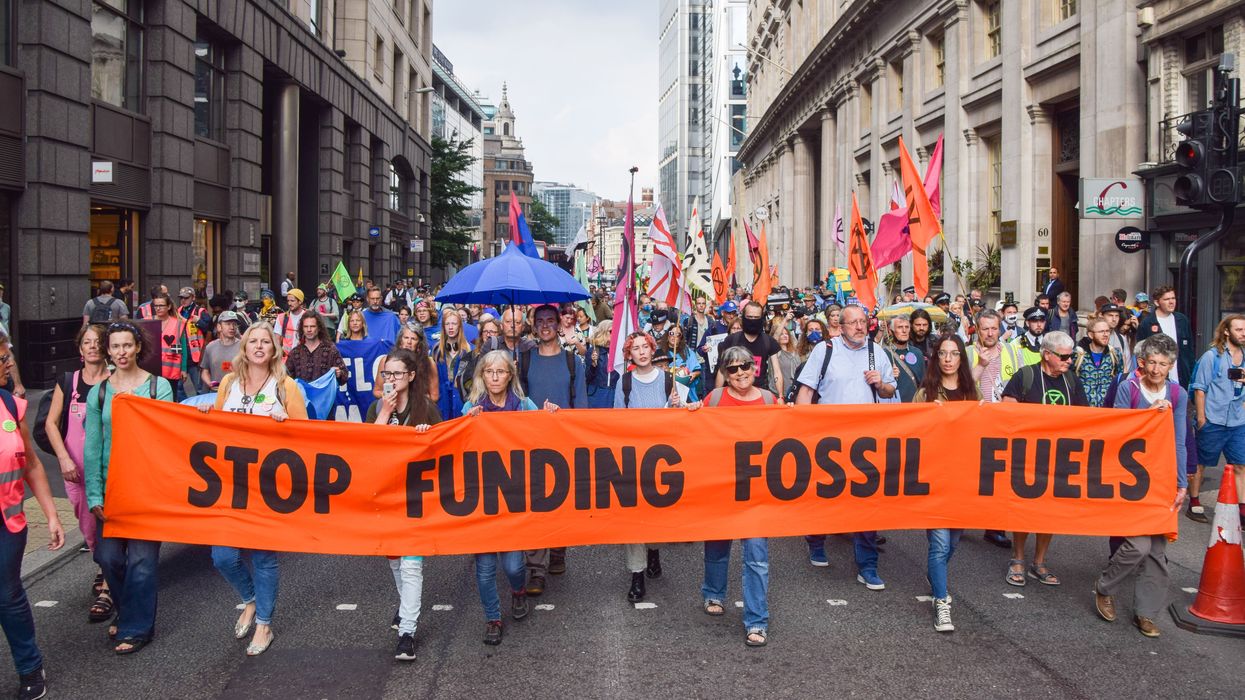 Such public funding, according to more than 175 civil society groups, is "helping prop up fossil fuel projects and infrastructure which would otherwise be too risky for the private sector to finance alone."
More than 175 civil society groups spanning 45 countries urged the Organization for Economic Cooperation and Development—an alliance of mostly rich nations—to end export financing for oil and gas, warning in a joint statement Monday that failure to do so would compromise global efforts to keep "a livable future within reach."

With OECD members set to convene next week in Paris to discuss climate finance and emissions targets, the civil society coalition implored negotiators to take concrete steps toward cutting off public oil and gas financing that flows through Export Credit Agencies (ECAs), institutions that the OECD oversees.
"Continued government support for long-term fossil energy development is as reprehensible as short-term fossil energy company windfall profits on the back of energy poverty," Sandrine Dixson-Declève, co-president of the Club of Rome, said Monday. "In both cases, it is the world's vulnerable communities that will continue to suffer the most."
According to the climate coalition—which also includes Oil Change International, 350 Africa, and Global Witness—ECAs "play a catalytic role in shaping our global energy systems" by helping "domestic companies limit the risk of selling goods and services in overseas markets, by providing loans, loan guarantees, and insurance."
"This finance is government-backed, and often concessional, helping prop up fossil fuel projects and infrastructure which would otherwise be too risky for the private sector to finance alone," the groups said, noting between 2019 and 2021, ECAs in wealthy G20 countries such as the United States, the United Kingdom, and Canada backed "at least $34 billion per year worth of transactions for fossil fuels, over 90% of which were for oil and gas, while providing only $4.7 billion for clean energy."
In a joint proposal released Monday, the groups detail several specific steps OECD members can take to help bring export financing into alignment with the Paris climate accord's imperiled 1.5°C warming target. The steps include imposing restrictions that:
Target upstream (exploration, drilling, and extraction), midstream (storage, processing, and transportation) and downstream (oil or gas-fired power) oil and gas finance, ensuring no new fossil fuel infrastructure support using official export credits;
Prohibit export credit financing for all associated oil and gas infrastructure; and
In case of any reference to "unabated" fossil fuels, clearly define the term to avoid misuse or continued support for the entire oil and gas supply chain and power generation.
The term "unabated" has been deployed repeatedly in international climate agreements in what advocacy groups have called an attempt to evade demands for a total phase-out of fossil fuel extraction and an end to all new oil and gas projects—which scientists say is necessary to keep critical emission-reduction goals alive.
In late 2021, more than 30 countries including the U.S., the U.K., and other OECD members pledged to "end new direct public support for the international unabated fossil fuel energy sector within one year of signing this statement"—but the lack of follow-up action from signatories has raised concerns among progressive lawmakers and advocacy groups.
To the dismay of climate campaigners, the Biden administration has continued bolstering oil and gas exports by helping fossil fuel companies secure long-term contracts with overseas clients, potentially locking in more planet-warming emissions for decades to come.
According to a recent report from Friends of the Earth and Oil Change International, the U.S Export-Import Bank—a major ECA—provided $51.6 billion in funding for oil and gas projects between 2010 and 2021, and there's little indication that the Biden administration is moving to halt such financing in line with the Glasgow commitment.
"The world is waiting for the U.S. to fulfill its pledges as a leader on climate, particularly through the U.S. Export-Import Bank," Kate DeAngelis of Friends of the Earth U.S. said in a statement Monday. "Biden cannot promote a renewable energy transition at home while bankrolling fossil fuels abroad. It's time to take our global responsibility seriously and fund an equitable, renewable energy future."
Brighton Aryampa of Youth for Green Communities Uganda added that "governments all over the world should and must stop funding fossil fuels at home and abroad."
"They have power to stop banks that are financing these dirty projects, such as the dangerous [East African Crude Oil Pipeline Project] in Uganda and Tanzania," said Aryampa. "The banks together with oil companies should look at supporting Uganda, Tanzania, and Africa at large to be leaders of the 21st-century transition to clean renewable energy while promoting green economic activities if they want to invest in Africa."
News