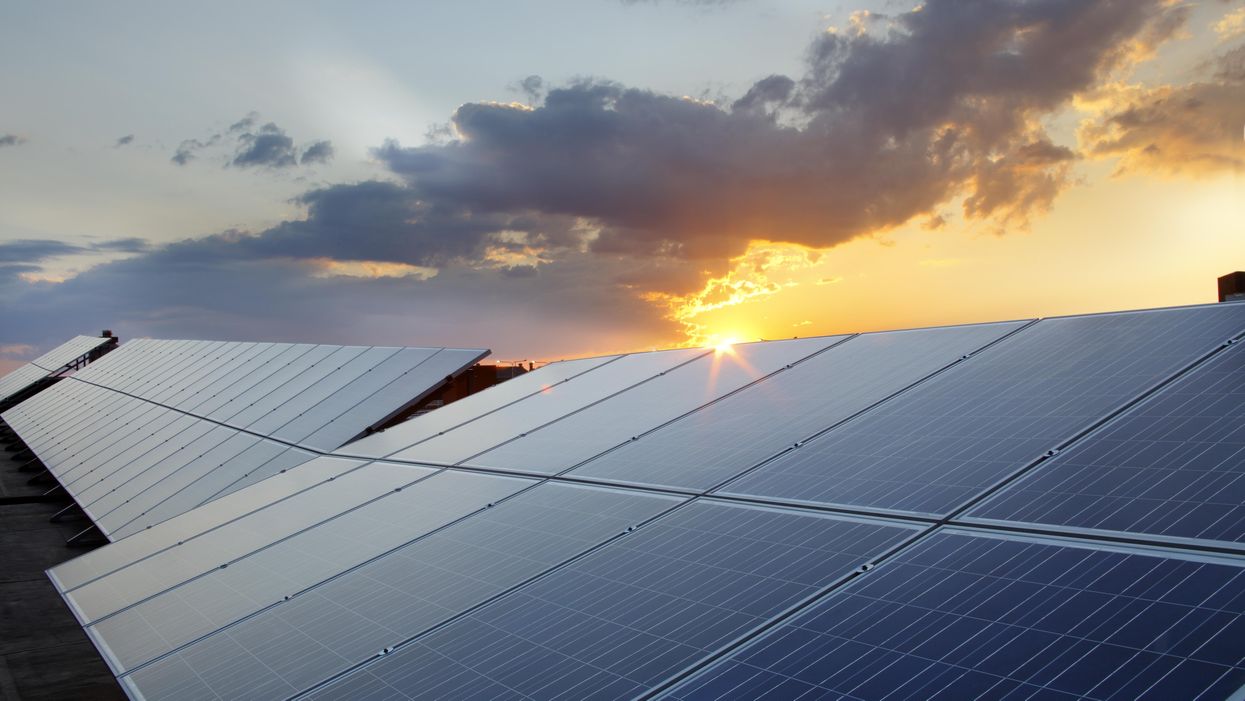 "This new report not only shows that President Biden's climate goals for the power sector are achievable—but it is among the first to lay out how we can actually get there," said one advocate.
A pair of green groups on Monday released a report detailing how U.S. President Joe Biden can work toward his goal of 100% clean electricity nationwide by 2035.
The roadmap from Evergreen Action and the Natural Resources Defense Council (NRDC) comes after Biden last year signed into law the Inflation Reduction Act (IRA) following a bitter battle in Congress. While elements of the legislation alarmed climate campaigners, they welcomed that it contained about $370 billion in climate and energy investments.
"This new report not only shows that President Biden's climate goals for the power sector are achievable—but it is among the first to lay out how we can actually get there," said NRDC president and CEO Manish Bapna in a statement.
"There is no time for half-measures or delay."
"We don't need magic bullets or new technologies," Bapna stressed. "We already have the tools—and now we have a roadmap. If the Biden administration, Congress, and state leaders follow it, we will build the better future we all deserve. There is no time for half-measures or delay."
While the Inflation Reduction Act is a positive step, new modeling in the report shows that "the U.S. must take further action to meet its clean energy goals this decade," the publication states. "The IRA's investments are projected to increase carbon-free electricity in the U.S. from approximately 40% in 2022 to 66% clean power by 2030. This falls short of the 80% target that's consistent with the path to 100% clean electricity by 2035."
The legislation "is also estimated to help cut economy-wide greenhouse gas (GHG) pollution to 40% below 2005 levels by 2030—an important step, but short of America's 50-52% commitment under the Paris agreement," the report adds.
To deliver on Biden's climate pledges, the report urges U.S. policymakers to:
Set ambitious carbon pollution standards for new and existing power plants under the Clean Air Act, through the Environmental Protection Agency (EPA), and set EPA pollution standards that reduce traditional air and water pollutants and improve public health;
Expand transmission capacity, speed up interconnections, and create market parity for clean energy at the Federal Energy Regulatory Commission (FERC);
Implement the Inflation Reduction Act effectively, with timely federal guidance on the IRA's tax credits and grant programs and the distribution of funds in a way that maximizes carbon reductions and equitable economic opportunity; and
Advance climate action at the state level, including through accelerated 100% clean electricity and pollution standards that align with 80% clean power by 2030 and heightened oversight of polluting utilities.
"The IRA was a pivotal moment for climate action in the United States, but it is not mission accomplished for the Biden climate agenda," said Evergreen Action power sector policy lead Charles Harper. "President Biden committed to the most ambitious set of climate goals in American history—including getting us to 100% clean power by 2035 and slashing 2005 climate pollution levels in half by 2030."
"Important progress has been made, but President Biden must take bold action this year in order to deliver on those commitments," Harper continued. "By ramping up its work to transition the U.S. economy toward 100% clean energy, the Biden administration and state leaders can reduce toxic pollution, cut energy costs, create good jobs, and advance environmental justice. Let's get to work."
\u201cSounds like a plan!\nhttps://t.co/xntJf0KeDt\u201d

— Sunrise Movement \ud83c\udf05 (@Sunrise Movement \ud83c\udf05) 1674504864
Although further progress could be hampered by Republicans controlling the U.S. House of Representatives, advocates are emphasizing the importance of the president and other supporters of climate action not wasting the remainder of his first term.
Evergreen co-founder and senior adviser Sam Ricketts, who co-authored the report, toldThe Washington Post that "it's really incumbent upon the administration to use these next two years to make important progress on cleaning up the power sector."
Ricketts plans to join Bapna, Sen. Tina Smith (D-Minn.), the NRDC's Lissa Lynch, and University of California, Santa Barbara professor Leah Stokes for a Tuesday afternoon presentation of the new report.
News