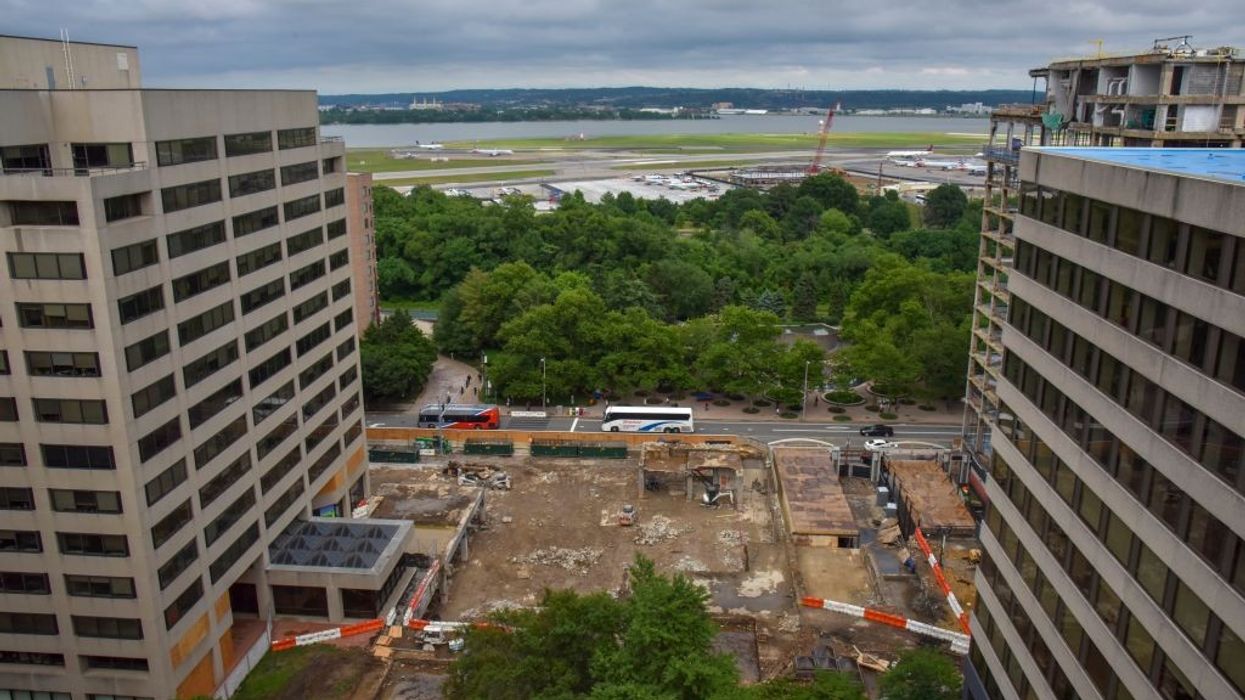 The Democrat said those who opposed the company's project in Queens protected New Yorkers "from a scam deal to drain public dollars from schools and infrastructure in exchange for empty promises" of jobs.
After Amazon on Friday confirmed plans to pause construction on its second headquarters near Washington, D.C., Congresswoman Alexandria Ocasio-Cortez expressed vindication over her 2018 opposition to the tech giant's initial plan to build part of HQ2 in New York City.
Following political leaders across the country engaging in what critics called "corporate bribery," offering Amazon tax breaks and other incentives to build in their communities, the company chose to split the project between Arlington, Virginia, and the Long Island City neighborhood of Queens. However, Amazon halted plans for the NYC campus in response to local backlash.
Among the opponents was Ocasio-Cortez (D-N.Y.), who said in a series of tweets Friday, "In the end, we were right."
\u201cI know I\u2019ll never get an apology for that time, but it was worth it.\n\nWe protected NYers from a scam deal to drain public dollars from schools & infrastructure in exchange for empty promises of \u201cAmazon jobs\u201d w/ 0 guarantees or guardrails. Sadly, cities who took it are suffering.\u201d

— Alexandria Ocasio-Cortez (@Alexandria Ocasio-Cortez) 1677864163
Slate politics writer Alexander Sammon on Friday expressed hope that Ocasio-Cortez, New York State Senate Deputy Leader Michael Gianaris (D-12), "and the small handful of Democratic politicians who had enough courage to stick their necks out and oppose this bullshit in 2018 take a nice, long victory lap today."
"This was not at all a safe position when they took it," Sammon said. "And it was thankless one—as is often the case, the consequences for the marks and corporate bootlickers who embraced [former CEO Jeff] Bezos and Amazon will be nonexistent."
In response to reporting by Bloomberg, which broke Friday's news, Gianaris tweeted that "maybe a multibillion-dollar subsidy for the biggest corporation in the world to build an office was a really bad idea after all."
Gianaris added in a statement that "Amazon's announcement shows once again that paying off a historically wealthy corporation with massive subsidies to make a single office siting decision is bad policy. It also demands we take a different approach to the use of public dollars that does not rely on providing scarce resources to those who actually need them least while continuing to shortchange the services that would actually help people's lives improve."

\u201camazon wanted $3.5 billion in benefits from NY to build this thing they've stopped building\n\n@AOC was right \ud83d\udc85\u201d

— Max Kennerly (@Max Kennerly) 1677859517
Amazon has nearly finished phase one of HQ2 construction, a pair of office towers, and plans to move employees into that development, Metropolitan Park, in June. However, phase two—PenPlace, set to be built across the street with three towers, a corporate conference center, and other features such as a garden—is now on hold indefinitely.
"We're always evaluating space plans to make sure they fit our business needs and to create a great experience for employees," John Schoettler, who leads Amazon's global real estate portfolio, told Bloomberg. "And since Met Park will have space to accommodate more than 14,000 employees, we've decided to shift the groundbreaking of PenPlace out a bit."
The move comes amid Amazon's biggest-ever wave of job cuts, impacting 18,000 people globally, and after CEO Andy Jassy last month announced the company would require most employees to return to the office at least three days per week come May.

"Our second headquarters has always been a multiyear project, and we remain committed to Arlington, Virginia, and the greater capital region—which includes investing in affordable housing, funding computer science education in schools across the region, and supporting dozens of local nonprofits," Schoettler added. "We appreciate the support of all our partners and neighbors, and look forward to continuing to work together in the years ahead."
Congressman Don Beyer (D-Va.) on Friday said that Amazon staff made similar assurances to him directly. He urged the Seattle-based company to "promptly update leaders and stakeholders about any new major changes in this project, which remains very important to the capital region."
News