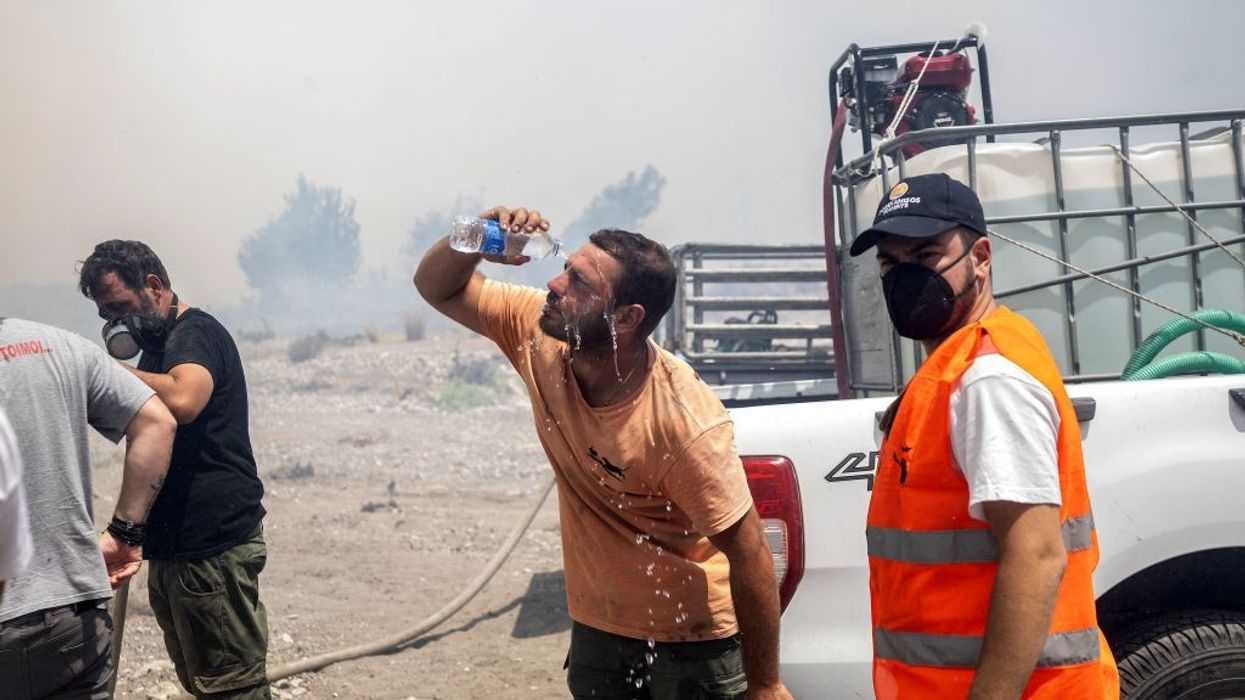 If rapid action isn't taken, "It could well be that this is what will be a cool summer in the future," one scientist said.
The climate crisis—driven by the burning of fossil fuels—has significantly increased the likelihood of the dangerous heatwaves that baked three different continents this July.

Without climate change, the heatwave that broke records in China would have been a one-in-250 year event and the temperatures measured in Mexico and the U.S. and in Southern Europe would have been "virtually impossible," World Weather Attribution (WWA) concluded in a report released Tuesday.
"Unless the world rapidly stops burning fossil fuels, these events will become even more common and the world will experience heatwaves that are even hotter and longer-lasting," the report authors warned.
"The world hasn't stopped burning fossil fuels, the climate continues to warm and heatwaves continue to become more extreme. It is that simple."
The study authors looked at three regional periods of high heat this month:
The U.S. Southwest and Mexico from July 1-18.
Southern Europe from July 12-18.
China from July 5-18.
During this period, Death Valley, California, recorded a temperature of 53.3°C, as Carbon Brief reported, and Phoenix, Arizona, sweltered through at least 110°F highs for a record 20 days in a row.
Southern Europe, meanwhile, endured the back-to-back Cerberus and Charon heatwaves that brought temperatures above 40°C to areas in Spain, Greence, Bosnia, France, and Italy, where Rome broke its high temperature record to reach 41.8°C July 18.
Two days earlier, China recorded its highest temperature ever at 52.2°C in the township of Sanbao. Beijing also broke its record for the number of days above 35°C in a year, with July 18 marking the 27th.
All of this heat took a toll on human health, with several deaths reported in the U.S. and more than 200 in Mexico, WWA said. Heat also killed people in China, Italy, Greece, Cyprus, Spain, and Algeria and sent many more to the hospital.
And the cause of all this is clear, according to the scientists of the WWA initiative. They used peer-reviewed methods to assess how global heating from the burning of oil, gas, and coal influenced the chance and severity of these extremes. They found that the heatwave in China was made at least 50 times more likely by the postindustrial temperature rise and that the others were made at least 1,000 times more likely but most probably would not have occurred at all.
What's more, without climate change, all three heatwaves would have been significantly less hot: The climate crisis made the European heatwave 2.5°C warmer in Southern Europe, the North American heatwave 2°C warmer, and the Chinese heatwave around 1°C warmer.
While an ongoing El Niño event likely nudged temperatures up slightly in some regions, it was not the primary driver of the heat. In fact, it's "very small compared to the effect of climate change," one study author said at a press conference reported by Carbon Brief.
"The result of this attribution study is not surprising. The world hasn't stopped burning fossil fuels, the climate continues to warm and heatwaves continue to become more extreme. It is that simple," Friederike Otto, a study coauthor and senior lecturer in climate science at the Grantham Institute for Climate Change and the Environment at Imperial College London, said in a statement reported by CNN.
The research team emphasized the need to act, both to reduce greenhouse gas emissions and to protect people from more frequent heat extremes.
"Such heatwaves are no longer rare and the most important thing is, these extremes kill people, particularly destroying the lives and livelihoods of the most vulnerable," Otto said, according to The Guardian.
In the short term, adaptations can include heat action plans and early warning systems, while longer-term strategies include changes to urban planning to cool cities or efforts to make the electric grid more resilient, Julie Arrighi from the Red Cross Red Crescent Climate Center said at the press conference, as Carbon Brief reported.
"Extreme heat is deadly and rapidly on the rise," she said, according to The Guardian.
But it's also essential to stop emitting greenhouse gasses. Otto endorsed the call for an agreement to phase out fossil fuels at the upcoming COP28 UN climate conference in the United Arab Emirates. The summit has already faced controversy due to the appointment of Sultan al-Jaber—also the CEO of the UAE's state oil company—to preside over it.
If such rapid action isn't taken, "It could well be that this is what will be a cool summer in the future," Otto said, as CNN reported.
The study authors found that heatwaves as extreme as this summer's could occur every two to five years if temperatures are allowed to rise to 2°C above pre-industrial levels.
"We still have time to secure a safe and healthy future," Otto said, as The Guardian reported. "If we do not, tens of thousands of people will keep dying from heat-related causes each year."
News