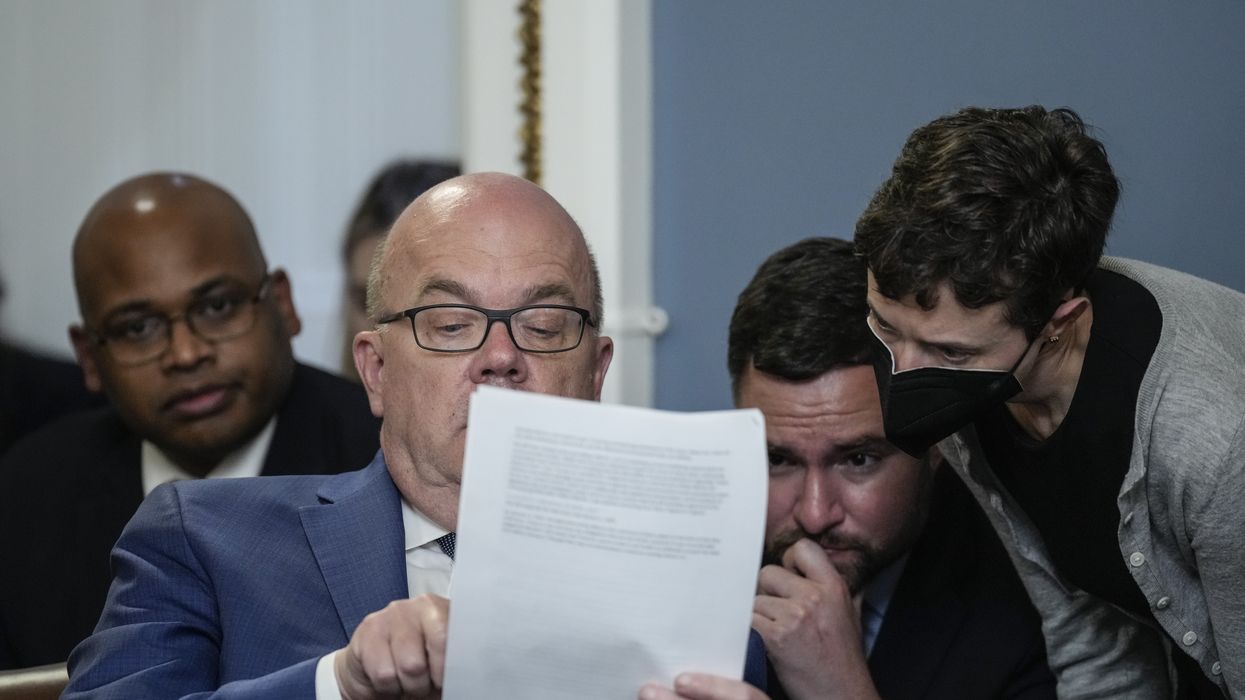 "I didn't come to Congress to hurt people," said Rep. Jim McGovern. "And when I listen to my Republican friends, what is clear to me is that we don't share the same values."
Rep. Jim McGovern, a leading anti-hunger lawmaker in the House, expressed anger Tuesday that the debt ceiling legislation negotiated by Republicans and the Biden administration targets food benefits for older adults while doing nothing to raise taxes on the wealthy or rein in military spending.
During a House Rules Committee hearing on the bill, McGovern (D-Mass.)—the panel's top Democrat—slammed his Republican colleagues for claiming to care about the deficit but refusing to look to the Department of Defense, a paragon of wasteful spending and fraud, for savings. The White House and Republicans ultimately agreed to increase military spending for the coming fiscal year.
Meanwhile, Republicans rejected White House proposals to close tax loopholes exploited by the rich.

Instead, McGovern said Tuesday, the GOP insists Congress has to "cut funding that helps the most vulnerable in this country."
"Give me a goddamn break," he added.
McGovern voiced particular alarm over the bill's expansion of Supplemental Nutrition Assistance Program (SNAP) work requirements to include adults between the ages of 50 and 54, a Republican demand. Analysts and campaigners say the change, which would sunset in 2030, could put hundreds of thousands of older adults at risk of losing food aid.
White House officials and President Joe Biden himself have defended the new requirements by pointing to the legislation's proposed expansion of SNAP benefits for veterans, kids leaving foster care, and people experiencing housing insecurity.
Speaking to reporters on Sunday, Biden brushed aside progressives' warnings that the bill could cause some people to go hungry, calling such concerns "ridiculous."
McGovern pushed back during Tuesday's hearing, saying that "improving benefits for some does not justify putting 700,000 older adults at risk of losing critical, lifesaving food benefits."
The Congressional Budget Office (CBO) published an assessment late Tuesday that concludes the debt ceiling bill, titled the Fiscal Responsibility Act of 2023, would lead to roughly 78,000 people gaining SNAP benefits "in an average month, on net (an increase of about 0.2% in the total number of people receiving SNAP benefits)."
But observers cautioned that the CBO's estimate hinges on ensuring that vulnerable people, particularly those who are homeless, are aware they are exempt from SNAP work requirements and able to navigate the program's bureaucracy.

"This is HIGHLY theoretical," The American Prospect's David Dayen wrote of the CBO analysis. "There's no funding to identify eligible people without benefits or to help them apply or find the necessary documentation. I obviously haven't seen the model but it seems like wishful thinking to me."
"How are we exactly a) informing homeless individuals that 1 of the 2 work requirements for SNAP [has] been lifted, b) helping them collect and submit the documents that prove they meet the income test, and so on?" Dayen asked.
After a nearly six-hour hearing, the Republican-controlled House Rules Committee voted Tuesday to send the debt ceiling legislation to the full House for a vote, which could come as soon as Wednesday evening.
McGovern and every other Democrat on the panel voted no.
Ahead of Tuesday's committee vote, McGovern called the latest standoff over the debt ceiling an "all-time high in recklessness and stupidity" and said Republicans "manufactured" a "crisis that risks the full faith and credit of the United States."
"Republicans are unfit to govern," said McGovern, one of the lawmakers who—to no avail—urged Biden to use his 14th Amendment authority to unilaterally avert a debt ceiling catastrophe.
"This bill could have been a lot more awful than it is," McGovern added. "I didn't come to Congress to hurt people. And when I listen to my Republican friends, what is clear to me is that we don't share the same values."
News