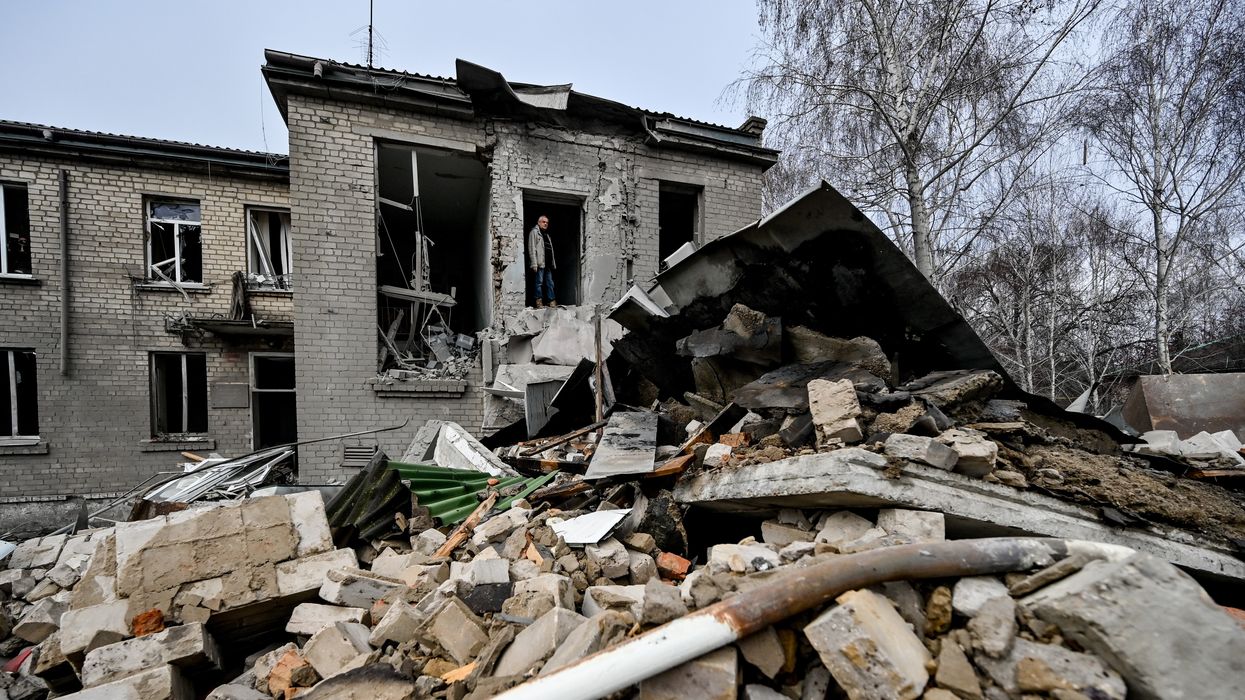 "The research shows that Russian armed forces have bombed hospitals, tortured medics, attacked ambulances, and looted clinics," said a co-author. "Evidence strongly suggests these acts constitute war crimes."
Compiled and published by eyeWitness to Atrocities, Insecurity Insight, Media Initiative for Human Rights (MIHR), Physicians for Human Rights (PHR), and the Ukrainian Healthcare Center (UHC), the document also features 10 case studies.
"Prosecutors must urgently investigate these attacks and hold perpetrators to account."
"Our report illustrates the staggering toll that Russia's war of aggression has had on Ukraine's doctors, nurses, and patients," explained co-author Christian De Vos, director of research and investigations at PHR. "The research shows that Russian armed forces have bombed hospitals, tortured medics, attacked ambulances, and looted clinics."
"Based on the findings of our investigation, evidence strongly suggests these acts constitute war crimes and a course of conduct that could potentially constitute crimes against humanity as well," De Vos continued. "As we mark one year since Russia's full-scale invasion of Ukraine—and with imminent threats of further violence against healthcare amid Russia's latest offensive—prosecutors must urgently investigate these attacks and hold perpetrators to account."
While recognizing that the overall figure is "likely an undercount," the publication says that researchers found:
292 attacks that damaged or destroyed 218 hospitals and clinics—many of which were attacked more than once;
181 attacks on other infrastructure such as blood centers, dental clinics, pharmacies, and research facilities;
65 attacks on ambulances; and
86 attacks on healthcare workers, with 62 deaths and 52 injuries.
"Healthcare workers, who became witnesses, talk about the horrific crimes committed by Russia in Ukraine," noted MIHR analyst Lyubov Smachylo. "Some were held hostage by the Russian military, others were under fire, and some were forced to work under occupation. Witnesses described these events with horror and tears in their eyes."
"It is worth emphasizing that these are just a few testimonies and only from those who survived," Smachylo added. "Witnesses share their stories to hold Russia accountable for its crimes."

Researchers suggested that accountability efforts could come from investigators and prosecutors not only in Ukraine but also at the International Criminal Court (ICC) and in other countries that can act under the principle of universal jurisdiction.
"The findings presented in the report urgently warrant further investigation by prosecutorial authorities," asserted Wendy Betts, director at eyeWitness to Atrocities. "The 10 highly detailed case studies in particular provide compelling evidence for prosecutors—be they at the ICC, in Kyiv, or beyond—to pursue accountability for these heinous acts."
\u201c\u201cThey saw very well, they knew that this was a medical institution\u2026. We hoped this would somehow save us. But it turns out nothing is sacred in this war.\u201d \n\n- Dr. Alla Barsihian, director of Bashtanka Multiprofile Hospital, which was heavily damaged in an attack.\u201d

— Physicians for Human Rights (@Physicians for Human Rights) 1676988799
According to figures from the Safeguarding Health in Conflict Coalition (SHCC), globally last year, there were at least 1,892 attacks on healthcare in conflict zones—including 628 facilities damaged, 215 workers killed, and another 287 kidnapped.
"It is a great concern that damage and destruction of the health system is common in so many conflicts around the world despite the fact that international humanitarian law protects access to healthcare," said Insecurity Insight director Christina Wille. "We have been monitoring patterns of violence against healthcare in conflict for several years around the world, and never before have we seen such widespread damage and destruction to the health system from indiscriminate use of force."
Over a third of the 2022 attacks recorded by SHCC occurred in Ukraine after Russian forces invaded. Wille said that "the frequent use of explosive weapons with wide area effects across cities of Ukraine causes unacceptable devastation to the whole health system with concerning consequences for access to healthcare."
Report co-author and UHC co-founder Pavlo Kovtoniuk pointed out that "Russia's brutal strategy is deliberately merging civilian and military targets in war. For them, destroying hospitals, schools, and the power grid is a way to achieve military aims."
"Russia used this murderous tactic before, in Chechnya and Syria, but faced no accountability," Kovtoniuk added. "If impunity doesn't end now, we will see many more hospitals destroyed as a means of war in the future. Unpunished evil always grows."
News