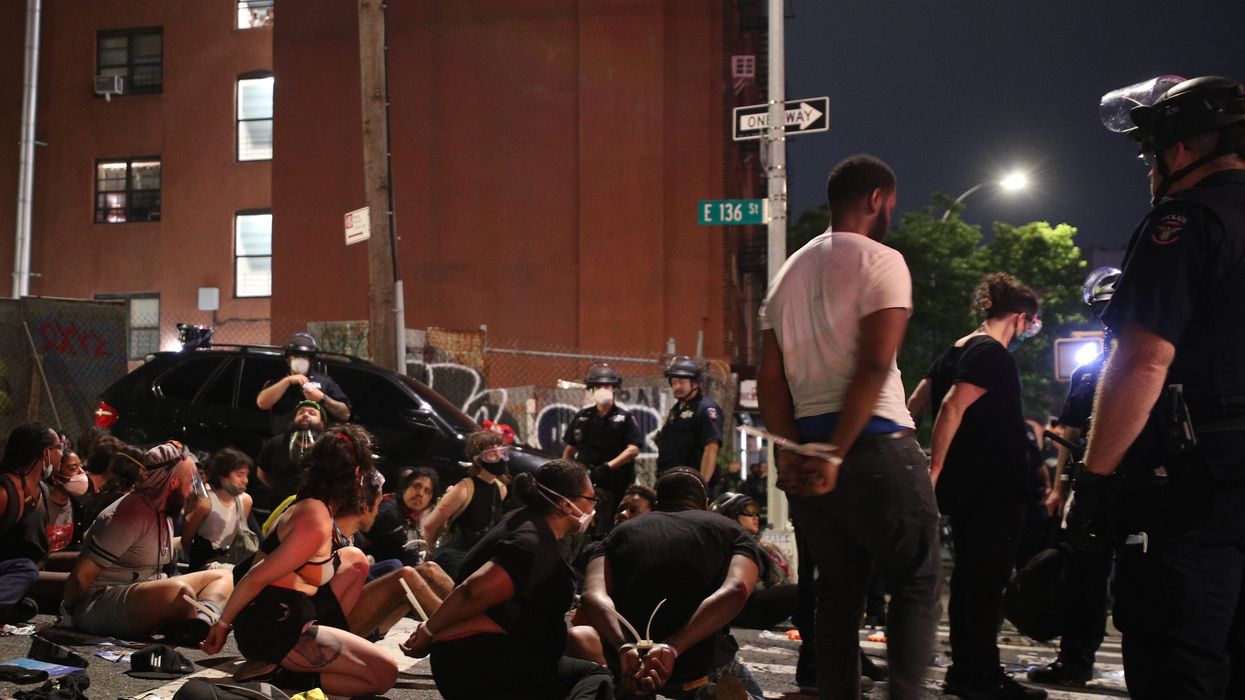 "They dragged me on the ground and beat me with batons," said one protester. "Somewhere in the process of being cuffed, I had a knee on my neck."
Hundreds of people who were trapped, beaten, and wrongfully arrested by New York City police officers during a nonviolent 2020 racial justice protest in the Bronx will each receive $21,500 if a judge approves the terms of a settlement filed in federal court late Tuesday.
Around 300 people were arrested, many of them brutally, on June 4, 2020 in the Mott Haven neighborhood while peacefully protesting police violence and systemic racism following the May 25 murder of unarmed Black man George Floyd by Minneapolis police.
"We had every right to protest, yet, the city of New York made an explicit statement that day that the people of the Bronx are at will to be terrorized," 31-year-old Samira Sierra of the Bronx, one of the protesters who sued the city, toldThe New York Times.
"We had every right to protest, yet, the city of New York made an explicit statement that day that the people of the Bronx are at will to be terrorized."
Joshua S. Moskovitz, a lawyer representing the plaintiffs, toldBuzzFeed News they hoped the settlement "marks an inflection point for policing in New York City."
"This unprecedented settlement recognizes that the NYPD's actions in Mott Haven were grievously wrong," he said.
\u201cNew York City has agreed to pay $21,500 to each of hundreds of demonstrators who were penned in by NYPD officers in the Bronx during the George Floyd protests in 2020 https://t.co/Y8vWUBZI6G\u201d

— Allison McCann (@Allison McCann) 1677691761
In social media posts, organizers of the June 4 "FTP4" protest—Take Back the Bronx and Bronxites for NYPD Accountability—urged participants to "take back the streets." One Instagram post featured a burning New York Police Department (NYPD) van.
The protest was overwhelmingly peaceful. However, less than an hour into the demonstration—and 10 minutes before an 8:00 pm curfew—a phalanx of heavily armored NYPD officers and cops on bikes began "kettling," or trapping, protesters so they could not leave. Attorneys for the arrested protesters—whose cases were ultimately dismissed—called it a "preplanned show of force."
After 8:00 pm, officers began violently attacking and arresting people for violating curfew. They beat demonstrators "packed like sardines" and unable to escape, with some officers standing atop vehicles swinging their batons down at bodies. Some protesters said they saw officers smiling as they swung into the crowd.
"We went there to protest police brutality and we became victims of police brutality," one demonstrator recounted.
\u201c@LegalAidNYC @shaunking @NYSDOCCS https://t.co/huiAa7g0FX\u2026 police brutality on peaceful protesters in the #Bronx no one is reporting on please help this be seen #DefundThePolice #DefundNYPD Mott haven please retweet - no reporting on this nypd violence they kettled the group 7:30 and beat them at 8 #bronxprotest\u201d

— The Legal Aid Society (@The Legal Aid Society) 1591904715
Other officers shoved people to the ground or fired pepper spray in their faces and under their clothing. Arrestees' wrists were bound so tightly by zip ties that some of their hands turned purple due to lack of circulation.
"They dragged me on the ground and beat me with batons," one protester told Human Rights Watch after his arrest. "Somewhere in the process of being cuffed, I had a knee on my neck."
According to the demonstrators' lawsuit: "Many protesters were left injured and bleeding. Some protesters fainted, or lost consciousness and went into convulsions."
24 Minutes in Mott Haven: Ikaikawww.youtube.com
Dr. Mike Pappas, a medical volunteer, recalled how "we were blocked off in a sea of cops. I was standing there watching people being carted out on stretchers with head injuries."
Among those arrested—and sometimes brutalized—were medical and legal volunteers, as well as journalists covering the demonstration and even passers-by.
Arrestees were held in "dangerously overcrowded and unsanitary detention conditions with many people who lacked masks, exacerbating health risks during the Covid-19 pandemic," according to Physicians for Human Rights. Many officers wore no masks.
\u201c.@P4HR documented police violence against protesters and medics in this Mott Haven investigation:\n\nhttps://t.co/Zu1WXoB875\u201d

— Joanna Naples-Mitchell (@Joanna Naples-Mitchell) 1677685696
Then-New York City Mayor Bill de Blasio, a Democrat, and Police Commissioner Dermot Shea defended NYPD tactics after the arrests, pointing to violence and looting at past protests. Shea said the operation was "executed nearly flawlessly."
NYPD subsequently said its policies for handling large demonstrations have been "re-envisioned."
If a judge approves the settlement filed Tuesday, the $21,500 per-protester payout would be one of the highest ever awarded in a mass arrest case. The agreement could cost city taxpayers as much as $6 million, according to the Times, which said that as many as 90 protesters have already settled their claims in separate complaints.
In 2021, Democratic New York state Attorney General Letitia James sued the NYPD over the Mott Haven arrests and "to end the pervasive use of excessive force and false arrests by the New York City Police Department against New Yorkers in suppressing overwhelmingly peaceful protests."

Last year, 12 legal observers from the New York City chapter of the National Lawyers Guild who were arrested at the protest collectively received a $49,000 settlement in a federal lawsuit against the city.

News