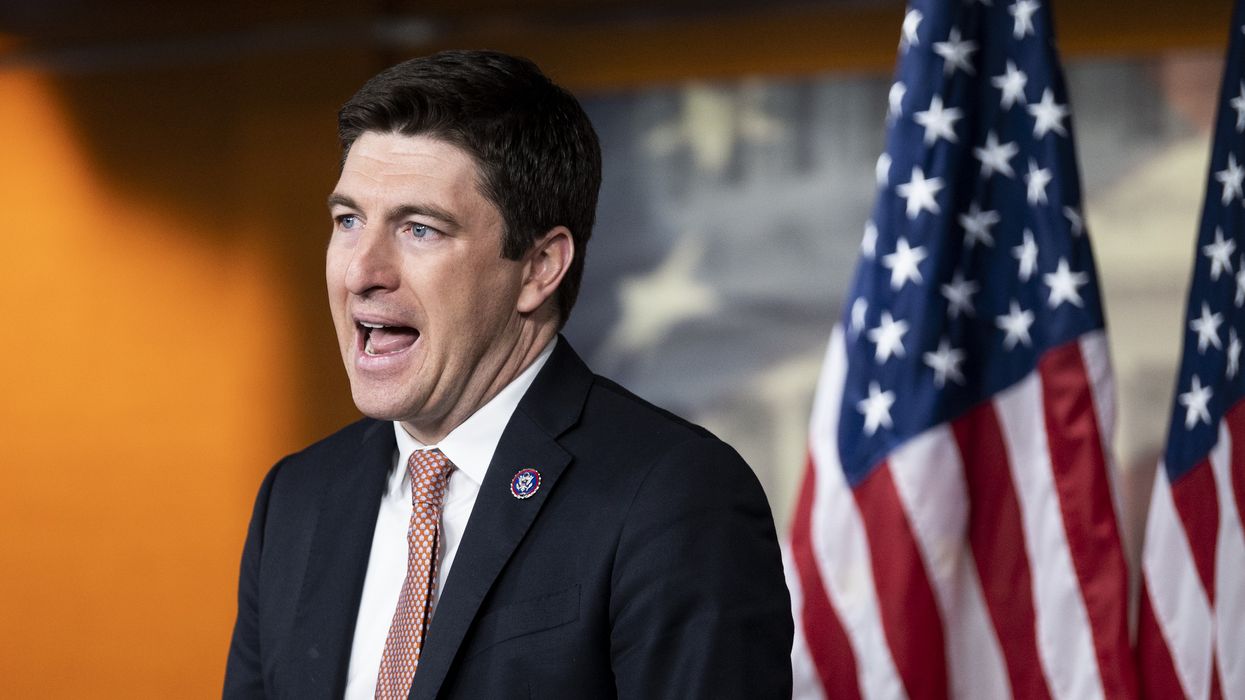 One critic warned the legislation would "increase the influence of billionaires, corporations, and secret money in our elections while putting up barriers for eligible voters to vote."
Voting rights advocates across the United States on Monday responded with alarm to Republicans introducing what its backers called "the most conservative election integrity bill to be seriously considered" in the U.S. House of Representatives in decades.
Dubbed the "Big Lie Bill" by critics, the American Confidence in Elections (ACE) Act is spearheaded by Committee on House Administration Chair Bryan Steil (R-Wis.) and includes nearly 50 standalone bills from the chamber's GOP members.
The Declaration for American Democracy (DFAD), a coalition of over 260 groups, said in a statement it was "deeply concerned" about the bill, warning that "the benign-sounding name of this legislation cloaks an extremist, anti-voter effort to increase the role of megadonors in our elections and encourage deliberate barriers to make it harder for eligible voters to cast their ballot."
"This bill would amplify the influence of corporations and billionaires by raising contribution limits and reducing reporting and transparency requirements, opening the floodgates to even more secret money in our elections," DFAD said. "Increasing the role of big money donors in our politics prevents Congress from taking action on the issues that matter most to Americans, such as healthcare, reproductive rights, gun safety, and the environment."
"The ACE Act would disenfranchise millions of voters by encouraging restrictive anti-voter policies that have a disproportionate impact on Black, Indigenous, young, and new American voters," the coalition continued, stressing that widespread U.S. voter fraud doesn't exist. "The bill would be a huge federal government overstep into the governance of Washington D.C., overturning laws that have been enacted to expand and strengthen democracy in the district."
The leftist think tank Dēmos tweeted that "the anti-voter ACE Act is an extremist power grab that would overturn laws that strengthen democracy in D.C. and open the floodgates to secret money. District residents deserve self-determination. The only people cheering this bill are billionaires and corporations."
Fellow coalition members—including Indivisible, NextGen America, and Public Citizen—and other critics also took aim at the GOP bill.
Steil introduced the bill during a field hearing for the committee he leads in Atlanta. During that event and in an opinion piece for the Washington Examiner, the panel chair heralded the Georgia GOP's Senate Bill 202—a sweeping measure passed in 2021 that led to a "staggering" increase in voter suppression, according to a Mother Jones analysis.
"Many of the bill's requirements would replicate Georgia's laws, which already ban outside election funding, require voter ID, and prohibit noncitizen voting," The Atlanta Journal-Constitutionreported Monday, noting that the state's Republicans enacted S.B. 202 in response to right-wing complaints about former President Donald Trump's loss in 2020.
The federal proposal comes as the twice-impeached, twice-indicted former president leads the crowded field of candidates for the GOP's 2024 presidential nomination—despite arguments that Trump's "Bie Lie" that the 2020 election was stolen from him incited the January 6, 2021 insurrection, so under the 14th Amendment, he is barred from holding public office again.
The Republican nominee is widely expected to face President Joe Biden, who is seeking reelection. The AJC pointed out that "the bill's rollout in Georgia, a swing state that... Biden won by fewer than 12,000 votes in 2020, creates a contrast between the two political parties ahead of another presidential election year."
When Democrats narrowly controlled both chambers of Congress early last year, right-wing Democratic Sen. Joe Manchin (W.Va.) joined with then-Democratic Sen. Kyrsten Sinema (Ariz.)—who has since become an Independent—to help the GOP block the Freedom to Vote: John R. Lewis Act, a package designed to boost federal protections, limit dark money in politics, and restore the Voting Rights Act of 1965.
Now, the Republicans have a divided majority in the House, while Democrats still have a slim advantage in the Senate, making it highly unlikely that any election-related legislation will make it to Biden's desk for the rest of this congressional session. Still, opponents of the ACE Act urged federal lawmakers to come out against it.

"Congress must reject these efforts to disenfranchise voters and worsen the problem of big money in politics," DFAD said. "To truly increase confidence in our elections, Congress should pass popular, common-sense reforms like those in the Freedom to Vote Act in order to reduce the influence of big money out of politics, ensure our freedom to vote, and guarantee that congressional districts are drawn to give fair representation for all."
"No matter our color, party, or ZIP code," the coalition added, "we all deserve to live in a democracy that represents, reflects, and responds to all of us."
Some Democrats in Congress are speaking out, including U.S. Rep. Nikema Williams, who represents Georgia's 5th District, which includes much of Atlanta.
"Extreme MAGA Republicans are at it again: this time attempting to obstruct voting rights to appease extremist election deniers," she tweeted. "S.B. 202 led to the biggest racial turnout gap in decades and they want to Copy+Paste at the federal level."
Democratic members of the Committee on House Administration declared Monday that "today's hearing is an attempt to appease election deniers."
"President Biden won the 2020 election. The election was secure. The results were accurate. It is undisputable," the panel's Democrats added. "No anti-voting, pro-corruption, #BigLieBill can change that."

News