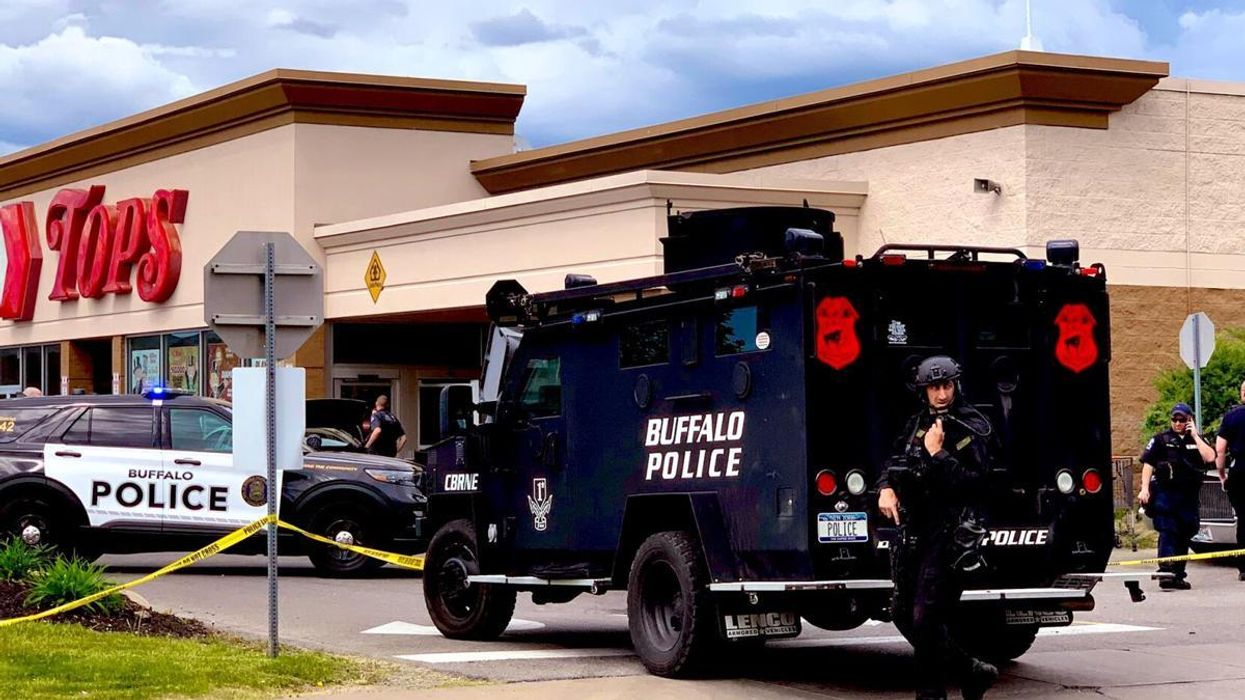 "The Buffalo shooter was radicalized by social media," said one of the plaintiffs in the suit. "Rather than stop the spread of hate, those platforms made money off it."
Groups representing survivors and loved ones of victims of last May's racist massacre at the Tops Friendly supermarket in Buffalo, New York on Friday sued numerous social media and streaming companies, a gun dealer, a body armor manufacturer, and the shooter's parents for the wrongful deaths of 10 Black people murdered in the attack.
The lawsuit—announced during a Friday morning press conference—was filed in the New York State Supreme Court in Buffalo by the Social Media Victims Law Center, The law office of John V. Elmore, and the Giffords Law Center to Prevent Gun Violence on behalf of massacre survivor Latisha Rogers and three victims' families. Rogers worked at the supermarket and called 911 during confessed killer Payton Gendron's murderous rampage.

Named as defendants in the suit are the owners of several social media platforms and streaming services; RMA Armaments, an Iowa-based body armor maker; Vintage Firearms, a New York-based gun store; MEAN LLC, a Georgia-based firearms accessory manufacturer; and Gendron's parents.
"Social media companies must be held responsible for perpetuating hate and violence."
The social media and streaming services named in the filing include: Meta, Facebook's parent company; Alphabet, which owns Google; Snap, which operates Snapchat; Discord; Reddit; Amazon, operator of the Twitch live-streaming service; as well as the message board website 4chan.
"The Buffalo shooter was radicalized by social media. Rather than stop the spread of hate, those platforms made money off it," Giffords Law Center tweeted. "We're helping bring this lawsuit because social media companies must be held responsible for perpetuating hate and violence."
\u201cNEW: One year after the Buffalo shooting, we\u2019re suing the social media companies that radicalized the shooter and the gun company that illegally armed him on behalf of survivors whose loved ones were killed at the supermarket. https://t.co/GiIj1O2WgN\u201d

— GIFFORDS (@GIFFORDS) 1683903375
"Payton Gendron has pled guilty to these murders, and is no longer a danger to society," Elmore said in a statement. "However, the social media platforms that radicalized him, and the companies that armed him, must still be held accountable for their actions. Our goal, on behalf of our clients, is to make this community and our nation safer and prevent other mass shootings."
As ABC Newsreports:
The lawsuit alleges the social media platforms aided in rapidly spreading Gendron's hate via copies of his livestream of the shooting across multiple platforms where it became known as the "murder video" and viewed by more than 3 million people.

Gendron used Amazon's Twitch to livestream the first two minutes of the rampage before it was taken down by the operators of the popular gaming platform, the lawsuit states.

Despite it being taken down, the video was downloaded to 4chan, according to the suit.
In a statement, Matthew Bergman, founding attorney of the Social Media Victims Law Center, said that Gendron "was motivated to commit his heinous crime by racist, antisemitic, and white supremacist propaganda fed to him by social media companies."
\u201cHeartshattering. Leandra Elliot the daughter of Andre Mackneil, will experience her 1st Mother\u2019s Day without her father. \n\nShe found out she was pregnant when she was burying her father. @WGRZ\u201d

— Robert Hackford (@Robert Hackford) 1683900678
"These posts led him down a rabbit hole of increasingly radical sites, where he was indoctrinated in white supremacist replacement theory and violent accelerationism," Bergman added. "This horrible crime was neither an accident nor coincidence, but rather the foreseeable result of social media companies' intentional decision to maximize user engagement over public safety."
The lawsuits come as Buffalo prepares to commemorate the first anniversary of the massacre on May 14.
"I'm hoping that something will come out of it," plaintiff Barbara Massey Mapps, sister of victim Katherine "Kat" Massey, said of the suit in an interview with ABC News.
"These big companies only know one thing, money. So, you've got to hurt them."
"Every day or every few days, all you hear about is a mass shooting," Mapps added. "You've got to start somewhere, in order for them to get the message. These big companies only know one thing, money. So, you've got to hurt them. How many people do you want to see dead?"
Responding to the lawsuit, a Snap spokesperson said: "We have a zero-tolerance policy for hate speech and discrimination of any kind. We deliberately designed Snapchat differently than traditional social media platforms and don't allow unvetted content to go viral or be algorithmically promoted. Instead, we vet all content before it can reach a large audience, which helps protect against the discovery of potentially harmful or dangerous content."
\u201c@NewYorkStateAG Mean Arms makes and sells a magazine lock, known as the MA Lock, that can easily be removed so that detachable magazines, including high-capacity magazines that hold more than ten rounds of ammunition, can be inserted into a rifle.\u201d

— Everytown (@Everytown) 1683828967
Last December, the city of Buffalo sued several gun manufacturers and distributors for "endangering the safety and health of the public."

Friday's lawsuit follows another filed on Thursday by New York Attorney General Leticia James, a Democrat, against MEAN, accusing the company of helping Gendron evade the state's ban on high-capacity assault-style rifles.
"The racist mass shooting at the Tops grocery store in Buffalo was one of the darkest days in the history of our state and our nation," James said in a statement. "We lost 10 innocent lives because a hate-fueled individual was able to make an AR-15 even deadlier through a simple change at home."
News