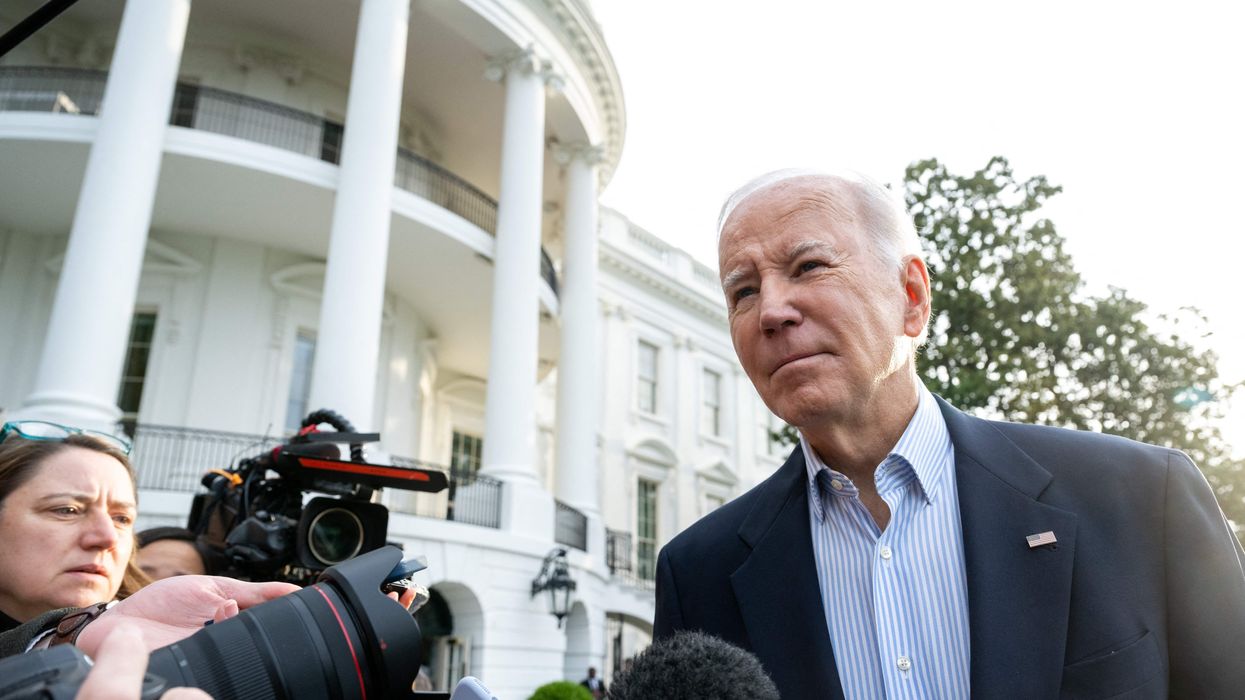 Rep. Alexandria Ocasio-Cortez and Sen. Ron Wyden urged the administration to ignore the order, calling it a dangerous abuse of power.
The Biden White House on Monday said it would not simply ignore a Trump-appointed judge's ruling that could imperil access to a safe abortion medication, dismissing a demand from progressive lawmakers who characterized the decision as a flagrant abuse of judicial power with far-reaching implications.
"No," an unnamed White House spokesperson toldTalking Points Memo when asked whether it would instruct the Food and Drug Administration (FDA) to ignore the right-wing judge's ruling invalidating the agency's decades-old approval of mifepristone, which is typically used as part of a two-pill regimen to end a pregnancy.

"We stand by FDA's approval of mifepristone, and we are prepared for a long legal fight, if needed," the spokesperson continued. "The focus of the administration is on ensuring that we prevail in the courts. There is a process in place for appealing this decision and we will pursue that process vigorously and do everything we can to prevail in the courts."
During a briefing on Monday, White House press secretary Karine Jean-Pierre said that "we are going to always follow the law" after a reporter asked whether the administration intends to comply with Kacsmaryk's order.
"Doesn't mean that we're not going to fight," she added.
The White House's adherence to business-as-usual legal procedure comes even as top Biden administration officials acknowledged that, should U.S. District Judge Matthew Kacsmaryk's ruling be upheld, the entire FDA approval process could be thrown into chaos and placed at the mercy of far-right judges.
"You're not talking about just mifepristone," Health and Human Services Secretary Xavier Becerra toldCNN on Sunday. "You're talking about every kind of drug. You're talking about our vaccines. You're talking about insulin. You're talking about the new Alzheimer's drugs that may come on."
"The courts are now going rogue with rulings that no longer even pretend to respect precedent, jurisprudence, or limits to overreach."
The U.S. Justice Department formally appealed the Texas judge's unilateral ruling on Monday as legal analysts and rights groups grappled with the decision's glaring flaws and potentially profound impacts on abortion rights and other freedoms.
"His order, which applies nationwide, marks the first time in history that a court has claimed the authority to single-handedly pull a drug from the market, a power that courts do not, in fact, have," Slate court writer Mark Joseph Stern noted shortly after the ruling was made public Friday evening.

"Kacsmaryk's ruling is indefensible from top to bottom and will go down in history as one of the judiciary's most shocking and lawless moments," Stern argued. "Within an hour of its release, the decision also spurred the start of a constitutional crisis: A federal judge in Washington swiftly issued a dueling injunction compelling the FDA to continue allowing mifepristone in 17 states and the District of Columbia, which brought a separate suit in Washington."
In a late Friday statement, Sen. Ron Wyden (D-Ore.) characterized Kacsmaryk's ruling as a product of the far right's "dangerous and undemocratic takeover of our country's institutions" and said the FDA would be well within its legal authority to ignore it.
"The FDA, doctors, and pharmacies can and must go about their jobs like nothing has changed and keep mifepristone accessible to women across America," said Wyden, who chairs the Senate Finance Committee. "If they don't, the consequences of banning the most common method of abortion in every single state will be devastating."
Rep. Alexandria Ocasio-Cortez (D-N.Y.) issued a similar call and warned that the failure to resist out-of-control judges "paves a dangerous road of worsening abuse of power."
"The courts are now going rogue with rulings that no longer even pretend to respect precedent, jurisprudence, or limits to overreach," the New York Democrat wrote. "They are long overdue for a check and balance."
\u201cGOP are losing their mind over this, but there\u2019s precedent - including their own.\n\nCourts ordered Trump to fully restore DACA. They ignored it w/ Republican support.\n\nGOP operate in complete contempt for the law until they\u2019re in a position to shred Constitutional & human rights.\u201d

— Alexandria Ocasio-Cortez (@Alexandria Ocasio-Cortez) 1681063423
Even one Republican—Rep. Nancy Mace of South Carolina—said the FDA should ignore the Texas judge's ruling after one of her GOP colleagues suggested cutting funding for the agency if it does so.

"This is an FDA-approved drug," Mace said in a CNN appearance on Monday. "Whether you agree with its usage or not, that's not your decision. That is the FDA's decision."
\u201cRepublican @NancyMace\u00a0says she believes the FDA should ignore the Texas judge\u2019s ruling. \u201cThis is an FDA approved drug. Whether you agree\u00a0with its usage or not, that's\u00a0not your decision. That is the FDA\u2019s decision.\u201d\u201d

— Kaitlan Collins (@Kaitlan Collins) 1681127975
Kacsmaryk's order is set to take effect this coming Friday barring an intervention from the Fifth Circuit Court of Appeals, which is hearing the Biden administration's legal challenge. The Justice Department, which called the ruling "extraordinary and unprecedented," has requested that the order be put on hold as the legal process plays out.
Given the right-wing bent of the fifth circuit, which includes six Trump-appointed judges, the chances that Kacsmaryk's order will be upheld appear strong—meaning the case could be on a path to the conservative-dominated U.S. Supreme Court.
"Only the Supreme Court can resolve this looming crisis, and it has a very limited window of time in which to do so," Stern last week. "It has been less than a year since the court claimed to rid itself of the abortion issue. Now it must decide whether American patients will lose access to an abortion drug that has been on the market for 23 years and proven safer than Tylenol—on the order of a single, rogue judge."
News