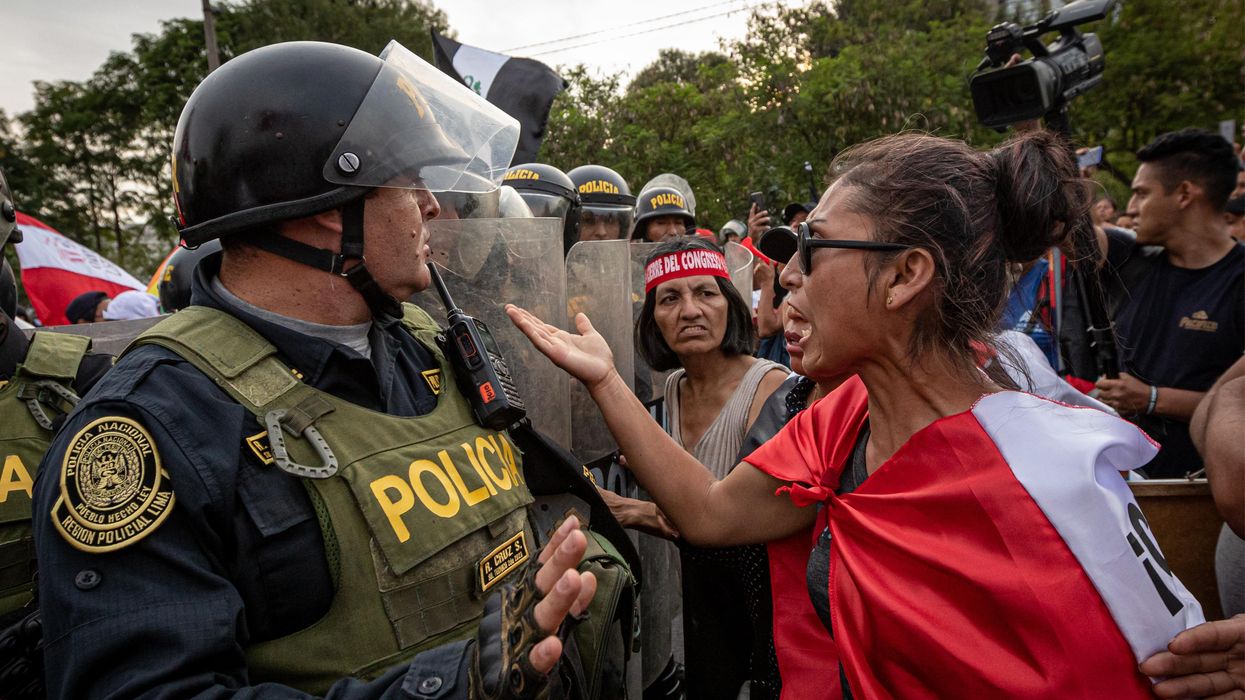 "We have come to Lima to defend our country, considering we are under a dictatorial government... which has stained our country with blood," one protester explained.
Thousands of Indigenous and other Peruvians descended on the capital Lima on Wednesday to demand the resignation of unelected President Dina Boluarte, show support for imprisoned former leftist leader Pedro Castillo, and condemn government forces for killing dozens of protesters over the past six weeks.
The demonstrators—who include Aymara and Quecha people from Andean regions, trade unionists, and other activists—traveled to the coastal capital in caravans during the second week of a general strike as part of a new "March from the Four Corners." The first such march took place in 2000 against then-President Alberto Fujimori, a U.S.-backed right-wing autocrat.
"We are from Chota in Cajamarca. We have come to Lima to defend our country, considering we are under a dictatorial government... which has stained our country with blood," protester Yorbin Herrera toldAl Jazeera.
Another demonstrator, Luis Garro, said: "I am upset. Angry. Traumatized and shocked by what is happening here. I believe that the people are going to force Dina Boluarte and the Congress out."
Florencia Fernández, a lawyer who lives in Cusco, toldthe Associated Press that "in my own country, the voices of the Andes, the voices of the majority have been silenced."
"We've had to travel to this aggressive city, this centralist city, and we say, the Andes have descended," she added.
Alonso Cárdenas, a professor of public policy at the Antonio Ruiz de Montoya University in Lima, noted the significance of protests in the capital.
"When there are tragedies, bloodbaths outside the capital, it doesn't have the same political relevance in the public agenda as if it took place in the capital," he told the AP. "The leaders have understood that and say, they can massacre us in Cusco, in Puno, and nothing happens, we need to take the protest to Lima."
At least 17 people were killed by state security forces in what human rights defenders called a "massacre" in Juliaca, the capital of San Román province in Puno, on January 9.
Some of this week's protesters traveled to Lima on the tour bus of renowned cumbia singer Yarita Lizeth, who has donated money to cover wounded protesters' medical bills while condemning "this violent repression against my brothers from Juliaca... who were unjustly killed."
By taking to the street, protesters were defying the government's extended state of emergency in Lima and three other regions, a move that suspended constitutional rights including the inviolability of the home, freedom of transit, and freedom of assembly.
A counter-demonstration in support of Boluarte, dubbed a "march for peace," also took place in Lima on Thursday. The de facto president said Tuesday that she would meet with anti-government demonstrators "to talk about the social agendas that you have because you well know that the political agenda that you are proposing is not feasible."

At least 53 people have been killed since the December 7 overthrow and arrest of Castillo—a democratically elected former rural teacher and union organizer—by the country's right-wing-controlled Congress after he moved to dissolve the legislature in a bid to preempt a move to dismiss him for "permanent moral incapacity."
The latest deaths includeSonia Aguilar Quispe, a35-year-old woman who was shot in the head in the southern town of Macusani; Salomón Valenzuela Chua, a 30-year-old father of four; and the unborn child of a teenager.
Castillo, who faces charges of rebellion and conspiracy, remains imprisoned by order of a panel of Peru's Supreme Court of Justice.
Boluarte has proposed elections for April 2024. Her government is recognized by the United States, Canada, Chile, and several other countries, while leftist leaders of Latin American and Caribbean nations including Argentina, Bolivia, Colombia, Cuba, Mexico, Nicaragua, and Venezuela have condemned Castillo's removal.
A poll published earlier this week by the Institute of Peruvian Studies showed 71% of respondents disapprove of Boluarte, while 60% say the protests against her government are justified.

News