For Immediate Release
Contact:
Afrin Sopariwala,Phone: 408.598.7656,Email:,jay@climatedisobedience.org
No Jail Time for Climate Activist Who Shut Off Tar Sands Pipeline to Prevent Climate Harms
Stephen KentEmail: skent@kentcom.com
FORT BENTON, Montana
Yesterday in Chouteau County District Court, Leonard Higgins, the 66 year-old retired Oregon state worker turned climate activist who shut off a tar sands pipeline to fight climate change, was sentenced to three years deferred imprisonment, meaning he will serve no jail time. He was also ordered to pay restitution of $3,755.47. The prosecution sought $25,630 in restitution, but the sentence followed the recommendations of the defense.
Higgins was convicted in November 2017 of criminal mischief and misdemeanor criminal trespass, charges which could have carried a sentence of up to 10 years in jail and fines of up to $50,000.
As he openly admits, on October 11, 2016, Higgins cut two chains to enter a fenced enclosure around the Enbridge (formerly Spectra) tar sands pipeline in Coal Banks Landing, Montana, and turned the emergency shutoff valve. He is one of five climate activists who simultaneously shut down pipelines in four states as an act of civil disobedience, temporarily halting the flow of all tar sands from Canada into the US, disrupting 15% of US daily oil supply. These "valve turners" selected those pipelines because tar sands is the most carbon-intensive, climate-damaging form of oil, and thus for them, burning it constitutes an emergency. A two-minute video about the action is posted here .
There is no dispute about the facts of the action Higgins and others took. On the contrary, they were open and deliberate, alerting the pipeline companies in advance of the shut down, allowing time for the companies to shut down the pipelines themselves, in some cases. Higgins and his fellow activists live streamed their actions and then waited calmly for police to arrive and arrest them.
"His motivations were not selfish, but selfless," said defense attorney Lauren C. Regan, one of Higgins' defense attorneys and the founder and executive director of The Civil Liberties Defense Center , in her statement before the court. "He attempted to act out of the public interest, not to harm anyone. He was in Chouteau County to try and prevent catastrophic climate change that will eventually affect the good people of this county just as it is already impacting island nations, the Arctic, and coastal regions around the globe."
"This is not a crime for which he received any benefit," said presiding Judge Daniel Boucher. "He should have this removed from his record."
In Higgins' statement to the court, he expressed respect for the court and the authority of the judge, and took responsibility for trespassing, cutting two chains to enter the pipeline enclosure, and accidentally damaging a metal plate on an electric motor in his act of civil disobedience. He pointed out that his was an act of conscience.
"The facts of climate science, the tragic impacts of changes already under way, and the negligence of government in responding drove me across the line from a public employee to someone who would consider civil disobedience," Higgins said. "There is strong evidence that we may have already crossed this line. Today I'm here in part because of my faith in the courts, in humanity and in the law. I say this not to ask for leniency from the court but to ask to stand here and take responsibility for the actions which I have taken."
Higgins and his attorneys signaled that they planned to appeal his conviction, because he was not permitted to mount a "necessity defense," which would have argued that his action was necessary and justified in order to prevent climate harms much worse than the consequences of trespassing and interfering with the pipeline. Granting necessity defense would have allowed the defense to call expert witnesses and present evidence on climate change and the climate harms done by tar sands. Before trial Higgins' defense team petitioned Chouteau County District Court and the Montana Supreme Court to allow it to mount such a defense, but both petitions were denied without hearing.
"I appreciate the chance to present the intent of my action more fully than I was able to at my trial," Higgins said yesterday, a reference to the fact that the jury was not permitted to hear evidence pertaining to climate change. "I look forward to appealing to the court for my 6th Amendment right of a full defense to present my case again with the full scope of information available," he said.
"It is highly likely we will file notice of appeal to challenge denial of necessity defense," said Regan. "But for that denial, we may not have even been here today. There could have been a very different outcome [in] the jury's deliberations if they had been allowed to use necessity defense in their decision making process."
Two other valve turners, Ken Ward, who acted in Washington state, and Michael Foster, who acted in North Dakota, were also denied the right to a necessity defense, and convicted on felony charges. Ward was convicted of second-degree burglary and sentenced to community service with no jail time. Foster was convicted of criminal mischief, conspiracy to commit criminal mischief (both felonies) and criminal trespass (a misdemeanor), and sentenced to three years in prison, including two deferred. He is serving time now. Both have appealed their convictions, partly because necessity defense was denied.
However, the necessity defense was recently granted to fellow valve-turners Emily Johnston and Annette Klapstein, whose trial is pending in a Minnesota court and expected to take place this summer. It's the first such written decision in a climate case in U.S. history. Leading experts in the fields of climate science and civil disobedience will testify for the defense. Immediately following the Minnesota decision, necessity defense was again granted in a climate action case in Spokane, Washington.
Necessity defense in climate cases is a rapidly evolving area of law, the stakes of which are rising as climate change accelerates, and as more citizens protest fossil fuel extraction and expansion amid an intensifying crackdown on protest and citizen action.
2017 was the third hottest year on record and saw record storms, droughts and forest fires. In February this year, Arctic temperatures soared above freezing. More pipeline protests generating more arrests of activists have sprung up nationwide, including against the Line 3 pipeline expansion in Minnesota, the Bayou Bridge Pipeline in Louisiana, the Trans-Pecos Pipeline in West Texas, the Diamond Pipeline in Memphis, the Sabal Trail Pipeline in Florida, and others. At the same time, several states have passed laws that would criminalize and toughen penalties for peaceful protest and non-violent direct action. More states are considering such measures.
That makes the trials of Higgins and his fellow climate activists important precedents. More such trials are coming, with more serious charges and penalties at stake. The Civil Liberties Defense Center and the Climate Defense Project are working on appeals in the valve-turner cases, and to advance climate necessity defense in general.
In October 2016 activists under the banner of 'Shut It Down - Climate Direct Action' took the climate future into their own hands by shutting down all the tar sands oil flowing into the US from Canada.
LATEST NEWS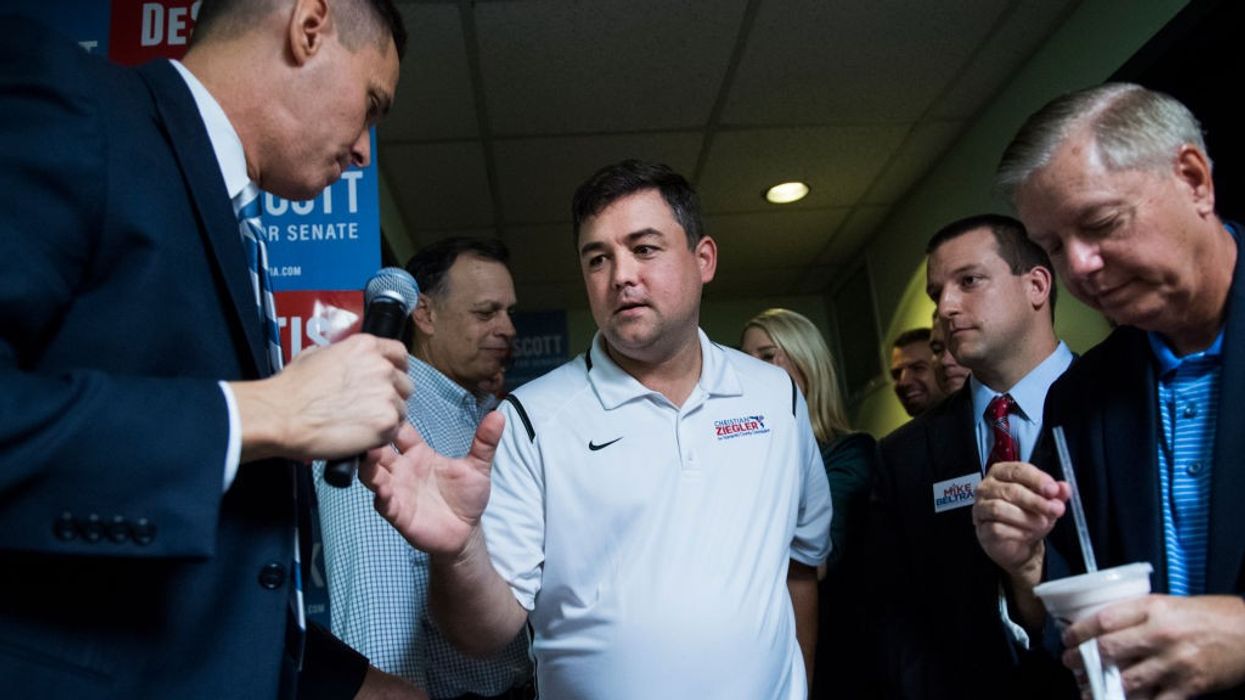 Amid charges of gross hypocrisy and many celebrating the possible downfall of a powerful far-right couple following revelations about their private sexual activities, the severity of the accusations led one Florida Democrat to remark, "None of this is funny."
New details made public over the weekend via police documents of a rape investigation have added fresh fuel to the political firestorm surrounding the chair of the Republican Party of Florida, Christian Ziegler, and his wife Bridget Ziegler, co-founder of the far-right Moms for Liberty, which engages in book-banning efforts, attacks on public education, religious moralizing, and the promotion of fascist ideology in chapters nationwide.
After an unnamed longtime associate accused Christian Ziegler of rape last week, the emergence of a police search warrant and associated affidavit showed that the alleged victim said she had engaged in consensual three-way sexual relations with the Zieglers in the past but on the day of the assault, on Oct 3., tried to call off the encounter because Bridget would not be there to participate.

"Sorry I was mostly in for her," the victim said, according to text messages quoted in the affadavit.
The high-profile political work of the Zieglers—who rail against the sexual identities and lifestyle choices of others and who have been openly hostile to the LGBTQ+ community, often suggesting queer people are somehow deviant or morally problematic—has resulted in my cries of hypocrisy and calls for Christian's resignation.
"Allegations of rape and sexual battery are severe and should be taken seriously," said Florida Democratic Party chair Nikki Fried in a statement on Thursday. "I applaud the accuser's bravery in coming forward against a political figure as powerful as Christian Ziegler, and I trust that the Sarasota Police Department will conduct a thorough investigation into these allegations of criminal behavior."
Given the severity of the allegations against him, Fried called on Christian Zeigler to resign from his post, a call echoed later by Gov. Ron DeSantis , a Republican currently running for the GOP presidential nomination.
Fried said that "what happens behind closed doors is Christian and Bridget's personal business," but added that she did "find it interesting that two people who are so obsessed with banning books about gay penguins might be engaged in a non-traditional sexual relationship," referring to a children's book about gay parents which has been targeted by Republicans for banning in schools in Florida and elsewhere.
"As leaders in the Florida GOP and Moms for Liberty," said Fried, "the Zieglers have made a habit out of attacking anything they perceive as going against 'family values'—be it reproductive rights or the existence of LGBTQ+ Floridians. The level of hypocrisy in this situation is stunning."
According to the Washington Post :
News reports emerged several days ago about the allegations of rape, but more records were obtained via a Freedom of Information Act request late Friday and reported by several Florida news outlets. They include details of recorded conversations via Instagram and phone calls between the woman and Christian Ziegler that detectives obtained. Police have filed search warrants for Ziegler's phone, email and other devices. The Sarasota Police Department did not reply to several requests for comment.

Christian Ziegler's attorney, Derek Byrd, said in a statement Thursday that his client "will be completely exonerated." Byrd and Ziegler did not respond to requests for comment Saturday about the details in the affidavit.
"It's certainly deeply, deeply troubling," state Rep. Spencer Roach, a member of the Florida GOP executive committee, told the Post in an interview. "I would describe this as just an absolute body blow to the Republican Party. Everyone that I've talked to about this is in an absolute tailspin."

Paulina Testerman, a co-founder of the nonprofit Support Our Schools, which defends public education, spoke to The Daily Beast about the allegations of rape in the context the Ziegler's political activities in Florida.
"Many of us have stood at the podium of countless school board meetings and listened to Mrs. Ziegler drag the LGBT+ community, so it's natural to want to celebrate when bullies get what's coming," Testerman said. "But we must remind ourselves that there are many victims in this story. An alleged rape victim is the obvious victim, but our LGBT children and all marginalized children have all been the victim of the Zieglers and their hate machine. We are hopeful that their reign is over, and our community can start healing."
Bridget Ziegler—who reportedly confirmed to detectives she and her husband did have a consensual sexual relationship in the past—is not named in the affadavit, but Moms for Liberty defended her in a post on X following the initial revelations last week.
"#StrongWomen scare those that seek to destroy our country," the group stated . "We stand with Bridget Ziegler and every other badass woman fighting for kids and America."
But critics like Anne-Marie Principe and others pushed back on that.
"The hypocrisy is real," Principe tweeted . "First, they engaged in the sexual freedoms they want to deny others. Second, the alleged sexual assault of their threesome partner is not only denigrating women, it's a crime. So, I guess you are only about YOUR liberties. #WrongWomen not strong ones."
News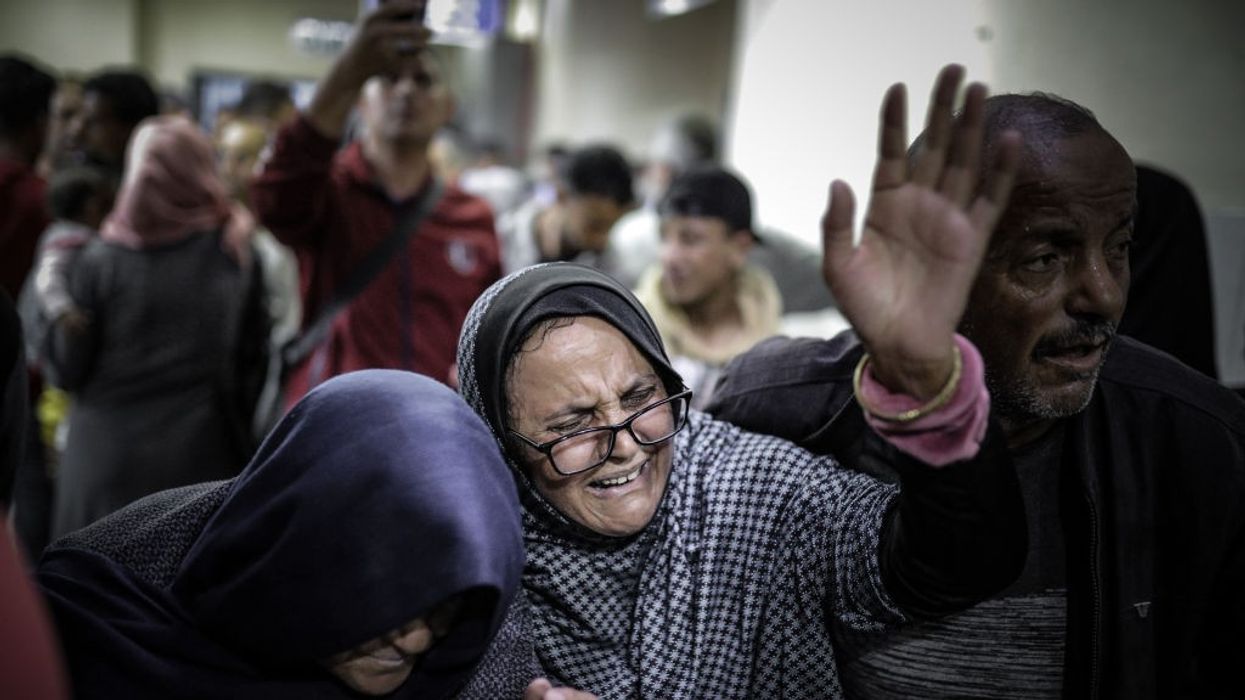 "What Israel is doing in Gaza right now is one of the most cruel tactics of war I've ever seen," said one healthcare aid worker.
More than 700 people were killed in the Gaza Strip in just 24 hours, the Health Ministry in the besieged territory said Sunday, as Israeli bombings escalated following a brief pause and wider evacuation orders stoke fears of wider displacement and carnage.
According to an Al-Jazeera dispatch :
Overnight and into Sunday, intense bombing was reported in Khan Younis, Rafah, and some northern parts targeted by Israel's air and ground attacks.

"Everywhere you turn to, there are children with third-degree burns, shrapnel wounds, brain injuries and broken bones," James Elder, UNICEF's global spokesperson, told Al Jazeera from Gaza.

"Mothers crying over children who look like they are hours away from death. It seems like a death zone right now."
The Israel Defense Force (IDF) has been dropping evacuation leaflets across the south of Gaza in cities that include Khan Younis, Rafah, and others neighborhoods where many had been told to flee by Israel prior to the recent week-long pause.
The IDF is now using a wholly invented "grid system" to tell Palestinians in Gaza which sectors might be safe and which ones will not, leading to reports of widespread confusion on the ground for those trying to keep themselves and their families safe from the indiscriminate bombing.
"What Israel is doing in Gaza right now is one of the most cruel tactics of war I've ever seen," said Rohan Talbot, director of advocacy and campaigns for the U.K.-based Medical Aid Palestine, on Sunday. "This grid system effectively means people are being chased from square to square, in constant mortal fear. Bombing happens both inside and outside 'unsafe' areas. It's terrorism."
"And they say it's about protecting civilians! People in Gaza are saying they hope to die just to be free from the fear!" Talbot declared. "I use the word terrorism in its specific sense: using violence to intimidate civilians for political aims. Israeli leaders don't hide that this is what they are doing."

In a statement on Sunday, U.N. Human Rights Chief Volker Türk called for an end of the new wave of bombardents and a return to the talks that saw Israeli and Palestinian hostages freed and an increase in humanitarian aid allowed into Gaza.
"Silence the guns and return to dialogue—the suffering inflicted on civilians is too much to bear. More violence is not the answer. It will bring neither peace nor security," Türk said.
"As a result of Israel's conduct of hostilities and its orders for people to leave the north and parts of the south, hundreds of thousands are being confined into ever smaller areas in southern Gaza without proper sanitation, access to sufficient food, water and health supplies, even as bombs rain down around them," he added "There is no safe place in Gaza."
Last week, it was reported that the Israeli military is using artificial intelligence to help generate bombing targets, a situation described as "dystopian" and the "first AI-facilitated genocide in history."

Horrifying scenes were evident across Gaza over the weekend as witnesses shared footage of children killed by the bombings along with the heartbreak and cries of survivors:
In the north, the Jabilia refugee camp, the largest in the Gaza Strip, was bombed again on Saturday.
"More than 100 Palestinians were killed Saturday in a new massacre committed by Israeli occupation forces in the Jabalia refugee camp in the central Gaza Strip," the official Palestinian news agency Wafa reported.
The agency said an Israeli missile hit a residential building belonging to the "Obaid family in Jabalia camp" and that "dozens were injured, and many others are still missing under the rubble," in that strike alone.
Meanwhile, Medicin Sans Frontier/MSF doctors reported their rescue vehicles, despite being clearly marked, were targeted by Israeli tanks.
Jason Lee, the Palestine country director for Save the Children, who was in Rafah on Friday, told the Guardian newspaper that what's being witnessed is a fresh population transfer in a country where 1.7 million people—out of an approximate total of 2.3 million—have already been displaced, with most now frantically trying to find safety in the south.
"How is it possible for people to move again? For many, this is not their first evacuation. The scale and scope of this is unprecedented," he said.
News
"Investing now in nuclear energy is an inefficient route to take to reduce emissions at the scale and pace needed to tackle climate change," said one campaigner.

Climate campaigners scoffed Saturday at a 22-nation pledge to triple nuclear power capacity by mid-century as a way to ward off the increasing damage of warming temperatures, with opponents calling it a costly and "dangerous" distraction from the urgent need for a fossil fuel phaseout alongside a rapid increase in more affordable and scaleable renewable sources such as wind and solar.
The Declaration to Triple Nuclear Energy —backed by the United States, Canada, France, the Czech Republic, and others—was announced as part of the Climate Action Summit taking place in Dubai as a part of the two-week U.N. climate talks known as COP28.
While the document claims a "key role" for nuclear energy to keep "a 1.5°C limit on temperature rise within reach" by 2050 and to help attain the so-called "net-zero emissions" goal that governments and the fossil fuel industry deploy to justify the continued burning of coal, oil, and gas, critics say the false solution of atomic power actually harms the effort to reduce emissions by wasting precious time and money that could be spent better and faster elsewhere.
"There is no space for dangerous nuclear power to accelerate the decarbonization needed to achieve the Paris climate goal," said Masayoshi Iyoda, a 350.org campaigner in Japan who cited the 2011 Fukushima disaster as evidence of the inherent dangers of nuclear power.
"There is no space for dangerous nuclear power to accelerate the decarbonization needed to achieve the Paris climate goal."
Nuclear energy, said Iyoda, "is nothing more than a dangerous distraction. The attempt of a 'nuclear renaissance' led by nuclear industries' lobbyists since the 2000s has never been successful—it is simply too costly, too risky, too undemocratic, and too time-consuming. We already have cheaper, safer, democratic, and faster solutions to the climate crisis, and they are renewable energy and energy efficiency."
When word of the multi-nation pledge emerged last month, Mark Jacobson, professor of civil and environmental engineering at Stanford University and co-founder of The Solutions Project which offers a roadmap for 100% renewable energy that excludes nuclear energy, called the proposal the "stupidest policy proposal I've ever seen."
Jacobson said the plan to boost nuclear capacity in a manner to avert the worst impacts of the climate crisis "will never happen no matter how many goals are set" and added that President Joe Biden was getting "bad advice in the White House" for supporting it.
In comments from Dubai, U.S. climate envoy John Kerry said that while he agrees nuclear will be a "sweeping alternative to every other energy source," but claimed that "science and the reality of facts" shows the world cannot "get to net-zero by 2050 with some nuclear."
Numerous studies and blueprints towards a renewable energy future, however, have shown this is not established fact, but rather the position taken by both the nuclear power industry itself and those who would otherwise like to slow the transition to a truly renewable energy system.
Pauline Boyer, energy transition campaign manager with Greenpeace France, said the scientific evidence is clear and it is not in favor of a surge in nuclear power.
"If we wish to maintain a chance of a trajectory of 1.5°C, we must massively reduce greenhouse gas emissions over the coming years, but nuclear power is too slow to deploy in the face of the climate emergency," she said.
"The announcement of a tripling of capacities is disconnected from reality," Boyer continued. Citing delays and soaring costs, she said the nuclear industry "is losing ground in the global energy mix every day" in favor of renewable energy options that are cheaper, quicker to deploy, and more accessible to developing countries.
In 2016, researchers at the University of Sussex and the Vienna School of International Studies showed that "entrenched commitments to nuclear power" were likely "counterproductive" towards achieving renewable energy targets, especially as "better ways to meet climate goals"—namely solar, wind, geothermal, and hydropower–were suppressed.
In response to Saturday's announcement, Soraya Fettih, a 350.org campaigner from France, which relies heavily on nuclear power, said it's simply a move in the wrong direction. "Investing now in nuclear energy is an inefficient route to take to reduce emissions at the scale and pace needed to tackle climate change," said Fettih. "Nuclear energy takes much longer than renewable energy to be operational."
Writing on the subject in 2019, Harvard University professor Naomi Orseskes and renowned author and psychohistorian Robert Jay Lifton observed how advocates of nuclear power declare the technology "clean, efficient, economical, and safe" while in reality "it is none of these. It is expensive and poses grave dangers to our physical and psychological well-being."
"There are now more than 450 nuclear reactors throughout the world," they wrote at the time. "If nuclear power is embraced as a rescue technology, there would be many times that number, creating a worldwide chain of nuclear danger zones—a planetary system of potential self-annihilation."
News