President Signs "Defend Trade Secrets Act" - Includes Key Whistleblower Protections
Bipartisan Whistleblower Provision Establishes Whistleblower Immunity and Notice
WASHINGTON
The Government Accountability Project applauds landmark whistleblower protections Defend Trade Secrets Act of 2016 signed yesterday by President Obama, which would create significant safeguards for employees, contractors and consultants who lawfully disclose trade secrets to report illegality. Section 7 of the Act, championed by Senate Judiciary Chair Charles Grassley (R-IA) and Ranking Member Patrick Leahy (D-Vt.), establishes criminal and civil immunity for employees who make disclosures to the government or to an attorney and strengthens "anti-gag" notice requirements.
Specifically, under the Act:
An individual cannot be held criminally or civilly liable for disclosure of a trade secret made in confidence to a federal, state or local government official, or to an attorney for the sole purpose of reporting or investigating a suspected legal violation.
An individual cannot be held liable for disclosure of a trade secret in a complaint or other lawsuit related document if the filing is made under seal.
An employer is required to provide notice of the immunity relating to lawful disclosures in any contract or agreement with an employee that governs the use of a trade secret or other confidential information.
An employer must provide the notice of whistleblowing immunity to maintain eligibility for exemplary damages or attorneys' fees in litigation for unprotected disclosures.
In response to these protections, GAP legal director Tom Devine commented, "This is a significant whistleblower-based reform law because it prevents the trade secrets doctrine from being used to cover up corporate misconduct. It is a landmark breakthrough for whistleblowers, because it protects them from any form of harassment, including civil 'slap suits' or criminal actions to retaliate. Until now, U.S. whistleblower laws have been limited to protection against workplace harassment."
The Government Accountability Project (GAP) is a 30-year-old nonprofit public interest group that promotes government and corporate accountability by advancing occupational free speech, defending whistleblowers, and empowering citizen activists. We pursue this mission through our Nuclear Safety, International Reform, Corporate Accountability, Food & Drug Safety, and Federal Employee/National Security programs. GAP is the nation's leading whistleblower protection organization.
LATEST NEWS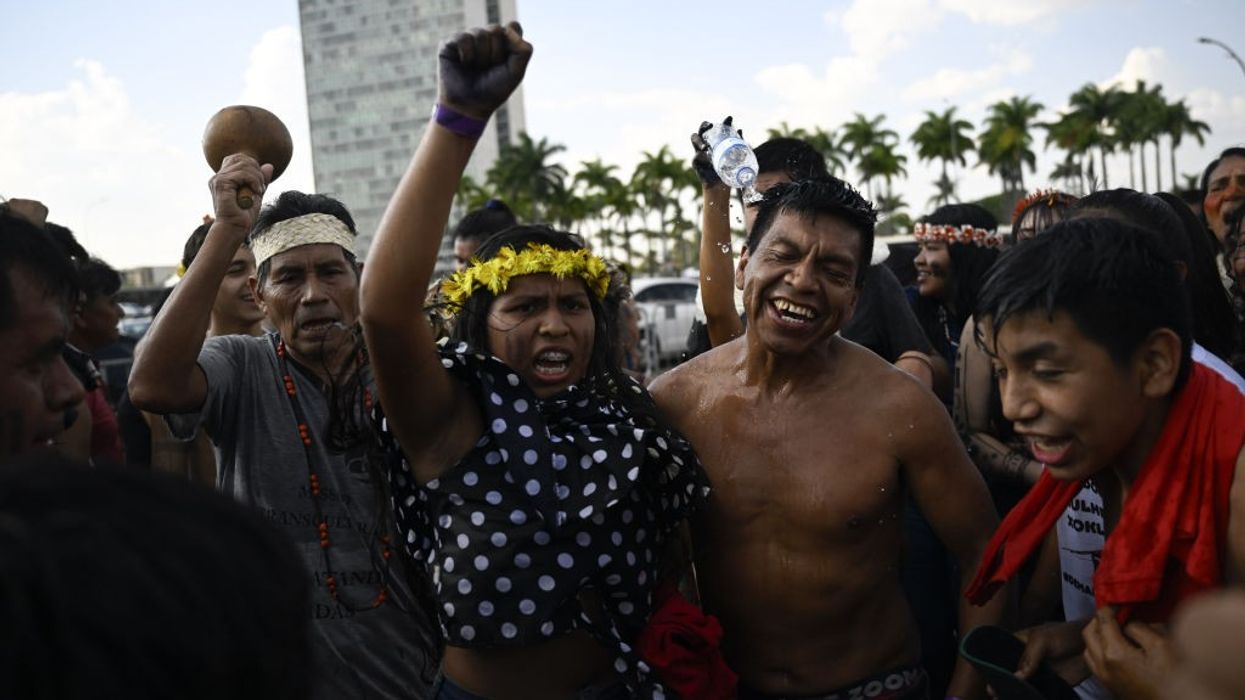 The court ruled against the Big Ag-backed "time limit trick," which would have only recognized Indigenous land claims if the group could prove they were living in a given territory on October 5, 1988.
In a major victory for Indigenous rights, Brazil's Supreme Federal Court rejected an argument Thursday that could have forced hundreds of thousands from their ancestral lands.
The so-called "time limit trick," backed by the nation's powerful agricultural interests, would have only recognized Indigenous land claims if the group could prove they were living in a given territory on October 5, 1988, the day the current Brazilian constitution was signed, as Survival International explained. The proposed rule ignored the fact that Brazil's military dictatorship displaced many Indigenous groups before it finally ended in 1985, The Guardianpointed out.
"I'm shaking," Jéssica Nghe Mum Priprá of the Xokleng-Laklano Indigenous group toldThe Associated Press while celebrating the news. "It took a while, but we did it. It's a very beautiful and strong feeling. Our ancestors are present—no doubt about it."
"The Supreme Court has shown that it cares about our lives and that it's against genocide."
The particular case the nation's highest court heard Thursday involved a land dispute in the state of Santa Catarina, Reuters reported. The Xokleng people were driven from much of their traditional lands in the state during the 1950s, when Brazil sold the land to tobacco farmers, the outlet explained in 2021. Santa Catarina then used the 1988 time limit to push more members of the Xokleng group out of a national park, prompting the current dispute.

"Before they killed us with guns, now they kill us with the stroke of a pen," former chief João Paté told Reuters in 2021.
However, the court on Thursday ruled 9-2 in favor of the Xokleng.
"Areas occupied by Indigenous people and areas that are linked to the ancestry and tradition of Indigenous peoples have constitutional protection, even if they are not demarcated," Justice Luiz Fux said.
The only two dissenting judges were appointed by right-wing former Brazilian President Jair Bolsonaro, who supported extractive industries at the expense of Indigenous rights.
The court also said that the decision had "general repercussion" status, meaning it would apply to other rulings involving Indigenous land claims.
"This is a momentous, historic victory for Brazil's Indigenous peoples, and a massive defeat for the agribusiness lobby," Survival International research and advocacy director Fiona Watson said in a statement, adding that a broad application of the time limit trick would have threatened many Indigenous groups in the country, among them the uncontacted Kawahiva.
"It was all part of a devastating assault on Brazil's Indigenous peoples and the Amazon rainforest, so this rejection of it is hugely important, not only for Indigenous peoples, but for the global fight against climate change too," she said.
Indigenous peoples gathered in Brasilia celebrated the news with dancing and weeping, The Guardian reported, as did those following the case from their homes in the Amazon region.
"We're crying with joy," Aty Guasu, an organization representing the Guarani group, said in a statement translated by Survival International. "Today we're going to sing the song of life and dance the dance of joy. The Supreme Court has shown that it cares about our lives and that it's against genocide. It has listened to the cry of the Indigenous peoples of Brazil."
National Indigenous rights group APIB also welcomed the decision, but said that there were other pending threats to Indigenous rights.
"We have indeed emerged victorious from the time frame thesis, but there is still much to be done," the group's executive coordinator Dinamam Tuxá said in a statement.
Tuxá pointed to a bill currently in the Senate that would only allow new reservations in land occupied by Indigenous groups as of 1988, as Reuters described it. While the court decision may make this provision harder to pass, the bill would also ease the way for mining, farming, dams, and transportation projects in Indigenous territory, AP explained.
"We remain mobilized," Tuxá said. "We continue to fight because we need to ensure and protect the rights of Indigenous peoples."
News
"For years, regulated interests have funded a full-scale campaign to delegitimize and dismantle federal regulations."
Hours before ProPublicarevealed new details about U.S. Supreme Court Justice Clarence Thomas' relationship with the Koch network, a group of Democratic senators filed a brief on Thursday warning that Koch-backed entities are closely involved in an upcoming case that could further gut the federal government's regulatory power—and enhance the strength of the conservative-dominated high court.
The case in question is Loper Bright Enterprises v. Raimondo, which stems from a New Jersey-based fishing company's challenge to a law requiring certain fishing boats to carry federal compliance monitors to enforce regulations.
Loper Bright Enterprises specifically objected to an interpretation of federal law by the National Marine Fisheries Service, which said the Magnuson-Stevens Act allows the agency to require industry to pay the costs of the monitors.
The dispute over an obscure federal statute has since exploded into a matter of great interest to industry groups and environmentalists, with the latter warning that if the Supreme Court sides with the plaintiffs, it will be much more difficult for federal agencies to implement climate regulations.
Sens. Sheldon Whitehouse (D-R.I.), Mazie Hirono (D-Hawaii), Dianne Feinstein (D-Calif.), and Elizabeth Warren (D-Mass.) echoed that concern and spotlighted the attention the case has attracted from right-wing and corporate-funded groups.
"This case is the product of a decades-long effort by pro-corporate interests to eviscerate the federal government's regulatory apparatus, to the detriment of the American people," the lawmakers wrote, noting that a number of groups connected to the Koch network and other powerful right-wing organizations have submitted briefs in support of the plaintiffs in Loper v. Raimondo.
"For example, amici The Buckeye Institute, Cato Institute, Competitive Enterprise Institute, Landmark Legal Foundation, Mountain States Legal Foundation, National Right to Work Legal Defense Foundation, New Civil Liberties Alliance, and Pacific Legal Foundation have all received hundreds of thousands, and sometimes millions, of dollars from Donors Trust and Donors Capital Fund—two donor-advised funds that allow ultra-wealthy interests to direct funding anonymously."
"The Buckeye Institute, Cato Institute, Competitive Enterprise Institute, New Civil Liberties Alliance, and Pacific Legal Foundation
have also received substantial funding from the Koch family foundations—another top-ten funder for the climate change counter-movement," the senators added.
"The court should proceed cautiously before contributing to their sought-for degradation of our American regulatory system."

At the center of Loper v. Raimondo is the so-called Chevron doctrine, a decades-old administrative law principle that says courts should defer to a federal agency's "reasonable" interpretation of a statute when the law's language is ambiguous.
The plaintiffs in the case and their corporate-backed supporters have called on the Supreme Court to either weaken the Chevron doctrine or overrule it entirely.
In its amicus brief in the case, the Cato Institute—which was co-founded by billionaire oil tycoon Charles Koch—declares that the Chevron doctrine is "unconstitutional and ahistorical" and has "wreaked havoc in the lower courts upon people and businesses."
The Democratic senators counter in their brief that the Chevron doctrine has been critical in "allowing Congress to rely on agency capacity and subject-matter expertise to help carry out Congress' broad policy objectives."
"Administrative regulations reined in dangerous industry activities," the senators added, "and our society became safer and more prosperous."

A ruling that effectively casts the principle aside, the lawmakers argued, "would not just conflict with Congress' well-established policymaking desires; it would erode the separation of powers by shifting policymaking power from Congress and the executive to the unaccountable judiciary."
The brief was submitted a day before ProPublicareported that Thomas, one of the justices poised to rule on Loper v. Raimondo, has attended at least two donor events for the Koch network during his time on the Supreme Court.
ProPublica noted that Thomas used to support the Chevron doctrine but has changed his position in recent years amid a growing corporate onslaught against the regulatory principle.
The Democratic senators stressed in their brief that "the assault in this case on the regulatory system is not an isolated effort."
"For years, regulated interests have funded a full-scale campaign to delegitimize and dismantle federal regulations," the lawmakers wrote. "The court should proceed cautiously before contributing to their sought-for degradation of our American regulatory system."

News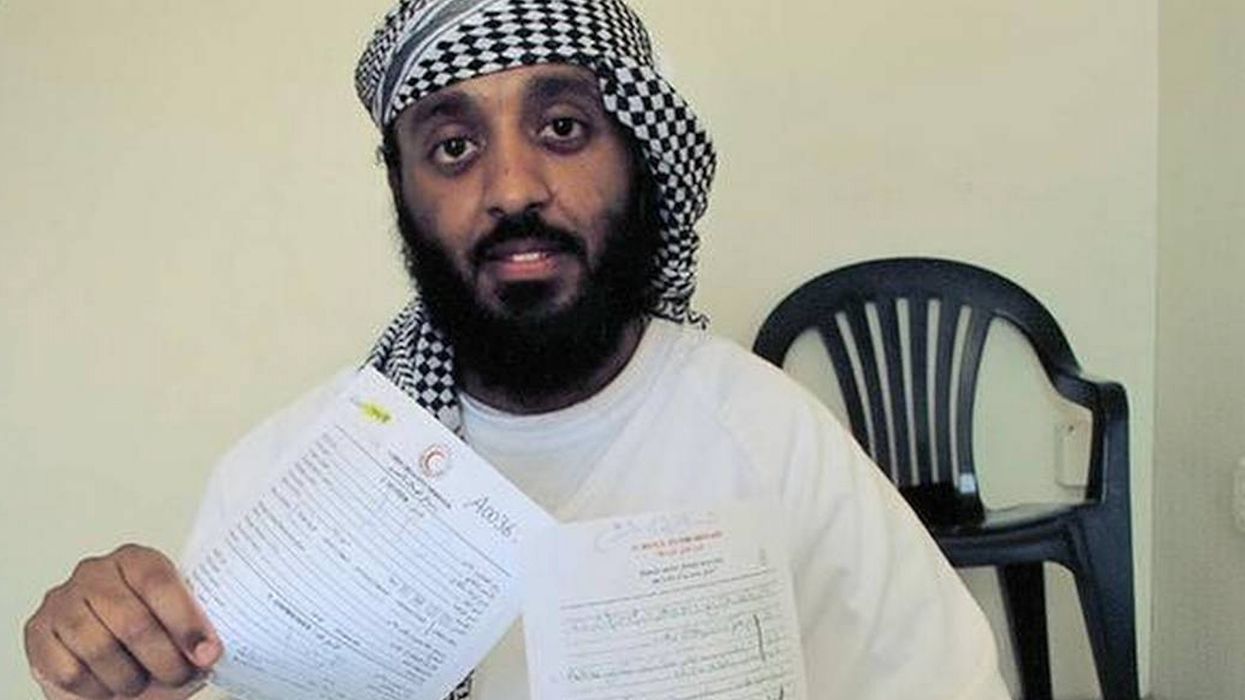 "This decision by the military judge today does mark the first time that the United States has formally acknowledged the CIA torture program produced profound and prolonged psychological harm," said al-Shibh's lawyer.

A U.S. military judge on Thursday found Guantánamo Bay prisoner Ramzi bin al-Shibh—who stands accused of being a key 9/11 organizer—unfit to stand trial because he suffers from mental illness his attorney says was caused by CIA torture years ago.
Air Force Col. Matthew McCall severed al-Shibh, a 51-year-old Yemeni, from the conspiracy case involving four other defendants who allegedly organized the cell of militants in Hamburg, Germany who hijacked American Airlines Flight 11 and flew it into the north tower of the World Trade Center in Manhattan on September 11, 2001. Al-Shibh had been charged as an accomplice in the case.
"This decision by the military judge today does mark the first time that the United States has formally acknowledged that the CIA torture program produced profound and prolonged psychological harm," David Bruck, al-Shibh's lead defense attorney, told reporters at Guantánamo Bay on Thursday evening. "This is exactly what the CIA promised would not happen."

McCall's ruling—which does not directly attribute torture as the cause of al-Shibh's afflictions—came after a three-member military "sanity board" diagnosed the defendant with post-traumatic stress disorder with secondary psychotic features and persecutory delusional disorder. This, the board said, renders him "unable to understand the nature of the proceedings against him or cooperate intelligently in his defense."
According toLawdragon editor-in-chief John Ryan:
Al-Shibh has long claimed that the detention facility guard force has subjected him to noises and vibrations, continuing his torture from CIA black sites... In recent years, his lawyers have also claimed that al-Shibh feels stabbing and other painful sensations that he experiences as directed invisibly at parts of his body. The government has denied the allegations.
"The totality of the facts demonstrates an accused who is wholly focused on his delusions," McCall wrote in his ruling, according to The New York Times. "Again and again, he focuses his counsel's work on stopping his delusional harassment, (which) demonstrates the impairment of his ability to assist in his defense."
Military prosecutor Clayton Trivett Jr. acknowledged that al-Shibh is delusional but insisted "he has the capacity to participate" in his defense, and that his refusal to do so is "really just a choice."
Citing al-Shibh's cooperation with his defense team, Trivett added that "this does not look like someone who is incompetent."
While McCall ordered pretrial proceedings to continue Friday for Khalid Sheikh Mohammed—the alleged mastermind of the attacks that killed nearly 3,000 people on 9/11—as well as three co-defendants, what comes next for al-Shibh is unknown.
All five of the 9/11 defendants—Mohammed, his nephew Ammar al-Baluchi, Walid bin Attash, Mustafa al-Hawsawi, and al-Shibh—were captured in Pakistan in late 2002 and early 2003 before being turned over to the United States. Hassan bin Attash, who was captured with bin al-Shibh in Karachi, has testified that they were both sent via extraordinary rendition to the notorius "Salt Pit" outside Kabul, Afghanistan, where suspected militant Gul Rahman was tortured to death in November 2002.
Like Rahman, al-Shibh says he was shackled naked to a ceiling in a painful "stress position" for days on end. He was then reportedly sent to Jordan, where one witness told Human Rights Watch he was subjected to "electric shocks, long periods of sleep deprivation, forced nakedness, and being made to sit on sticks and bottles."
Al-Shibh told the International Committee of the Red Cross that he was kept naked and shackled to the ceiling for a week at a black site in Poland, where he was also deprived of solid food for three to four weeks.
According to the CIA's own documents:
The interrogation plan proposed that... al-Shibh would be subjected to "sensory dislocation." The proposed sensory dislocation included shaving al-Shibh's head and face, exposing him to loud noise in a white room with white lights, keeping him "unclothed and subjected to uncomfortably cool temperatures," and shackling him "hand and foot with arms outstretched over his head (with his feet firmly on the floor and not allowed to support his weight with his arms)".
The CIA torture plan also included near-constant interrogations, slamming into walls, hard slaps to the face and abdomen, stress positions, sleep deprivation beyond 72 hours, and the interrupted drowning torture known as waterboarding.
Al-Shibh was also held at a black site in Morocco for three-and-a-half months, where Moroccan agents allegedly tortured him under CIA supervision. Moroccan interrogators videotaped some of the interrogations and handed the footage over to the CIA.
This isn't the first time that torture played a role in derailing the prosecution of an alleged 9/11 plotter. In 2009, Susan J. Crawford, the top George W. Bush administration official in charge of deciding whether to bring Guantánamo prisoners to trial, declared that the U.S. "tortured" Mohammed al-Qahtani, the alleged would-be 20th 9/11 hijacker, and declined to green light his prosecution.
Col. Stuart Crouch, a Guantánamo prosecutor whose Marine Corps buddy was a pilot on one of the planes that crashed into the World Trade Center on 9/11, refused to prosecute Mohamedou Ould Slahi—who allegedly helped organize the plane's hijacking—because he was tortured.
Additionally, numerous Guantánamo officials have resigned over what they claim is a corrupt military commission system. Former lead prosecutor Col. Morris Davis—who called trials there "rigged from the start"—stepped down in 2007, claiming he was told by top Bush lawyer Jim Haynes that acquittals were unacceptable.
"I now understand that the commissions were doomed from the start. We used new rules of evidence and allowed evidence regardless of how it was obtained."
At least four other military prosecutors—Maj. Robert Preston, Capt. John Carr, Capt. Carrie Wolf and Darrel J. Vandeval—requested to be removed from the military commissions because they also felt that the proceedings were unfair.
In 2021, seven out of eight members of the military jury convened to hear the case against Guantánamo detainee and alleged terrorist plotter Majid Khan recommended total clemency after the defendant testified how he endured torture including rape, being hung from a ceiling beam, and being waterboarded while he was held at a CIA black site in Afghanistan.
Earlier this year, Ted Olson—the former Bush administration solicitor-general who then argued against basic legal rights for Guantánamo Bay prisoners and defended their indefinite detention and torture—made a stunning admission, saying the military commissions don't work and should be shut down, and the government should strike plea deals with 9/11 defendants held at the prison.
"In retrospect, we made two mistakes in dealing with the detained individuals at Guantánamo," Olson wrote. "First, we created a new legal system out of whole cloth. I now understand that the commissions were doomed from the start. We used new rules of evidence and allowed evidence regardless of how it was obtained."
Defense and prosecution attorneys had been negotiating a possible plea deal that would have spared the defendants the prospect of execution. However, earlier this month the White House said that President Joe Biden would not approve or deny such a request because he "was unsettled about accepting terms for the plea from those responsible for the deadliest assault on the United States since Pearl Harbor," according to The Associated Press.
News
Independent, nonprofit journalism needs your help.
Please Pitch In
Today!