For Immediate Release
Contact:
Sam Husseini, (202) 347-0020; or David Zupan, (541) 484-9167
'Patriot Act,' 'Freedom Act' -- or a 'Government Shell Game'
AP reports: "Eight days after blocking it, Senate Republicans have agreed to begin debate on a House bill that would overhaul the National Security Agency's handling of American calling records while preserving other domestic surveillance provisions.
WASHINGTON
AP reports: "Eight days after blocking it, Senate Republicans have agreed to begin debate on a House bill that would overhaul the National Security Agency's handling of American calling records while preserving other domestic surveillance provisions.
"But that remarkable turnabout didn't happen soon enough to prevent the laws governing the programs from expiring at midnight Sunday as Republican Sen. Rand Paul, a presidential contender, stood in the way of extending the program, angering his GOP colleagues and frustrating intelligence and law enforcement officials.
"Now, the question is whether the Senate will pass a bill the House can live with. If so, the surveillance programs will resume, with some significant changes in how the phone records are handled. If not, they will remain dormant.
"The Senate vote on the measure known as the USA Freedom Act can come no earlier than 1 a.m., Tuesday. Senate Republican aides said they expected some amendments, but no major revisions to the bill." See CNN report.
See Obama's radio address backing the so-called USA Freedom Act.
J. KIRK WIEBE, jkwiebe at comcast.net, @KirkWiebe
Wiebe is a retired National Security Agency whistleblower who worked at the agency for 36 years. Unable to stay at NSA any longer in good conscience, Wiebe retired in October 2001. Since retiring, Wiebe and his fellow NSA whistlblower Bill Binney made several key public disclosures regarding NSA's massive surveillance program. Wiebe said today: "The larger picture is that the government is playing a shell game, essentially doing what it wants with or without USA Freedom, and that unless we achieve comprehensive review of intelligence policies, we are essentially not improving much in the way of privacy. That's not to say a victory in defeating parts of the Patriot Act is not important, just that it leaves much to be done by a Congress that doesn't like being held accountable.
"The whole matter would be moot if the government would adopt an intelligence production process from collection through analysis that was in line with the Constitution -- that the technology exists to do just that, even addressing judicial review (not FISA, but regular Article III court) within seconds, thus mooting the Haydens out there who say the regular court review process takes too long. That fact -- that the problem is solvable with today's technology -- portrays the existing proponents of keeping Patriot or just modifying it slightly as in Freedom as either incompetent, or possessing hidden agendas, or just not interested in defending the Constitution."
Wiebe will be taking part in Stand Up for Truth events this week, a series of events to support whistleblowing; he and Bill Binney will be on the last of a series of webcasts that being Tuesday evening. Talks are being held in Chicago and a "Chalkupy" event is happening in Los Angeles. Other webcast participants include EPA whistlblower Marsha Coleman-Adebayo, and State Department whistleblower Matthew Hoh. Pentagon Papers whistleblower Dan Ellsberg will be with a group of whistleblowers speaking in London, Oslo, Stockholm and Berlin. IPA is a co-organizer of these events. For a full schedule, see: standupfortruth.org/events.
SUE UDRY, sue.udry at defendingdissent.org
Executive director of the Bill of Rights Defense Committee/Defending Dissent Foundation, Udry said today: "Hundreds of thousands of Americans have joined the debate over unwarranted mass surveillance in the last two weeks, and over the last two years since the first Snowden revelations. Civic participation has forced Congress to take a little more time before re-authorizing a law that flagrantly violates the Constitution.
"But ultimately, Congress ignored the American people, and ignored the fact that Section 215 has not been shown to be a necessary tool to fight terrorism.
"Although amendments to improve the USA Freedom Act may ultimately be approved, the FBI, NSA and other intelligence agencies will be allowed to continue to collect private information about Americans who are under no suspicion of crime.
"Worse, Congress continues to operate in willful ignorance, refusing to demand a full accounting of all surveillance programs our intelligence agencies are using to gather information about innocent Americans. It is long since time for a new Church Committee to investigate what intelligence agencies are doing.
"Beyond the mass surveillance authorities in the bill, we are concerned that transparency provisions are inadequate, and specifically exempt the FBI. This is particularly galling given a Department of Justice Inspector General report released two weeks ago that confirms the FBI has been using Section 215 to collect internet records in bulk, and violated the law regarding minimizing records for seven years."
A nationwide consortium, the Institute for Public Accuracy (IPA) represents an unprecedented effort to bring other voices to the mass-media table often dominated by a few major think tanks. IPA works to broaden public discourse in mainstream media, while building communication with alternative media outlets and grassroots activists.
LATEST NEWS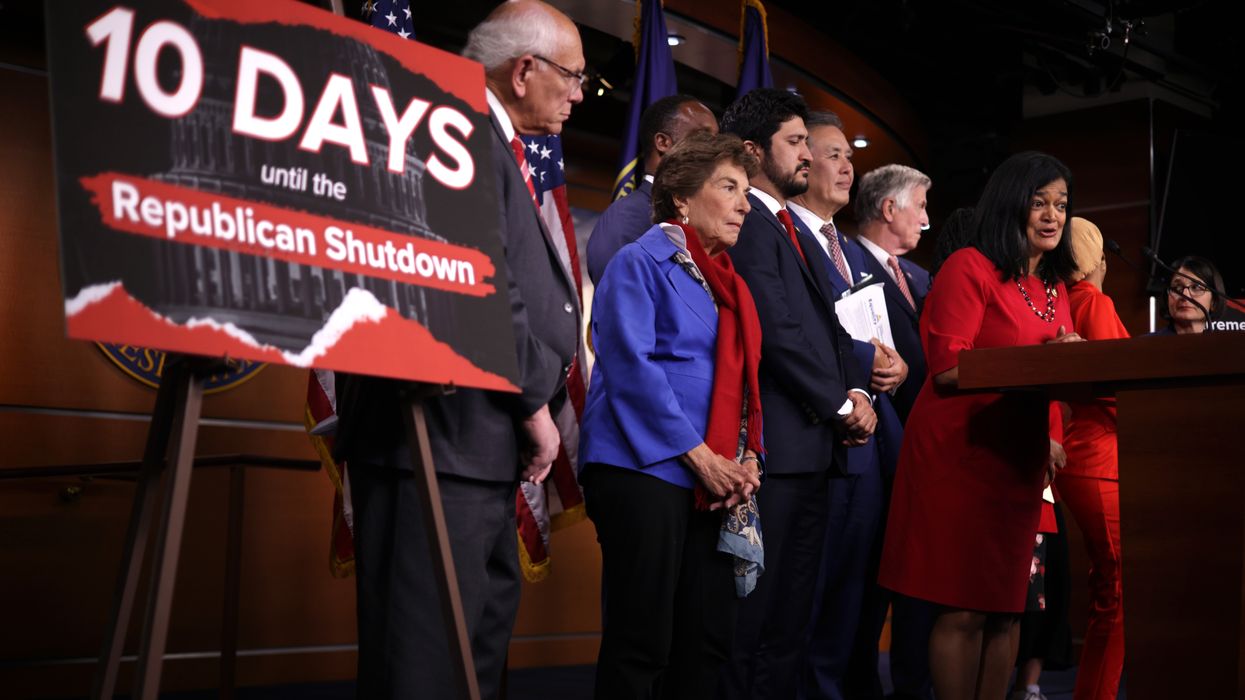 "Extremists in Congress need to stop using our lives as bargaining chips," said AFSCME's president. "It's time for them to follow through on the promises they have already made to keep the government open."
Just 10 days away from a potential U.S. government shutdown, calls for bipartisan action to prevent it are mounting, as is outrage over Republicans in the House of Representatives who seem content with causing chaos.
"What we want is simple: No cuts. No layoffs. No shutdown," Congressional Progressive Caucus (CPC) Chair Pramila Jayapal (D-Wash.) said at an afternoon press conference. She described the "Republican shutdown" as "a ticking time bomb," and called out the GOP—particularly House Speaker Kevin McCarthy (R-Calif.)—for lighting the fuse.
"And who loses from these absurd, delusional political games? Working- and middle-class families will suffer," Jayapal stressed. In addition to some CPC members, she was flanked by signs calling out McCarthy and warning that MAGA Republicans are trying to pull teachers out of classrooms, kick kids out of preschool, and slash funding for food aid.
Far-right House Republicans this week have refused to support a McCarthy-backed continuing resolution (CR) that would prevent a government shutdown for a month. The measure contains provisions also opposed by congressional Democrats and President Joe Biden—including spending cuts that conflict with the Fiscal Responsibility Act, the debt limit deal Biden struck with McCarthy earlier this year.
In a Wednesday letter to McCarthy arguing that "the time has come to end partisan posturing and put forward a viable path to funding our government," 92 members of the CPC noted that the GOP has pushed for betraying the debt ceiling deal.
"We stand ready to support a bipartisan funding vehicle free of poison pill policy riders that is consistent with the agreement you struck with President Biden and which was ratified by bipartisan majorities in both the House and Senate," they wrote. "If you choose not to pass a bipartisan government funding bill consistent with the Fiscal Responsibility Act, you are deliberately choosing to shut down the government."
"We can look to the Senate for an example, where senators achieved bipartisan consensus on funding and policy for all 12 of its appropriations bills," the CPC members continued. "In contrast, your House majority has been unable to pass the vast majority of its own hyper-partisan appropriations bills, despite the inclusion of extreme policy riders and draconian spending cuts designed to accommodate the far-right faction of your conference."
The CPC was far from alone in calling out the GOP on Wednesday. The Biden White House said in a lengthy statement that "extreme House Republicans are consumed by chaos and marching our country toward a government shutdown that would damage our communities, economy, and national security."
The White House highlighted impacts of the looming shutdown, from endangering disaster response and delaying infrastructure projects to undermining medical research, food safety, and environmental and public health protections.
"These consequences are real and avoidable—but only if House Republicans stop playing political games with people's lives and catering to the ideological demands of their most extreme, far-right members," the White House added. "It's time for House Republicans to abide by the bipartisan budget agreement that a majority of them voted for, keep the government open, and address other urgent needs for the American people."
Lee Saunders, president of the American Federation of State, County, and Municipal Employees (AFSCME)—the nation's largest trade union of public employees—also called out "anti-worker politicians in Congress" for "going back on their word."
"They are demanding drastic cuts to the essential programs millions of families need to survive—food, housing, education, and more," he said. "And to get their way, they are using the threat of a government shutdown, which would jeopardize the livelihood of frontline federal employees as well as their families, while pausing lifesaving programs for millions of people nationwide."
"All this to appease their corporate megadonors, who care about little else besides receiving massive tax cuts," Saunders emphasized. "Extremists in Congress need to stop using our lives as bargaining chips. It's time for them to follow through on the promises they have already made to keep the government open."
The current GOP-caused chaos on Capitol Hill was arguably predicable. As Chris Lehmann wrote Tuesday for The Nation:

Today's shutdown battle involves little in the way of clear policy objectives beyond McCarthy's rapid capitulation to far-right House demands to launch Biden impeachment inquiries and the perennial demand for more draconian measures to police the U.S. southern border. "In many ways, the shutdown is the goal," says Princeton University historian Julian Zelizer... "Meaning, to create chaos and dysfunction has become an animating goal for the GOP, which makes negotiation much harder to achieve even within the party."

[...]

Across the past quarter-century of Republican-engineered shutdowns, the clearest lesson is that the triumph of procedural nihilism only ensures that things will get worse. Since this budget bloodsport launched in 1995, Zelizer says, "we have seen a continual ratcheting up of what the GOP is willing to do: shutdowns, debt ceiling threats, and the rest are all part of the new normal. McCarthy... accepts this and agreed to rules that made these forces stronger than ever."
Given those conditions, "small groups of centrist Democrats are holding secret talks with several of McCarthy's close GOP allies about a last-ditch deal to fund the government," Politicoreported Wednesday, citing over a half-dozen people familiar with the discussions.
"Generally, the bipartisan group is focusing on two major ideas: a procedural maneuver to force a vote on a compromise spending plan—or somehow crafting a bill so popular that McCarthy can pass it and survive any challenge from the right," according to the outlet. "That bill would likely be a bipartisan short-term patch with some disaster money, Ukraine aid, and small-scale border policies."
In the meantime, Punchbowl News' John Bresnahan reported after House Republicans' Wednesday afternoon meeting that "the current thinking in House GOP leadership" is that the chamber should focus on a defense bill Thursday and Friday, then pass a new CR Saturday.
Then, the Senate could take up the CR, amend it, and send it back to House, which "will take several days" and "sets up shutdown drama for [the] following weekend," he explained, stressing that "this is all very fluid."
On the Senate side, Majority Leader Chuck Schumer (D-N.Y.) said Wednesday that "House Republicans rejected their own extremist bill, and by rejecting it, that's a dead giveaway they're not serious about avoiding a shutdown."
"Speaker McCarthy says he wants to avoid a shutdown, he says nobody wins in a shutdown," Schumer added. "Well, then he should reach across the aisle to find an agreement that actually has the votes to pass both chambers. That's the only way—the only way—this crisis gets resolved."
This post has been updated with comment from Senate Majority Leader Chuck Schumer (D-N.Y.) and the Groundwork Collaborative.

News
The allegations against the former Trump attorney and New York City mayor follow a $10 million sexual assault suit filed earlier this year by a former high-level employee.
Former White House aide Cassidy Hutchinson alleges that Rudy Giuliani, who was serving as an attorney for then-President Donald Trump, groped her hours before the January 6, 2021 attack on the U.S. Capitol, The Guardianreported Wednesday.
Hutchinson—a former aide to White House Chief of Staff Mark Meadows who has testified before Congress about the conduct of Trump and members of his inner circle on the day of the insurrection—accuses Giuliani in her new book, Enough. Hutchinson claims the former New York City mayor touched "under my blazer, then my skirt."
"I feel his frozen fingers trail up my thigh," she writes. "He tilts his chin up. The whites of his eyes look jaundiced. My eyes dart to [Trump adviser] John Eastman, who flashes a leering grin."
"I fight against the tension in my muscles and recoil from Rudy's grip," she continues. "Filled with rage, I storm through the tent, on yet another quest for Mark."
The alleged incident took place backstage at the speech Trump delivered near the White House, in which he exhorted his supporters to march on the Capitol as part of his efforts to overturn his 2020 election loss to President Joe Biden.
Giuliani spokesperson Ted Goodman told The Guardian that "it's fair to ask Cassidy Hutchinson why she is just now coming out with these allegations from two-and-a-half years ago, as part of the marketing campaign for her upcoming book release."
"This is a disgusting lie against Mayor Rudy Giuliani—a man whose distinguished career in public service includes taking down the mafia, cleaning up New York City, and comforting the nation following September 11," Goodman added.
This isn't the first time that Giuliani has been accused of sexual misconduct. In May, Noelle Dunphy, a former head of business development for multiple Giuliani-owned companies, filed a $10 million lawsuit alleging "unlawful abuses of power, wide-ranging sexual assault and harassment, wage theft, and other misconduct."
Dunphy's suit claims Giuliani—who she said took Viagra "in preparation"—would demand "sexual gratification" from her and make her "work naked, in a bikini, or in short-shorts with an American flag on them that he bought for her."
News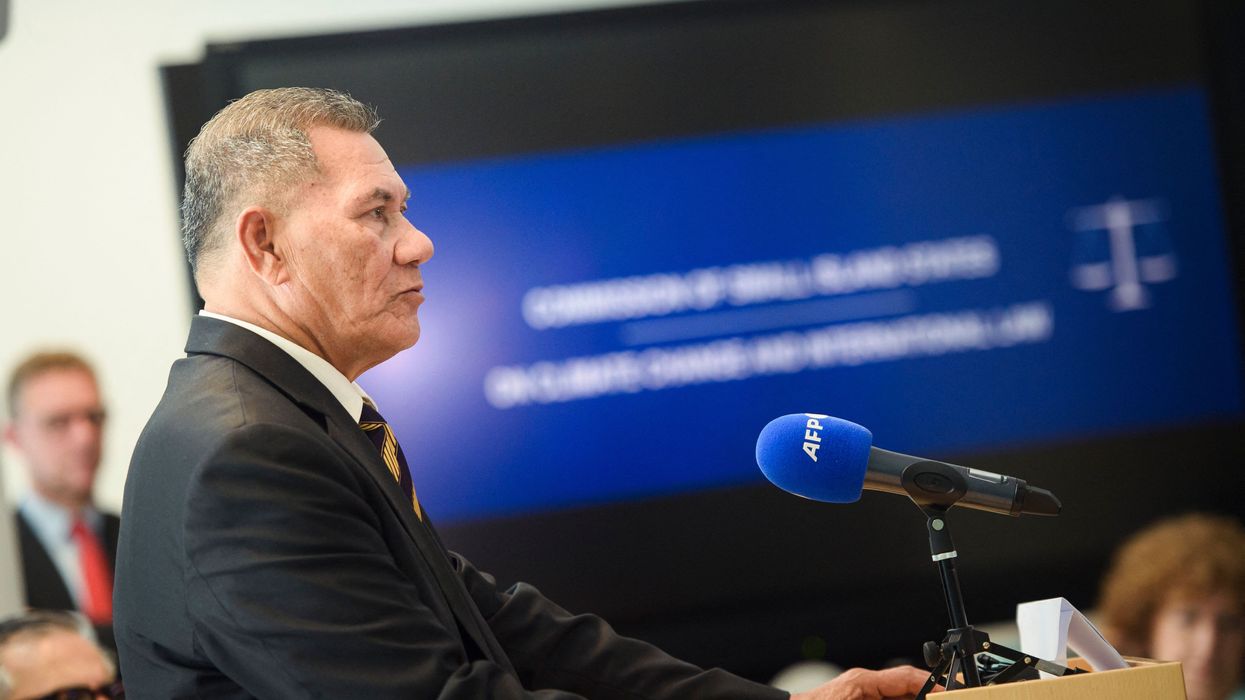 "The longer we remain addicted to fossil fuels, the longer we commit ourselves to mutual decline," Tuvaluan Prime Minister Kausea Natano said at the U.N. Climate Ambition Summit.
As heads of climate-wrecking nations like the United States, China, and Britain declined to attend Wednesday's United Nations Climate Ambition Summit in New York, leaders of Pacific island and other Global South countries renewed the push for a fossil fuel nonproliferation treaty.
The government of Tuvalu is working with neighbors Vanuatu, Fiji, Tonga, the Solomon Islands, and the self-governing New Zealand territory of Niue—all signatories to the Port Vila Call, a framework to a just transition to a fossil-free Pacific—and global partners to draft a FFNPT.
"The longer we remain addicted to fossil fuels, the longer we commit ourselves to mutual decline," Tuvaluan Prime Minister Kausea Natano said at the summit. "A negotiated fossil fuel nonproliferation treaty would complement the Paris agreement and ensure a global just transition.
"We've proven we can mobilize our collective ambition at the multilateral level. The scale of the challenge we face can now only be met with an even greater level of ambition and cooperation," he added. "I traveled thousands of miles over four days to be here today, because I believe in international cooperation and multilateralism. I have faith in our collective humanity and our ability to foster global solidarity to undertake what needs to be done."
Launched in 2020 and backed by hundreds of groups, thousands of scientists, and people around the world from youth to grandparents, the FFNPT is based on three pillars:
Ending expansion of new coal, oil, or gas production in line with the best available science;
Phasing out the production of fossil fuels in a manner that is fair and equitable; and
Ensuring a global just transition to 100% access to renewable energy globally.
In addition to the aforementioned nations, the country of East Timor, the European Parliament, and the World Health Organization have called for a FFNPT. Scores of cities and other subnational governments have also endorsed the FFNPT, including London, Paris, Los Angeles, Sydney, Toronto, and the Hawaiian Legislature.
Earlier this month, California became the largest economy in the world to endorse the treaty.
"This climate crisis is a fossil fuel crisis," Democratic California Gov. Gavin Newsom said at Wednesday's summit. "It's not complicated. It's the burning of oil. It's the burning of gas. It's the burning of coal. And we need to call that out. For decades and decades, the fossil fuel industry has been playing each and every one of us in this room for fools."
Colombian President Gustavo Petro, another supporter of the treaty, said during Wednesday's summit that "the real goal that all countries should have is aiming for zero production and supply of carbon gas and oil. If we don't aim for that as our overarching goal, life will not be saved."
"If we keep on our current track it will be suicide," he added. "We live on coal and gas exports, but if we don't change course it will mean death because those industries are polluting the atmosphere. Fossil capital is a burden for humankind. Fossil fuel subsidies need to be completely eliminated worldwide. That would give us a prospect for the future."
Tzeporah Berman, chair of the Fossil Fuel Nonproliferation Treaty Initiative, said at a press conference Wednesday that "today was a turning point... A growing block of countries is calling for a FFNPT that would ensure an end to expansion of oil, gas, and coal projects, and cooperation on a plan for a managed wind-down that is fast, fair, and financed."
The climate action group Oil Change International blasted what it called wealthy nations' "display of inaction and indifference."
"The handful of rich countries driving oil and gas expansion failed to answer United Nations Secretary-General António Guterres' call for an end to new fossil fuel production," the group noted. "These countries, with the greatest financial means and responsibility to lead a fast and fair global phaseout of production, are instead leading in jeopardizing the global 1.5°C goal."
"Five Global North countries—the United States, Canada, Australia, Norway, and the United Kingdom—are responsible for 51% of carbon dioxide pollution threatened by new oil and gas extraction between 2023 and 2050," Oil Change continued. "If these planet-wreckers were to heed the United Nations secretary-general's call to halt new oil and gas, we could prevent a staggering 100 billion tons of carbon pollution from entering our atmosphere, equivalent to the lifetime emissions of over 620 new coal plants."
"In contrast, countries like Chile, Denmark, France, and Tuvalu were invited to speak at the summit," the group added, "as they have halted fossil fuel expansion and financing as needed to align with 1.5°C."
News
Independent, nonprofit journalism needs your help.
Please Pitch In
Today!