UN: Rights Body Should Investigate Syrian Crackdown
Reject Syria's Bid for Human Rights Council Seat
GENEVA
The United Nations Human Rights Council should strongly condemn repression of peaceful protests in Syria and mount an investigation into recent violence, Human Rights Watch said. The council is meeting to discuss Syria on April 29, 2011, following a request for a special session by 16 council members, including the United States, South Korea, Mexico, Senegal, and Zambia.
The United States has put forward a draft resolution for the session that condemns the killing, arrest, and torture of peaceful protesters in Syria and calls for the establishment of an international commission of inquiry into abuses in the country.
"Syria's President Bashar al-Assad needs to hear an unequivocal message from the Human Rights Council that violent suppression of peaceful protests is unacceptable and will have consequences," said Julie de Rivero, Geneva director at Human Rights Watch. "An international investigation into the Syria crackdown
should help deter further violence."
Human Rights Watch has reported that Syrian security forces have responded to largely peaceful protests with lethal force, including live ammunition fired from military assault weapons, resulting in at least 300 deaths. The death toll from the violence could be as high as 453, according to the Syrian Observatory for Human Rights. The UN Special Rapporteur on extrajudicial executions stressed that "live ammunition is being used in clear violation of international law."
The violence has escalated in recent days with more than 100 protesters killed on April 22-23, according to Human Rights Watch. The authorities have prevented medical personnel in at least two towns from tending to wounded protesters, and injured people have been denied access to hospitals. They have also detained at least 1,100 protesters, some of whom have been beaten and tortured. The security services have also arbitrarily arrested and tortured activists, writers, and journalists who have reported on or expressed support for the anti-government protests.
The Organization of the Islamic Conference (OIC) has circulated an alternative text to the draft council resolution that softens all language critical of Syria and includes no action to address the ongoing crisis. Four Syrian and Egyptian human rights organizations have denounced the OIC's position, and called on the Arab League to publicly reject the OIC's revisions. The organizations said that the OIC's proposals "constitute an additional crime against the Syrian people and an insult to the blood of martyrs of democratic uprisings in Egypt, Tunisia, Libya, Yemen and Bahrain."
While suppressing protests at home, Syria is actively campaigning for a seat on the Human Rights Council, with elections to the body scheduled in the UN General Assembly on May 20. The draft resolution states that the General Assembly resolution establishing the council "requires Member States to take into account the contribution of candidates to the promotion and protection of human rights" when electing new members. Although that proposition would seem unassailable, Nigeria, on behalf of the African Group, objected to its inclusion in the draft resolution. Middle Eastern and Asian human rights organizations have also called for UN member states to reject Syria's bid for a seat on the Council.
"Governments should tell Syria in no uncertain terms that its rampant abuses disqualify it from membership on the Human Rights Council," de Rivero said. "Syria's election bid discredits all those who support it, as well as the council itself."
Human Rights Watch has also called for urgent action by the Human Rights Council on the ongoing human rights crises in Bahrain and Yemen, which to date have not been addressed by the council.
Human Rights Watch is one of the world's leading independent organizations dedicated to defending and protecting human rights. By focusing international attention where human rights are violated, we give voice to the oppressed and hold oppressors accountable for their crimes. Our rigorous, objective investigations and strategic, targeted advocacy build intense pressure for action and raise the cost of human rights abuse. For 30 years, Human Rights Watch has worked tenaciously to lay the legal and moral groundwork for deep-rooted change and has fought to bring greater justice and security to people around the world.
LATEST NEWS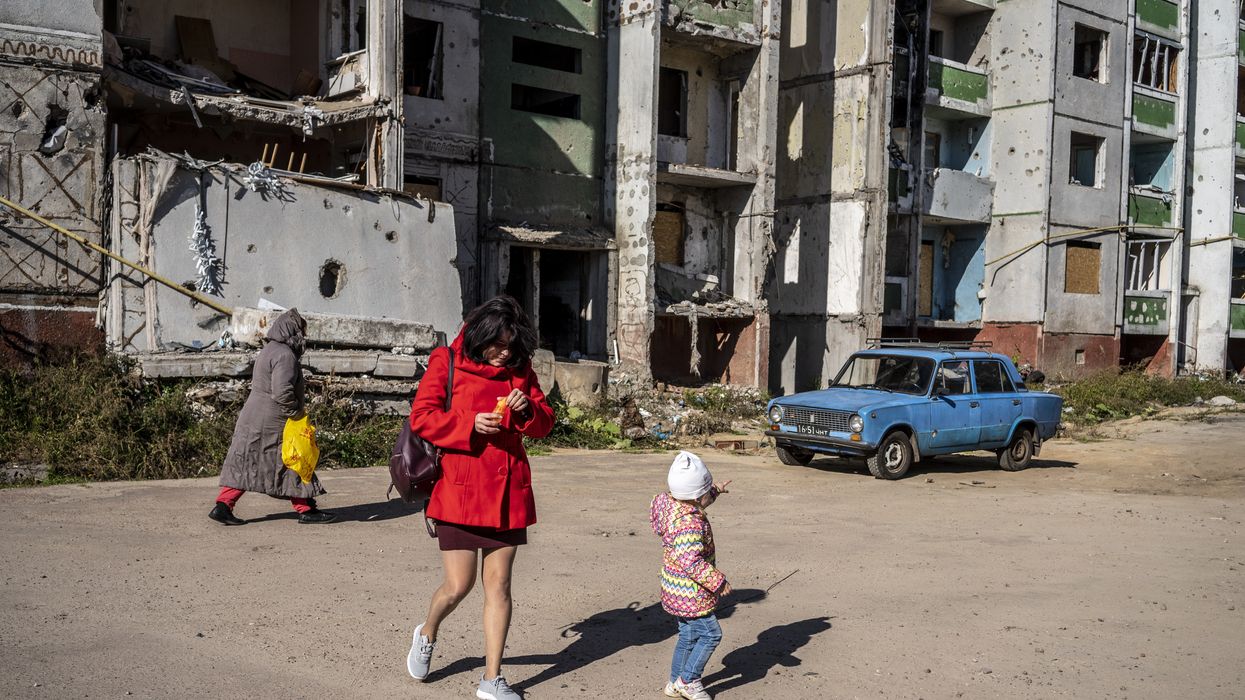 "It's unconscionable that civilians are still dying from cluster munition attacks 15 years after these weapons were outlawed," said one advocate.

The refusal of countries including Russia, Ukraine, and the United States to end the use and transfer of cluster munitions caused nearly 1,000 civilian deaths and injuries in 2022, according to the latest international report on the use of the widely banned weapons.
In the Cluster Munition Monitor 2023 reporton Tuesday, a coalition including Human Rights Watch (HRW), Humanity & Inclusion, and the Colombian Campaign to Ban Landmines reported that cluster munitions killed or wounded at least 1,172 people last year.
Nearly 1,000 people were killed or injured by cluster bomb attacks—including 890 in Ukraine, which has been under invasion by Russia since February 2022—while at least 185 people were killed or wounded by the remnants of cluster munitions.
Cluster munitions explode in the air after being fired by rockets or aircraft and can disperse numerous submunitions across a wide area, creating de facto landmines in residential neighborhoods and other places frequented by civilians and making the bombs deadly for years after they initially explode.
The "immediate and long-term civilian harm and suffering" caused by cluster munitions are the reason they have been banned by 112 countries that have ratified the 2008 Convention on Cluster Munitions, said Mary Wareham, arms advocacy director at HRW.

"It's unconscionable that civilians are still dying from cluster munition attacks 15 years after these weapons were outlawed," she said in a statement.
Twelve additional countries have signed the convention, signaling a willingness to abide by its ban on the use, production, stockpiling, or transfer of cluster munitions.
More than 70 countries, however, have yet to sign onto the agreement, leaving civilians in countries including Ukraine, Myanmar, and Syria in danger of the bombs.
In 2022, the remnants of cluster munitions killed or maimed civilians in Azerbaijan, Iraq, Laos, Lebanon, Syria, Ukraine, and Yemen, with 71% of the casualties recorded among children, who sometimes mistake unexploded ordnance for harmless metal balls and pick them up to play with them.
There were no new cluster bomb attacks in Iraq in 2022, but 15 people were killed by their remnants and 25 were wounded, according to HRW. Ninety people were wounded by remnants in Yemen, where there were also no new attacks, and five were killed.

"This weapon must be stopped," said Beatrice Fihn, former executive director of the International Campaign to Abolish Nuclear Weapons, after HRW's study was released.
According to HRW's report, Russia used old stockpiles of cluster munitions as well as new weapons in 2022 and the first half of this year. This past July, the U.S. began transferring to Ukraine cluster munitions that have a 6%-14% rate of delivering unexploded ordnance.
HRW says that the progress made by countries that have ratified the Convention on Cluster Munitions suggests that casualties caused by the bombs would be drastically reduced if the U.S. and other countries signed the treaty.

"The greatest obstacle to countries working to eradicate cluster munitions are governments that are unwilling to join the convention and that undermine its principles by using or transferring the weapon," Wareham said. "Overall, countries that have banned cluster munitions are making steady progress to destroy their stockpiles and clear contaminated areas, despite wide-ranging challenges."
There have been no confirmed reports of new use, production, or transfers of cluster munitions by any of the countries that have ratified the agreement.
State parties that have signed onto the treaty have collectively destroyed 99% of their cluster bomb stockpiles, amounting to 1.47 million munitions and 178.5 million submunitions.
Bulgaria destroyed the last of its stockpile in June, and Belgium destroyed 95% of its munitions in 2022. Eleven countries have retained live cluster munitions "for permitted research and training purposes," according to HRW.
"Cluster munitions are widely stigmatized weapons for ethical, legal, and humanitarian reasons," Wareham said. "Governments that buck the stigma against cluster munitions should reconsider their position in light of the terrible harm these weapons cause and join the international ban."
News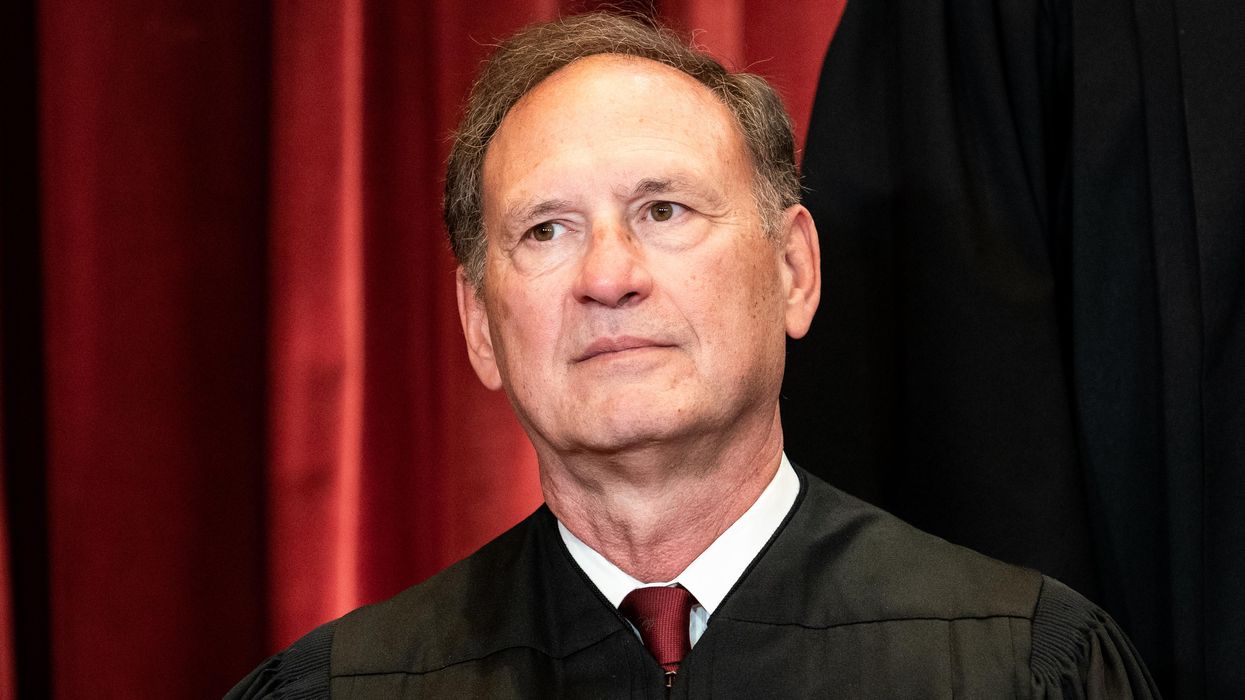 "Justice Alito was involved in an organized campaign to block congressional action with regard to a matter in which he has a personal stake," reads the complaint filed by Sen. Sheldon Whitehouse.
Democratic Sen. Sheldon Whitehouse filed an ethics complaint against Supreme Court Justice Samuel Alito on Tuesday, accusing the right-wing judge of improperly interfering with congressional efforts to reform the scandal-plagued high court.
The complaint points to Alito's comments in a recent Wall Street Journal interview conducted in part by David Rivkin, an attorney for notorious Federalist Society co-chair Leonard Leo. Rivkin is also representing the plaintiffs in a case that could preemptively ban lawmakers from enacting a wealth tax.
In their write-up of the Alito interview, Rivkin and Journal editor James Taranto specifically mention Whitehouse's Supreme Court ethics legislation, which passed out of the Senate Judiciary Committee in a party-line vote in July. The bill, which has not yet received a vote in the full Senate, would require the Supreme Court to adopt a binding code of ethics—something every other federal court in the U.S. has done.
Rivkin and Taranto follow their brief summary of the legislation with a quote from Alito, who said, "No provision in the Constitution gives [Congress] the authority to regulate the Supreme Court—period."
Whitehouse argued in his new ethics complaint that Alito's "decision to opine publicly on the constitutionality of that bill may well embolden legal challenges to the bill should it become law."
The complaint, which was sent to Chief Justice John Roberts, continues:
Justice Alito's opining will also fuel obstruction of our Senate investigations into these matters. To inform its work on my bill and other judicial ethics legislation, and oversee the performance of the statutory Judicial Conference in this arena, the Senate Judiciary Committee is investigating multiple reports that Supreme Court justices have accepted and failed to disclose lavish gifts from billionaire benefactors.

Separately, the Senate Finance Committee is investigating the federal tax considerations surrounding the billionaires' undisclosed gifts to Supreme Court justices. Both committees' inquiries have been stymied by individuals asserting that Congress has no constitutional authority to legislate in this area, hence no authority to investigate. Justice Alito's public comments prop up these theories.
Alito's comment about Congress' supposed powerlessness to regulate the high court prompted outrage and rebuttals at the time, with New York Times columnist Jamelle Bouie calling it "a categorical statement of judicial supremacy that also stands as a glimpse into the arrogance of one justice on a court that falsely sees itself as the only and final authority on what the Constitution means."
Whitehouse's complaint emphasizes that Alito's comment was made to an individual who is representing Leo—a key architect of the right-wing takeover of the Supreme Court—as the Senate investigates him over "actions to facilitate gifts of free transportation and lodging that Justice Alito accepted from Paul Singer and Robin Arkley II in 2008."
As ProPublicareported in June, Leo "helped organize" the undisclosed luxury fishing vacation that Alito took with Singer, a billionaire hedge fund tycoon who later had business before the Supreme Court. Singer also had financial ties to supporters of legal challenges filed against President Joe Biden's initial student debt cancellation plan, which Alito and the rest of the high court's conservative supermajority struck down in June.
"The timing of Justice Alito's opining suggests that he intervened to give his friend and political ally [Leo] support in his effort to block congressional inquiries," Whitehouse's complaint states.
The complaint also points to the "unpleasant fact" that "Alito's opining apparently at the behest of his friend and ally's lawyer, props up an argument being used to block inquiry into undisclosed gifts and travel received by Justice Alito."
"In the worst case facts may reveal, Justice Alito was involved in an organized campaign to block congressional action with regard to a matter in which he has a personal stake," the complaint reads. "Whether Justice Alito was unwittingly used to provide fodder for such interference, or intentionally participated, is a question whose answer requires additional facts. The heart of any due process is a fair determination of the facts. Uniquely in the whole of government, the Supreme Court has insulated its justices from any semblance of fair fact-finding."
"The obstructive campaign run by Mr. Rivkin and Mr. Leo, fueled by Justice Alito's opining, appears intended to prevent Congress from gathering precisely those facts," the complaint adds. "The Supreme Court should not be helpless when it comes to policing its own members' ethical obligations. But it is necessarily helpless if there is no process of fair fact-finding, nor independent decisionmaking. I request that you as chief justice, or through the Judicial Conference, take whatever steps are necessary to investigate this affair and provide the public with prompt and trustworthy answers."
News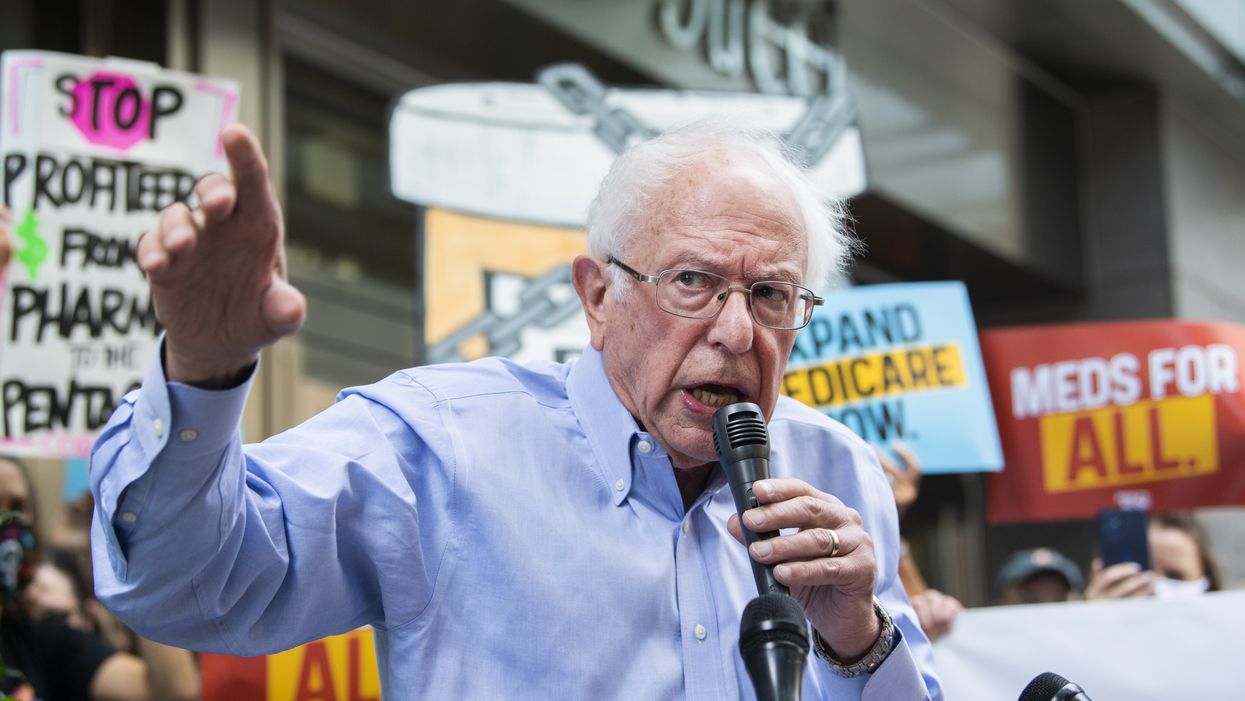 "Needless to say, changes that benefit the working class of our country are not going to be easily handed over by the corporate elite. They have to be fought for—and won."
As part of his Labor Day message to workers in the United States, Sen. Bernie Sanders on Monday re-upped his call for the establishment of a 20% cut to the workweek with no loss in pay—an idea he said is "not radical" given the enormous productivity gains over recent decades that have resulted in massive profits for corporations but scraps for employees and the working class.
"It's time for a 32-hour workweek with no loss in pay," Sanders wrote in a Guardian op-ed as he cited a 480% increase in worker productivity since the 40-hour workweek was first established in 1940.
"It's time," he continued, "that working families were able to take advantage of the increased productivity that new technologies provide so that they can enjoy more leisure time, family time, educational and cultural opportunities—and less stress."
According to Sanders:
Moving to a 32-hour work week with no loss of pay is not a radical idea. In fact, movement in that direction is already taking place in other developed countries. France, the seventh-largest economy in the world, has a 35-hour work week and is considering reducing it to 32 hours. The work week in Norway and Denmark is about 37 hours a week.

Recently, the United Kingdom conducted a four-day work week pilot program of 3,000 workers at over 60 companies. Not surprisingly, it showed that happy workers were more productive. The pilot was so successful that 92% of the companies that participated decided to maintain a four-day work week because of the benefits to both employers and employees.
A Morning Consult survey in August found that 87% of employed U.S. adults "were very or somewhat interested" in a four-day workweek, and slightly less than that (82%) said they believed widespread implementation would be successful.

Research published in July by 4 Day Week Global, a firm that advocates for a shorter week, found that not one of 41 companies involved in 4-day workweek trials in Canada and the United States planned to return to five-day weeks after the conclusion of the test period.
Professor Juliet Schor of Boston College, who led the research team, noted that the "continued reduction in hours was not achieved via increased work intensity where people had to speed up and cram five days of tasks into four. Instead, they operated more efficiently and continued to improve these capabilities as the year progressed."
Unionized autoworkers in the U.S. are now pushing for the same demand as they pressure the three major car manufacturing companies for better contracts. With a possible strike looming this month, UAW President Shawn Fain has laid out a series of demands that include a 46% pay raise, a return to traditional pensions, and a four-day workweek capped at 32 hours.
"Our union's membership is clearly fed up with living paycheck-to-paycheck while the corporate elite and billionaire class continue to make out like bandits," said Fain in a statement last week. "The Big Three have been breaking the bank while we have been breaking our backs."
It won't be an easy demand to achieve, Sanders conceded in his Labor Day op-ed. "Changes that benefit the working class of our country are not going to be easily handed over by the corporate elite," he wrote. "They have to be fought for—and won."
News
Independent, nonprofit journalism needs your help.
Please Pitch In
Today!