PAN Urges Global Uptake of Effective & Safe Malaria Solutions
NGOs worldwide applaud efforts to reduce reliance on DDT
WASHINGTON
On the occasion of next week's World Malaria Day, April 25, Pesticide Action Network (PAN) International urges governments around the world to redouble their efforts against malaria and adopt the safest and most effective approaches to combat this disease. PAN applauds the formation of the Global Alliance for Alternatives to DDT, an international multi-stakeholder process charged with reducing reliance on the pesticide DDT for malaria control worldwide.
"Cutting-edge science is finally being brought to the forefront in the fight against malaria," says Dr. Abou Thiam, director of PAN Africa. "New techniques are being developed and long-established, proven approaches are being strengthened through this process. Communities across Africa urge governments to support the Alliance, and not to be distracted by myths propagated by those who continue promoting the use of DDT."
PAN highlights the emerging global consensus that an approach that strongly relies on the insecticide DDT will not control malaria. DDT is often an ineffective tool in the field due to resistance developed in mosquitoes around the world and improper use on the ground. The only effective and sustainable way to control malaria in the long term is through integrated vector management, which deploys a range of methods and emphasizes non-chemical approaches with pesticides used as a last resort to minimize the build up of pesticide resistance. In addition, the latest World Health Organization (WHO) Assessment of DDT further strengthens the evidence for human health harms of DDT.
PAN fully supports the Stockholm Convention's approach to DDT, which allows its use only for malaria vector control in accordance with WHO guidelines, in countries where no locally safe, effective and affordable alternatives are currently available.
Each year, a handful of U.S.-based fringe groups mark World Malaria Day by aggressively promoting DDT as the most effective solution to malaria. PAN urges government officials to take note of the false arguments spread by these groups, whose promotion of DDT brazenly overlooks the latest science and on-the-ground evidence. Public health and malaria experts agree that the false debate created by DDT promoters distracts from the urgent need to address malaria with effective solutions.
Among the myths often used to stir up this false debate is the notion that DDT was used in the U.S. and other industrialized countries to control the disease in the past, and should therefore be available today in Africa and elsewhere. Yet history shows that malaria was already largely controlled in the U.S. by the time the chemical arrived on the scene.
"It was improved sanitation, environmental management and access to health care that beat malaria in the U.S. -- not DDT," explains Karl Tupper of PAN North America. "Rising standards of living were also key -- bringing things like screened windows to rural areas in the southern states of the U.S. where the malaria problem was the worst."
Many programs worldwide have successfully controlled malaria without using DDT, relying on community-based integrated vector management. Success stories of malaria control without using DDT abound -- from Vietnam, where malaria deaths were reduced by 97% and malaria infections by 57%; to Mexico, where an integrated community- based disease control approach showed spectacular results; to Kenya where community surveillance combined with high use of treated bednets and environmental management halved malaria rates within three years.
"Spraying DDT is basically a poor technology. It urgently needs to be substituted by an integrated, safe, effective and sustainable approach to malaria control which protects the health of communities, is environmentally safe, provides improved livelihoods and is available in the short-term" says Carina Weber of PAN Germany.
Not only is DDT's lack of effectiveness in malaria control, but even its serious human health harms are deliberately ignored by DDT promoters. In its recent assessment of DDT, the WHO found that Indoor Residual Spraying (IRS) with DDT puts residents at risk for delayed puberty and reproductive effects in females and possible genital birth defects in males. Male DDT spray workers risk reduced fertility and developing liver cancer, and DDT exposure is possibly associated with preterm birth, reduced childhood growth, and neurocognitive effects in children.
"In addition to the scientific evidence accumulated over the past few decades, the WHO's latest assessment of DDT should convince everyone that DDT spraying is injurious to the health of IRS workers, and for communities who are exposed to it through indoor spraying," says Javier Souza of PAN Latin America. "When empowered community members themselves make decisions on what strategies to follow to manage the problem, they achieve better results."
"We call upon the global community, especially decision makers in Africa, to tackle malaria with 21st century solutions -- not antiquated, toxic and ineffective pesticides like DDT," says Sarojeni Rengam of PAN Asia and the Pacific. "Communities in Africa, Asia and Latin America who suffer from the scourge of malaria deserve effective, community-based programs that are safe and protective of their health."
PANNA (Pesticide Action Network North America) works to replace pesticide use with ecologically sound and socially just alternatives. As one of five autonomous PAN Regional Centers worldwide, we link local and international consumer, labor, health, environment and agriculture groups into an international citizens' action network. This network challenges the global proliferation of pesticides, defends basic rights to health and environmental quality, and works to ensure the transition to a just and viable society.
LATEST NEWS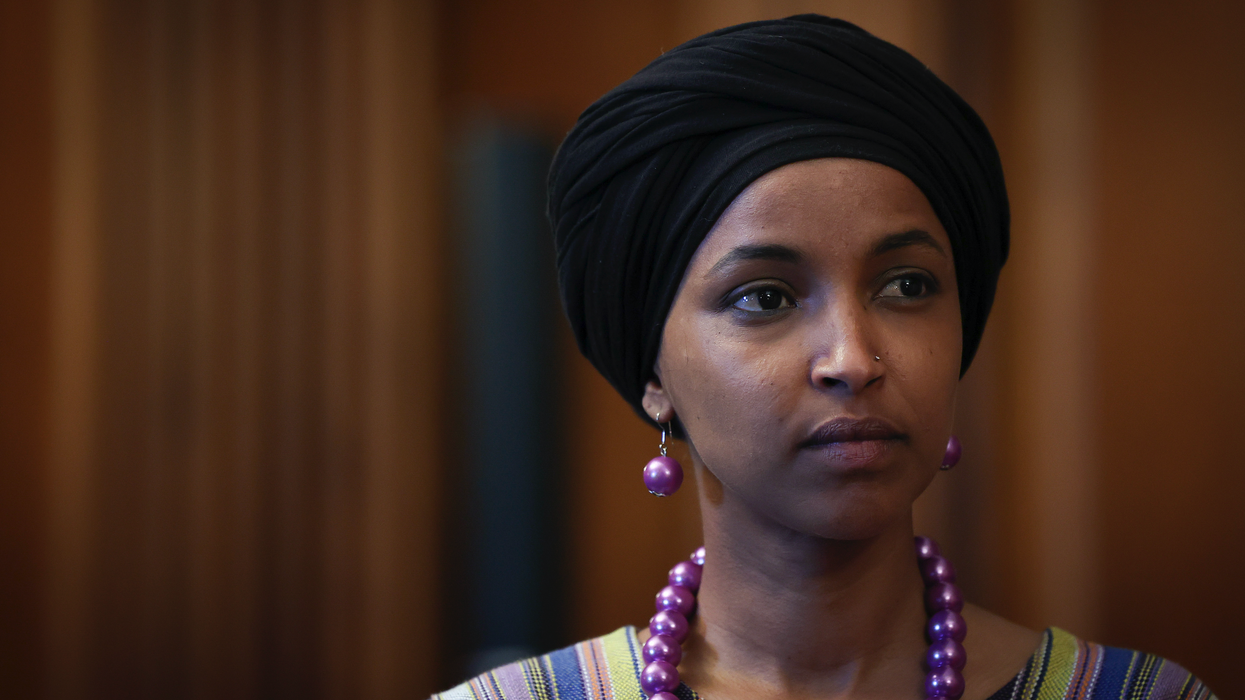 "Have we fully learned the lessons from this failed war of aggression, or are we doomed to repeat it?" the progressive lawmaker asked on the eve of the 20th anniversary of the U.S.-led invasion.
Congresswoman Ilhan Omar on Friday marked the upcoming 20th anniversary of the George W. Bush administration's invasion of Iraq—where thousands of U.S. troops remain today—by asking if Americans have learned anything from the "failed war of aggression" and warning that waging another such war will have even more dire consequences.
In a Twitter thread, Omar (D-Minn.) asserted that "20 years later, the Iraq War remains the biggest foreign policy disaster of our generation, one that took thousands of American lives and hundreds of thousands of Iraqi lives."
As Common Dreamsreported Wednesday, the Costs of War Project at Brown University's Watson Institute for International and Public Affairs estimates as many as 580,000 people were killed in Iraq and Syria since 2003 and nearly 15 million people were made refugees or internally displaced by the war—which is forecast to cost a staggering $2.9 trillion by 2050.
The war was waged—under false pretenses against a country that had nothing to do with the September 11 attacks—by neoconservative Republicans in the Bush administration who since before 9/11 had sought a way to invade Iraq and oust erstwhile ally Saddam Hussein. The horrors of war and occupation included torture, indiscriminate killing, sex crimes, environmental devastation, and soaring birth defects caused by the use of depleted uranium weapons.
What then-White House Press Secretary Ari Fleischer called Operation Iraqi Liberation—OIL—devastated much of Iraq but enriched multinational corporations while creating a power vacuum that was eventually filled by Islamic State, whose rise to power in much of Iraq and neighboring Syria led to a second phase of the war launched during the administration of former President Barack Obama that continues today.

"Have we fully learned the lessons from this failed war of aggression, or are we doomed to repeat it?" Omar asked.
"Our foreign policy discourse remains fundamentally pro-war," Omar noted. "Think tanks (often the same ones who cheerled the Iraq War) outflank each other to justify armed conflict and derail diplomacy with adversaries like Iran."
Omar—whom Republicans recently ousted from the House Committee on Foreign Affairs—continued:
Instead of seeing China as a geopolitical challenge to be managed, politicians gin up jingoistic sentiment and nationalism to see who can be the most "anti-China."

Our spending on Pentagon waste and new weapons continues to rise uncontrollably—with weapons contractors wielding more lobbying power than ever in Washington.

Our national media too often treat war as a game—a way to juice ratings as fewer Americans turn into TV news—rather than the most horrific state of conditions to be avoided at all costs.

Claims from senior national security officials are reported as fact, even when no evidence for those claims is presented.

Much like the lost Iraqi lives lost were often ignored 20 years ago, we continue to ignore the pain and suffering of Black and Brown people in places like Syria, Yemen, Ethiopia, Myanmar, Haiti, and more.
"To truly be able to avoid another Iraq, we need a national reckoning with how we got into it the first place," argued Omar, who fled civil war in Somalia with her family when she was a child.

"We need accountability for those who got us into this war," Omar said. "But most of all we need to see all of our lives connected as part of the human fabric—to understand that the parent who loses a child in war could be us, that the child who is displaced could be our child."
"Because the next Iraq," she added, "will be even worse."

News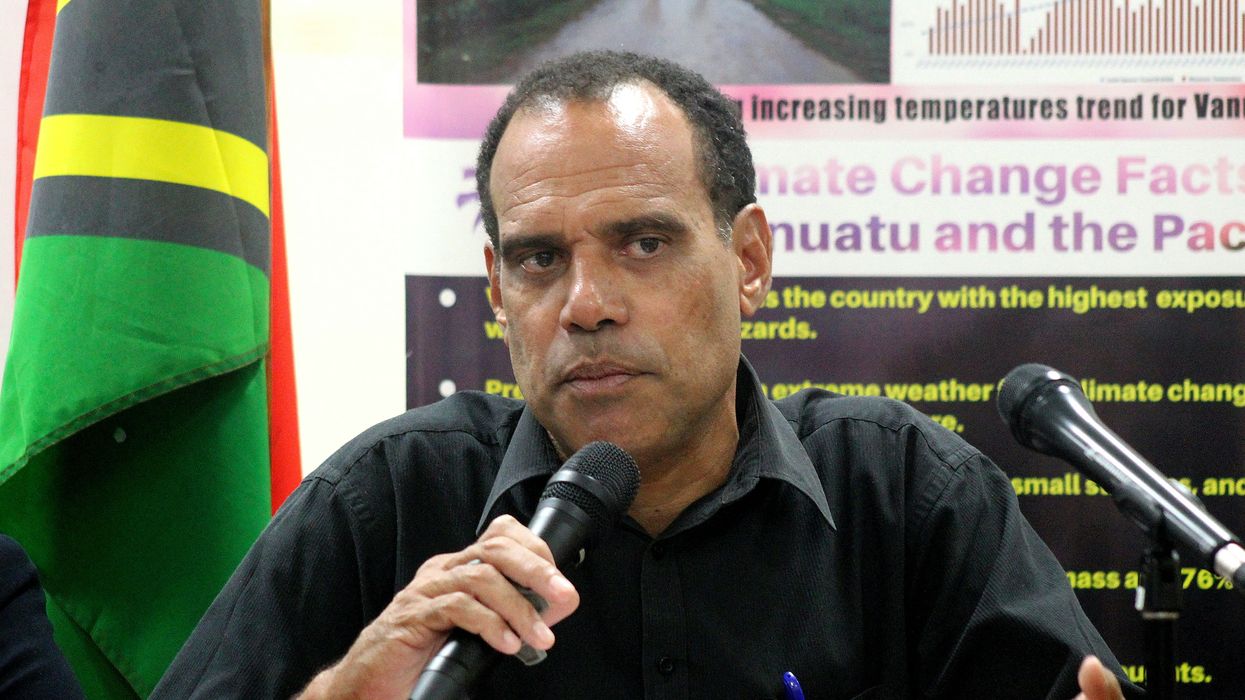 "As Pacific leaders shoulder the burden of climate leadership," this call "is a reminder that despite the doom and gloom, another world is possible, a fossil fuel-free world that is just, equitable, and sustainable."
Climate justice advocates celebrated Friday after a half-dozen island nations committed to building a "fossil fuel-free Pacific" and urged all governments to join them in bringing about an equitable phaseout of coal, oil, and gas.
From Wednesday to Friday, Vanuatu and Tuvalu co-hosted the 2nd Pacific Ministerial Dialogue on Pathways for the Global Just Transition from Fossil Fuels in Port Vila, Vanuatu. The summit came amid an ongoing state of emergency in Vanuatu, which was hammered earlier this month by a pair of Category 4 cyclones. Participants described the current devastation as "just the most recent example of the extensive and ongoing fossil fuel-induced loss and damage suffered by" Pacific Islanders.
At the conclusion of the three-day meeting, ministers and officials from six countries—Vanuatu, Tuvalu, Tonga, Fiji, Niue, and the Solomon Islands—agreed on the Port Vila Call for a Just Transition to a Fossil Fuel-Free Pacific.
The resolution—issued "on behalf of present and future generations, communities on the frontlines, and all of humanity"—calls for immediate international action to accelerate a just transition from dirty to clean energy in accordance with what experts have shown is necessary to avert the worst consequences of the climate crisis.
"The science is clear that fossil fuels are to blame for the climate emergency," says the document. "This is a crisis driven by the greed of an exploitative industry and its enablers. It is not acceptable that countries and companies are still planning on producing more than double the amount of fossil fuels by 2030 than the world can burn to limit warming to 1.5°C."
"Every second wasted on climate inaction and clinging to fossil fuels puts lives, homes, livelihoods, cultures, and ecosystems in jeopardy."
Among other things, the resolution implores policymakers in the Pacific and around the world to join the Beyond Oil and Gas Alliance (BOGA) and negotiate a fossil fuel nonproliferation treaty (FFNPT) to end the expansion of coal, oil, and gas extraction and to expedite a fair global shift to renewables. It also cautions lawmakers to avoid phrases like "unabated" or "inefficient," warning that such terminology "creates loopholes for fossil fuel producers."
In a statement, Oil Change International global policy lead Romain Ioualalen said, "Faced with devastating climate impacts resulting from the world's continued addiction to fossil fuels, Pacific governments have once again demonstrated what true leadership looks like."
"The contrast between the U.S. and other rich countries approving new oil and gas fields in clear defiance of science, and the commitment to build a prosperous and resilient fossil fuel-free Pacific could not be more obvious and highlights the complete disregard the fossil fuel industry and its enablers have for people and communities most affected by the climate crisis," said Ioualalen. "Countries must urgently heed the call for an immediate end to fossil fuel expansion that is emanating from the Pacific. We look forward to Pacific countries continuing to be vocal champions for a just and equitable phaseout of fossil fuels on the global stage, including at COP28 later this year."
Samoan climate justice activist Brianna Fruean said that "this dialogue of Pacific ministers is stepping outside of the box and acknowledging that we must try new ways to save ourselves—and that is going to require a fossil fuel nonproliferation treaty."
"While the guilty continue to reap profit off the expansion of fossil fuels behind our backs," said Fruean, "the meeting is bringing renewed energy to Pacific leadership that will not just echo across our islands but drive action with our allies globally."
Despite bearing almost no historical responsibility for the climate crisis, Pacific Islanders are acutely vulnerable to rising sea levels and increasingly frequent and severe extreme weather. Policymakers from the region have long been leaders in demanding ambitious efforts to slash greenhouse gas pollution at speed and scale, including by putting the idea of a FFNPT on the table in 2016. Just last year, Vanuatu and Tuvalu became the first national governments to endorse such a measure, while Tuvalu also recently joined the BOGA as a core member.
"Every second wasted on climate inaction and clinging to fossil fuels puts lives, homes, livelihoods, cultures, and ecosystems in jeopardy," said Lavetanalagi Seru, regional policy coordinator at Pacific Islands Climate Action Network. "As Pacific leaders shoulder the burden of climate leadership, the Port Vila Call for a Just Transition to a Fossil Fuel-Free Pacific is a reminder that despite the doom and gloom, another world is possible, a fossil fuel-free world that is just, equitable, and sustainable."
The region's new resolution states that "we have the power and responsibility to lead, and we will. Pacific leaders called for the Paris agreement to limit warming to 1.5°C, and have demanded an end to the development and expansion of fossil fuel-extracting industries, starting with new coal mines. Pacific civil society has challenged the world to step up the fight for urgent fossil fuel phaseout and effective climate action."
In recent weeks, Vanuatu has been leading an ongoing push for an advisory opinion from the International Court of Justice (ICJ) on "how existing international laws can be applied to strengthen action on climate change, protect people and the environment, and save the Paris agreement."
The document unveiled Friday calls for "redoubled efforts to reaffirm, strengthen, and codify legal obligations with respect to the global phaseout of fossil fuels," including by supporting the adoption of the Vanuatu-led ICJ resolution at the meeting of the U.N. General Assembly at the end of this month.
"The contrast between the U.S. and other rich countries approving new oil and gas fields in clear defiance of science, and the commitment to build a prosperous and resilient fossil fuel-free Pacific could not be more obvious."
According to Seru, "The phaseout of fossil fuels is not only a challenge, but an opportunity to promote economic development and innovation in the Pacific region."
To that end, the Port Vila document calls for "new Pacific-tailored development pathways based on 100% renewable energy."
350.org Pacific managing director Joseph Sikulu welcomed this week's developments, saying in a statement that "our people need global leaders to follow the innovation of Pacific representatives at the Pacific Ministerial Dialogue, it is a matter of survival."
"Our people also need energy to power their homes, their fishing boats, and their schools, which is where we are ready to work with governments in their commitment to progress the development and implementation of fossil-free development pathways at the grassroots level," he added.
In order to make that a reality, the document calls for increasing "public and private finance for the just transition from fossil fuels to renewable energy at the scale required, with innovative, simplified mechanisms and reforms of existing financial institutions."
Cansin Leylim, 350.org associate director of global campaigns, applauded Pacific Island nations for "once again showing immense leadership in the fight against the climate crisis, a crisis they had no part in creating."
"Pacific leaders have told us time and again—in order to stay below 1.5°C, the historically responsible countries need to immediately commit to a fossil fuel-free future without loopholes," said Leylim. "This means ensuring adequate and grant-based climate finance is swiftly mobilized to both adapt to the crisis and limit the heating to survival limits, ensuring energy independence and resource resilience with renewable energy."
Tzeporah Berman, chair of the Fossil Fuel Non-Proliferation Treaty Initiative, predicted that this week's "historic meeting" will "have far-reaching consequences."
News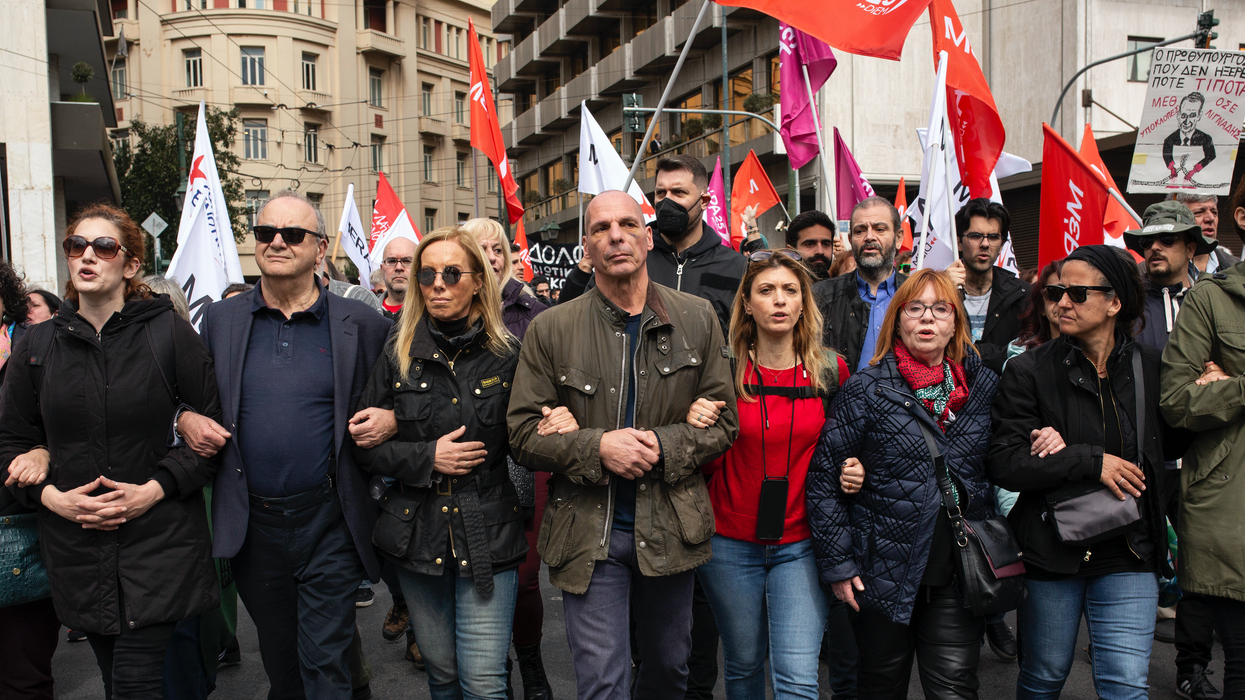 "It is the debt of every worker, every youth, to continue to demand the obvious: This crime must not be covered up!"
At least tens of thousands of demonstrators took to the streets of cities and towns across Greece Thursday to protest the government's handling of last month's Tempi railway disaster and the capitalist system that puts profits before people.
The general strike—which was called by the General Confederation of Greek Workers and public sector workers umbrella organization ADEDY—crippled transportation on land, in the air, and at sea. In the capital Athens, metro services and the tram network were shut down. Many flights were canceled due to a work stoppage by air traffic controllers, and many ferries remained docked.
In addition to Athens, demonstrations took place in Thessaloniki, Patras, and elsewhere—including in Tempi, site of the February 28 head-on collision between a freight train and a high-speed inter-city passenger train carrying 350 people. Fifty-seven people died and 85 others were injured in the crash.
"Had this been a serious country, everybody at the transport ministry would be in handcuffs."
Much of the Greek left blames the disaster on railway staffing cuts, outdated technology, and infrastructure neglect and degradation caused by years of severe fiscal austerity measures.
Rallying under the slogan "this crime will not be forgotten; we will be the voice of all the dead," demonstrators shouted "murderers" and "the tears have dried up and turned into rage" as they marched in central Athens.
"This was mass murder," Pavlos Aslanidis, the father of one of the passengers killed in the crash, toldAlphaTV. "Had this been a serious country, everybody at the transport ministry would be in handcuffs."
According toWorld Socialist Web Site:
Demonstrations were replete with anti-government slogans and chants rejecting the initial claims of New Democracy Prime Minister Kyriakos Mitsotakis that the disaster was the result of the errors of a single station master in Larissa—the passenger train's last stop before the crash. Some banners in Syntagma Square outside Parliament read, "It was no human error, it was a crime" and "Our dead, your profits."
"Two weeks have passed since the crime in Tempi, Larissa and the country is shaking with anger and daily struggle," the All-Workers Militant Front (PAME), which backed the strike, said in a statement. "It is the debt of every worker, every youth, to continue to demand the obvious: This crime must not be covered up!"

PAME accused the government of trying "to block people's participation to the strike by... spreading fake news about the legality of the strike in the public sector and on the day of the strike, ordering the closing of Athens central Metro stations, so as to block people from reaching Athens center and participating in the rallies."
"At the same time, a series of photos and videos on social media and news sites show unprovoked police violence and also persons with civilian clothes, black hoods, and covered faces sitting side by side with the riot police forces," the leftist confederation added.
Video footage posted on social media showed what appeared to be unprovoked attacks by police on demonstrators. Other footage showed people throwing Molotov cocktails and projectiles at police.
Among those participating in Thursday's demonstrations was Yanis Varoufakis, the leftist lawmaker and former finance minister who is recovering from a brutal assault last Friday.
"The masterminds of the austerity and dogmatic privatization that led us to disaster were international institutions: the IMF, the European Central Bank, and the European Commission—the so-called Troika," the Varoufakis-led MeRA25 party said in a statement before Thursday's strike, referring to the International Monetary Fund.
"Their reach is global, and the victims of their inane policies are spread from Argentina to Greece and beyond," the leftist party added. "The fight against them is something that must unite all progressive forces."
News
SUPPORT OUR WORK.
We are independent, non-profit, advertising-free and 100%
reader supported.