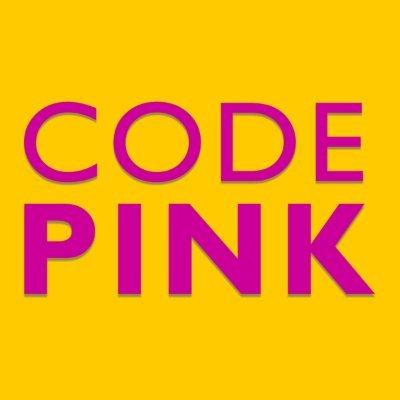 For Immediate Release
Contact:
Medea Benjamin, CODEPINK co-founder, 415-235-6517 (medea@codepinkalert.org)
Col. Ann Wright, Veterans for Peace, 808-741-1141
Jean Stevens, CODEPINK national media coordinator, 508-769-2138
CODEPINK Women Travel to Gaza TODAY to Witness Damage and Demand A Lifting of The Blockade;
Plan to meet with women's groups, Hamas officials
WASHINGTON
Members of the leading women's peace group CODEPINK
will travel today to war-torn Gaza to witness the horrific damage of
the 22-day Israeli attacks, demand an opening of borders for
humanitarian aid, meet with Palestinian women's aid groups and, if
possible, Hamas officials.
WHAT: CODEPINK women to visit Gaza, examine damage, meet with women's groups and Hamas officials
WHEN: Jan. 30 to Feb. 9
WHERE: Cairo, Gaza
Medea Benjamin, CODEPINK co-founder, and retired Col. Ann Wright,
former U.S. state department official, plan to enter Gaza through Egypt
and spend 10 days on the citizen diplomacy trip, organized by CODEPINK.
They hope to learn, firsthand, the needs of the Gaza people and
demonstrate what George Mitchell, the Obama administration's Special
Envoy for Middle East Peace currently visiting several Middle East
countries, should do. So far, Mitchell has refused to visit Gaza and
meet with Hamas.
"What sense does it make to send a Special Envoy to the Middle
East, but not have him visit war-torn Gaza and speak to Hamas?"
Benjamin said. "In our visit to Gaza, we will be doing precisely what
George Mitchell should be doing-getting an understanding of the
devastation that resulted from the Israeli invasion, and talking to
governmental, non-governmental and UN representatives."
Benjamin and Wright will also meet with Palestinian aid groups
including the Palestinian Medical Relief Society, the Gaza Community
Mental Health Program and the Union of Palestinian Women's Committees,
to discuss plans for CODEPINK's new worldwide call to action,
"International Women's Day 2009: Dedicated to the Women of Gaza,"
designed to commemorate the women of Gaza on March 8, the United
Nations-designated International Women's Day. The call is endorsed by
the National Congress of Black Women, Organization of Women's Freedom
in Iraq, American Muslim Voice, author Alice Walker and journalist
Laura Flanders.
Through this call to action, CODEPINK and partner groups will raise
funds for the women of Gaza. An international women's delegation will
return to Gaza from March 8 to 13 to deliver the aid to several groups,
including the aforementioned groups, the Palestinian Agricultural
Relief Committees and the Palestinian Center for Human Rights. With
international pressure and the determination of the women in the
delegation, CODEPINK is confident the Egyptian government will let the
aid through.
In Gaza, 22 days of Israeli attacks earlier this year left more
than 1,000 dead, including 412 children. Women have largely taken on
the role as the primary caretakers of their families and communities
while dealing with their own heartbreak. As in all communities ravaged
by war and violence, they've become largely responsible for providing
water, food, medicine, electricity and heat in the face of shortages
for families and communities. Many women are also more at risk
medically, as maternity wards often become surgical wards.
"The Israeli attack came after 18 months of a crippling blockade
that had already left the Palestinian population hungry, sick, weak,
and suffering from a catastrophic situation," Benjamin said. "We must
not only provide massive humanitarian aid, but lift the blockade that
is keeping the people of Gaza under siege."
For more information and interviews, please call or email Medea Benjamin, CODEPINK co-founder, at 415-235-6517 or medea@codepinkalert.org.

CODEPINK is a women-led grassroots organization working to end U.S. wars and militarism, support peace and human rights initiatives, and redirect our tax dollars into healthcare, education, green jobs and other life-affirming programs.
(818) 275-7232
LATEST NEWS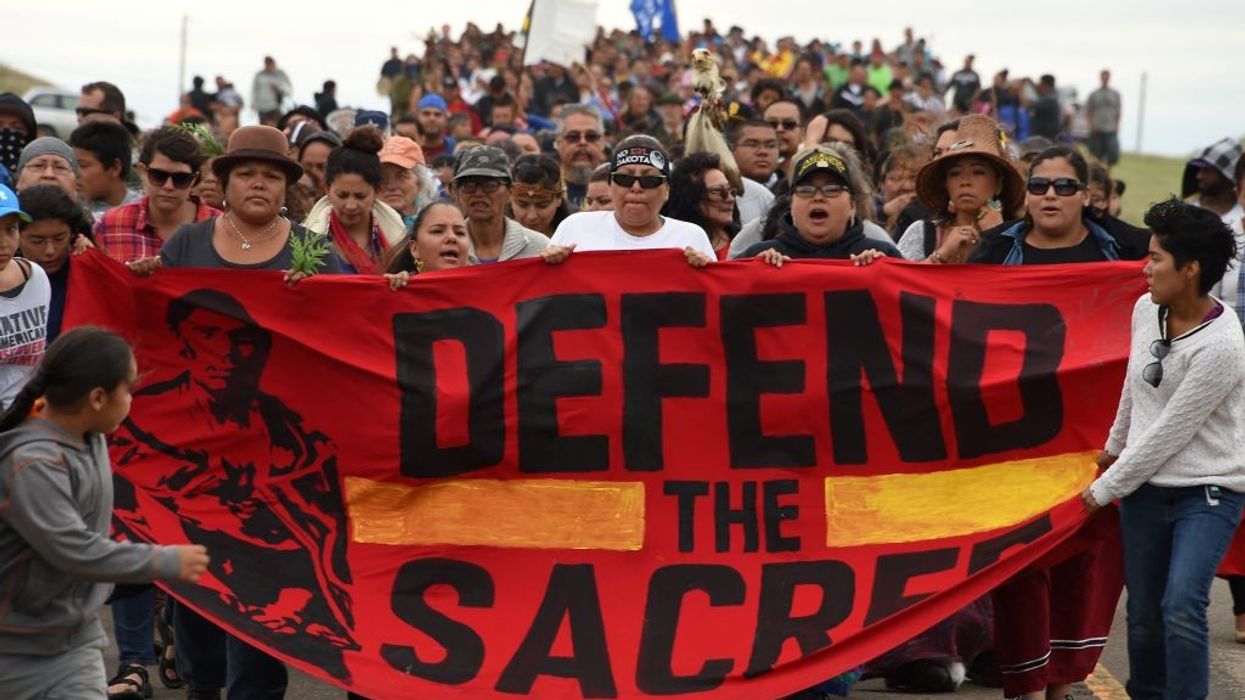 "The Corps' covering for the pipeline company's outrageous safety record and the reviewer's serious conflict of interest have now resulted in a failed effort," said Standing Rock Sioux Tribe Chairwoman Janet Alkire. "They need to start over with adult supervision."
Standing Rock Sioux Tribe Chairwoman Janet Alkire is leading a fresh demand that the U.S. Army Corps of Engineers throw out an ongoing environmental review process of the controversial Dakota Access Pipeline and start again from scratch alongside a superseding call for the pipeline to be shuttered completely.
Following Friday's release of a revised Environmental Impact Statement (EIS), ordered by a federal court, the tribe said the document reveals the entire process has been a failure and that the pipeline—currently operating across their land without consent in what they consider an "illegal" manner by the Energy Transfer company—should be shut down once and for all.
"We're furious that the Army Corps has addressed none of our major concerns during the review process," Chairwoman Alkire said in a statement.
"The pipeline is an imminent threat to the Missouri River, sensitive habitat, and sacred burial sites along the riverbank," she continued. "The oil company's emergency response plans are inadequate, its safety track record is horrendous, and there's been a stunning lack of transparency with Standing Rock throughout the environmental review process, including inaccurate characterizations of tribal consultation."
The Army Corps did not make any recommendations or indicate preferences among the alternatives presented in the new EIS report, which included keeping it in operation, possible rerouting, removing the pipeline by excavation, or abandoning it in place. The Corps said its final recommendations will accompany a final report once the review process is complete, but the Standing Rock Sioux said the process has been seriously flawed.
The tribe said the draft EIS fails to "account for the existence of criminal charges and a host of fines and serious citations" from regulators faced by Energy Transfer. Alkire accused the Corps of "doing all it can to ignore the company's poor safety record and the high risk" of the pipeline. According to the statement by the tribe:
the entirety of the environmental review process hasn't been taken seriously and is compromised because the Corps selected a company with a clear conflict of interest to prepare the just-released draft EIS. Environmental Resources Management — which also produced a sparkling environmental review for the Keystone XL pipeline, later shelved due to environmental concerns — is a member of the American Petroleum Institute. That organization previously filed a legal brief in support of DAPL in Standing Rock's suit against the Army Corps.
Moreover, Environmental Resources Management has contracted with at least five separate companies with an ownership interest in DAPL.

The release of the EIS triggers a 45-day public comment period and the Standing Rock Sioux Tribe is now requesting public support in opposition of the project.
"The Corps' covering for the pipeline company's outrageous safety record and the reviewer's serious conflict of interest have now resulted in a failed effort," said Alkire of the current process. "They need to start over with adult supervision."
Amy Mall, senior advocate at NRDC, said her group stands "in solidarity with the Standing Rock Sioux Tribe in opposing this dirty and dangerous pipeline that harms the climate and threatens the primary water source for the Tribe."
"The Army Corps must consider all of the risks of this pipeline, make all significant environmental information available without redactions, and honor the Tribe's treaty rights," Mall added. "We call on the Corps to shut it down."
News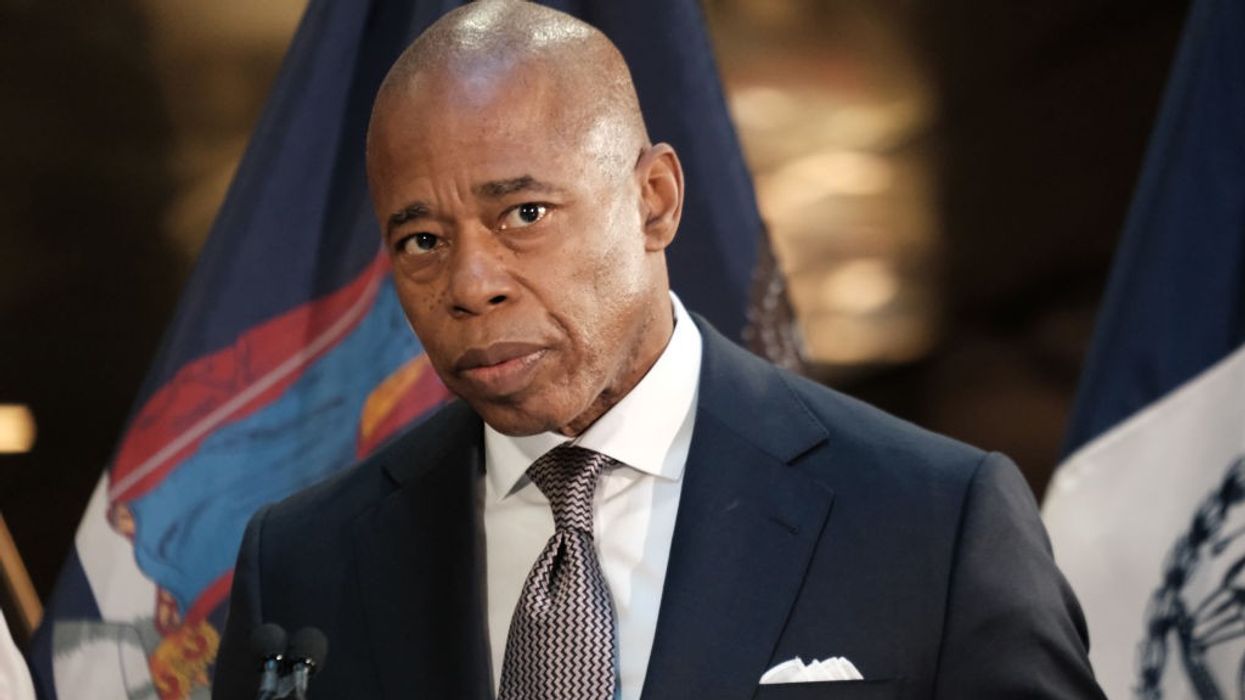 The congressional Democrat knocked the New York City Mayor for declaring that asylum-seekers and other immigrants would "destroy" the city, comments another lawmaker denounced as "repugnant MAGA garbage."
Congresswoman Alexandria Ocasio-Cortez is among those criticizing New York City's Democratic Mayor Eric Adams for comments he made this week demonizing asylum-seekers and other migrants.
The latest conflagration kicked off by Mayor Adams, the former police officer turned politician, began Wednesday night when he charged that an influx of migrants would "destroy New York City" as he lamented that he could "not see an ending" to the perceived crisis and said the federal government must do more to help.
Defenders of refugee and migrant rights, however, pushed back after video of the remarks spread on social media.
In a Twitter post on Friday, Ocasio-Cortez castigated Adams. While agreeing that the Biden administration should "step up" to do more, she said that solutions to the growing number of migrants do exist but that "Alienating people isn't one of them."
"A core issue we have is not solely the presence of asylum seekers," continued Ocasio-Cortez. "They want to work and New Yorkers want to hire them. It's that goverment is forcing people to remain on public systems [because] we won't let them work and support themselves, which is all they want. Work authorizations and extending [temporary protected status (TPS)] can do a lot here."
But, she said, the divisive rhetoric like that from Mayor Adams "puts solutions even further away, and only escalates tensions and obstacles."
"This dangerous rhetoric is something you'd expect from fringe politicians on the far-right of the political spectrum, not from the mayor of a city that has always welcomed and celebrated its diverse and critically important immigrant community."
Ocasion-Cortez, who represents parts of Queens and the Bronx, was far from Adams' only critic.
Guerline Jozef, co-founder and executive director of the Haitian Bridge Alliance, which advocates for the rights and dignity of migrants and asylum-seekers in the city, said his group was deeply concerned about the Mayor's comments.
"We call upon Mayor Adams to clarify and reconsider his statements, and we urge him to engage in meaningful dialogue with organizations and experts in the field to gain a deeper understanding of the complex issues surrounding migration," said Jozef. "We further extend an invitation to Mayor Adams and his administration to collaborate with us and other organizations to ensure that New York City continues to uphold the principles of diversity, equity, and justice for all."
City Councilmember Tiffany Cabán of Queens joined the chorus of rebuke by calling Adams' comments nothing by "repugnant MAGA garbage," a reference to the anti-immigrant ideology of former President Donald Trump and other leading Republicans. Further evidence that the Mayor's comments were more in line with the GOP than the Democratic Party to which he belongs, several high-profile Republicans, including far-right presidential candidate Vivek Ramaswamy applauded the remarks.
Redmond Haskins, a spokesperson for the Legal Aid Society and Coalition for the Homeless, toldThe Gothamist newspaper the comments were "reckless and unproductive fear-mongering" by the Mayor.
"This dangerous rhetoric is something you'd expect from fringe politicians on the far-right of the political spectrum, not from the mayor of a city that has always welcomed and celebrated its diverse and critically important immigrant community," said Haskins.
Sawyer Hackett, a Democratic strategist and consultant, said of Adams, "This is not a person any elected Democrat should take messaging advice from."
In her critique, Ocasio-Cortez said anyone who continues to ignore the root cause of asylum-seekers arriving in the U.S. due to poverty, safety concerns, or political instability in their own countries is missing a key aspect of the issue.
"If we want to reduce the number of asylum seekers in general, we have to make U.S. foreign policy part of this conversation," the congresswoman said. "We must discuss U.S. policy in Latin America, which often goes ignored by politicians and media alike, despite the fact that it's a major factor."
News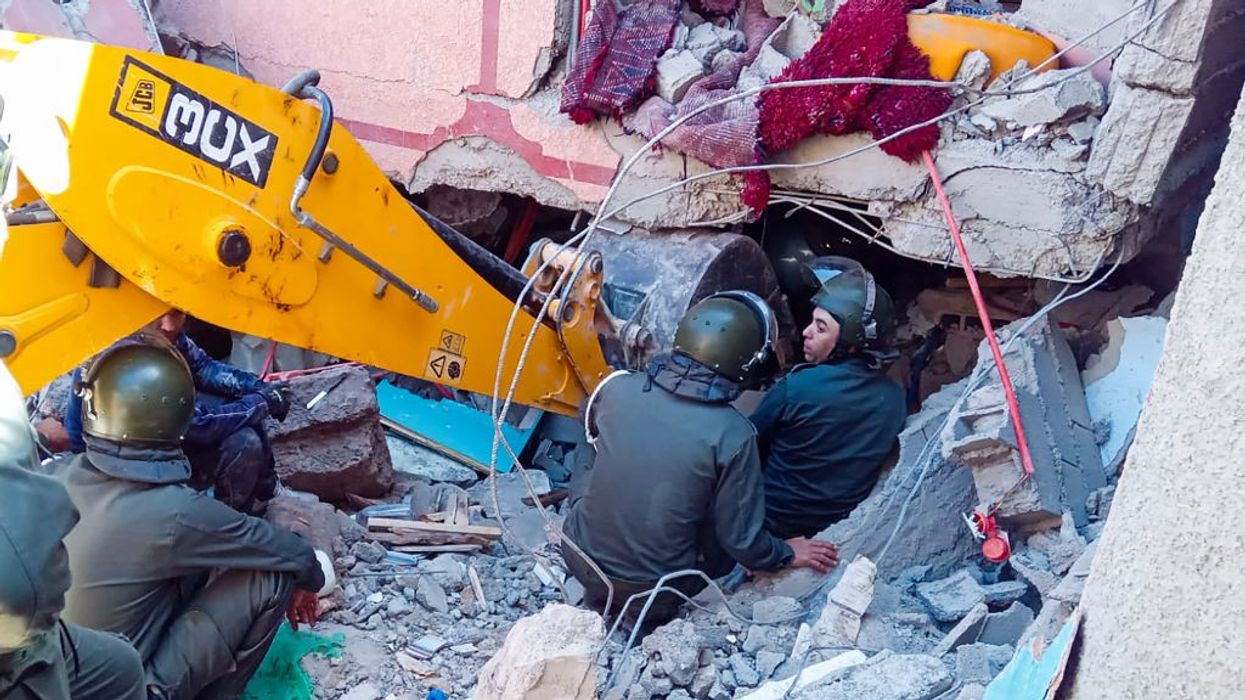 Death toll expected to climb as emergency workers search for survivors in Marrakesh and other impacted villages and cities.
This is a developing story... Check back for updates...

The strongest earthquake to hit the country of Morocco in more than 120 years has left over 800 people dead and many thousands more trapped, missing, or injured.
The quake registered 6.8 on the Richter scale with the epicenter located in the Atlas Mountains and not far the city of Marrakesh where historic buildings—many built of mortar and stone not designed to withstand such tremors—collapsed and the streets filled with people overnight trying to flee the destruction and danger.
"The problem is that where destructive earthquakes are rare, buildings are simply not constructed robustly enough to cope with strong ground shaking, so many collapse resulting in high casualties," Bill McGuire, professor emeritus of geophysical and climate hazards at University College London, told the Associated Press. "I would expect the final death toll to climb into the thousands once more is known. As with any big quake, aftershocks are likely, which will lead to further casualties and hinder search and rescue."
Morocco's interior ministry put the death toll at 822 as of Saturday morning, with 672 injured, but later revised those numbers to reflect that over 1,000 people are confirmed dead and more than 1,200 injured. Both numbers are almost certain to keep rising. Though the stronger impacts were closer to Marakesh, the earthquake was felt across the country, including in Casablance, Essaouira, and the capital city of Rabat.
Large nations, including both the United States and China, sent their well wishes to the people of Morocco.
"I am deeply saddened by the loss of life and devastation caused by the earthquake in Morocco," said U.S. President Joe Biden in an overnight statement. "Our thoughts and prayers are with all those impacted by this terrible hardship."
Biden said his administration as in contact with Moroccan officials and willing to send whatever help might be necessary. "We are working expeditiously to ensure American citizens in Morocco are safe," Biden said, "and stand ready to provide any necessary assistance for the Moroccan people."
"On behalf of the Chinese government and people, I would like to express my deep grief for the victims and sincere condolences to the families," said China's President Xi Jinping.
Dr. Mohammad Kashani, associate professor of structural and earthquake engineering at the University of Southampton, spoke with the Guardian to offer his analysis of the disaster.
"The earthquake was magnitude 6.8 with 18.5km depth, which is quite shallow," explained Kashani. "The shallow earthquakes are normally more destructive. The location is at the boundary of the Eurasian and African plates. Almost all earthquakes occur at the boundary of tectonic plates due to their movement."
"It is too early to see the extent of damage," he continued. "However, from what I've seen in photos and videos this very similar to the earthquake that occurred in February in Turkey. The area is full of old and historical buildings, which are mainly masonry. The collapsed reinforced concrete structures that I saw in the photos were either old or substandard."
News
Independent, nonprofit journalism needs your help.
Please Pitch In
Today!