Our work is licensed under Creative Commons (CC BY-NC-ND 3.0). Feel free to republish and share widely.
Sarah Lazare
Sarah Lazare was a staff writer for Common Dreams from 2013-2016. She is currently web editor and reporter for In These Times.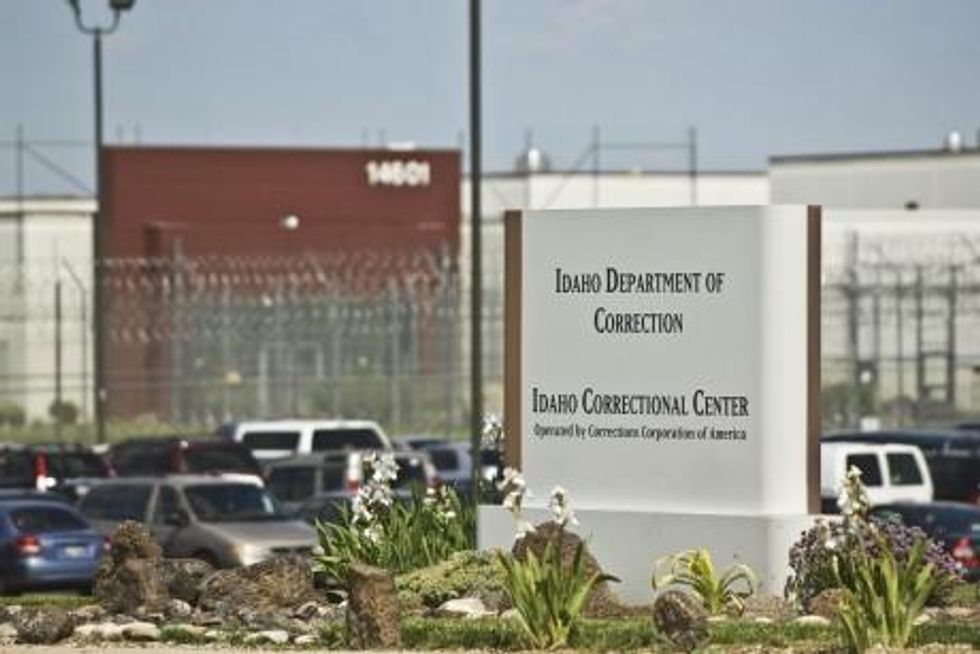 One of the biggest private prison corporations in the world
agreed last week
to pay $1 million to the state of Idaho for falsifying thousands of staff hours to boost its profit margins at one of its notoriously dangerous prisons.
Corrections Corporation of America admitted last year that employees at its massive Idaho Correctional Center (ICC), just south of Boise, had falsified staffing records to make it look as though they had worked at least 4,800 hours at mandatory guard posts while those posts had sat vacant. Yet, an audit ordered by the Idaho Department of Corrections and conducted by auditing firm KPMG determined CCA left "more than 26,000 hours of mandatory guard posts unstaffed or inadequately covered," according to the Associated Press .
"This is how private prisons make their money... they bill the government for services they don't provide." "This is par for the course," said Paul Wright, executive director of the Human Rights Defense Center and editor of Prison Legal News, in an interview with Common Dreams . "This is how private prisons make their money, whether it is CCA, GEO, or Corizon. They bill the government for services they don't provide. That is the profit model for private prisons. This is not the first time this has happened. The only reason this doesn't come up more is that there is little oversight of these private prison contracts."
"What is unique about private prisons is that there is financial incentive to both continue mass incarceration policies and to cut corners wherever corners can be cut," said Bob Libal, executive director for Grassroots Leadership, in an interview with Common Dreams .
The fraud came to light when American Civil Liberties Union attorneys representing people incarcerated at ICC charged that the corporation had covered up its under-staffing with fraudulent records. This followed a previous ACLU lawsuit "charging that officials at the Idaho Correctional Center (ICC) promote and facilitate a culture of rampant violence that has led to carnage and suffering among prisoners," according to an ACLU statement . The prison is reportedly so violent that people incarcerated, and prison officials, have given it the name " Gladiator School ."
Spokespeople for the corporation declared Wednesday that, even though they had agreed to the settlement, they are pushing to have the forensic audit declared "inconclusive," in what the Washington Post suggests is a bid to protect other government contracts.
Following the revelations, the state of Idaho announced it would not renew its $29 million contract with CCA -- one of several lucrative contracts the corporation has recently lost due to reports of fraud and abuse.
Yet, according to Libal, "Idaho has more than 200 prisoners incarcerated in a CCA prison in Colorado."
Wright warns that human rights violations in prisons are not unique to private prisons, which he says comprise about six percent of total prisons in the United States. "There are problems across the board," he says. "For example, in private and public prisons, medical care is abysmal. But in a private prison a doctor might get a big bonus from denying someone care. Private corporations profit from misery and brutality."
"But public prisons are no panacea," he says. "We are comparing rotten apples and rotten oranges."
_____________________
We've had enough. The 1% own and operate the corporate media. They are doing everything they can to defend the status quo, squash dissent and protect the wealthy and the powerful. The Common Dreams media model is different. We cover the news that matters to the 99%. Our mission? To inform. To inspire. To ignite change for the common good. How? Nonprofit. Independent. Reader-supported. Free to read. Free to republish. Free to share. With no advertising. No paywalls. No selling of your data. Thousands of small donations fund our newsroom and allow us to continue publishing. Can you chip in? We can't do it without you. Thank you.