Our work is licensed under Creative Commons (CC BY-NC-ND 3.0). Feel free to republish and share widely.
Jacob Chamberlain
Jacob Chamberlain is a former staff writer for Common Dreams. His website is www.jacobpchamberlain.com.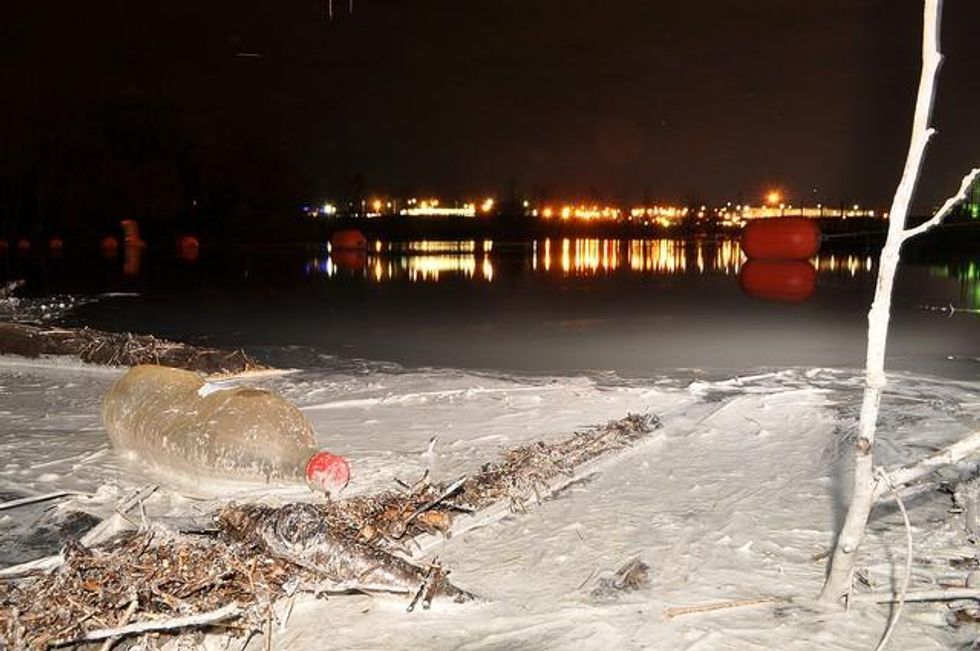 North Carolina officials
admitted on Sunday
that estimated levels of arsenic in the Dan River taken two days after a massive coal ash spill at a Duke Energy plant last week were wrong and that the water was in fact highly toxic and unsafe for public exposure.
The state's Department of Environment and Natural Resources previously said water tests showed levels of arsenic to be at safe levels. However, the Department now admits those levels were four times higher than safety standards.
Officials claim the false readings were a mistake.
While officials said Saturday that the leak is officially plugged, environmental groups warn that massive damage has already been done. More than 82,000 tons of toxic ash is now contaminating the Dan River in North Carolina and Virginia, which, according to eyewitness accounts, has filled the river with an unnatural gray sludge.
Sunday's announcement confirmed what environmental groups such as Waterkeeper Alliance have said all along: that water samples have consistently shown levels of arsenic, lead, chromium and other heavy metals are far above safety standards, and are threatening public drinking water supplies.
Additionally, as the Associated Pressreported Sunday, this is not the first time the N.C. Department of Environment and Natural Resources has botched efforts to hold Duke Energy accountable for ongoing pollution at their coal ash sites. According to AP, the department has continually shielded Duke from attempts by environmental groups to get the company to clean up their coal ash sites.
Environmental groups and former regulators are charging that North Carolina Republican Gov. Pat McCrory, who worked for Duke for 30 years, "has created an atmosphere where the penalties for polluting the environment are low," as Mother Jonesreports.
______________________
We've had enough. The 1% own and operate the corporate media. They are doing everything they can to defend the status quo, squash dissent and protect the wealthy and the powerful. The Common Dreams media model is different. We cover the news that matters to the 99%. Our mission? To inform. To inspire. To ignite change for the common good. How? Nonprofit. Independent. Reader-supported. Free to read. Free to republish. Free to share. With no advertising. No paywalls. No selling of your data. Thousands of small donations fund our newsroom and allow us to continue publishing. Can you chip in? We can't do it without you. Thank you.