Our work is licensed under Creative Commons (CC BY-NC-ND 3.0). Feel free to republish and share widely.
Jacob Chamberlain
Jacob Chamberlain is a former staff writer for Common Dreams. His website is www.jacobpchamberlain.com.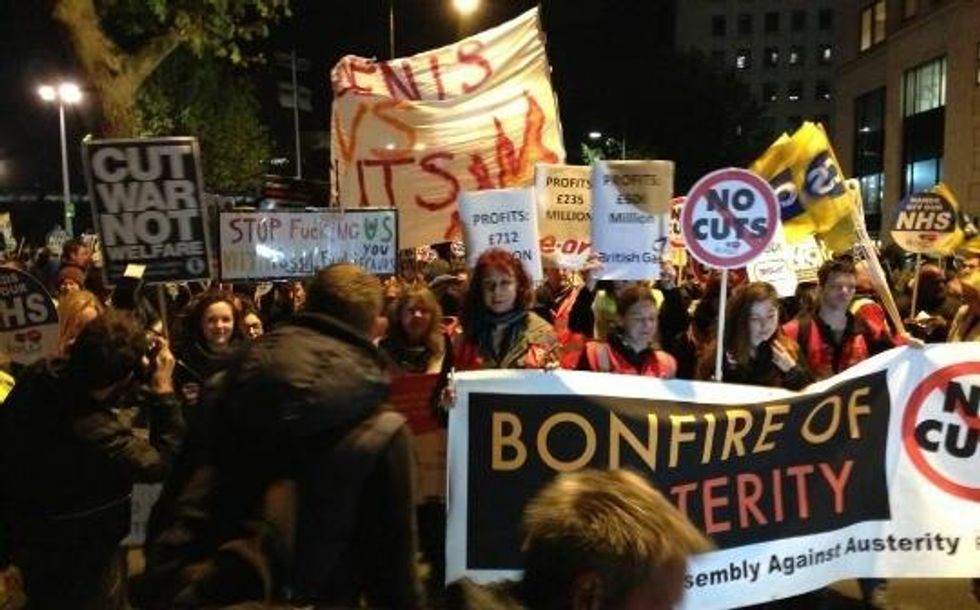 The flames burned bright on "Bonfire Night" in London and dozens of other UK cities as protesters gathered once again to protest ongoing austerity measures in the country.
Demonstrators in Parliament Square carried signs that read "no cuts," "corporate greed does not make democracy," and "cut war not welfare," as part of an anti-austerity demonstration organized by the People's Assembly Against Austerity.
At one point the crowds marched to the middle of Westminster Bridge and lit a "Bonfire of Austerity," burning energy bills in defiance of rising energy costs.
"The big six energy companies are effectively holding consumers across the country to ransom," said Owen Jones of the People's Assembly, citing failed action on the part of UK lawmakers. "It's going to drive nine million people into fuel poverty, it's going to kill elderly people."
"Cameron's self-defeating austerity is still sucking the life out of places like London - but there's a growing movement fighting back," reads a statement issued by the People's Assembly.
Police in riot gear clashed with protesters in Parliament Square as well as in front of Buckingham Palace, where protesters lit a bonfire yards away from the palace gates, TheGuardian reports.
Similar gatherings took place in up to 40 UK cities, including Manchester, Newcastle, and Nottingham. Many of the demonstrations were organized in coordination with what was coined the Million Mask March, called by the hacktivist group Anonymous, which reportedly took place in over 400 cities across the the world including Washington DC, Vancouver, Tel Aviv, Dublin, Paris, Chicago and Sydney.
Jones continued in a People's Assembly statement ahead of the march:
The Tories are building a Britain of food banks, legal loan sharks and zero hour contract workers. Millions languish on social housing waiting lists. In years to come, many of us will be asked what we did to stop this horror show. That's why it's time to tap into our country's proud tradition of protest and civil disobedience, and make loud and clear our demand for an alternative to the failure of austerity."
"Bonfire Night" in the UK, also known as Guy Fawkes Night, is typically a commemoration of Fawkes' failed effort to blow up the British Parliament in 1605. Many have recently turned the yearly celebration into a night of protest in opposition to corrupt government policies.
_______________________
We've had enough. The 1% own and operate the corporate media. They are doing everything they can to defend the status quo, squash dissent and protect the wealthy and the powerful. The Common Dreams media model is different. We cover the news that matters to the 99%. Our mission? To inform. To inspire. To ignite change for the common good. How? Nonprofit. Independent. Reader-supported. Free to read. Free to republish. Free to share. With no advertising. No paywalls. No selling of your data. Thousands of small donations fund our newsroom and allow us to continue publishing. Can you chip in? We can't do it without you. Thank you.