Our work is licensed under Creative Commons (CC BY-NC-ND 3.0). Feel free to republish and share widely.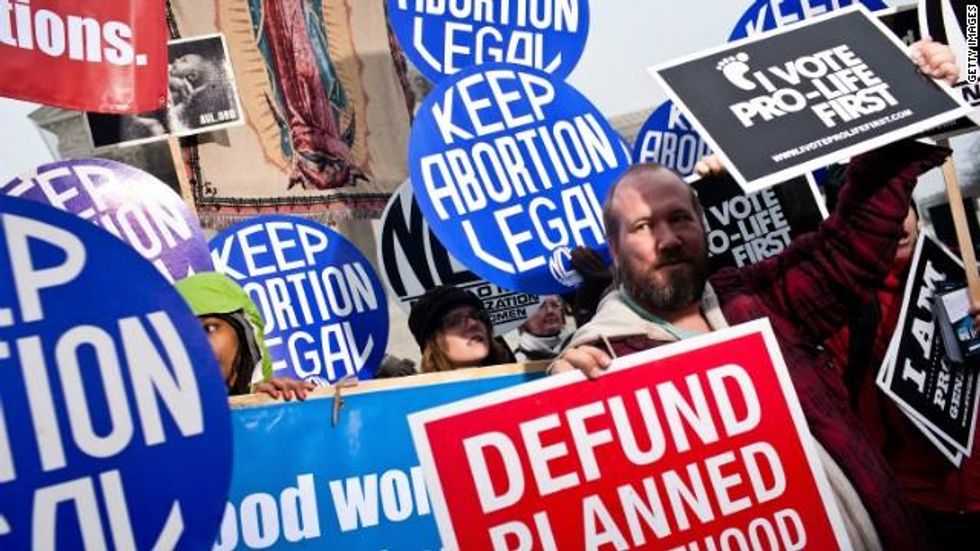 The U.S. House of Representatives passed a "disrespectful" and "unsafe" bill Tuesday that would ban all abortions after 20 weeks, directly challenging the Supreme Court decision in Roe v. Wade. The law passed 228-196 with six Republicans voting against the bill and six Democrats voting in favor.

The Pain-Capable Unborn Child Protection Act, authored by Rep. Trent Franks (R-AZ), hinges on a scientifically-disputed theory that fetuses can feel pain before the third trimester of a pregnancy. According to Think Progress, the theory is supported by a minority of medical professionals and is based on "junk science."
The bill includes a provision for survivors of rape or incest that was added last week, but the stipulation is highly limited. In cases of rape, the exemption only applies if those seeking the procedure report the crime to the police. In cases of incest, the exemption only applies if the victim is a minor. Critics of the bill point out that Franks and supporters have ignored the trauma and risk reporting rape or incest can cause.
The legislation also fails to consider the small percent of women who seek these procedures; those seeking termination after 20 weeks make up only one percent of all abortions.
"...the white male-dominated Republican party is still living in the stone age on social issues." - Ana Marie Cox, The Guardian
Rep. Franks recently made headlines with his comment that "the incidence of rape resulting in pregnancy are very low" when in fact five percent of rapes result in pregnancy.
The legislation push was also led by Tennessee Congressperson Marsha Blackburn who garnered attention earlier this month for her comment that women "don't want" equal pay laws.
During the hearing, Rep. Michael Burgess suggested an even stricter ban than the proposed plan, saying that abortions should be illegal after 15 weeks because sonograms of babies of that age allegedly show them stroking their faces and "if they're a male baby, they may have their hand between their legs." Rep. Burgess explained, "if they feel pleasure, why is it so hard to believe that they could feel pain?"
Rep. Louise Slaughter (D-NY) addressed Burgess' claim by saying "I think all the members are cognizant of the fact that this is not a Congress that cares much about science."
Guardian columnist Ana Marie Cox reflected on the debate noting that "conservatives continue to march out parades of white men to spout aggressively ignorant arguments that alienate even audiences inclined to be sympathetic to their point of view."
In her op-ed, Cox writes that "the GOP's latest abortion ban push is staggeringly stupid...the white male-dominated Republican party is still living in the stone age on social issues."
The bill's passing sparked outrage from many women's and human rights' groups. NOW President Terry O'Neil explained in a press release that "anyone who thinks the Republican leadership's war on women is moderating, let alone over, is mistaken." She continued:
This bill places the health and well-being of women in the hands of ideologues more interested in politics than women's lives. By banning abortion after 20 weeks and cutting funding to necessary social safety nets, among other policy decisions, the Republican members of the House continue to show their true colors.

No amount of softening rhetoric or moderate posturing will change the harsh reality that today's GOP is out of step and out of touch when it comes to women. We at NOW are not fooled, and neither are women voters.
Democratic leader Nancy Pelosi described the bill's passing as "yet another Republican attempt to endanger women. It is disrespectful to women. It is unsafe for families and it is unconstitutional."
Although the bill is unlikely to pass the Senate and President Obama has vowed to veto it if it reaches his desk, the law is still extremely significant. Twenty-week bans have been successfully put in place in 11 states, based on the same speculation that fetuses can feel pain. Texas, South Carolina, and Wisconsin are anticipated to be the next states to pass such laws.
Lucia Brown is a summer editorial intern at Common Dreams.
_____________________
We've had enough. The 1% own and operate the corporate media. They are doing everything they can to defend the status quo, squash dissent and protect the wealthy and the powerful. The Common Dreams media model is different. We cover the news that matters to the 99%. Our mission? To inform. To inspire. To ignite change for the common good. How? Nonprofit. Independent. Reader-supported. Free to read. Free to republish. Free to share. With no advertising. No paywalls. No selling of your data. Thousands of small donations fund our newsroom and allow us to continue publishing. Can you chip in? We can't do it without you. Thank you.