Our work is licensed under Creative Commons (CC BY-NC-ND 3.0). Feel free to republish and share widely.
Jacob Chamberlain
Jacob Chamberlain is a former staff writer for Common Dreams. His website is www.jacobpchamberlain.com.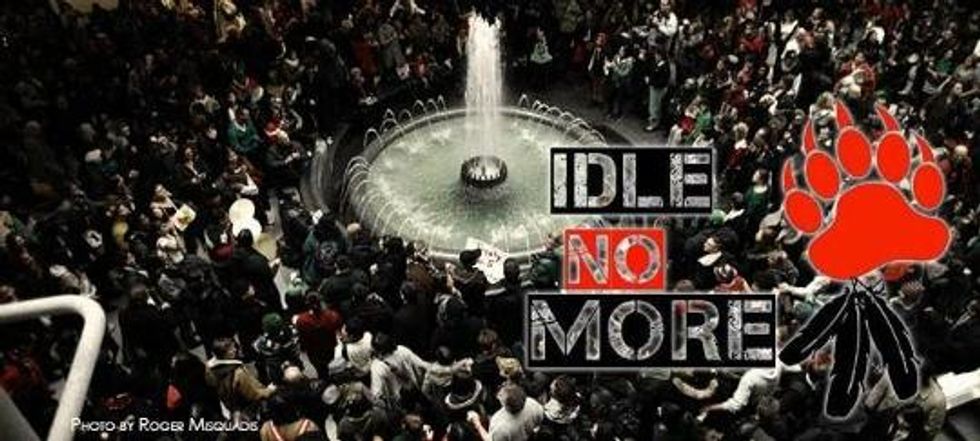 With worldwide support growing for Canada's First Nations' Idle No More protest movement, protest organizers around the world are preparing this week for a
Global Day of Action
scheduled for Friday, January 11th.
The day will coincide with a scheduled meeting between Canadian Prime Minister Stephen Harper and First Nations leaders--including Chief Theresa Spence whose hunger strike, which began roughly one month ago, sparked the mass movement for indigenous rights.
The group has called upon communities around the world to organize under the motto: "Anything. Everything. Anywhere. Everywhere." The demonstrations will be designed to show "support for the rising global Indigenous Peoples Movement by taking action in your community."
Using the twitter hashtag #J11, the group is asking organizers to spread the word and widely promote their actions in order to raise international awareness about indigenous rights around the world.
A statement from the group reads:
The goal is to raise the profile of the movement, demonstrate our global presence, and give visibility to the growing momentum as a peoples' movement first.

As only a few AFN-determined representatives will be chosen to participate in the meeting with Harper, it will be important to show that the rest of the movement stands united with one voice, that it is not going anywhere, and that we here to demonstrate the strength and resurgence of our nations.

January 11 will also be in honour of Chief Theresa Spence to mark the 1-month anniversary of her hunger strike. As well as to honour the other chiefs and elders who have been on hunger strike with her.

All nations and all people from around the world are invited to join in celebrating and affirming their support for what is happening and the need to keep things moving forward together.
After mounting pressure, including the singular demand of Spence's hunger strike, Prime Minister Stephen Harper finally agreed to meet with Indigenous leaders on Jan. 11. Sure to be discussed will be Canada's recent Bill C-45, which the group says undermines previously agreed to treaties between Canada and First Nations leaders and subsequently does great damage to Canada's pristine environment.
_______________________
_______________________
Idle No More solidarity protest in Seattle Washington on December 29, 2012:
We've had enough. The 1% own and operate the corporate media. They are doing everything they can to defend the status quo, squash dissent and protect the wealthy and the powerful. The Common Dreams media model is different. We cover the news that matters to the 99%. Our mission? To inform. To inspire. To ignite change for the common good. How? Nonprofit. Independent. Reader-supported. Free to read. Free to republish. Free to share. With no advertising. No paywalls. No selling of your data. Thousands of small donations fund our newsroom and allow us to continue publishing. Can you chip in? We can't do it without you. Thank you.