Our work is licensed under Creative Commons (CC BY-NC-ND 3.0). Feel free to republish and share widely.
Unsustainable use of chemicals worldwide is causing damage to human health and the environment and must be addressed urgently, a U.N. report released Wednesday says.
From mercury to hydrocarbons, lead and phthlates, the exposure to chemicals is widespread, the report says, and is becoming particularly harmful in the developing world, which is increasingly using chemical products in lieu of natural based ones, and is becoming the world's dumping ground for toxic products.
The report notes how the use of chemicals has skyrocketed since the 1970s, and sees no end for their use.
"Communities worldwide -- particularly those in emerging and developing countries -- are increasingly dependent on chemical products, from fertilizers and petrochemicals to electronics and plastics, for economic development and improving livelihoods," said UN Under-Secretary General and UNEP Executive Director, Achim Steiner.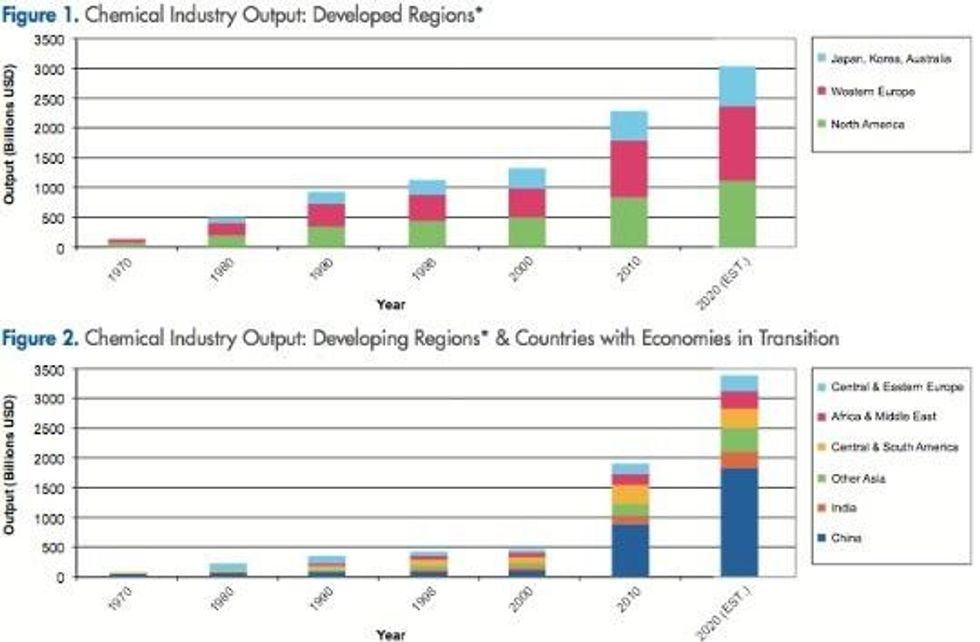 The report acknowledges the great expense, both monetary and in terms of human health, that the various chemicals can cause. The UN reports that " [b]etween 2005 and 2020, the accumulated cost of illness and injury linked to pesticides in small scale farming in sub-Saharan Africa could reach USD $90 billion. " In addition, "[p]oisonings from industrial and agricultural chemicals are among the top five leading causes of death worldwide."
As well as "improving livelihoods," Steiner sees "gains" from chemicals:
"But the gains that chemicals can provide must not come at the expense of human health and the environment. Pollution and disease related to the unsustainable use, production and disposal of chemicals can, in fact, hinder progress towards key development targets by affecting water supplies, food security, well-being or worker productivity," added Steiner.
Progress around the world to manage chemicals widely has been too slow, the report says, noting that the bulk of e-waste from Europe and the U.S. is unaccounted for, and surface waters are routinely polluted in the developing world by toxins like formaldehyde.
"From sustainable agriculture, to green buildings and waste management, sound chemicals management is an essential ingredient for almost all sectors in the transition towards a Green Economy," said Steiner.
"But to harness the economic benefits of sound chemicals management, closer cooperation and better planning is required between government ministries, public and private sectors, and others in the chemicals supply chain."
"This requires broad and ambitious efforts, underpinned by strategic financing. Such action can elevate chemicals management to the top of the international policy agenda and help deliver inclusive sustainable development," stated Steiner.
We've had enough. The 1% own and operate the corporate media. They are doing everything they can to defend the status quo, squash dissent and protect the wealthy and the powerful. The Common Dreams media model is different. We cover the news that matters to the 99%. Our mission? To inform. To inspire. To ignite change for the common good. How? Nonprofit. Independent. Reader-supported. Free to read. Free to republish. Free to share. With no advertising. No paywalls. No selling of your data. Thousands of small donations fund our newsroom and allow us to continue publishing. Can you chip in? We can't do it without you. Thank you.