Our work is licensed under Creative Commons (CC BY-NC-ND 3.0). Feel free to republish and share widely.
On Tuesday the Arizona Senate passed a bill banning most abortions after 20 weeks of pregnancy. If the state House passes the bill, Arizona would join six states that have passed similar legislation.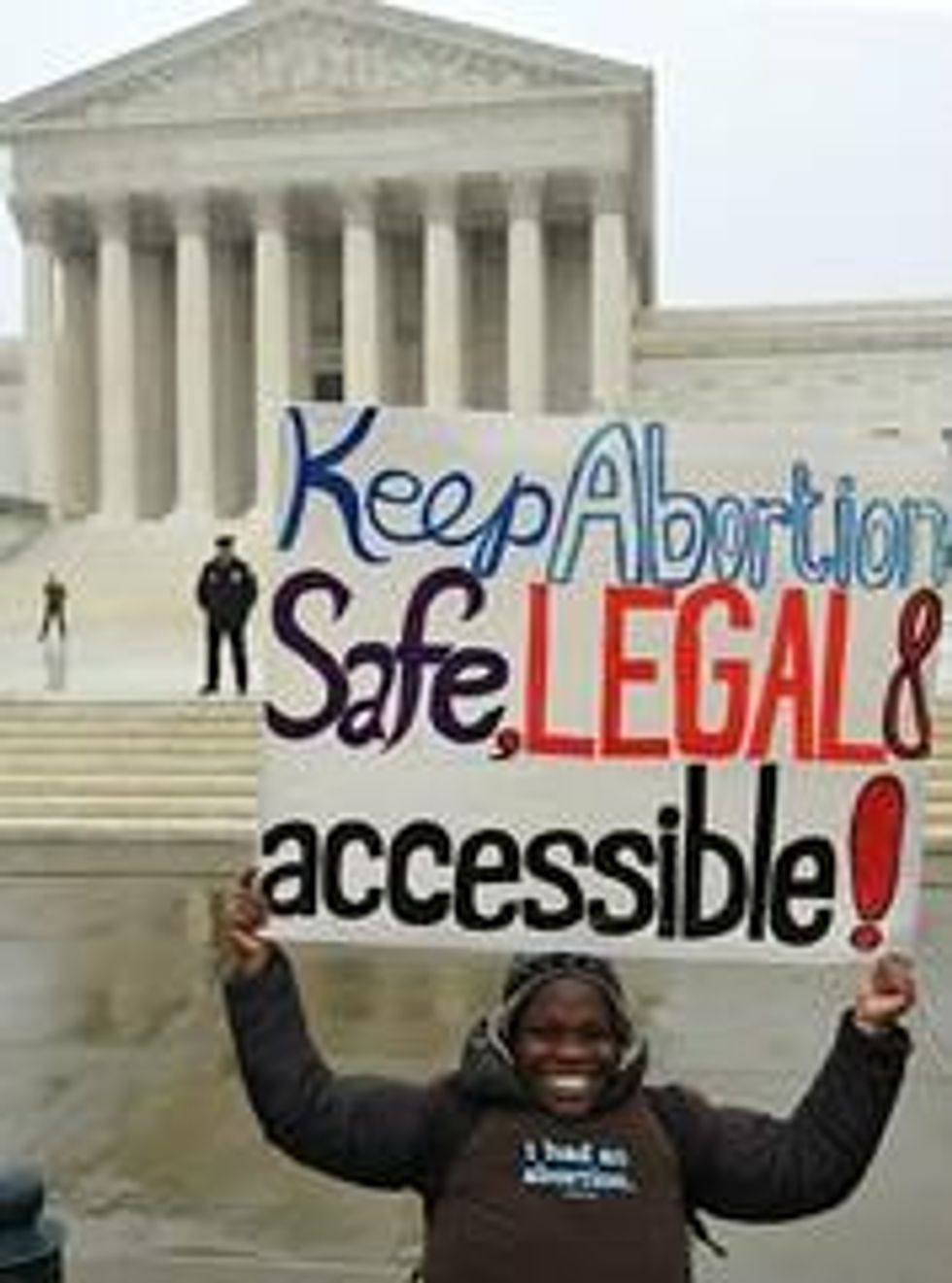 Last week Rep. Terri Proud (R-AZ) told one of her constituents via email that women should be required to "watch an abortion being performed" prior to having one.
In Georgia, a 20-week abortion ban failed to pass this week.
* * *
Democracy Now!: Arizona Senate Votes to Ban Abortion After 20 Weeks
The Arizona state Senate has voted to ban most abortions after 20 weeks of pregnancy. The vote was 20 to 10, with one Republican joining Democrats in opposition. The measure now goes to Arizona's state House. Six states have passed similar abortion bans over the past two years.
* * *
ThinkProgress: Arizona Lawmaker: Women Should 'Watch An Abortion Being Performed' Prior To Having It
The Arizona legislature is considering at least two separate bills that would significantly limit women's access to abortion by banning the procedure after 20 weeks of gestation and strip funding to Planned Parenthood. But those restrictions don't go far enough for conservative lawmaker Rep. Terri Proud (R) who told a constituent in an email that women should be required to "watch an abortion being performed" prior to having it:

"Personally I'd like to make a law that mandates a woman watch an abortion being performed prior to having a 'surgical procedure'. If it's not a life it shouldn't matter, if it doesn't harm a woman then she shouldn't care, and don't we want more transparency and education in the medical profession anyway? We demand it everywhere else.



Until the dead child can tell me that she/he does not feel any pain - I have no intentions of clearing the conscience of the living - I will be voting YES."
* * *
RH Reality Check: Georgia 20-Week Abortion Ban Fails
Georgia Republicans in the House have decided that if they cannot have a full 20 week abortion ban with no exceptions, they don't want any ban at all.

Via the Atlanta Journal Constitution:

HB 954, the bill to shorten the period of time in which a woman could seek an abortion, died this afternoon - a major defeat for pro-life forces. And House Speaker David Ralston just made sure everyone understood: It was the Senate's fault.

The Senate substantively changed the bill on Monday, including an exception for "medically futile" pregnancies. The House refused to budge this afternoon, and Senate Republicans couldn't persuade enough of their number to back off.

It's a bitter sweet victory. On the bright side, there will be no ban on abortions at 20 weeks for those women who learn about fetal defects or other issues with their pregnancies, or who had other reasons that they couldn't obtain an abortion earlier. But on the other hand, that's only because a group of House Republicans were so intent on making women carry non-viable pregnancies against their will that they would rather not have a bill at all than allow them to terminate their pregnancies.
We've had enough. The 1% own and operate the corporate media. They are doing everything they can to defend the status quo, squash dissent and protect the wealthy and the powerful. The Common Dreams media model is different. We cover the news that matters to the 99%. Our mission? To inform. To inspire. To ignite change for the common good. How? Nonprofit. Independent. Reader-supported. Free to read. Free to republish. Free to share. With no advertising. No paywalls. No selling of your data. Thousands of small donations fund our newsroom and allow us to continue publishing. Can you chip in? We can't do it without you. Thank you.