Our work is licensed under Creative Commons (CC BY-NC-ND 3.0). Feel free to republish and share widely.
Support for the controversial Anti-Counterfeiting Trade Agreement (ACTA) continues to wane this week as the Netherlands have imposed delays on ratification, joining the list of countries that have begun to back down on the agreement.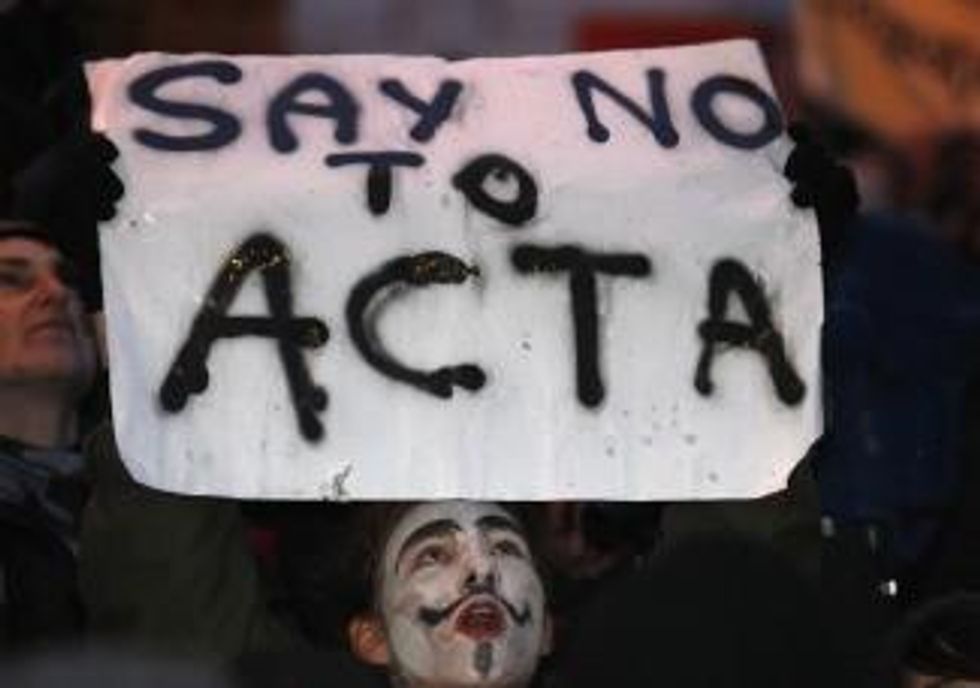 Last weekend saw tens of thousands of protesters across Europe in opposition to the agreement. In response to these protests, now the Netherlands have joined a growing list of countries including Germany, Poland, and Bulgaria who have recently taken steps to delay or reject ACTA.
UPIreports:
The Netherlands this week imposed delays on the ratification of the ACTA international anti-piracy agreement, which critics claim threatens Internet freedoms.

Opponents say the draft Anti-Counterfeiting Trade Agreement puts users' privacy at risk while the European Commission contends the measure doesn't change existing data protection laws and is needed to mount a long-term global fight against copyright theft.

Germany, Poland, the Czech Republic and Slovakia have already delayed the international trade agreement's ratification process, citing the same privacy concerns highlighted during a wave of anti-ACTA protests throughout Europe last week.

The Netherlands joined that group Tuesday, when the Dutch lower house of Parliament backed a motion from the Green Left party calling on the Netherlands to refrain from signing onto ACTA, Radio Netherlands reported. [...]

Dunja Mijatovic, media freedom representative for the Organization for Security and Cooperation in Europe, Tuesday urged the European Parliament to reject ACTA, which it is considering for ratification.

"In my role as the OSCE representative on Freedom of the Media, I am mandated to observe media freedom developments in the OSCE participating states and am concerned that the present agreement on ACTA might have a detrimental effect on freedom of expression and a free flow of information in the digital age," Mijatovic said in Vienna.
RTreports:
As European parliaments reject the Anti-Counterfeiting trade Agreement on human rights grounds, some are asking why it was signed in the first place.

It looks like some of the countries who signed ACTA in Tokyo on January 26 are already having second thoughts.

"I don't know why I signed ACTA", former Romanian prime minister Emil Boc said on February 6

"We made insufficient consultations before signing the agreement in late January," said Polish PM Donald Tusk on February 3, implying that his government had not taken steps to fully "ensure it was entirely safe for Polish citizens."

A few days later Slovenia's foreign minister, who signed the agreement on behalf of her country, apologized for doing so: "Quite simply, I did not clearly connect the agreement I had been instructed to sign with the agreement that, according to my own civic conviction, limits and withholds freedom of engagement on the largest and most significant network in human history, and thus limits particularly the future of our children."
We've had enough. The 1% own and operate the corporate media. They are doing everything they can to defend the status quo, squash dissent and protect the wealthy and the powerful. The Common Dreams media model is different. We cover the news that matters to the 99%. Our mission? To inform. To inspire. To ignite change for the common good. How? Nonprofit. Independent. Reader-supported. Free to read. Free to republish. Free to share. With no advertising. No paywalls. No selling of your data. Thousands of small donations fund our newsroom and allow us to continue publishing. Can you chip in? We can't do it without you. Thank you.