Our work is licensed under Creative Commons (CC BY-NC-ND 3.0). Feel free to republish and share widely.
Abby Zimet
Abby Zimet has written CD's Further column since 2008. A longtime, award-winning journalist, she moved to the Maine woods in the early 70s, where she spent a dozen years building a house, hauling water and writing before moving to Portland. Having come of political age during the Vietnam War, she has long been involved in women's, labor, anti-war, social justice and refugee rights issues. Email: azimet18@gmail.com
Forgive us as we splutter with dumb rage, grief, depletion. The story from Texas is achingly familiar yet singularly ghastly: a houseful of 10 people seeking safety, a family trying to get their 6-week-old son to sleep, a drunk neighbor with an AR-15, five dead - three women, a man, a 9-year-old shot in the head. Most harrowing, two of the women were lying over children to protect them. Oh America, when will it be enough?
Still, this is now our country. The victims lived in the "regular country neighborhood" of Cleveland, TX, northeast of Houston, known as Trail's End. All related, they came from Honduras to escape gang violence; one family had lived there two years; another had just joined them earlier that week. Friday night, as electrician Wilson Garcia and his wife Sonia Guzman were trying to keep their baby son asleep, their neighbor Francisco Oropeza was out shooting in his yard; Garcia asked if he could "do us a favor and shoot a little further away because our baby was sleeping," but Oropeza refused. Garcia called police, there was no response, he and Guzman called four more times. In the interval, Oropeza went in his house, got an AR-15, and started walking over to Garcia and Guzman's home. "I told my wife, 'Get inside. This man has loaded his weapon,'" recalled a tearful Garcia. "My wife told me to go inside because 'he won't fire at me - I'm a woman.'" Guzman, 25, was the first person killed as she stood at the front door. Oropeza then shot and killed their 9-year-old son Daniel in the front room, and three other victims: Diana Velazquez Alvarado, 21, Juliza Molina Rivera, 31, and Jose Jonathan Casarez, 18. Sheriff Greg Capers said the two women were lying on top of Guzman's and Garcia's infant son and three-year-old daughter, and another child: "The ladies laying over these children were doing it in such an effort as to protect them."
The four adults died at the scene; Daniel died at the hospital. Police said they were all shot from the neck up, "so basically in the head, almost execution style." The surviving children were also taken to the hospital; they were covered in blood but physically uninjured. Bizarrely, Oropeza, who has been deported four times, was known for shooting guns in his shell-casing-strewn yard, was drinking before the slaughter, and has been charged with five counts of murder remains at large four days after the bloody fact - despite the presence of over 200 law enforcement and the offer of an $80,000 reward. In truth, the response from police, even their Lone Star thugs, has been staggeringly inept. To date, they've variously listed his age at 38 and 39, changed the spelling of his name from Oropeza to Oropesa "to better reflect his identity in law enforcement systems," pleaded with residents to check their home surveillance cameras, posted the wrong photo of Oropeza and then updated it - a skeptical public: "Are you sure this time?" They also say Oropesa has evidently "contacted friends" but they don't know who they are, they found his AR-15 but don't know if he has another weapon, and tracking dogs lost the scent. "This remains a fluid investigation," said one official. Capers was more blunt. "He could be anywhere now," he said. "We don't know where he is. We have zero leads."

Still, despicable "political Gorgon," racist xenophobe and alleged Gov. Greg Abbott was quick to label the murder victims "illegal immigrants," even though they were first and foremost innocent human beings who were slaughtered, their immigration status was obscenely irrelevant to the fact they were dead, and at least one was a permanent resident. Abbott, who in the last year signed seven bills to loosen already minimal gun laws - in a state decried as a hapless Wild West with the most gun deaths and NRA money in the country - didn't mention why angry drunks had access to weapons of war that, it's bitterly joked, you can buy on any damn street corner. Online, many echoed the adage, "Shoot from the racist hip first, ask questions later." Killing people is terrible, one noted, "but the question is, were they illegals?" Also, "They were not really 'innocent' if they were illegal aliens" and, "If they hadn't been here illegally, they'd still be alive." Neighbors were more generous: "They were a very happy family. Christian. Kind. They were always helping us." Several said they'd heard gunshots but "didn't think anything of it" in a place where "everyone has guns." "On Fridays, they get home and start drinking in their backyards and shooting out there," said one. "We thought it was just normal shooting."
The Cleveland carnage was the country's 19th mass shooting in a year that's seen almost 14,000 people die of gun violence; about half were homicides, often during mundane, daily interactions. It also came weeks before the 1st anniversary of the horrific Uvalde school shooting that killed 19 children and two adults, now memorialized in 21 murals. Still, in New Hampshire this week Nikki Haley "rolled out the mandatory Republican candidate gun photo" because the "cancer in America" isn't guns - the "lazy, easy approach" - but mental health; Marine veteran and Dem Rep. Ruben Gallego issued a "poser alert" outlining all the ways she'd get hurt if she fired. Meanwhile, the shootings go on and on: A Texas guy killeda $40 scammer, then returned to his date; an Illinois guy shot a relative during a funeral; a Detroit doctor gunned down; a drive-by shooting at a Seattle gas-station; an Illinois man shot dead by his neighbor for leaf-blowing; two road-rage shootings in Philly, which has so many homicides a local suggests, "Just let them cut you off - don't even hit the horn"; a Texas college baseball player sitting in a 5th-inning bullpen shot in the chest by a stray bullet from the neighborhood. Commented one cop, "Bad luck, bad place." Really? And a good place in this God-forsaken country, with its haunting "ladies laying over these children," would be...? What the fuck, America. One weeps.
Update: Police caught Oropesa Tuesday night after getting a tip; he was found under a pile of laundry in a closet in Cut and Shoot, TX.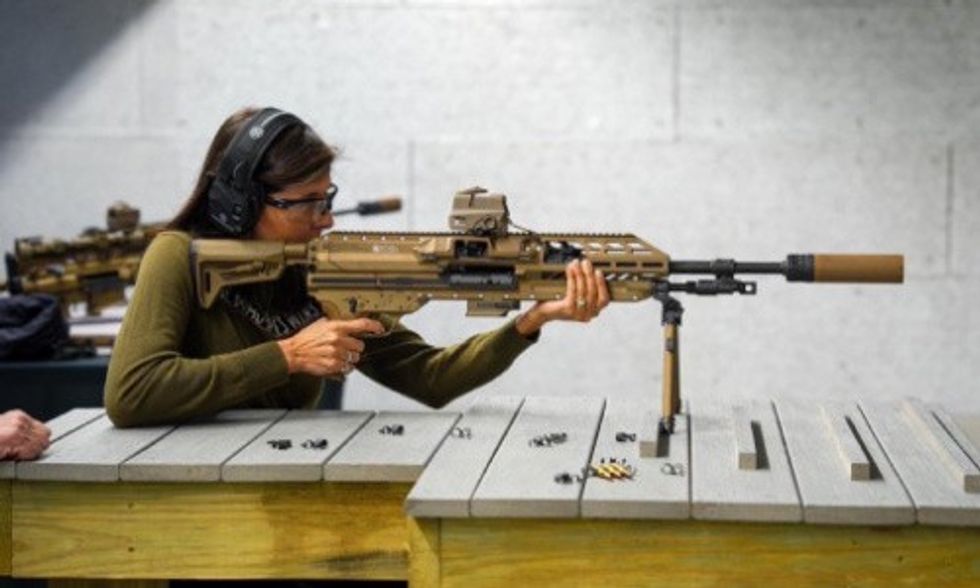 Campaigning this week, Nikki Haley tries to impress voters by pretend-shooting a belt-fed machinegun Twitter photo
We've had enough. The 1% own and operate the corporate media. They are doing everything they can to defend the status quo, squash dissent and protect the wealthy and the powerful. The Common Dreams media model is different. We cover the news that matters to the 99%. Our mission? To inform. To inspire. To ignite change for the common good. How? Nonprofit. Independent. Reader-supported. Free to read. Free to republish. Free to share. With no advertising. No paywalls. No selling of your data. Thousands of small donations fund our newsroom and allow us to continue publishing. Can you chip in? We can't do it without you. Thank you.