Greg Kaufmann
Greg Kaufmann is a Contributing Writer at The Nation and a Journalist in Residence at the Roosevelt Institute. He also is the founder of TalkPoverty.org.
Elaine Weiss
Elaine Weiss is the national coordinator for the Broader, Bolder Approach to Education, where she works with a high-level Task Force and coalition partners to promote a comprehensive, evidence-based set of policies to allow all children to thrive.
The negative impact of poverty on a child's educational achievement is indisputable. Whether the metric is school grades, state assessments, the National Assessment of Education Progress (NAEP), the SAT--the scores of low-income children are far lower than those of their wealthier peers. The reasons for that gap--and how our nation should respond--is the subject of heated debate and is explored by filmmaker Jyllian Gunther in the award-winning documentary, The New Public.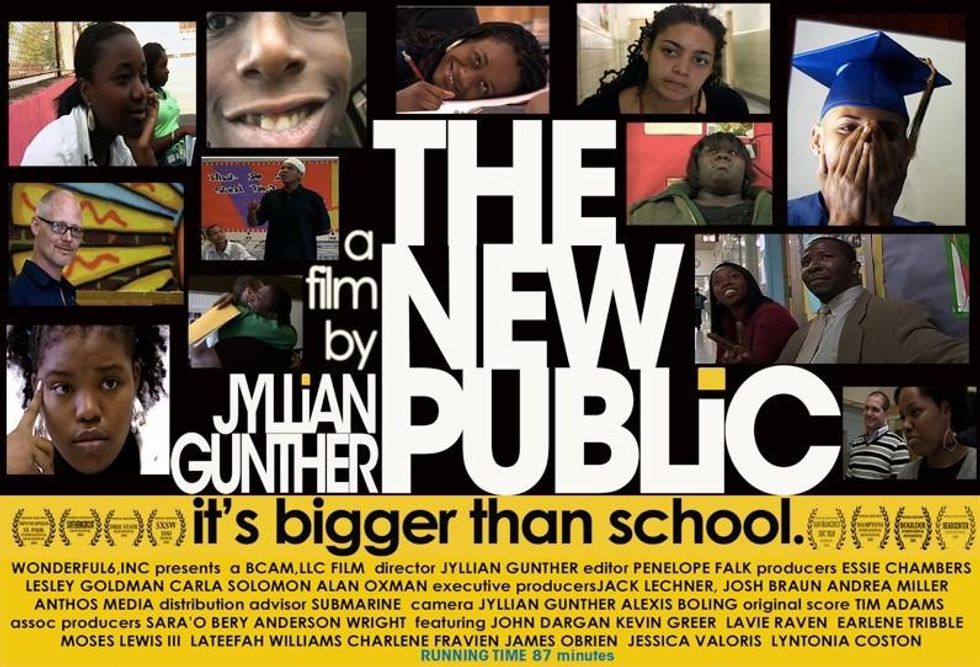 The film is inspiring and sobering as it examines the experiences of students and teachers at the Brooklyn Community Arts & Media (BCAM) High School. BCAM is a new, small public school in Bedford-Stuyvesant, where one-third of the residents live below the poverty line and the graduation rate is 40 percent.
With nuance and humor, Gunther shows how poverty presents many obstacles to effective teaching and strong learning. It showcases BCAM's ability to overcome some of those obstacles through relationship-building and teaching to students' strengths. But it also demonstrates that no matter how dedicated and focused the teachers and leaders are, a school will too often be unable to transform its students' academic lives.
Gunther follows BCAM's inaugural class during its freshman year, and then returns to document its senior year as well. Several of the Bed-Stuy ninth-graders entering BCAM's doors speak frankly of their unhappiness at their past schools. Students and parents discuss the failures in those schools to reach students, or of being kicked out or asked to leave.
We see BCAM faculty and staff grapple with how they can best overcome gaps in their students' learning. Research suggests that those learning gaps begin prior to kindergarten and widen over subsequent years. As Kevin Greer, a veteran teacher of honors English at a large public high school in the Bronx, describes, "Kids here have no idea what the fuck I'm talking about."
The teens also face deficits in skills that are often misnamed "non-cognitive"--like social, emotional, and behavioral skills. Because we can't measure resilience, perseverance, capacity to communicate, and appropriate interaction with peers, we tend to pay far too little attention to these qualities that researchers know contribute to academic and life success.
But BCAM educators strive to nurture these characteristics. Gunther highlights some of the school's less orthodox approaches, such as students engaging in meditation practice. A social worker, Charlene Fravien, also leads the "Fly Young Women" empowerment group, where we listen in on discussions about body image and race. Fravien says the group is designed to help these students communicate more effectively--the members were selected because they are known to be "much more short-tempered--the girls you don't mess with."
One of the group's participants is Lateefah. We see her quick intellect, sharp sense of humor, and leadership abilities from the outset of the film. She says her old school was bad--that the students were "uncontrollable" and so was she. BCAM seems to be helping her.
"Before I had a terrible look on life," says Lateefah. "Now I'm not wasting my time on nothing, I'm going straight for what I need and what I want." Yet she confides to the Fly Young Women that you can never leave your "baggage outside at the door."
"Because there's still gonna be that one thing in the back of your mind that's bugging you and that piece missing from your heart," she says.
Indeed the "baggage" Lateefah has accumulated over the years soon returns. Despite the efforts of Fravien and supportive teachers, Lateefah finds herself once again fighting and struggling with peers.
Ninth-grader John reveals another challenge children growing up in poor households disproportionately face--maternal depression. His mother is physically present but emotionally absent. John says she suffered a series of severe seizures that forced her to stop working and has shut her in their small apartment for years.
Luckily, John is close to his warm, funny father. But that father, who works six or seven days a week and has little time to do much besides work and sleep, dies before John's senior year. This compounds John's struggle to come out as a gay man while also pursuing college and the financial aid he needs.
Moses enters BCAM as one of the school's most promising new students. His mother and father push him hard to excel. Both his parents and teachers emphasize Moses' strong aptitude, great energy, and potential. Yet, as Moses puts it, "the street" proves too strong a lure. As his enthusiasm for BCAM's creative, arts-based approach wanes, he distances himself from teachers who want to help him. Senior year, just as he is being urged to get his college applications in order, his grades slip and his interest in school reaches new lows.
We also learn that the inaugural class has dropped from 104 students freshman year, to just 60 senior year, with 30 on track for graduation.
"I think small schools go through a wake up call that third or fourth year and then they make adaptations," says BCAM humanities teacher, Lavie Raven. "These schools desperately need that fifth to seventh year, because when we're measured by our first year graduates, the measurements are horrible. But the schools with the good staffs and leaders--learn."
The New Public successfully depicts poverty's complex impact on education, especially at the high school level. It offers nuanced suggestions that aren't nearly so catchy as "no excuses," and it doesn't suggest the existence of a silver bullet like "grit and character" or "miracle teachers." What the film does demonstrate is that creating schools where students in high poverty neighborhoods can thrive calls for far more than teaching to a test and punishing teachers for not obtaining mandated results.
"Inner city school teaching is like no other job," Greer offers. "Because you're dealing with basic American inequalities. Our society's problems are so enormous. And they're all foisted upon the schools to fix them all."
We've had enough. The 1% own and operate the corporate media. They are doing everything they can to defend the status quo, squash dissent and protect the wealthy and the powerful. The Common Dreams media model is different. We cover the news that matters to the 99%. Our mission? To inform. To inspire. To ignite change for the common good. How? Nonprofit. Independent. Reader-supported. Free to read. Free to republish. Free to share. With no advertising. No paywalls. No selling of your data. Thousands of small donations fund our newsroom and allow us to continue publishing. Can you chip in? We can't do it without you. Thank you.