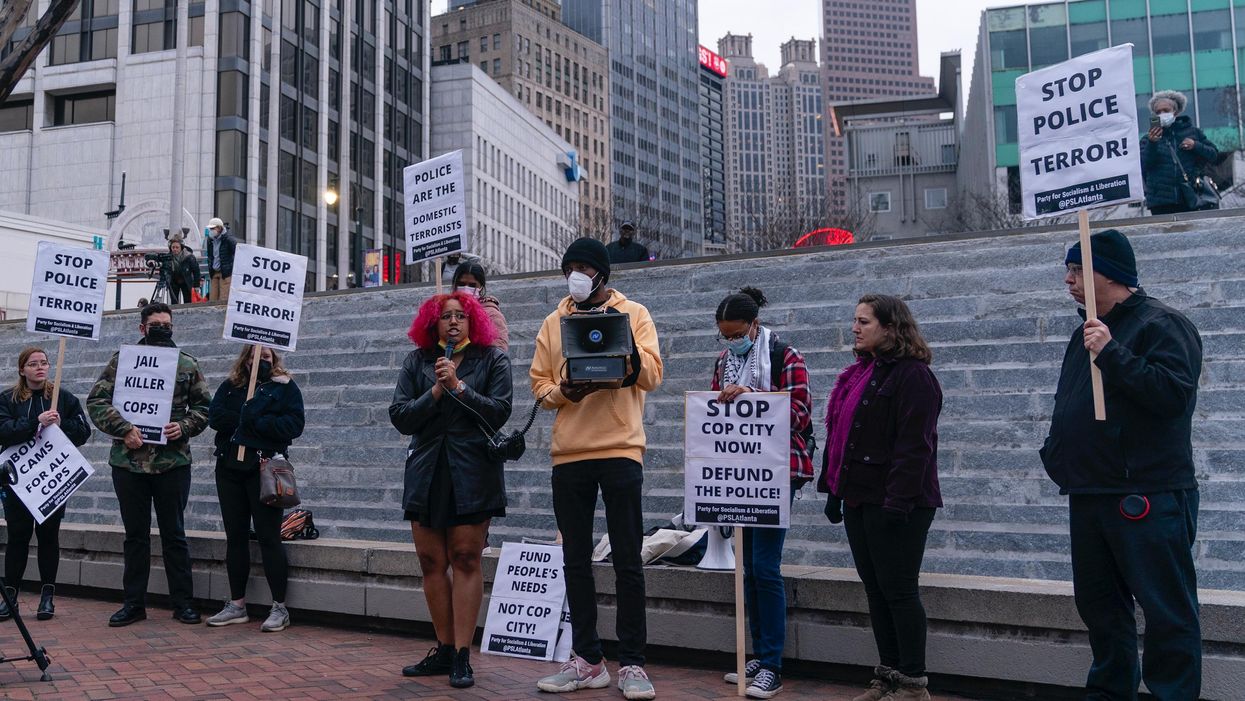 "Power concedes nothing without a demand," said the Atlanta Community Press Collective. "Ours is, 'Cop city must never be built—not here, not anywhere."
As Atlanta Mayor Andre Dickens and DeKalb County CEO Michael Thurmond announced Tuesday that construction of the $90 million, 85-acre police and fire training center known as "Cop City" will proceed under what Dickens called a "compromise," critics of the project had a resounding message: "Defend the Atlanta Forest. Stop Cop City."
Speaking during a press conference at Atlanta City Hall, Dickens, a Democrat, outlined changes to the project. Acknowledging "concerns about the environmental impact" of the project, the mayor said a 100-foot tree buffer would be added, and that 100 new hardwood trees would be planted for each one destroyed during construction. Dickens also said the complex's firing range would be moved further away from a nearby residential area.
Dickens also defended the type of police training that would take place at the facility, saying it "includes vital areas like de-escalation training techniques, mental health, community-oriented policing, crisis intervention training, as well as civil rights history and education."
However, activists—many of whom protested inside and outside City Hall chanting slogans including "APD, shut it down," referencing the Atlanta Police Department, and "Cop City will never be built"—were not swayed in their opposition to the project.
"Our firm line is no Cop City anywhere," Jasmine Burnett, organizing director at Community Movement Builders, toldUnicorn Riot outside City Hall. "No destruction of the forest at all. I know, they're trying to harp on the fact that it's only 85 acres. And allegedly, the rest will be left for public use. But that's 85 acres too much."

\u201cRIGHT NOW: Protesters outside City Hall ahead of an announcement of amended plans to move forward with the future site of the Atlanta public safety training center\u201d

— Joe Ripley (@Joe Ripley) 1675185881
"We are also calling for the charges to be dropped against all of the protesters who've been charged with any crimes, but especially the domestic terrorism charges," Burnett added, referring to the 19 nonviolent protesters facing prosecution under a 2017 Georgia law that expanded the definition of "domestic terrorism" to include certain property crimes.
Over the objections of environmental, racial justice, Indigenous, and other groups, the Atlanta Police Foundation (APF)—a private organization whose backers include major corporations like Amazon, Home Depot, Wells Fargo, JPMorgan Chase, and UPS—was given permission in 2021 to build what's officially called the Atlanta Public Safety Training Center in the Weelaunee Forest in DeKalb County just outside Atlanta city limits. Cop City would be built on land stolen from the Muscogee people, many of whom were forced westward during the genocidal Trail of Tears period.
Last month, militarized police shot and killed Manuel Esteban Paez Terán, a 26-year-old protester also known as "Tortuguita" who allegedly opened fire on them, during a raid to violently clear forest defenders from the site. While a few federal lawmakers have called for an independent probe, Georgia Democrats including U.S. Sens. Raphael Warnock and Jon Ossoff and former gubernatorial candidate Stacey Abrams have said little to nothing about the killing, or about Cop City in general.

Also protesting outside City Hall on Tuesday, community organizer Micah Herskind said: "How dare they stand in front of people and say, 'Oh, this plan, where we're tearing down trees, is actually good for people, and it's good for the economy, and it's—you know, it's actually going to protect people?' It's obviously false, and I hope that it's reported as such, because it's such classic, blatant spin, that they're taking us for fools if they think anyone would believe that tearing down trees and putting cement over it is protecting the environment. That's outrageous."
\u201cThere is no compromise between the movement and the government. \n\nThe fact that they feel the need to say there is shows that we are winning.\n\nNo more backroom deals. No more empty promises.\n\nNo Cop City.\nNo land-swap.\nNo more repression.\n\nWe are close. Keep fighting.\u201d

— Defend the Atlanta Forest (@Defend the Atlanta Forest) 1675190179
In a statement, the Atlanta Community Press Collective said that "like all other points of 'compromise,' this has proved empty rhetoric to cover over the undemocratic railroading of this project on to unrepresented, disenfranchised residents of Atlanta and DeKalb County. This is more backroom talk between powerful elites and their dark money contributors."
"Now, the city, DeKalb County, the APF, the funders and builders of Cop City collectively have blood on their hands, and it seems they are willing to get bloodier: These are the people in power goose-stepping us to climate apocalypse," the collective continued. "Police continue to kill at higher and higher rates. In 2022, more people in the U.S. were killed than in any other year on record. The police and their corporate and political backers have used lies, misinformation, and distorted half-truths at every step of this process. Why should we believe a word they say?"
"Power concedes nothing without a demand," the authors asserted. "Ours is: 'Cop city must never be built—not here, not anywhere. Not one blade of grass! Not one tree! Free the prisoners, drop the charges!'"
"The fight continues. The movement to stop Cop City is only growing," they added. "On February 19-26 we are calling for a Week of Solidarity to Stop Cop City, with protests throughout the U.S .and around the world."
News