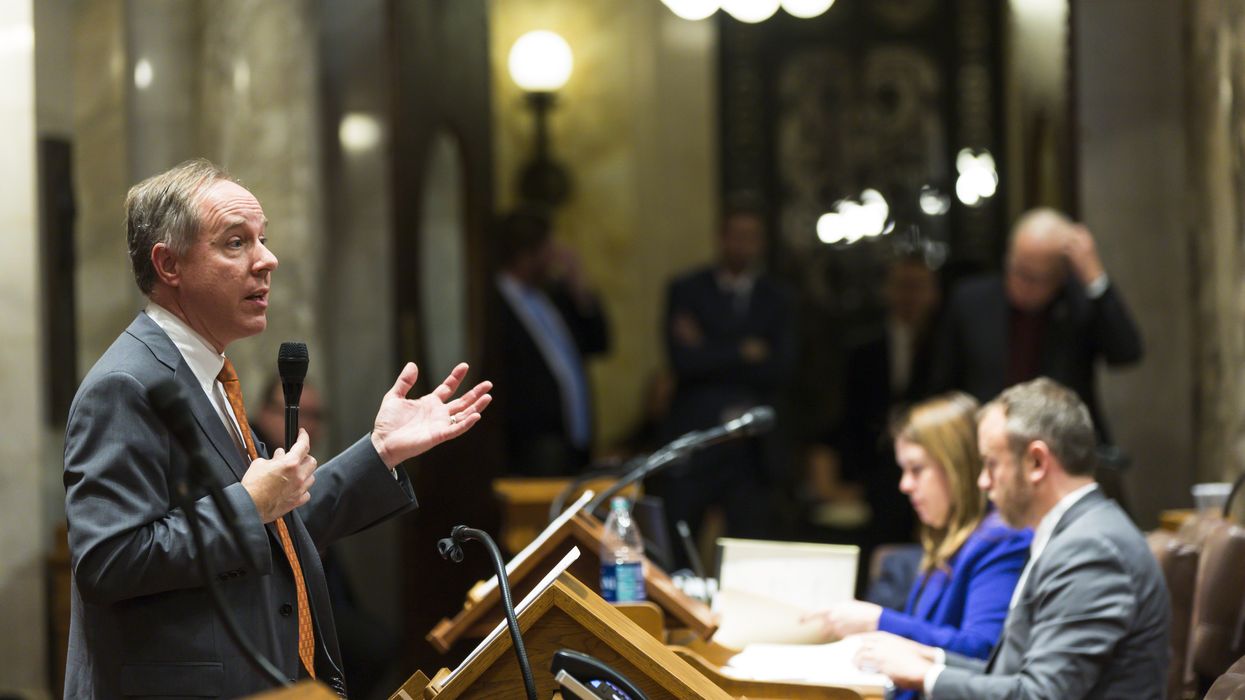 "The entire country should know what's happening here in Wisconsin," said the state's Senate Democrats.
Wisconsin Democrats are urging the U.S. public to pay close attention to the Republican Party's maneuvering in the key battleground state, where GOP lawmakers are floating impeachment proceedings against a recently elected liberal Supreme Court justice if she doesn't recuse herself from cases related to the state's gerrymandered legislative maps.
"We've been sounding the alarm bells on the dangerous threats from Republicans to impeach justices who don't follow their orders. And yesterday, they doubled down," Wisconsin Senate Democrats wrote in a social media post on Wednesday after state Assembly Speaker Robin Vos (R-63) left open the possibility of an impeachment push against Wisconsin Supreme Court Justice Janet Protasiewicz.
Speaking to reporters on Tuesday, Vos suggested that Protasiewicz has "pre-judged" a potential case challenging the legality of Wisconsin's legislative maps. If Protasiewicz doesn't recuse, Vos said that would be "a pretty clear violation" and indicated impeachment proceedings would be on the table.
Wisconsin Republicans have the simple Assembly majority needed to impeach and the two-thirds Senate majority needed to convict. State Republicans are also currently attempting to remove Wisconsin's nonpartisan head of elections.
"This is crazy," Wisconsin Senate Democrats wrote Wednesday. "The entire country should know what's happening here in Wisconsin. Spread this far and wide."
In a statement, Senate Minority Leader Melissa Agard (D-16) said that "considering impeachment mere weeks after Justice Protasiewicz has been sworn in is utterly absurd."
"Legislative Republicans will jump over any hurdle to usurp the will of the majority," said Agard.
Earlier this month, a day after Protasiewicz was sworn in, voting rights organizations filed a legal challenge urging the Wisconsin Supreme Court to toss out the state's maps, which the groups argue have entrenched an unfair electoral advantage for Republicans and allowed them to cling to power in the Legislature for more than a decade.
A second legal challenge against the maps was filed days later.

Protasiewicz's victory over right-wing former Wisconsin Supreme Court Justice Dan Kelly in April wrested control of the state's high court from conservatives for the first time in 15 years.
During her campaign, Protasiewicz described Wisconsin's legislative maps as "rigged" and "unfair," an assessment that is widely shared by legal experts and voting rights campaigners. Protasiewicz did not say how she would rule should the Wisconsin Supreme Court take up a gerrymandering case.
Vos and other Wisconsin Republicans nevertheless seized upon Protasiewicz's comments as evidence that she has already decided how she would rule and should therefore recuse from any redistricting cases. Last week, Wisconsin Senate Republicans filed a motion demanding Protasiewicz's recusal from challenges to the constitutionality of the state's maps, which are so warped that they've been described as "Swiss cheese."
In response to the Republican motion, law firms that are suing over the state's maps argued that Republicans are pushing for Protasiewicz's recusal because they are "unhappy" with her election victory, "which they could not prevent through gerrymandering."
Wisconsin Republicans "now seek to nullify the election and pick their judges," the firms added. "Respondents' arguments in support of recusal are without merit, and this motion should be denied."
News