People taking to the streets to march, dance, and celebrate unity as they demand justice for women across the world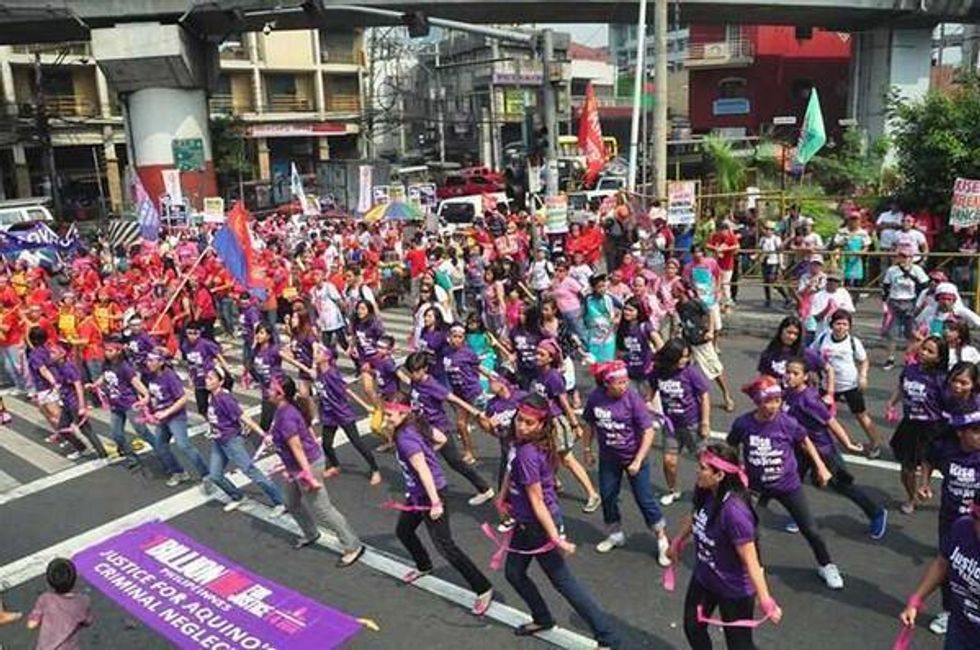 One billion women, men, and youth from 200 countries joined forces Friday for the second annual "One Billion Rising for Justice" day of action, rising up to demand an end to violence against women and girls across the world.
"Women are putting their bodies at the site where vulnerabilities intersect," Kimberle Crenshaw, co-founder of the African American Policy Forum, recently toldDemocracy Now! in anticipation of the event. "By that I mean where vulnerability to gender violence, vulnerability to economic exploitation, vulnerability to the drug war -- all these things come together to create unique risks, many times risks that poor women, marginalized women, women of color face."
Protesters will be gathering outside places "where they are entitled to justice" over the course of 48 hours, the organizers explained in a press release, including court houses, police stations, government offices, school administration buildings, work places, sites of environmental injustice, military courts, embassies, places of worship, homes, or simply public gathering places "where women deserve to feel safe but too often do not."
Events include flash mobs, marches, protests, cultural events, and more in which participants "shine a spotlight on the darkness of injustice," the organizers said, and "make the connections between their visions of justice and the ultimate goal of eliminating all forms of violence against women and girls by RISING, RELEASING and DANCING in the light."
Organizers and participants are using the hashtags #rise4justice and #1billionrising to chronicle the various actions worldwide:
One Billion Rising was created out of the "V-Day movement," spearheaded by playwright and activist Eve Ensler, which for the past fifteen years has been led by women's rights activists in a series of actions on February 14th, Valentines Day.
The group's website is providing real-time updates throughout the day using social media and live-streaming videos from grassroots organizers from all over the world.
Watch the live broadcast from New York City's 'JustLove' event:
One Billion Rising For Justice Live: NYC JustLoveLive broadcast from One Billion Rising NYC's JustLove event.
From Cape Town, South Africa:
One Billion Rising For Justice Live: Cape TownLive broadcast from One Billion Rising South Africa in Cape Town.
From London, UK:
One Billion Rising For Justice Live: LondonLive broadcast from One Billion Rising UK in Trafalgar Square.
______________________
News