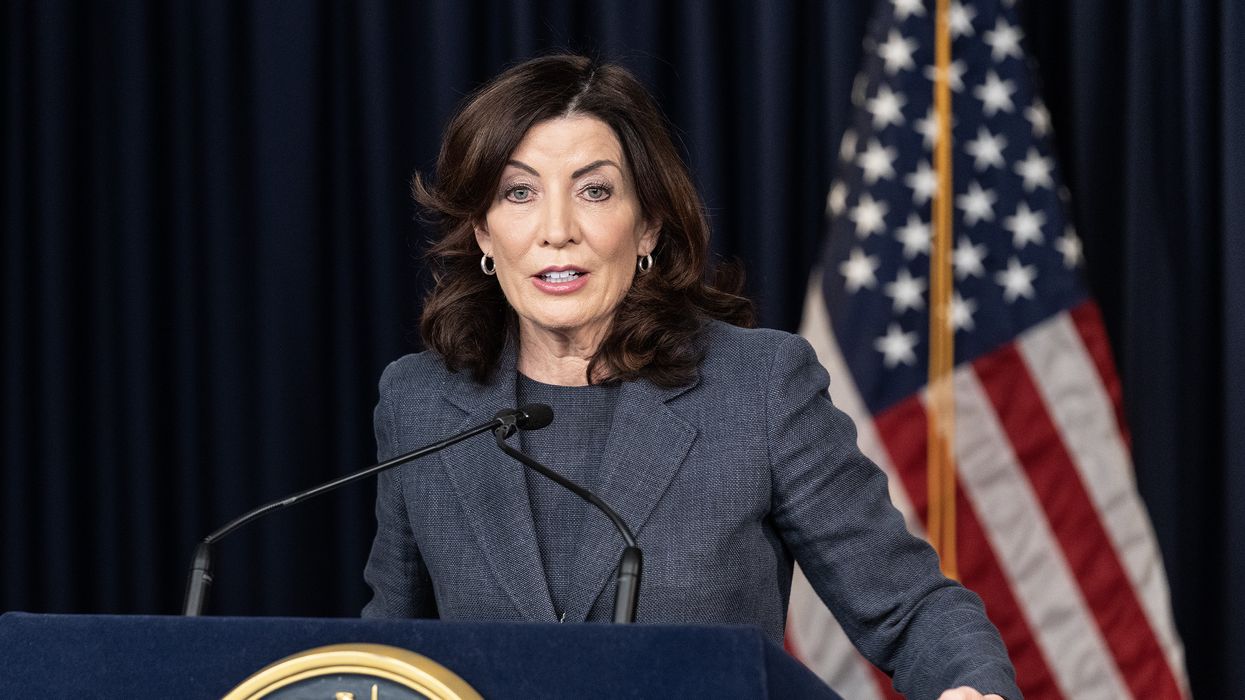 "When Gov. Hochul tried to sneak in a fossil-fueled methane accounting method," said one activist, "New York's climate and environmental justice movement responded swiftly and powerfully."
Climate groups celebrated Wednesday once top officials revealed that after outraging campaigners and fellow Democrats, New York Gov. Kathy Hochul no longer sees rewriting a landmark state law to allow more planet-heating emissions as a top priority for budget negotiations.
"Make no mistake, this is because of the enormous and immediate public pressure. Huge thank you to everyone who took action to kill this horrible attack on the CLCPA!" Food & Water Watch's Alex Beauchamp tweeted about recent protests against changing the 2019 Climate Leadership and Community Protection Act.
Under the CLCPA, emissions of methane—which traps over 80 times more heat than carbon dioxide in its first two decades in the atmosphere—are considered over a 20-year period. Moving to the 100-year metric commonly used by other governments would require the state to cut roughly one-third less emissions this decade, according to a New York Focus analysis.
After the planned overhaul was revealed by Politico last week, it was embraced by New York Republican lawmakers and energy companies that donated to the governor's campaign while intensely criticized by scientists and other advocates of ambitious climate action.
New York State Department of Environmental Conservation Commissioner Basil Seggos and Doreen Harris, president and CEO of the New York State Energy Research and Development Authority, confirmed Hochul's priority shift to Politico on Wednesday:
She is still seeking a deal on "cap and invest," which would set up an auction for emissions allowances and drive increased gas and energy prices that would include a rebate to consumers to cushion the cost at the pump, they said.

They didn't rule out the measure being considered in the future but noted it won't be a top agenda item in the budget for the Democratic governor.

"The other elements that we've discussed recently may take time to get done. We may get it done during the budget. That may happen during the session; it may take the course of a year," Seggos said Wednesday. "The fundamental takeaway is it's full steam ahead for cap and invest with the climate action rebate and any other elements we'll take up as soon as we can."
Though, as the officials indicated to reporters, the potential change to the CLCPA remains on the table for New York's legislative session, campaigners who have turned out to protest the plan still welcomed Wednesday's news as a win.
"Facing the powerful efforts of a united climate movement, the governor has reneged on her attempts to sabotage the CLCPA, which would define New York's progress towards decarbonization," declared the Public Power NY Coalition.
"Instead of playing with numbers to squeeze in a few more bucks by the fossil fuel lobby," the coalition argued, "Gov. Hochul should advance the full Build Public Renewables Act, material climate legislation which would guarantee that New York would reach the current CLCPA goals as they stand, while guaranteeing affordable rates for those who need it most."
"If Gov. Hochul is truly concerned about energy affordability, she should not give discounted NYPA energy to billionaire corporations like Amazon, but instead, offer it to New Yorkers who are suffering the most from increasing utility rates," the coalition charged, referring to the New York Power Authority.
Public Power NY wasn't alone in not only cheering Wednesday's development but also advocating for specific legislation, with multiple organizations pointing to the NY Home Energy Affordable Transition (HEAT) Act.
Another coalition, NY Renews, said that "when Gov. Hochul tried to sneak in a fossil-fueled methane accounting method that would gut New York state's climate act during the final push of budget negotiations, New York's climate and environmental justice movement responded swiftly and powerfully."
"NY Renews is proud to stand with a movement that stopped—for now—changes to New York's progressive 20-year methane accounting method as written in law," the group continued. "Our coalition will continue to defend against changes to our state's climate act, including changes to the definition of renewable energy as is being pushed by fossil fuel interests in Albany."
"We look forward to returning our attention to real ways to keep energy costs low for working New Yorkers by implementing NY's climate act via the Climate, Jobs, and Justice Package (CJJP), and particularly the CJJP bills being negotiated at present: the Climate and Community Protection Fund, the Climate Superfund Act, NY HEAT Act, and the Build Public Renewables Act," said NY Renews. "We will continue fighting to ensure that any 'cap and invest' proposal includes environmental justice safeguards."
The coalition urged the Legislature "to continue fighting for their constituents during budget negotiations" and Hochul "to follow their lead in securing climate justice, affordable renewable energy, good union jobs, and improved public health for New Yorkers statewide."
Earthjustice New York policy advocate Liz Moran highlighted several of the groups and lawmakers who opposed the overhaul in a series of tweets, and said in a statement, "Thankfully, the governor has listened to the voices of hundreds of New Yorkers by backing down from a proposal that would gut New York's climate law by changing how we account for greenhouse gas emissions."
"Right now," Moran noted, "New Yorkers are stuck paying millions every year for the needless expansion of gas infrastructure—we're literally forced to pay for something that exacerbates climate change and impairs our health."
"With rolling back the climate law off the table, the governor and lawmakers can focus on the real policies that will fight climate change and save New Yorkers money for a final budget—a strong mandate for all-electric new construction starting January 1, 2025, the NY HEAT Act to cap energy bills for low-middle income New Yorkers, and other policies to stop the fossil fuel industry from squeezing every last dollar out of us," she added. "At no time should the Legislature accept any efforts that would undercut our landmark climate law."
News