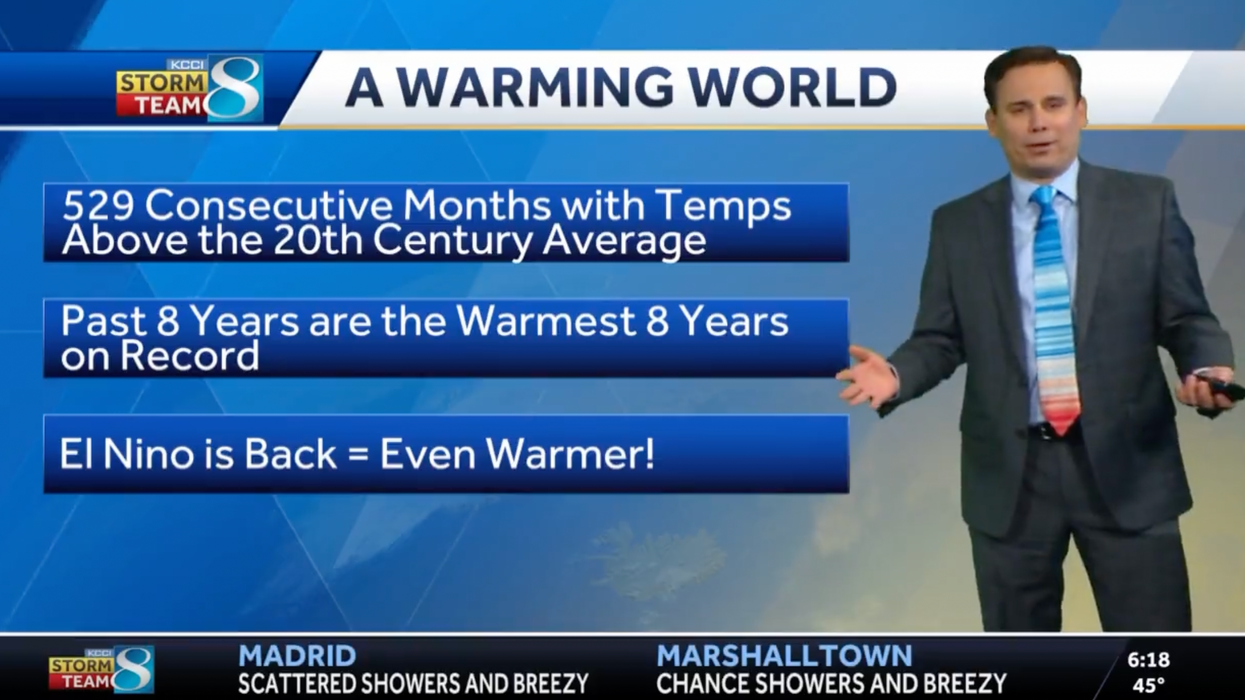 "I take immense pride in having educated the public about the impacts of climate change during my career," said Chris Gloninger of KCCI in Des Moines.
The chief meteorologist for a Des Moines news station announced Wednesday he is stepping down after receiving violent threats for his frank coverage of the climate emergency and how it could affect his viewers' lives—something he considered a mission as he regularly delivered news about the weather to Iowa residents.

Chris Gloninger joinedCBS affiliate station KCCI in 2021 after receiving recognition for his coverage of the climate crisis and the environment at NBC10 in Boston.
He immediately set to work connecting the warming planet with rising sea levels, intense hurricanes, and other extreme weather events in his work on air. In recent reports he has told his audience that the wildfire smoke that enveloped parts of the U.S. this month was the result of the climate crisis.
"A lot of these fires are gaining steam and seeing explosive growth because of the warming planet," Gloninger told viewers earlier this week.

Gloninger was accustomed to angry feedback from viewers who denied climate change or opposed the solutions that scientists have demanded for decades, but messages he began receiving in June 2022 left him fearing for his family's safety.
The first message read, "Getting sick and tired of your liberal conspiracy on the weather" and was followed by one demanding to know his home address so the sender could "give [him] an Iowan welcome [he] will never forget." That email referenced an armed man who had been charged with attempted murder after making threats against U.S. Supreme Court Justice Brett Kavanaugh and approaching his home.
The emails piled up in Gloninger's inbox for several weeks, accusing him of being a "worthless Biden puppet" and a "conspiracy theorist" and telling him to return to the East Coast and "drown from the ice cap melting."
Gloninger shared some of the messages on social media last July as police investigated, ultimately arresting a 63-year-old man named Danny H. Hancock in Lenox, Iowa. Hancock admitted to sending the emails and was fined $105 for harassment.
The threatening messages were "mentally exhausting and at times I have NOT been okay," wrote Gloninger on Twitter last summer. "If you're facing this and need someone to talk to, I'm here."

Climate scientists have for years reported receiving violent threats and other hate mail for talking about how planetary heating is driven by fossil fuel extraction and is connected to flooding, drought, crop failures, and other events.
Gloninger told The Washington Post Wednesday that he sought therapy for post-traumatic stress disorder following the threats and said in a statement that the experience, compounded by some health issues among his family members, has pushed him to step down from his position.
"Eighteen years. Seven stations. Five states. I am bidding farewell to TV to embark on a new journey dedicated to helping solve the climate crisis," Gloninger said. "After a death threat stemming from my climate coverage last year and resulting PTSD, in addition to family health issues, I've decided to begin this journey now."
Supporters of Gloninger, including other meteorologists who have centered the climate crisis in their weather coverage, called him a "hero" for working to educate viewers about the emergency and expressed anger that he was pushed out of his job.
"Thank you for doing your job in a professional, evidence-based manner," the Environmental Voter Project said to Gloninger on social media. "We support you and we're so sorry you had to put up with such cruel and cowardly behavior."

News