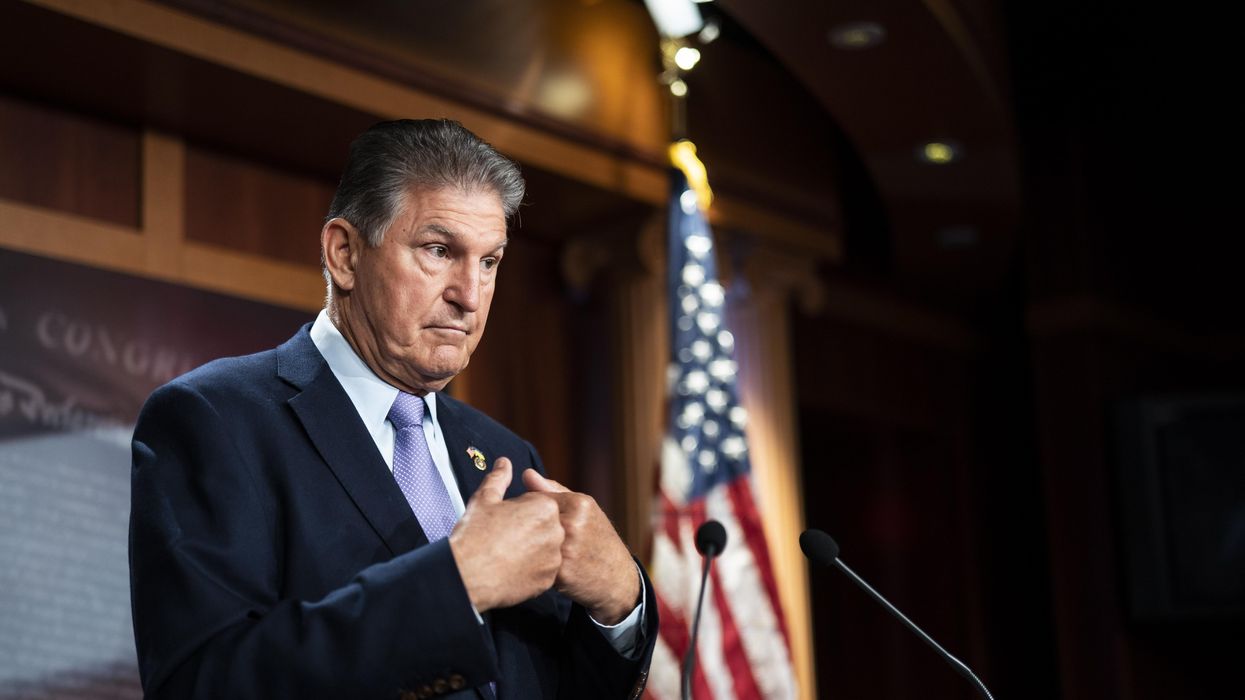 "Manchin is making another push to accelerate fossil fuel permitting," said one climate group. "But what we urgently need is to make it easier to permit clean energy projects."

The U.S. climate movement this week vowed to keep fighting against Sen. Joe Manchin's thrice-defeated "dirty deal" after the West Virginia Democrat indicated he intends to work with House Republicans to force through fossil fuel-friendly permitting reforms.
Frontline climate campaigners and progressives in both chambers of Congress worked tirelessly last year to quash Manchin's proposals—while also advocating for updates to permitting policy that would speed up the renewable energy transition.

The GOP took narrow control of the House earlier this year, and the chamber's Natural Resources Committee is now led by Bruce Westerman (R-Ark.). Manchin, who chairs the Senate Energy and Natural Resources Committee, met with him on Wednesday to discuss permitting legislation.
"Permitting reform as proposed in recent legislation would undermine effective tools used to protect air, water, and climate from the most damaging new infrastructure under consideration."
"They're going to work on something," Manchin said of the House, according to E&E News. "I think it's a high priority, which both sides know that we need it. Everyone has come to agreement that you got to have permitting. Let's take the politics out of it, and do what's doable."
After the meeting, Westerman said he saw "common ground between Sen. Manchin and myself."
The same day, the Republican Study Committee, the largest House GOP caucus, convened to discuss priorities for debt ceiling negotiations. According to a leaked portion of a slideshow, one policy endorsed by the committee for those talks is "enact a package of inflation-busting reforms to increase domestic energy capacity and reduce associated regulatory and permitting barriers."
Meanwhile, the Green New Deal Network—a U.S. campaign that includes 15 national organizations–pledged Wednesday that "we'll be here, ready to kill Manchin's dirty deal all over again."
The battle over the dirty deal, as critics call it, began last summer, when Senate Majority Leader Chuck Schumer (D-N.Y.) agreed behind closed doors to push through permitting reforms in exchange for Manchin's support for the Inflation Reduction Act. Despite Manchin and Schumer's efforts to advance various versions of a permitting bill, it was blocked in September and then twice in December.
"Defeated for the third time this year, this zombie bill would have fast-tracked dangerous fossil fuel and mining projects that would undercut the positive impacts of the Inflation Reduction Act," Chelsea Hodgkins, Oxfam America's climate policy adviser, said in mid-December. "Sen. Manchin's proposal would do nothing to address the real barriers to renewable energy development, which include fully resourcing underfunded agencies and investing in community-supported renewable systems."
Manchin and Westerman's meeting came after Politicoreported Tuesday that Sen. Shelley Moore Capito (R-W.Va.), who supported including the dirty deal in a December military spending package, "is bullish about the prospects of passing a bill to ease permitting rules now that the House is in GOP hands."
Capito, who will again serve as ranking member of the Senate Environment and Public Works (EPW) Committee, told Politico that "permitting—it's a very important aspect of energy development and we have a big role in that at EPW. One of the reasons it failed [last year] is because it didn't go through the committee process. I would love to see us try to work through a committee process that can be successful in the end."
"I'm certainly going to be pressing and we're going to be having meetings with our House colleagues on this very issue," Capito said during a Thursday press briefing. "We'll look and see what the House comes up with and see if it's something I think we can get good compromises on."
"Finding reasonable compromise to permit pipelines and power lines and other things is important to both sides," added Capito—who, like Manchin, wants to see the controversial and long-delayed Mountain Valley Pipeline completed. "If you want more renewable, you can't do it without transmission. If you want more natural gas, like I do, you can't do it without pipelines."
E&E News reported that House Republicans now plan "to use, as a starting point, legislation introduced in previous sessions of Congress by Rep. Garret Graves (R-La.), known as the 'Builder Act,' which would achieve the main goals of speeding up permits for energy projects by making changes to the National Environmental Policy Act," or NEPA—which is expected to anger Democrats.
Asked by the outlet whether he would accept changes to NEPA as part of a deal, Rep. Raúl Grijalva (D-Ariz.), the ranking member of the House Natural Resources Committee—who, as the panel's chair last year, led Democratic opposition to Manchin's legislation—said, "No."
Amid discussion on Capitol Hill this week, the Bulletin of the Atomic Scientists asked six experts to weigh in on permitting reform. Associate editor Jessica McKenzie summarized their arguments in a series of tweets:
"Reform advocates rightly emphasize the need for rapidly constructing wind, solar, geothermal, energy storage, and transmission," wrote Dustin Mulvaney, a professor in the Environmental Studies Department at San José State University and fellow with the Payne Institute for Public Policy at the Colorado School of Mines.
"The problem is that streamlining environmental rules and regulations could have the opposite effect, unless the 'streamlining' is achieved via planning processes that include stakeholder feedback," he stressed. "More important, permitting reform as proposed in recent legislation would undermine effective tools used to protect air, water, and climate from the most damaging new infrastructure under consideration—namely oil, gas, and tar sands pipelines."

News