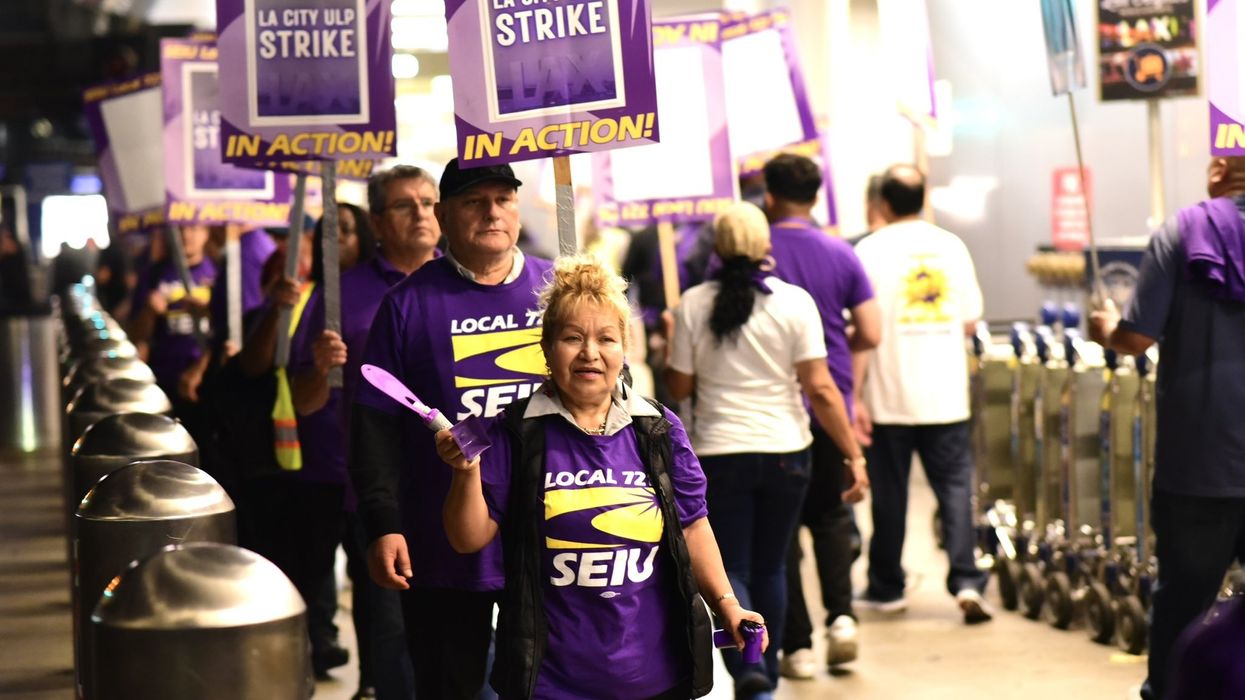 "We're FED UP with the city's blatant lack of respect," said the union that represents the striking workers.
Thousands of Los Angeles city workers—from airport employees to lifeguards to mechanics—walked off the job for a 24-hour strike on Tuesday to protest what they described as "repeated labor law violations" by city officials.
Tuesday's strike, which kicked off just after midnight, marks the first such walkout by Los Angeles city employees in four decades, and it comes amid ongoing labor actions by Hollywood actors and writers as well as exploited hotel workers.
"We're FED UP with the city's blatant lack of respect," Service Employees International Union (SEIU) Local 721, which represents the striking workers, wrote Tuesday. "We risked our health and safety to work the frontlines of the Covid crisis. We deserve respect—L.A. City, negotiate in good faith."
After walking picket lines across Los Angeles, striking workers are expected to march on City Hall at 11:00 am local time. The one-day strike was authorized with 98% approval in a May vote, according to SEIU 721.

David Green, the union's president, toldThe Los Angeles Times that city workers have become overwhelmed due to the large number of vacancies across government agencies, which have forced employees to work longer hours.
"People don't understand the hard work they do," Green said. "There's a lot of unsung heroes in the city."
Workers also say their pay has not kept up with rising costs of living in Los Angeles, one of the most expensive cities in the United States.
"It's more work for less money," Ana Altamirano, a 60-year-old airport custodian, said of her current conditions.
Karen Bass, the Democratic mayor of Los Angeles, said in response to the strike that her office is "implementing a plan ensuring no public safety or housing and homelessness emergency operations are impacted by this action."
"City workers are vital to the function of services for millions of Angelenos every day and to our local economy," Bass said Monday. "They deserve fair contracts and we have been bargaining in good faith with SEIU 721 since January. The city will always be available to make progress 24 hours a day, seven days a week."
But SEIU 721 rejected the claim that city officials are already bargaining in good faith with the union.

"Despite repeated attempts by city workers to engage management in a fair bargaining process," the union said, "the city has flat-out refused to honor previous agreements at the bargaining table, prompting workers to file Unfair Labor Practice charges with the City of Los Angeles Employee Relations Board."

News