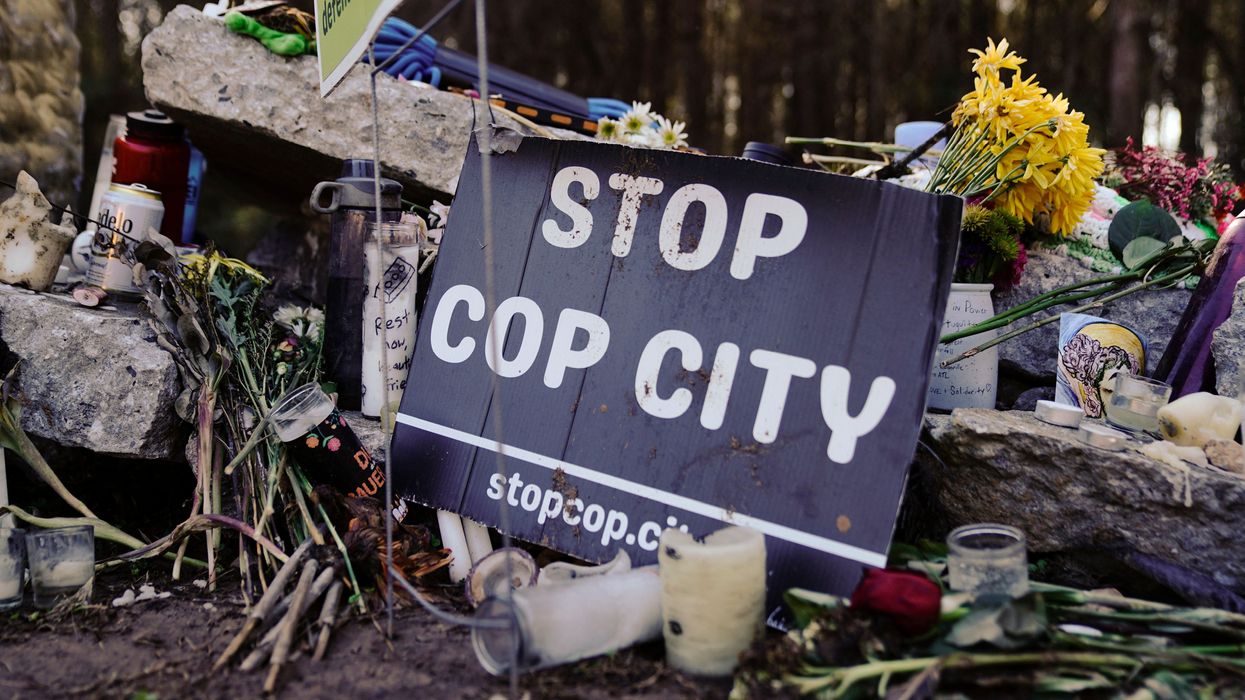 Backers of an Atlanta ballot measure to cancel the land lease enabling the controversial training complex now have less than two months to gather more than 70,000 signatures.
Opponents of the proposed Public Safety Training Center—widely known as "Cop City"—near Atlanta cleared an important administrative hurdle Wednesday as the city clerk's office approved their petition for a referendum on whether to cancel the controversial project's land lease.
The petitioners will now have just 58 days to collect signatures from 15% of Atlanta's registered voters—or 70,000-75,000 people—in order for the referendum to qualify for this November's ballot.

Paul Glaze, an organizer with Cop City Vote Coalition, toldWXIA that more than 3,000 volunteer canvassers have already signed up to gather signatures.
"The mayor says the people of Atlanta want Cop City, that this is a thing the people want, and if that's true, no one should be afraid of a vote," Glaze said, referring to Democratic Mayor Andre Dickens, a supporter of the project. "We are committed to this and we believe in this."
The petition's approval follows months of protests inside and around Atlanta City Hall. Cop City opponents are set to launch a week of action this weekend to drum up support for the ballot measure and amplify opposition to the $90 million project, which is funded largely by the city of Atlanta and the Atlanta Police Foundation (APF).
Despite opposition from environmental, racial justice, Indigenous, and other groups, the APF—a private organization whose backers include major corporations like Amazon, Home Depot, Wells Fargo, JPMorgan Chase, and UPS—was granted permission in 2021 to build Cop City in the Weelaunee Forest in DeKalb County just outside Atlanta city limits.
The complex would be built on land stolen from the Muscogee people, many of whom were forced westward during the genocidal Trail of Tears period.
Earlier this month, the Atlanta City Council approved funding for the project.
In January, militarized police shot and killed Manuel Esteban Paez Terán, a 26-year-old protester also known as "Tortuguita" who officers claim opened fire on them, during a raid to violently remove forest defenders from the project site. A DeKalb County Medical Examiner autopsy—which officials suppressed for months—revealed that Terán was shot 57 times and that there was no gunpowder residue on the victim's hands, debunking the government's claim Terán fired first.
Police subsequently charged nonviolent anti-Cop City activists with "domestic terrorism," a move described as "unprecedented" by human rights defenders.
Police also arrested Marlon Scott Kautz, Savannah Patterson, and Adele Maclean of the Atlanta Solidarity Fund (ASF)—a legal aid group and bail fund supporting the Cop City protesters—in a dramatic militarized raid on June 1.
Authorities accused the trio of money laundering and charity fraud, with Georgia Deputy Attorney General John Fowler claiming that despite what "appears to be laudable [and] lawful" nonprofit work, the defendants "harbor extremist anti-government and anti-establishment views and not all of the money goes to what they say that it goes to."
Atlanta City Councilmember Liliana Bakhtiari responded by calling the organizers—who deny the allegations against them—"some of the best of our Atlanta mutual aid network" and condemning their arrests as "nothing more than an intimidation tactic by the state."

News