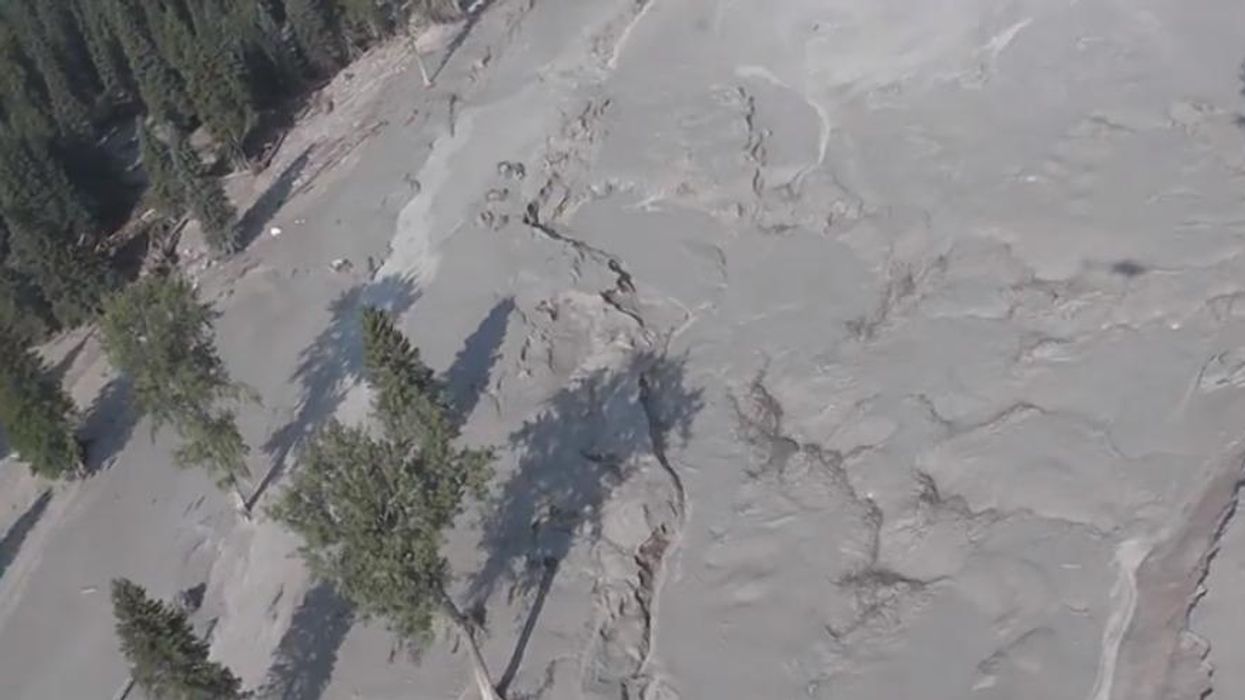 Water use ban still in effect after Mount Polley tailings pond breach
While preliminary test results show the water quality near the site of the massive tailings-pond breach this week in British Columbia meets drinking-water standards, environmentalists and First Nations leaders say many questions remain to be answered.
The ban on water use remains in effect while officials do further testing. In addition, the Canadian Department of Fisheries and Oceans put a ban on fishing for salmon in the affected waterways. Donated supplies of bottled water were delivered to residents in Likely, B.C. on Friday morning, while Ministry of Energy and Mines inspectors continued their investigation and interview process.
But critics charge that the government's response to the disaster is too little, too late.
According to the Globe and Mail, Grand Chief Stewart Phillip, president of the Union of B.C. Indian Chiefs, "believes there has been a concerted effort to play down the effects of the spill and that too many questions are unanswered, particularly on any earlier problems the Mount Polley facility may have had. If the province does not provide adequate answers, he said, his organization will call for a public inquiry."
In a statement, Phillip said:
Like the Exxon Valdez, Mount Polley will be synonymous with one of the most disastrous environmental events in British Columbia. The frightening fact is both environmental disasters could have been prevented if there was vigorous government oversight by an effectively resourced agency bound by robust legislative and regulatory environmental safeguards. What we have now in BC and Canada, as a consequence of weak environmental review procedures and the federal omnibus bills C-38 and C-45, are repugnant and reprehensible processes of rubber-stamp approvals that shamelessly pander to industry and tragically at the great expense of environmental devastation.

At an emergency rally outside the Toronto Stock Exchange Thursday, Secwepemc Women Warrior Society spokeswoman Kanahus Manuel said the government and Imperial Metals were "not acting fast enough" to clean up the mess. The Society has been fighting the mine for years.
Watch:
Kanahus Manuel opposes Imperial Metals at the Toronto Stock ExchangeKanahus Manuel from the Secwepemc Nation opposes investment in Imperial Metals three days after the Mount Polley tailings ...
Environmentalists in Canada and the U.S. drew comparisons between the Mount Polley mine and the proposed Pebble Mine in Alaska's Bristol Bay.
"Both mines are large, open pit, copper porphyry mines at the headwaters of important salmon streams," Bonnie Gestring points out in a blog post for Earthworks. "Even more so, Knight Piesold, the firm that provided designs for the tailings pond lifts at Mount Polley, also provided the initial designs for the tailings pond for the proposed Pebble Mine that [Pebble Limited Partnership] submitted to Alaska state regulators."
The U.S. Environmental Protection Agency will hold hearings next week on a proposal to restrict mine waste at Pebble Mine, which would be 10 times larger than the Mount Polley facility. Alaska-based Aboriginal communities and conservation groups are using the Mount Polley disaster as evidence that mining infrastructure and important fisheries cannot co-exist.
Noting similarities between the projects, Natural Resource Defense Council attorney Joel Reynolds notes:
Right now, before our very eyes through horrifying YouTube video, we are witnessing the mine disaster that the communities of Bristol Bay have feared -- their "worst nightmare" -- from the massive Pebble Mine.
It is the toxic time bomb explosion that all of us who've fought the Pebble Mine have predicted could happen.

To avoid future disasters, "we need to move beyond the repeated warnings and advisories to measures that will get the companies' attention," Ramsey Hart, Program Coordinator for MiningWatch Canada, told Common Dreams.
In a statement, the Mining Association of British Columbia claimed:
It is important to note that tailings dam failures are very rare both globally and in the province. Tailings dams have a high safety record in Canada. Canadian Dam Safety Guidelines and the provincial regulatory framework are among the most stringent and comprehensive in the world.

But 2012 Earthworks analysis of 14 operating copper mines found that fill or partial dam failures had happened at about one-quarter of them.
In the face of a disaster of this magnitude, the mining industry can no longer claim such breaches don't take place, Hart said. After Mount Polley, "they can't say that it doesn't happen at modern mines."
News