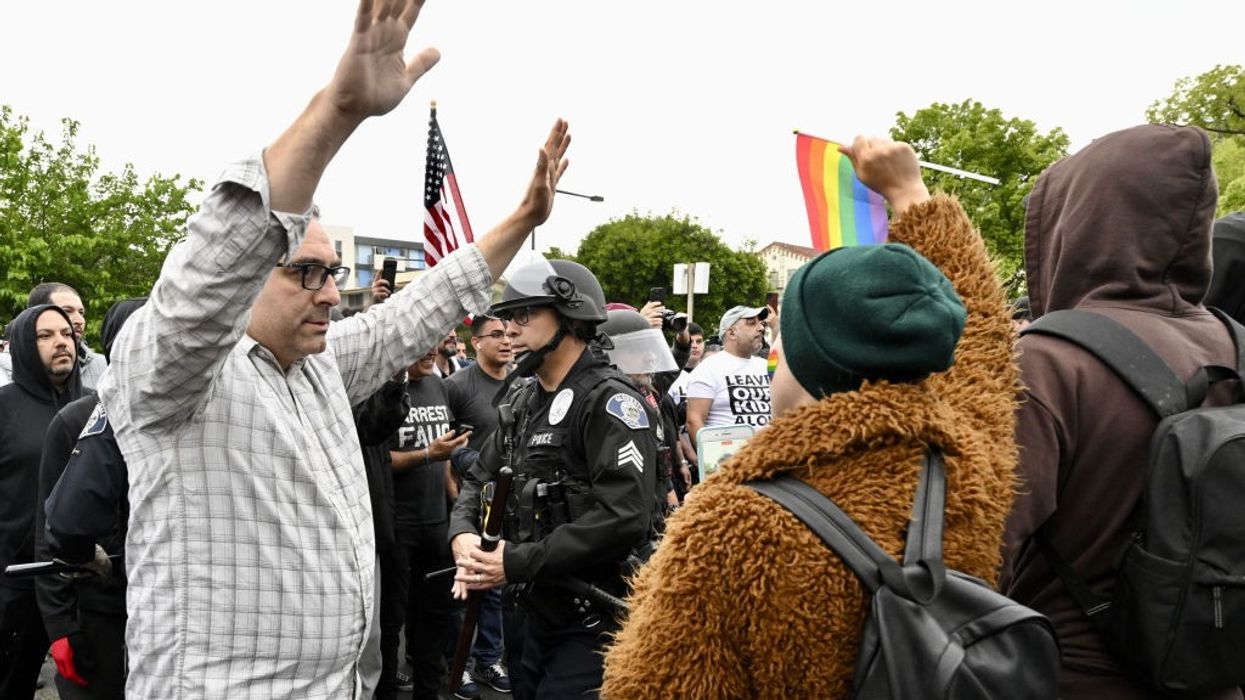 Some Glendale parents say the paper downplayed that the school district overwhelmingly supports LGBTQ rights in schools and that outside activists have been driving much of the hostility.
Violent outbursts and a handful of arrests at a protest against the Glendale Unified School District, in the Los Angeles suburbs, and its vote to recognize June as LGBTQ+ Pride Month, have thrust the town into the news (Washington Post, 6/7/23). The local police chief "blamed 'agitators on both sides of the issue' for inciting violence" (City News Service, 6/7/23).
The anti-trans movement has been targeting public schools for some time now. For far-right organizations and their media organs, it is a perfect storm of anti-education, anti-labor, and anti-LGBTQ rage against a public institution, where they see unionized teachers on taxpayer salaries indoctrinating the youth with queer pornography. It's an old moral hysteria that goes back to the Anita Bryant days, but it still works to rile up reactionary forces and generate headlines.
'Leave Our Kids Alone'
The battle in Glendale received national media attention (CBS, 6/6/23; CNN, 6/7/23; Fox News, 6/7/23; USA Today, 6/7/23), but it naturally was covered in the leading regional paper, the Los Angeles Times. Some Glendale parents are worried that the LA Times, a major source of information in Southern California, has downplayed the fact that the school district overwhelmingly supports LGBTQ rights in schools, and outside far-right activists have been driving much of the hostility.
While the Times (6/6/23) did note that the Proud Boys, a violent far-right group, had reportedly been on-hand at the protest, it also lumped activists on each side together, reporting that "hundreds of protesters had swarmed outside the building, some waving American flags and others waving Pride flags." It suggested that the transphobic activists were motivated by concern for their children, noting that "those who were protesting the board's LGBTQ+ policies chanted, 'Leave our kids alone' while naming each of the five members of the board."
A report in the Daily Beast (6/8/23) painted a fuller picture, describing many of the far-right provocateurs at the meeting as not being Glendale school system parents, and identifying their ringleader as Jordan Henry. Henry, according to the Daily Beast, "moved to the district in 2021"; he "ran for Glendale City Council in 2022 but was not elected," and "does not have children enrolled in local schools." Nevertheless, he "has made frequent public comments at school board meetings, speaking against 'cultural Marxism,' critical race theory, and LGBTQ-inclusive programs."
In fact, there is a whole website devoted to tracking Henry's time as a far-right crusader, showing that he is anything but a mere voice in the wind, as the most recent Times coverage portrayed him.
Meanwhile, Henry, identified only as a former city council candidate, was quoted by the Times saying, "This is about, specifically, gender ideology being put upon and thrust upon children at Glendale Unified."
The Times would have been well-served if it had researched its own records. A year ago, the paper (5/11/22) reported on how a records request filed by Henry, who was looking into "social justice learning standards," led to a backlash against third-grade teacher Tammy Tiber for showing "videos celebrating gay pride to her students." Henry's activism prompted so many anti-LGBTQ threats that Tiber had to be "transferred from her classroom for safety reasons"—a controversy that was also covered by the Advocate (5/12/22) and Daily Kos (5/16/22).
In fact, there is a whole website devoted to tracking Henry's time as a far-right crusader, showing that he is anything but a mere voice in the wind, as the most recent Times coverage portrayed him. There is also a series of YouTube videos documenting him.
'They Don't Look at Who's Behind It'
Elizabeth Vitanza, a Glendale school district parent, told FAIR that the LA Times has missed an opportunity to put the conflict into context, especially as it pertains to Henry. She said:
The problem is they are not framing this for what it is: an extremist with no children in the schools here, connecting with other extremists like Proud Boys and January 6 insurgents to use our small, successful school district to raise his profile.
Vitanza added, "I find it incredibly frustrating that they don't look at who's behind it, just showing fighting in parking lots."
She criticized a kind of "he said, she said" reporting that portrayed the two sides as equally legitimate voices on either side of the issue. For example, the LA Times (6/6/23) wrote: "GUSD Parents Voices, a conservative group, called for parents to attend Tuesday's meeting, posting: 'Join the fight against indoctrination in our schools.'" That sentence was followed by "LGBTQ+ advocacy organization glendaleOUT also urged supporters to attend Tuesday's meeting."
In fact, sources told FAIR, the Glendale community largely supports LGBTQ rights in schools, and many of the protesters against the school board were organized by the larger national right-wing push against LGBTQ inclusion.
'Concerned Parents' vs. 'Activists'
For Angela Givant, who organizes with the GUSD Parents for Public Schools, the situation is especially frustrating, because public school advocates had been monitoring the social media of far-right groups who were organizing in anticipation of the school board vote. She told FAIR in an email:
Our group of parent organizers had specifically reached out to the Times after a recent protest featured more violence and outside elements. We shared images and information outlining our concerns. I personally had been in touch with two LA Times reporters in 2022, when they covered Tammy Tiber and how Jordan [and] his group's accusations had led to threats, causing her to be moved from her school to a different site. At the time, we wanted the Times to cover more deeply Henry's anti-school organizing, and the group's media he was publicly trying to connect with.

At the time, the reporters thought covering any further would only give him more attention. When his efforts and the attention he was getting escalated even more intensely in right-wing channels, I reached out again to the same two reporters I'd previously been in touch with, and noted the new connections to known extremists. I did not receive a reply.
But, as Givant explained, the LA Times reporters seem uninterested in the fact that Henry, who had formerly advocated against critical race theory in schools, and other far-right agitators are clearly in a minority against the area's parents. "The Times still framed their coverage as a clash between 'concerned parents and activists,'" she said, calling it
actively harmful framing, which denies the fact that those of us in support of our schools and long-standing legislation which protects children of all identities are also "concerned parents."
And it's having an impact on the public discussion, she said. "I've seen readers convinced that there are two equal opposing sides here, both with extreme elements," Givant said. "The curriculum and legislation they oppose are extremely popular and supported by the majority of families."
Over-Amplifying the Right's Crusade
The LA Times editorial board (6/9/23) supports the school district against the right, saying the school district "took a courageous stand against an insidious strain of intolerance that has been creeping into public school districts across the nation." The paper's news coverage does not condone the anti-LGBTQ rage. The problem is that news coverage doesn't go deep enough, leaving the reader to think that there is homegrown outrage against a supposed sexualized curriculum, rather than a coordinated effort by far-right organizations.
And expect the coverage to become thinner: The LA Times just announced it was laying off 74 news staff positions (Variety, 6/7/23).
Anti-trans rhetoric—and a larger outrage about LGBTQ "grooming," the idea that education about the existence and rights of sexual minorities is somehow conditioning kids into a certain sexual way of life—is a major part of the contemporary right's cultural agenda. And that's amplified in the right's corporate media (FAIR.org, 1/6/23, 3/30/23). But as the LA Times' coverage of the attacks on Glendale's Pride commemoration shows, centrist elements of the corporate media can also inflict harm when their framing over-amplifies the right's crusade against an incredibly marginalized segment of the population.
Opinion