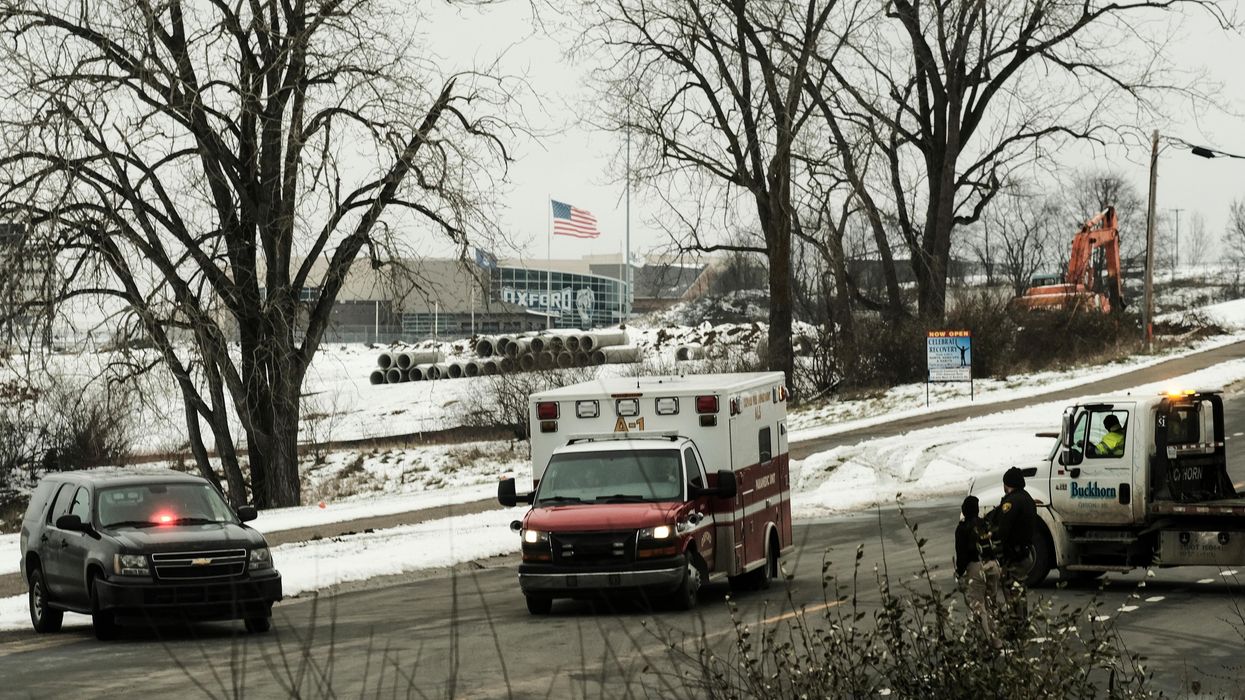 "A 15-year-old shooter may have picked up the weapon, but Congress—through its inaction on gun violence—may as well have handed it to him."
Progressives on Tuesday once again blasted the lack of stricter U.S. firearm laws in the wake of a deadly school shooting--this one in Oxford, Michigan--with one left-wing congressional candidate accusing Congress of having the victims' blood on its hands for failing to pass gun control legislation.
"When do we decide that enough is enough? That kids are more important than guns?"
According to the Detroit Free Press, a 15-year-old sophomore at Oxford High School in suburban Detroit armed with a semi-automatic handgun shot three students dead and wounded at least eight other people at the school on Tuesday afternoon. The alleged shooter was subsequently arrested.
Michigan Gov. Gretchen Whitmer, a Democrat, called the shooting "every parent's worst nightmare" while speaking at a press conference.
"My heart breaks for the students, teachers, staff, and families of Oxford High School," Whitmer said in a statement. "The death of multiple students and the shooting of many others, including a teacher, is horrific."
"As Michiganders, we have a responsibility to do everything we can to protect each other from gun violence," Whitmer added. "No one should be afraid to go to school, work, a house of worship, or even their own home."
According to the Gun Violence Archive, this was the 651st U.S. mass shooting--defined as four or more casualties, not including the perpetrator--of 2021.
"This kind of tragedy is unthinkable in any other country, yet there have been an estimated 650 mass shootings in our country this year alone," Brady United Against Gun Violence said in a statement. "These tragedies demand action. They demand solutions. Shamefully, we have the solutions, but a handful of elected officials have rigged our political systems to prevent the meaningful gun violence prevention reforms that an overwhelming majority of Americans want."
"The result of that inaction is the kind of events like we've seen today," the group continued. "We cannot look away from this shooting and this community in the coming days, weeks, months, or years. Survivors and those affected by this shooting will require care long after physical wounds have disappeared. We owe it to them to take action now and stop future tragedies such as this from occurring ever again."
Michigan physician and former gubernatorial candidate Abdul El-Sayed tweeted: "When do we decide that enough is enough? That kids are more important than guns?"
Kina Collins, a longtime gun violence prevention advocate from Chicago who is campaigning for the U.S. House of Representatives, said in a statement that the Oxford High School victims' deaths are "blood on the hands of Congress."
"A 15-year-old shooter may have picked up the weapon, but Congress--through its inaction on gun violence--may as well have handed it to him," she asserted.
"This year alone, there have been 44 school shootings across the country," Collins continued. "All we got from elected officials after the 43 school shootings before this were thoughts and prayers, and I'm sure that's all we will get now. Then we'll watch as they feign shock and horror when the 45th and 46th school shootings happen next. But unless they give us real policy solutions, real implementation, real action to end these tragedies--and end gun violence in America--nothing will change."
Collins added that "the only way to prove" that the victims' lives mattered and "to honor their memories" is "by passing and enacting real legislation that seeks to end this violence now."
Campaign for a Safer Michigan--a new coalition of organizations dedicated to gun violence prevention--said that "we grieve for the victims of the Oxford High School shooting, and our sympathies go out to the Oxford community and all those that have been affected by this tragedy."
"We all deserve to live in safe communities where we have the resources that we need to be healthy and thrive," the coalition added. "Our elected officials at every level must take swift action to pass policies and provide funding to help make our communities safer from gun violence."
News