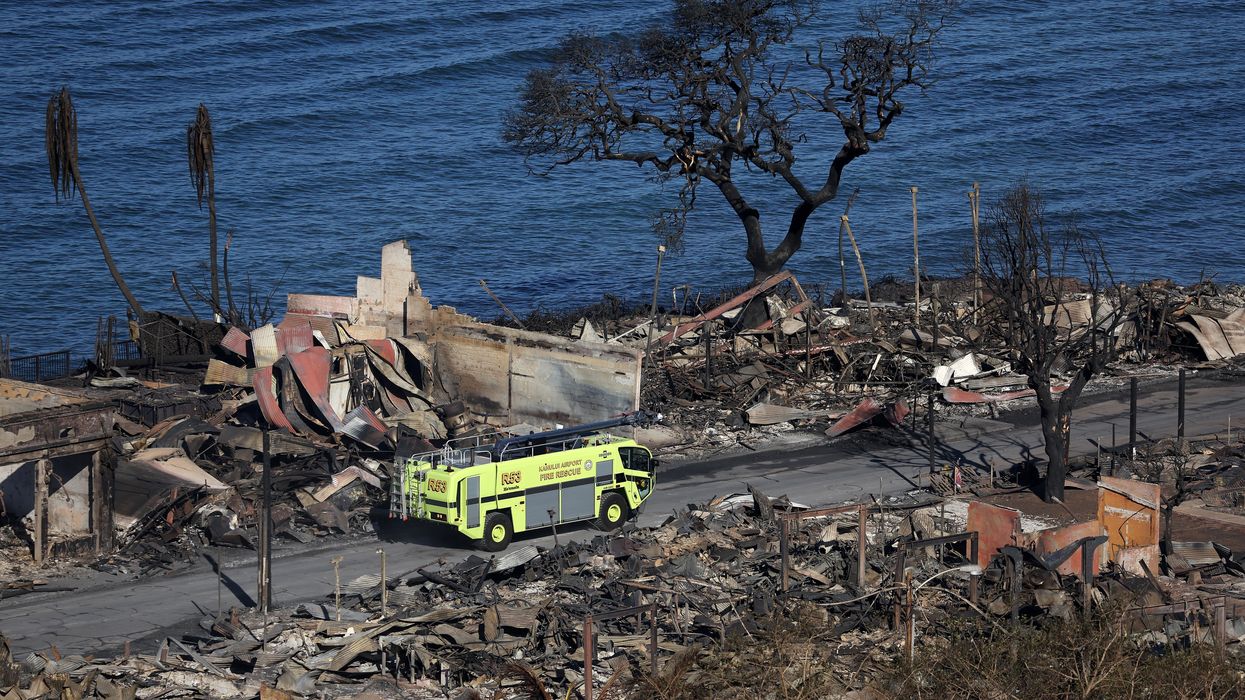 Campaigners continue to call out fossil fuel giants, with Kaniela Ing saying, "You can't claim to care about 'āina, but refuse to fight against the polluters that overheated our planet, warmed the air, and dried out our vegetation."
Hawaiian state Attorney General Anne Lopez on Friday announced her office will conduct a "comprehensive review of critical decision-making and standing policies leading up to, during, and after the wildfires on Maui and Hawaii," which have killed dozens of people.
"The Department of the Attorney General shares the grief felt by all in Hawaii, and our hearts go out to everyone affected by this tragedy," Lopez said in a statement. "My department is committed to understanding the decisions that were made before and during the wildfires and to sharing with the public the results of this review. As we continue to support all aspects of the ongoing relief effort, now is the time to begin this process of understanding."
As CNNreported Saturday:

Hawaii officials underestimated the deadly threat of wildfires even as they acknowledged a lack of necessary resources to mitigate them, according to a CNN review of state and local emergency planning documents that show how ill-prepared the state was for the disaster.

One Maui County report on wildfire prevention from 2021 stated that while the number of acres consumed by wildfires had spiked, funds to prevent and mitigate them were "inadequate." The report also stated that the county fire department's strategic plan included "nothing about what can and should be done to prevent fires"—in what it called a "significant oversight."
While the outlet added that "Hawaii and Maui County officials didn't immediately respond to requests for comment Friday as disaster response efforts continued," local leaders have made some related comments this week.

The fire that ravaged Lahaina—the Hawaiian Kingdom's capital and a tourist destination—on Tuesday "moved so quickly that from where it started in the brush and moved into the neighborhood, communications back to those who make those notifications were physically and nearly impossible," explained Maui Fire Chief Brad Ventura.
Highlighting the winds from Hurricane Dora, Maui County Mayor Richard Bissen similarly said on NBC's "TODAY" Friday, "I think this was an impossible situation."
"The winds that hit us in on that side of the island, and in fact on other parts of the island, in some areas, the gusts were up to 80 mph, some sustained between 45 and 60-65 [mph]. So, everything happened so quickly. I can't comment on whether or not the sirens sounded or not, but I know that the fires came up so quickly and they spread so fast," he added, noting that some homes were evacuated.
According toThe Associated Press:
Many fire survivors said they didn't hear any sirens or receive a warning giving them enough time to prepare, realizing they were in danger only when they saw flames or heard explosions.

"There was no warning," said Lynn Robinson, who lost her home.

Hawaii emergency management records do not indicate warning sirens sounded before people had to run for their lives. Officials sent alerts to mobile phones, televisions, and radio stations, but widespread power and cellular outages may have limited their reach.
The Hawaii Emergency Management Agency (HI-EMA) said in a statement Friday that "the sirens are used to alert the public to seek additional information; they do not necessarily indicate an evacuation."
"HI-EMA is committed to transparency and will work with the Department of the Attorney General on the comprehensive review announced today," the agency added. "Our priority is supporting Maui County to assist the people affected by the fires."
U.S. President Joe Biden on Thursday approved a disaster declaration for Hawaii. As search-and-rescue efforts continued, Maui County confirmed late Friday that the death toll had hit 80 and over 1,400 people were at emergency evacuation shelters.
The Pacific Disaster Center and the Federal Emergency Management Agency estimate that 86% of the 2,719 structures in Maui County exposed to fire were residential, and 4,500 people may be in need of shelter. They found that 2,207 structures were damaged or destroyed and 2,170 acres burned—and rebuilding is expected to cost $5.52 billion.
As humanitarian groups assisted the displaced on Saturday, firefighters in Hawaii kept working to contain blazes.
Amid the historic devastation, campaigners in Hawaii and beyond this week have called out the fossil fuel industry for creating the conditions for such "apocalyptic" fires on the islands, which were annexed by the United States in 1898.
Kaniela Ing, a seventh-generation Native Hawaiian from Maui and national director of the Green New Deal Network, addressed connections between the climate emergency and the fires across Hawaii on Democracy Now! Friday.
"The National Weather Service says the cause of this fire was a downed power line, and the spread because of hurricane-force winds. And the spread was caused by dry vegetation and low humidity. Those are all functions of climate change," Ing explained. "This isn't disputable. This isn't political. It, unfortunately, has become politicized, but it's a matter of fact. Climate pollution, corporate polluters that set a blanket of pollution in the air that is overheating our planet contributed—caused the conditions that led to this fire."
"In addition, there is mismanagement of land. The original 'Big Five' oligarchy in Hawaii, missionary families that took over our economy and government, they continue on today as some of our largest political donors and landowners and corporations. They've been grabbing land and diverting water away from this area for a very long time now, for generations. And Lahaina was actually a wetland," he added. "But, you know, because they needed water for their corporate ventures, like golf courses and hotels and monocropping, that has ended. So the natural form of Lahaina would have never caught on fire. These disasters are anything but natural."
Using the Hawaiian term for Earth, Ing said on social media Saturday, "You can't claim to care about 'āina, but refuse to fight against the polluters that overheated our planet, warmed the air, and dried out our vegetation—to the point where fires are killing our people."

News