DeVos Group, Right-Wing Fringe Organization Threaten Public Health
Group led by state rep, other far-right figures seek a "traffic jam" in Lansing during pandemic.
WASHINGTON - Today, the Michigan Conservative Coalition, a far-right fringe group, and the Michigan Freedom Fund, a DeVos-backed corporate front group, will buck public health safety measures and attempt to create a "traffic jam" in Lansing to protest Gov. Gretchen Whitmer's efforts to protect public health. 
"These fringe groups have one goal: attack Gov. Whitmer for anything, even if it means sending a dangerous message about the importance of social distancing during a global pandemic. While hundreds of Michiganders die every day because of COVID-19 and essential workers are doing their best to keep our communities healthy and functioning, these selfish and out-of-touch fringe groups are throwing a temper tantrum at the expense of public safety and health," said Lonnie Scott, executive director of Progress Michigan. "Normally we wouldn't give these childish games the time of day, but we think it's important that the people of Michigan know who these people really are and the fact that a group supported by one of Trump's cabinet members, Betsy DeVos, is at the helm of this dangerous ship. Republicans who run in the same circles as these far-right activists, like Mike Shirkey and Lee Chatfield, should denounce this political stunt." 
As a member of Trump's cabinet, Betsy DeVos should be doing everything she can to promote public health during this crisis, but instead, the Michigan Freedom Fund, a group she and her family have funded for years, is part of this "traffic jam" effort that undermines the credibility of public health experts. 
The Michigan Conservative Coalition is a far-right, fringe group that has peddled right-wing memes featuring Pepe the Frog and Islamophobic memes on its Facebook page. They recently hosted an event featuring Michelle Malkin, a far-right pundit who has defended white nationalists and holocaust deniers. State Rep. Matthew Maddock is involved with the group.
Never Miss a Beat.
Get our best delivered to your inbox.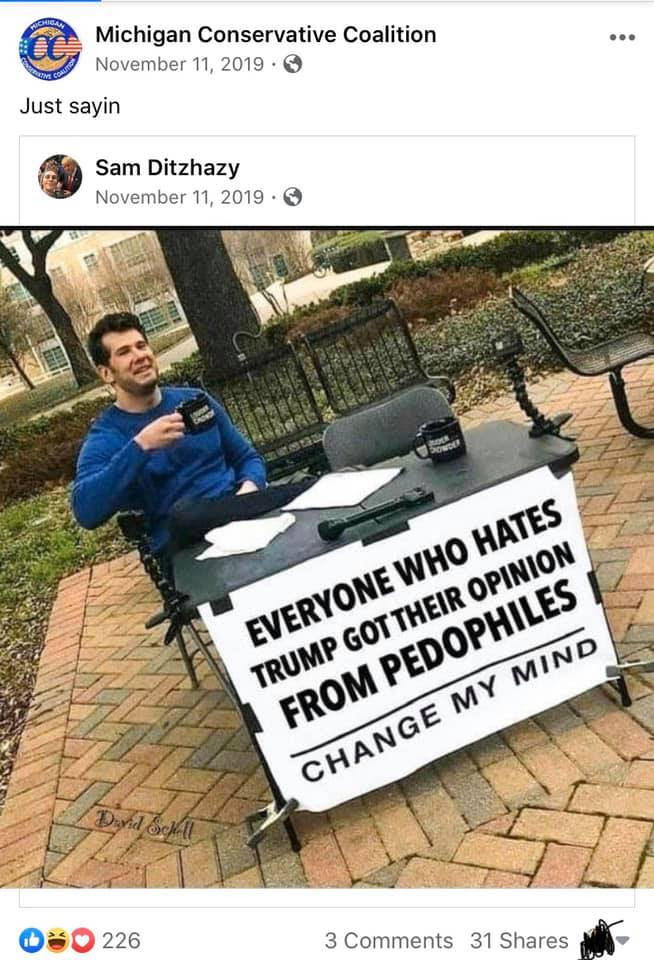 Event organizers also include Matt Seely, a Grosse Pointe Shores city councilman, who was called out for transphobic and sexist behavior online. Meshawn Maddock, who is also involved with a group called Michigan Trump Republicans, a group closely tied to the Michigan Conservative Coalition, has also touted the protest. The group's Facebook page is a hive for misinformation, threats of violence, and far-right ideas. Even a month ago, Maddock posted a video online saying they would not stop holding events despite the coronavirus threat. Maddock has even said that public schools are "indoctrination centers" that are brainwashing kids. She's also part of the Trump campaign apparatus and involved with the Michigan Republican Party. Meshawn Maddock's husband is State Rep. Matt Maddock. 
"Across the country, governors from both parties are taking the lead to try to mitigate the death toll from COVID-19 in the absence of leadership from the Trump administration," Scott continued. "We need people to be listening to the health experts and to stay home and stay safe, not jeopardize public safety and health with political stunts led by far-right fringe organizations."
###
This is the world we live in. This is the world we cover.
Because of people like you, another world is possible. There are many battles to be won, but we will battle them together—all of us. Common Dreams is not your normal news site. We don't survive on clicks. We don't want advertising dollars. We want the world to be a better place. But we can't do it alone. It doesn't work that way. We need you. If you can help today—because every gift of every size matters—please do. Without Your Support We Simply Don't Exist.
Please select a donation method:
Progress Michigan aims to provide a strong credible voice that holds public officials and government accountable, assists in the promotion of progressive ideas and uses state-of-the-art web based new media to creatively build grassroots support for progressive ideas.
Organization Links