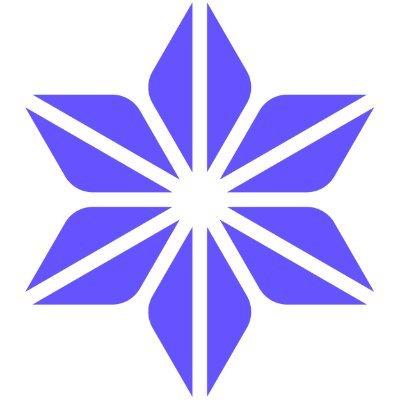 For Immediate Release
March, 24 2016, 07:15am EDT
Contact:
Email:,info@jewishvoiceforpeace.org
UC Regents New Policy Opens Door to Policing Speech Critical of Israeli Policies
This morning the UC Regents adopted a policy on intolerance that fails to address concerns that this policy could be used to police student and faculty speech critical of Israeli policies. The discussion at the Regents meeting today repeated false claims that student activism in support of Palestinian human rights has lead to an increase in antisemitism on campuses.
Tallie Ben Daniel, Jewish Voice for Peace Academic Advisory Council Coordinator:
WASHINGTON
This morning the UC Regents adopted a policy on intolerance that fails to address concerns that this policy could be used to police student and faculty speech critical of Israeli policies. The discussion at the Regents meeting today repeated false claims that student activism in support of Palestinian human rights has lead to an increase in antisemitism on campuses.
Tallie Ben Daniel, Jewish Voice for Peace Academic Advisory Council Coordinator:
"While the Regents have made an effort to ensure that the policy will not infringe on speech, this policydoes NOT address our concerns. Proponents of the current policy (including the AMCHA Initiative, ZOA, ADL, Simon Wiesenthal Center, Hillel International) are primarily interested in giving UC administrators a tool that can be used to police student activism for Palestinian rights on campuses. This is evident in their long history (as documented in our report "Stifling Dissent") of efforts to shut down student campaigns to encourage their universities to take a stand in support of Palestinian human rights by divesting from companies that profit from Israel's violations of international law. Moreover, in focusing primarily on antisemitism, this policy fails to address the urgent needs of UC students who are facing a heightened climate of Islamophobia and racism, not only on an individual level, but also supported by the rhetoric of political leaders and institutionalized discrimination in the university and broader society."
This false narrative, perpetuated by Israel advocacy organizations intent on suppressing criticism of the state, relies on many unsubstantiated claims and lacks evidence. In contrast to the claims made by the AMCHA Initiative (an organization that maintains a blacklist of professors deemed too critical of Israel), the Anti-Defamation League, which also testified in support of the policy today, actually reported a decrease in antisemitism on campuses in 2015. While it is important to address antisemitism when it does occur, it is not the only or even the biggest threat to students on campuses in the context of the heightened racism and Islamophobia in our political climate today. The 2014 UC-wide campus climate report found that 49% of Muslims reported facing intimidating or hostile behavior because of their religious affiliation, followed by 34% of Jewish respondents and 29% of Christians. The report also found the highest level of discomfort among transgender, undocumented, and disabled students.
Ahead of the hearing, opposition to the proposed policy was expressed by hundreds of UC faculty, student activists, media outlets and civil rights experts including the American Civil Liberties Union and Palestine Legal.
At the Regents meeting today, the original proposed policy was amended to specify "antisemitic forms of anti-Zionism," rather than a blanket condemnation of anti-Zionism broadly. The Regents congratulated themselves on a process that heard from "both sides," despite the fact that the experts they consulted were four white men, three of whom are avowed Zionists. The Regents new policy offers no clarity on how to determine when criticism of Israel or anti-Zionism crosses a line into antisemitism, and was predicated on the erroneous assumption that support for Palestinian rights is inherently antisemitic.
###
Further Quotes for Publication:
Liz Jackson, Jewish civil rights attorney at Palestine Legal, cooperating council at Center for Constitutional Rights, UC Berkeley Law alum:
"The new UC Regents statement opens the door to the policing of speech critical of Israeli policies. We do not need to speculate about where this will lead. The Israel advocacy organizations pushing this Regents statement already have a demonstrated record of demanding that criticism of Israel be punished on campus. This statement is another tool in their box, along with false accusations, smear campaigns and meritless legal complaints targeting speech on campus.

Though the University explicitly acknowledged that the statement is not enforceable, its ambiguity presents serious implications for the First Amendment rights of students and scholars, whose political expression will undoubtedly be further chilled."
Omar Zahzah, UCLA graduate student and organizer:
"As the movement for Palestinian freedom and equality has grown in the US, so too have politically motivated efforts to silence any criticism of Israeli policies, particularly on college campuses. The work of groups like Students for Justice in Palestine (SJP) is rooted in a comprehensive anti-oppression framework that sees the Palestinian struggle for freedom and self-determination as continuous with, and connected to, all other anti-racist struggles. Conflating protected political speech and anti-racist activism with genuine bigotry not only stigmatizes campus activism; it cheapens the otherwise commendable effort to combat true oppression and discrimination on university and college campuses. We all agree that anti-Semitism and racism must be combated on campus. Where we disagree is in the claim that anti-Zionism is bigotry. Palestinian and Jewish students alike should have the right to say that the ethnic cleansing of Palestine in 1948 was morally wrong and that Palestinian refugees should have the right to return home to a state where Palestinians and Jews live in equality rather than in a discriminatory Jewish state."
Rabbi Alissa Wise, deputy director Jewish Voice for Peace:
"The effort to conflate anti-Zionism, political criticism of the state of Israel, with anti-Semitism, baseless hatred of Jews, is a morally reprehensible and desperate attempt to stop a movement that seeks justice and equality for Israelis and Palestinians, and all people. To do so is to take a dangerous step toward de-democratizing our society."
Professor Judith Butler, University of California Berkeley:
"If we think that we solve the problem by identifying forms of anti-Semitic anti-Zionism, then we are left with the question of who identifies such a position, and what are their operative definitions? These terms are vague and overbroad and run the risk of suppressing speech and violating principles of academic freedom. We have principles that oppose anti-Semitism on the same grounds as we would oppose all forms of discrimination. There already exists University policy and state and federal law, developed over many years that provide an effective framework for resolving these issues."
Jewish Voice for Peace is a national, grassroots organization inspired by Jewish tradition to work for a just and lasting peace according to principles of human rights, equality, and international law for all the people of Israel and Palestine. JVP has over 200,000 online supporters, over 70 chapters, a youth wing, a Rabbinic Council, an Artist Council, an Academic Advisory Council, and an Advisory Board made up of leading U.S. intellectuals and artists.
(510) 465-1777
LATEST NEWS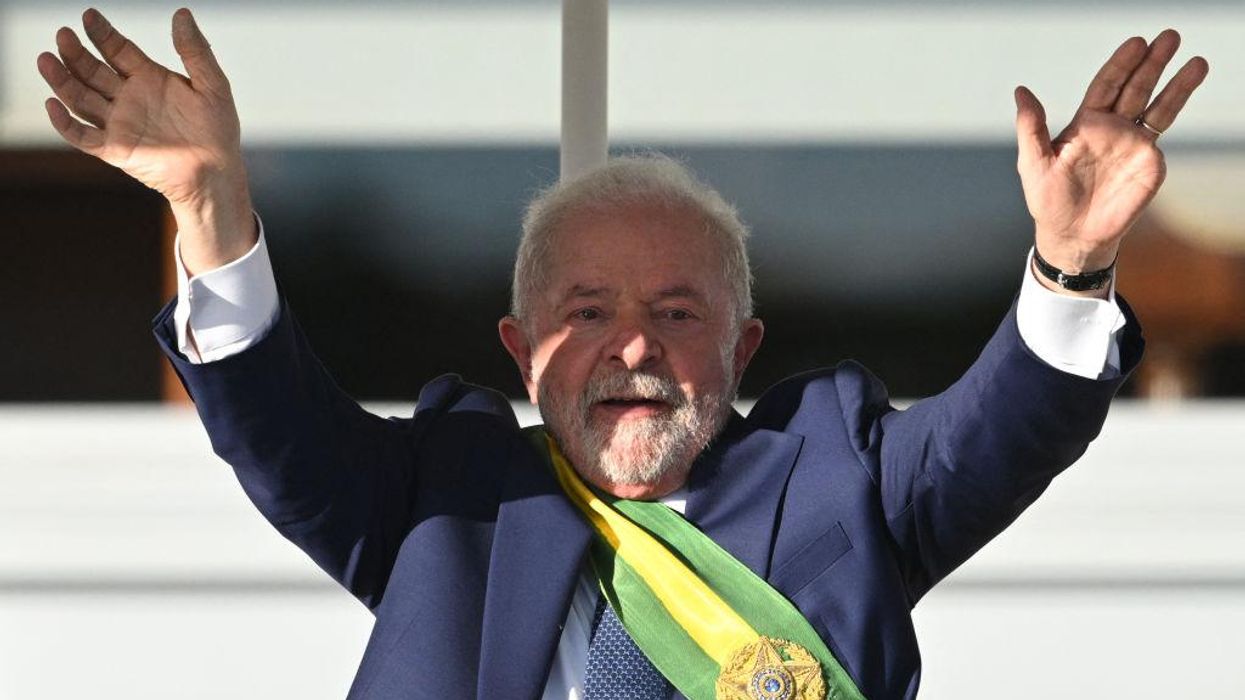 "Our message to Brazil is one of hope and reconstruction," declared newly sworn-in president as hundreds of thousands took to the streets to welcome the leftist leader back.
Hundreds of thousands took to the streets across Brazil on Sunday to celebrate the inauguration of leftist President Luiz Inácio Lula da Silva, whose return to the nation's highest office also marked the exit of far-right Jair Bolsonaro who left his country and arrived in the U.S. state of Florida ahead of the weekend's transfer of power.
After being sworn in during a ceremony at the National Congress, Lula addressed the assembled lawmakers as he lamented the "terrible ruins" left by Bolsonaro, though he did not actually mention his predecessor by name. But Lula also issued a message of renewal and hope.
"Our message to Brazil is one of hope and reconstruction," Lula said in the speech. "The great edifice of rights, sovereignty, and development that this nation built has been systematically demolished in recent years. To re-erect this edifice, we are going to direct all our efforts."
"Democracy was the big winner in this election," he declared. "Long live democracy! Love live the Brazilian people!"
Following his call for reconstruction, he vowed to "rebuild the nation and make a Brazil of all, for all."

Lula, who previously served as president from 2003 to 2010, beat Bolsonaro in a highly-contentious election in October amid concerns that the incumbent—often compared to former U.S. president Donald Trump—would not ultimately concede or relinquish the office.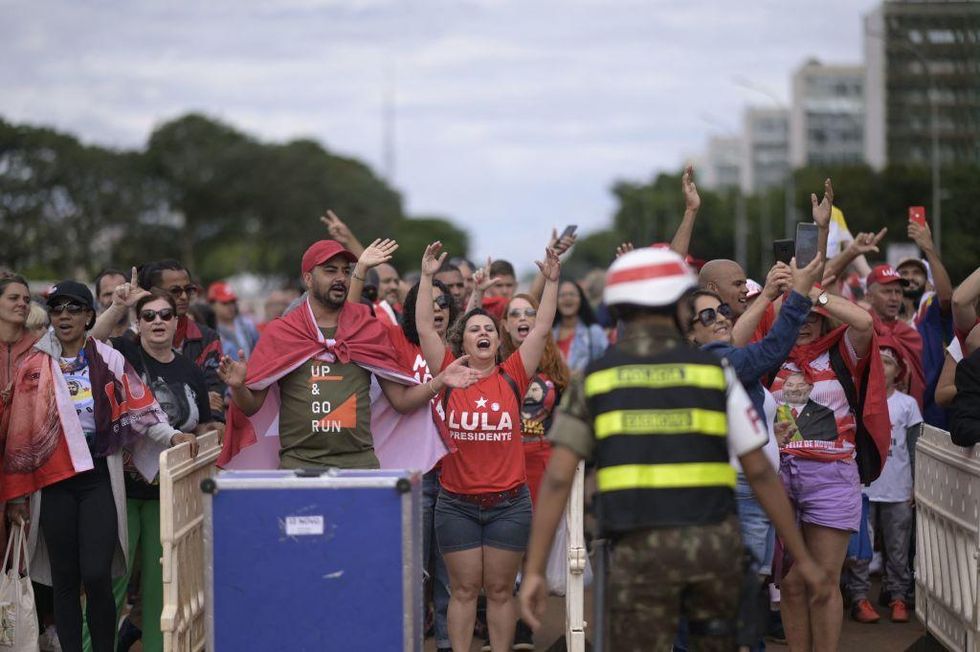 Supporters of President-elect Luiz Inacio Lula da Silva queue at a security checkpoint as they wait to enter the Esplanada dos Ministerios to attend his inauguration ceremony in Brasilia on January 1, 2023. - Lula da Silva, a 77-year-old leftist who already served as president of Brazil from 2003 to 2010, takes office for the third time with a grand inauguration in Brasilia. (Photo by DOUGLAS MAGNO/AFP via Getty Images)
In the capital city of Brasília on Sunday, throngs of Lula supporters were seen in the streets ahead of a presidential motorcade bringing the returning president to his swearing-in ceremony.
\u201cThe scene in Bras\u00edlia a few hours before Lula's inauguration. \nSupporters still streaming onto the esplanade.\u201d

— BRASILWIRE (@BRASILWIRE) 1672585711
Music and dancing in the streets added to a festive atmosphere even as a strong security presence acted as a reminder of the reluctance by Bolsonaro and his right-wing supporters to admit defeat at the polls. As the Washington Postreports:
the carnival-like party on New Year's Day comes against a tense backdrop, as supporters of outgoing President Jair Bolsonaro remain camped outside army barracks here and across the country, calling for a military overthrow of the incoming government to keep their candidate in office.

The threat of potential violence not far from the Planalto Palace, where Lula will be sworn in for a third term as president of Latin America's most populous country, is a stark reminder of the division in the country he is now tasked with governing.
With Bolsonaro seeking refuge in Florida amid investigations into his political dealings and possible corruption during his time in office, the New York Times notes that this means "there will be no ceremonial passing of the presidential sash on Sunday, an important symbol of the peaceful transition of power in a nation where many people still recall the 21-year military dictatorship that ended in 1985."
\u201cLula's car is now en route to recieve the presidential sash.\u201d

— BRASILWIRE (@BRASILWIRE) 1672594817
Interviewed by the Associated Press on Saturday, Lula supporter Eduardo Coutinho, who traveled from his home to Brasilia for the inauguration, said the ousted far-rights president's departure is nearly as sweet as Lula's return.
"I wish I were here when Bolsonaro's plane took off, that is the only thing that makes me almost as happy as tomorrow's event," Coutinho said. "I'm not usually so over-the-top, but we need to let it out and I came here just to do that. Brazil needs this to move on."
News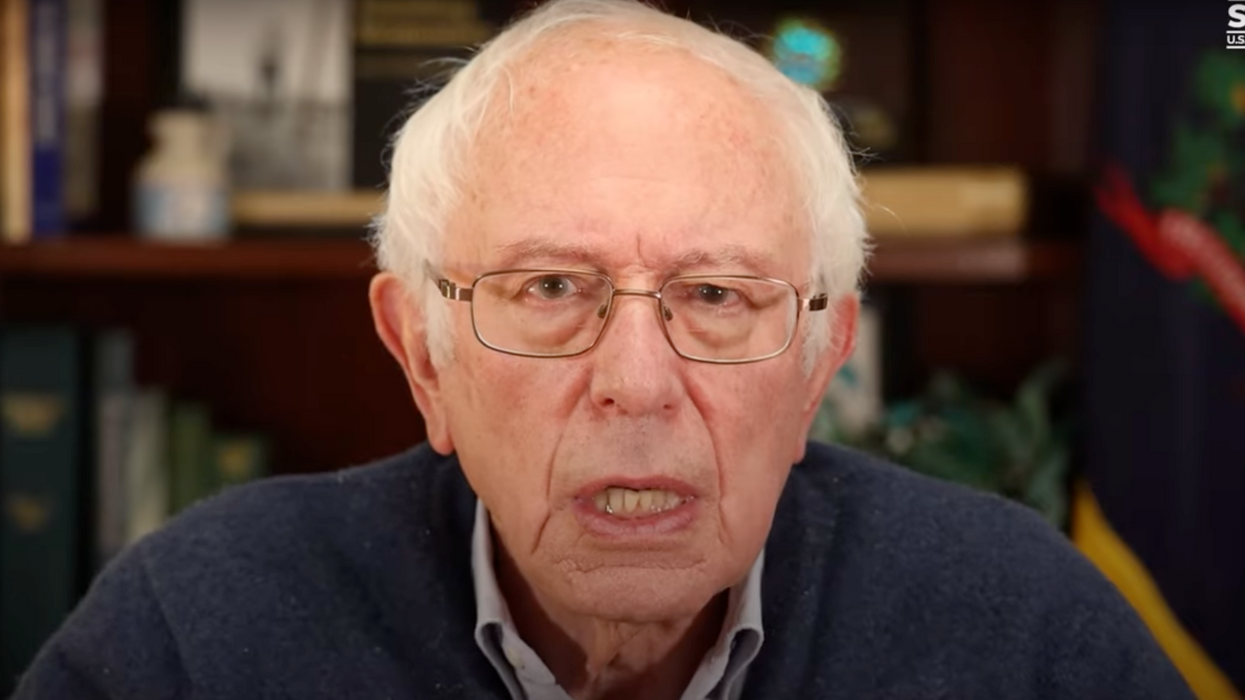 "What we have in this country is really disgraceful" when it comes to healthcare, says the U.S. senator from Vermont.
Sen. Bernie Sanders issued a New Year's Day message on Sunday as he gets ready to take over as chair of the powerful Health, Education, Labor and Pensions Committee in the U.S. Senate when Congress comes back into session later this month.
Laying out his priorities for the committee in 2023, Sanders put a familiar focus on the need for an improved and expanded Medicare system and lower drug costs as he lambasted the nation's "cruel and dysfunctional" for-profit system that leaves tens of millions of people uninsured or grossly underinsured.
"What we have in this country is really disgraceful" in terms of healthcare, Sanders says in the video address posted to YouTube and shared on social media.
Fixing the nation's healthcare system, he said, is "an issue, together, we are going to have to work on. We must have the courage to stand up to the greed and recklessness of the insurance companies and the drug companies" who continue to oppose progressive reforms, including the push for Medicare for All.
"We have to work to substantially lower the cost of prescription drugs," Sanders added, "and we have got to work to guarantee healthcare as a human right for all of our people, not a privilege."

Watch the full video:
Happy New Year. Here's what's on my mind for 2023.youtu.be
On education, Sanders blasted that the richest nation on Earth—which somehow manages to provide "massive tax breaks to the billionaire class—still allows its heroic teachers to struggle in underfunded schools that disadvantages all children trying to learn. He also criticized a higher education system that has saddled an estimated 45 million college students and their families with outrageous levels of debt.
With labor the other key area of jurisdiction for the committee he will soon be leading, Sanders lamented in his address the existence of a "very rigged economy with unprecedented level of income and wealth inequality" that is hurting working families in favor of making life better the already rich and powerful.
"I'm thinking about a country today where at this moment workers all across this country—at Starbucks, Amazon, nurses at hospitals, workers at factories, young people at college campuses—they are organizing unions in order to receive better wages and working continues, because they know, at the end of the day, that unity—bringing people together for collective bargaining—is the only way that many workers are going to get the benefits, wages, and working conditions that they so desperately need."
With that context, Sanders said these workers in unions or those trying to organize a new union are being "vigorously" opposed by corporate bosses using "fierce and illegal anti-union action."
Countering those anti-union efforts by Starbucks, Amazon, and other major employers, he said, will be something he intends to do from his chair position.
Acknowledging political realities, however, Sanders said he knows very well that he will not have the power to simply pound his gavel of the new committee "and lo and behold all these important pieces of legislation get passed."
"It ain't gonna happen that way, that's for sure," said Sanders. While admitting that Republicans and certain "conservative Democrats" are not going to be supportive of his progressive agenda, Sanders said, "That doesn't mean we give up on these issues. We're going to take these issues to the people and continue the fight.
Despite partisan opposition on many things, Sanders said he has genuine hope that some progress can be made on things like reducing the cost of prescription drugs and childcare in the upcoming session.
In the end, Sanders called on listeners to join together in the battles to come in the new year "as we stand up and fight to make sure that working families in this country can live with the kind of dignity and security that they are entitled to."

News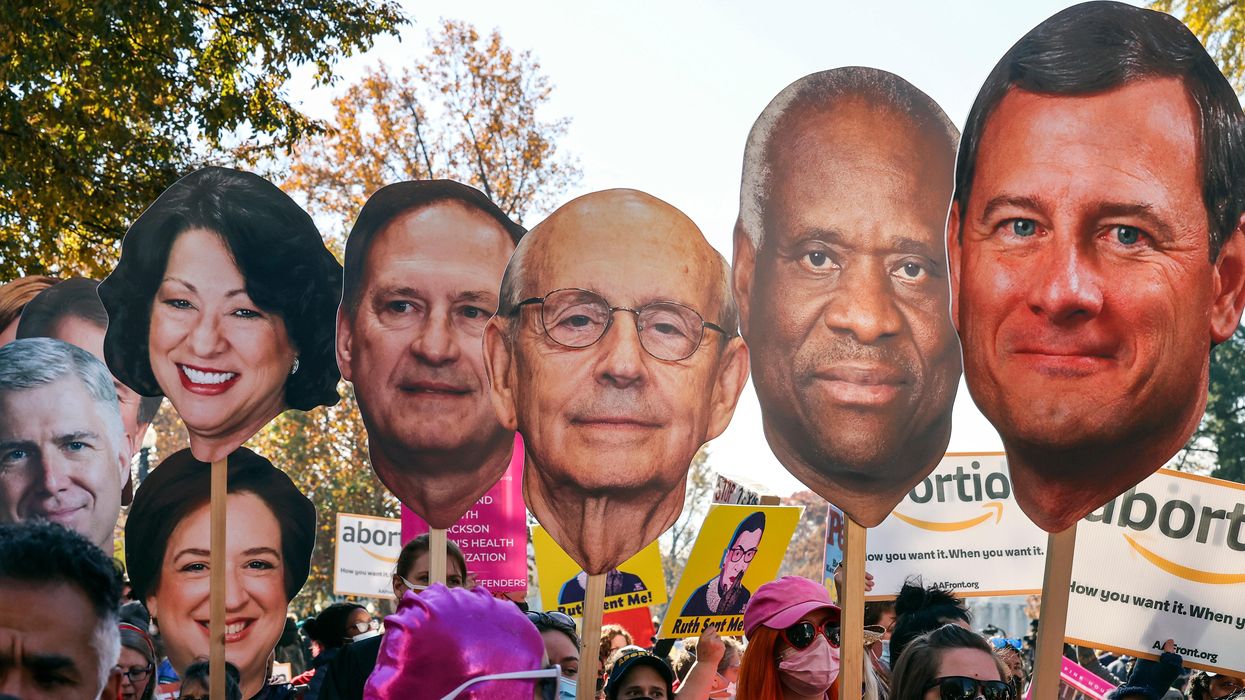 "You want to 'preserve #SCOTUS history'?'" said one watchdog group. "Hire a curatorial staff. Don't run a pay-for-play."
Both alarm and concern were expressed Saturday in response to new reporting about a charitable group with close ties to the U.S. Supreme Court that has been soliciting and accepting donations from corporate interests and far-right activists with cases before the court.
The New York Timesexposé focused on the activities and fundraising of the Supreme Court Historical Society, a nonprofit that claims its mission is "dedicated to the collection and preservation" of the Court's history.
While the group refused to disclose its donors to the Times, reporters from the newspaper determine that much of the funding came from powerful companies like Chevron, Goldman Sachs, Time Warner, and Facebook as well as anti-abortion activists like Rev. Rob Schenck.
According to the newspaper:
The society has raised more than $23 million over the last two decades. Because of its nonprofit status, it does not have to publicly disclose its donors—and declined when asked to do so. But The New York Times was able to identify the sources behind more than $10.7 million raised since 2003, the first year for which relevant records were available.

At least $6.4 million—or 60 percent—came from corporations, special interest groups, or lawyers and firms that argued cases before the court, according to an analysis of archived historical society newsletters and publicly available records that detail grants given to the society by foundations. Of that, at least $4.7 million came from individuals or entities in years when they had a pending interest in a federal court case on appeal or at the high court, records show.
In the case of Chevron, the oil giant actively gave to the society even as it had a pending climate litigation working its way through the court.
In response to the new revelations, public interest attorney Steven Donzinger, who was himself targeted by Chevron for his work aimed at holding the company to account for its polluting activities in Ecuador, said the implications were "horrifying."
"Why are these conflicts allowed?" asked Donzinger.
Others quoted by the Times said the effort by people like Rev. Schenck, who admits to using the charitable group as a way to get other anti-abortion activists closer to the justices, creates a clear conflict of interest.

Charles Fried, a Harvard Law professor who once served as solicitor general in the Reagan administration and counts himself a donor to the Historical Society, told the newspaper was so "horrified" by Schenck's behavior that he may no longer give.
"It's disgusting," Fried said. "Many of the people who contribute have the same reasons I do. You go to a cocktail party and support a good cause. But it turns out that for some people it's not that innocent."
While the Times notes that the Historical Society is "ostensibly independent of the judicial branch of government," the reality is that "the two are inextricably intertwined," with court justices serving as chair of the board and hosting gala events where exclusive access is reportedly part of the allure.

The left-leaning Citizens for Responsibility and Ethics in Washington (CREW) said the reporting raises "significant questions" about the group which has "raked in millions—a significant chunk of it from groups with cases before the Court" over the last two decades.
Fix the Court, which acts as a watchdog organization for the U.S. Supreme Court, said the justification for the Historical Society's existence just doesn't hold water.
\u201cThere should not be an organization in existence that, via donations, gives people direct access to the justices.\n\nYou want to \u201cpreserve #SCOTUS history\u201d?\n\nHire a curatorial staff. Don\u2019t run a pay-for-play.\u201d

— Fix the Court (@Fix the Court) 1672489256
And Gabe Roth, the group's executive director, told the Times that if money was an issue for funding such a project it would be the best solution—one free of ethical concerns—for Congress to simply appropriate the money needed to maintain the history of the Court.

News
SUPPORT OUR WORK.
We are independent, non-profit, advertising-free and 100%
reader supported.