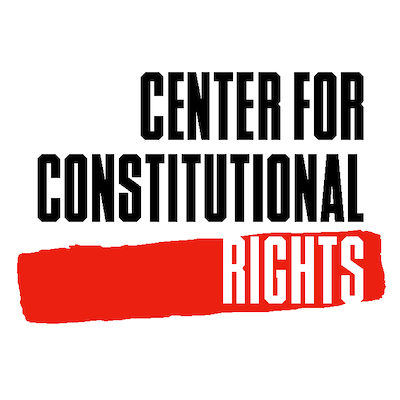 For Immediate Release
Contact:
press@ccrjustice.org
CCR Challenges Legality of Prison Telephone Rates Before NY Court of Appeals
Families Who Paid Exorbitant Rates for More than 10 Years Continue to Struggle Despite End of Kickback Contract
WASHINGTON
Today, the Center for Constitutional Rights (CCR) challenged the
legality of prison phone rates in oral arguments before the Court of
Appeals of the State of New York, the highest court in the state. The
case, Walton v. New York State Department of Correctional Services (DOCS),
seeks compensation for years of an unlawful tax levied on families of
prisoners who wanted to remain in contact with their loved ones,
keeping them connected to their communities.
Said plaintiff Ivey Walton, "I live on a fixed
income, and that prison phone contract forced me to make some hard
decisions-most of the time I couldn't afford to put food on the table
and talk to my son in the same month. I want everyone hurt by those
outrageous phone bills for 10 years to finally get justice."
"These families seek to expose the kickback for what it was - an
illegal, burdensome tax that violated their constitutional rights to
freedom of speech and association, equal protection and due process,"
said CCR Attorney Rachel Meeropol.
"DOCS made money off the backs of mothers and fathers, kids and other
loved ones of New York State prisoners for years. They must be held
accountable, and the court can make sure it never happens again."
Attorneys argue the State's profits from prison telephone calls was an
unlegislated and illegal tax that came out of the pockets of the
disproportionately poor families and friends of people in prison. Under
the monopoly contract, families paid $3.00 to receive a call and 16
cents per minute, with multiple surcharges common. Some family members
paid bills totaling more than $15,000 over the course of the contract.
Many still feel the effects, according to recent contacts.
PROFILE
Ronna Smith, age 56, spent two years trying to
maintain supportive contact with her daughter who was in prison, at
first a five-and-a half-hour drive away and later a two-hour drive from
Ms. Smith's home, making frequent visits difficult. She spoke recently
of the toll:
I am still trying to get out of debt. It's a horrible hardship. I have no savings and can barely keep up.

I basically let everything else go to make sure that my daughter could
call me. I am still catching up with my mortgage. My utilities are
month-to-month. Every month I am threatened with a shut off, and every
month I am able to pay them just in time. Credit cards are maxed out.

I tried to limit her phone calls. It was the first time my daughter had
ever been in trouble. She was sent away for two years, and it was
devastating to the family. She needed us to keep her going, to keep
her strong. Actually, no, I didn't consider not calling because it was
to take care of her. That's how I felt.

She has her own apartment now, and has two jobs. Those calls made all
the difference in the world. I don't think she would have made it if
it hadn't been for the phone calls. She was not used to that whole
system. We had to talk her through everything. It was a horrible time.

It's been little over a year since she was released and I'm just now
starting to get caught up. Of course, I'm still in the bankruptcy.
There's nothing I can do about that. That's going to be another two
years until that is done.
BACKGROUND
For more than ten years, families of inmates in New York State prisons
paid phone rates more than six times as high as normal consumer rates
to speak with their loved ones, with bills in the hundreds of dollars
each month.
Starting in 1996 and continuing until Governor Spitzer ended the
practice in 2007, DOCS awarded a monopoly contract that gave the agency
57.5 percent of the phone company's profits from their prison collect
calls (first from MCI, then, later, Verizon), the only way for families
to speak with their loved ones by phone. The contract went to the
company that bid the highest kickback to the State, not the lowest cost
to consumers.
A landmark study from the California Department of Corrections and
numerous follow-up studies showed that men and women in prison who
maintain relationships with their loved ones are more likely to
complete their parole without incident and have more successful
transitions back into the community when they are released.
More than 80 percent of the State's prisoners come from poor New York
City neighborhoods, according to the Albany-based Center for Law and
Justice. With two-thirds of the prison facilities located three hours
or more from New York City, telephone calls become a critical way for
families to keep in touch.

TODAY
Despite new lower phone bills, many family members say they continue to
feel the effects of the contract, that they were unable to save, had
higher credit card debt and lower retirement savings. Many were unable
to afford health insurance as a result of the high cost of their phone
bills, and a number were forced into bankruptcy. Many had to forgo or
limit contact with loved ones, and their relationships suffered as a
result.
The financial burden was significant. Over the years that the contract
was in place, families report paying bills totaling anywhere from
hundreds of dollars to more than $15,000.
In order to make calls to loved ones, families often went without
paying other bills, without paying a mortgage, even without buying
food.
"An overwhelming number of the people we have spoken with were unable
to save money because of the cost of those phone calls," said Annette Dickerson, CCR Director of Education and Outreach. "The effects of this shameful contract reverberate among prison families to this day."
An alternative to paying the cost was staying silent. Many families
say they frequently went without communicating with parents, children,
or spouses who were incarcerated.
Juan Cartagena, General Counsel, of the Community Service
Society, and Darius Charney of the Center for Constitutional Rights are
co-counsel in the case.
For more information on Walton v. NYSDOCS, click here.
The Center for Constitutional Rights is dedicated to advancing and protecting the rights guaranteed by the United States Constitution and the Universal Declaration of Human Rights. CCR is committed to the creative use of law as a positive force for social change.
(212) 614-6464
LATEST NEWS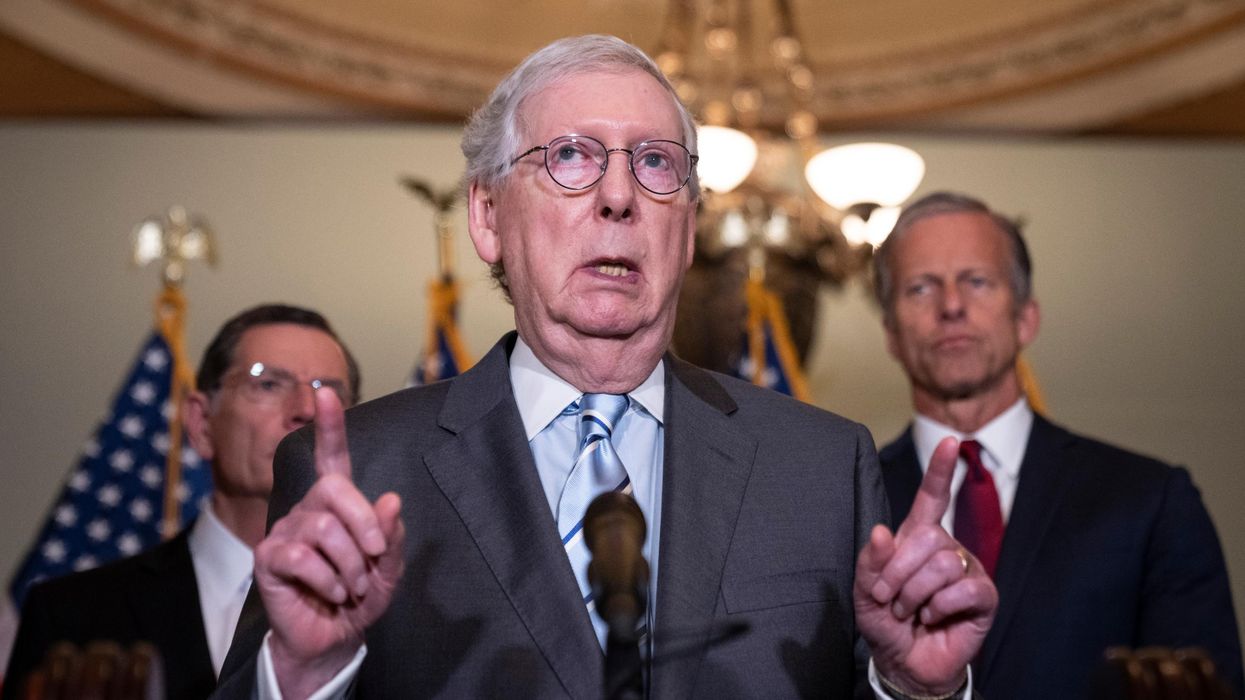 "The American people saw what happened on January 6," said one Republican lawmaker. "They've seen the people that got injured, they saw the damage to the building."

After Fox News' Tucker Carlson falsely dismissed the January 6, 2021 attack on the U.S. Capitol by supporters of former President Donald Trump as mostly nonviolent, numerous Republican senators including Minority Leader Mitch McConnell on Tuesday blasted the right-wing opinion host's "whitewashing" of the deadly insurrection.
Carlson—who publicly promoted former President Donald Trump's 2020 election lies while privately calling the GOP loser's claims "absurd"—said Monday on his program that "very little about January 6 was organized or violent" and that "surveillance video from inside the Capitol shows mostly peaceful chaos."
Recently deposed as part of Dominion Voting Systems' $1.6 billion defamation lawsuit against Fox News, Carlson echoed colleagues who said under oath that they didn't actually believe Trump's "Big Lie" that the 2020 presidential contest was stolen by Democrats.
"I thought it was an insurrection at that time. I still think it was an insurrection today."
While some of the eight Republican senators (and 135 House members) who voted against certifying President Joe Biden's Electoral College victory have stuck by the Big Lie, numerous others pushed back hard against Carlson's reimagination of the worst attack on the Capitol since Puerto Rican nationalists launched an armed assault on the building in 1954.

"I think it's bullshit," Sen. Thom Tillis (R-N.C.) told reporters Tuesday when asked what he thought of Carlson's narrative. "When you see police officers assaulted, all of that... if you were just a tourist, you should've probably lined up at the visitors' center and came in on an orderly basis."
Also speaking Tuesday, McConnell (R-Ky.) said that Fox News "made a mistake" by airing Carlson's spurious revision of the deadly insurrection.
"With regard to the presentation on Fox News last night, I want to associate myself entirely with the opinion of the chief of the Capitol Police about what happened on January 6," McConnell declared.
As he spoke, McConnell held up a printout of remarks from U.S. Capitol Police Chief Tom Manger, who called Carlson's account "filled with offensive and misleading conclusions" and "conveniently cherry-picked from the calmer moments of our 41,000 hours of video."
Asked whether he thought U.S. House Speaker Kevin McCarthy (R-Calif.) erred in giving Carlson exclusive access to the footage—a move that prompted watchdogs on Tuesday to call for an Office of Congressional Ethics probe—McConnell said that "my concern is how it was depicted."
"Clearly," he added, "the chief of the Capitol Police correctly described what most of us witnessed on January 6."

Sen. Lindsey Graham (R-S.C.), the ranking Republican on the Senate Judiciary Committee, joined in the criticism of Carlson, saying, "We don't want to whitewash January the 6th."
"I think the January 6 committee had a partisan view of things, and I'd like to know more about what happened that day and the day before," Graham added. "But I'm not interested in whitewashing the Covid lab theory, and I'm not interested in whitewashing January 6."
Sen. Mitt Romney (R-Utah) accused Carlson of "feeding falsehoods" to his viewers.

"It's really sad to see Tucker Carlson go off the rails like that," the 2012 Republican presidential nominee told reporters. "The American people saw what happened on January 6. They've seen the people that got injured, they saw the damage to the building."
"You can't hide the truth by selectively picking a few minutes out of tapes and saying this is what went on," he added. "It's so absurd. It's nonsense. And people saw that it was violent and destructive and should never happen again. But trying to normalize that behavior is dangerous and disgusting."

Sen. Kevin Cramer (R-N.D.) condemned Carlson's framing of the attack as "some rowdy peaceful protest of Boy Scouts."
"I think that breaking through glass windows and doors to get into the United States Capitol... is a crime," Cramer argued. "I think... when you start opening the members' desks, when you stand up in their balcony—to somehow put that in the same category as, you know, permitted peaceful protest is just a lie."
Sen. Mike Rounds (R-S.D.) got straight to his point: "I thought it was an insurrection at that time. I still think it was an insurrection today."
Senate Majority Leader Chuck Schumer (D-N.Y.), meanwhile, called on Fox to keep Carlson off the air this evening.
"To say January 6 was not violent is a lie. A lie, pure and simple," Schumer said on the Senate floor.
"I don't think I have ever seen a prime-time cable news anchor manipulate his viewers the way Mr. Carlson did last night," he added. "I don't think I've ever seen an anchor treat the American people and American democracy with such disdain. And he is going to come back tonight with another segment. Fox News should tell him not to."
News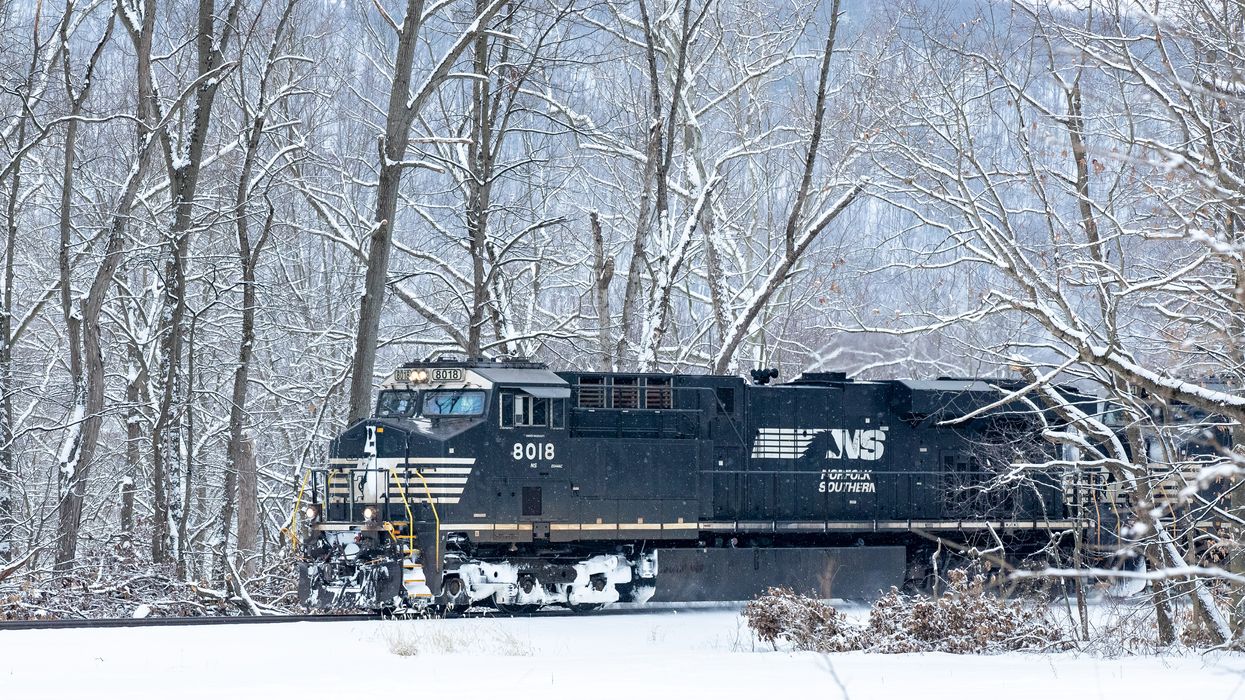 "All railroad accidents are avoidable," said BLET's national president. "This collision underscores the need for significant improvements in rail safety for both workers and the public."
A Norfolk Southern conductor was killed in Ohio early Tuesday, elevating scrutiny of the rail giant and calls for dramatic improvements to industry safety regulations in the wake of a devastating derailment in the state last month.
Louis Shuster, president of the Brotherhood of Locomotive Engineers and Trainmen (BLET) Division 607, was fatally injured when a dump truck collided with a train while he was on the outside of a railcar at the Cleveland-Cliffs Cleveland Works steel plant.
"Lou was a passionate and dedicated union brother," said Pat Redmond, local chairman of the BLET division. "He was always there for his coworkers. He was very active in helping veterans who worked on the railroad and veterans all across our community."
The 46-year-old Army veteran was a father to a 16-year-old son and a caregiver for his elderly parents, according to the union.
"Norfolk Southern has been in touch with the conductor's family and will do all it can to support them and his colleagues. We are grieving the loss of a colleague today. Our hearts go out to his loved ones during this extremely difficult time," the company said.
The rail company, which added that it is working with city police and Cleveland-Cliffs representatives to learn everything possible about the deadly collision, has faced national criticism since a train carrying hazardous materials derailed and caught fire in East Palestine, Ohio, near the Pennsylvania border, on February 3, creating an environmental and public health disaster.
Following another Norfolk Southern derailment in Ohio Saturday afternoon—over two dozen cars came off the tracks between Dayton and Columbus—the company on Monday announced "a six-point plan to immediately enhance the safety of its operations."
However, the company's plan falls short in terms of recent demands from the Biden administration, Congress, and other critics.
After Shuster was killed on Tuesday, the National Transportation Safety Board (NTSB)—which is already probing the East Palestine disaster—announced a "special investigation" of Norfolk Southern's "organization and safety culture."
"Given the number and significance of recent Norfolk Southern accidents, the NTSB also urges the company to take immediate action today to review and assess its safety practices, with the input of employees and others, and implement necessary changes to improve safety," the board said in a statement.
Earlier Tuesday, U.S. Transportation Secretary Pete Buttigieg had tweeted that the NTSB, Federal Railroad Administration, and Occupational Safety and Health Administration are investigating the collision in Cleveland.
"Our thoughts are with the family facing this preventable tragedy. Now more than ever, it is time for stronger freight railroad accountability and safety," added Buttigieg, who is also under fire for not going far enough to rein in rail safety risks.
BLET national president Eddie Hall pointed to the conductor's death as more proof of the need for stricter rail safety rules.
"This was a tragic situation and it's a devastating loss for the Shuster family as well as the members of this union," he said. "All railroad accidents are avoidable. This collision underscores the need for significant improvements in rail safety for both workers and the public."
As Common Dreamsreported last week, Hall welcomed parts of the bipartisan Railway Safety Act of 2023—introduced by Sen. Sherrod Brown (D-Ohio) after the East Palestine derailment—while also warning that "you can run a freight train through the loopholes."
News
"No one wants Ron DeSantis in the exam room with us," a Democratic state lawmaker said, referring to the far-right governor who said he looks forward to signing the legislation.
Reproductive rights supporters responded with disgust Tuesday after right-wing lawmakers in Florida's GOP-controlled Legislature unveiled legislation that would prohibit abortions after six weeks of pregnancy.
On the first day of the legislative session, state Rep. Jenna Persons-Mulicka (R-78) and state Sen. Erin Grall (R-54) filed H.B. 7 and S.B. 300, companion bills to outlaw abortion care after six weeks, before many people know they are pregnant.
In addition to toughening the 15-week ban approved by Florida Republicans last year, the legislation aims to bar the use of public money to subsidize travel to other states for abortion care as well as the use of telehealth for abortion care, including mailing abortion pills. Medication abortion became the most common method in the U.S. for terminating a pregnancy in 2020.
The measure also seeks to prohibit "any person other than a physician from inducing a termination of pregnancy," language that criminalizes self-managed abortions. Anyone who "willfully performs or actively participates in a termination of pregnancy" in violation of these restrictions can be charged with a third-degree felony and put behind bars for up to five years.
The draconian plan threatens to cut off access to lifesaving reproductive healthcare for Floridians and, as HuffPostnoted, "a large swath of the Southeast." Many people in the region have long relied on Florida's relatively looser abortion restrictions, especially since several southern states enacted six-week abortion bans after the U.S. Supreme Court's reactionary majority struck downRoe v. Wade last summer―a decision experts say has opened the door to violations of international human rights law.
Florida's proposed six-week ban already has the support of far-right Gov. Ron DeSantis, who said during his Tuesday State of the State address that "we are proud to be pro-family and we are proud to be pro-life."
DeSantis, a presumed 2024 GOP presidential candidate, told reporters after his speech that he would sign the bill into law as soon as it reaches his desk.
"We should open up access to healthcare for impacted communities; not control their decisions and force Floridians into giving birth."
Democratic state Rep. Anna Eskamani (47), a former Planned Parenthood patient and employee, said in a statement that "Florida Republicans have once again demonstrated a complete disregard for the women of our state and for our collective freedoms."
"As we've already seen in other states, a six-week ban is extreme, dangerous, and will force millions of people out of state to seek care and others will be forced into pregnancy," said Eskamani. "Most people do not even know they are pregnant until after six weeks, so this six-week ban might as well be a complete ban."
"Let me be clear: each of us should be free to live our lives with dignity and to make the decisions that are best for our lives, families, and communities," Eskamani continued. "No one wants Ron DeSantis in the exam room with us; personal medical decisions should be between me, my family, my doctor, and my faith—not politicians."
The lawmaker pointed out that "abortion bans impact all people, but especially those without means to travel to other states to seek care."
"These bans have the most profoundly negative effect on marginalized and vulnerable communities," Eskamani stressed. "We should open up access to healthcare for impacted communities; not control their decisions and force Floridians into giving birth."
As HuffPost reported, Florida's proposed six-week abortion ban "includes exceptions for rape and incest, but only up until 15 weeks of pregnancy―and in order to get one, the survivor 'must provide a copy of a restraining order, police report, medical record, or other court order or documentation' to prove she was a victim of rape or incest."
"The proposed legislation also includes an exception for the life of the pregnant person if two physicians certify in writing that the woman will die if she continues the pregnancy," the outlet noted. However, "exceptions to abortion bans are often useless and are only included to make extreme restrictions seem more reasonable."
As Common Dreamsreported earlier on Tuesday, abortion rights advocates say that a new, first-of-its-kind lawsuit challenging Texas' six-week ban demonstrates that "there is no such thing as an abortion exception."
"We will continue to fight like hell against this ban, and all new abortion bans."
State Senate Minority Leader Lauren Book (D-32) told HuffPost that "Florida Republicans have gone scorched earth with what is effectively an all-out abortion ban―with threats to criminalize women and their doctors."
"Today, women who suffer miscarriages are sent home to get sicker and risk death before they can receive medical care," she continued. "Today, child victims of incest are forced to flee the state as medical refugees to get care. And with this bill, it will only get worse."
Given the Florida GOP's supermajorities in the House and Senate, Democrats have little recourse to prevent the legislation from advancing, though Book saidthat "if it's a war they want, it's a war they will get."
"This issue bridges the partisan divide, and we will not go down as easily as they believe," she added. "On behalf of my daughter all women and girls in our state, that's a promise."
Eskamani echoed her colleague's message and called on people across the state to fight back against the GOP's life-threatening proposal.
"We are going to need every Floridian to wake up, show up, and demand that their lawmakers vote no on this bill," said the Orange County Democrat.
"Regardless of political affiliation, we know that Floridians time and time again have supported the right to privacy and have opposed extreme abortion bans," said Eskamani.
"We won't be truly free until everyone can make decisions about their own bodies, lives, reproductive care, and futures," she added, "which is why we will continue to fight like hell against this ban, and all new abortion bans."
News
SUPPORT OUR WORK.
We are independent, non-profit, advertising-free and 100%
reader supported.