Our work is licensed under Creative Commons (CC BY-NC-ND 3.0). Feel free to republish and share widely.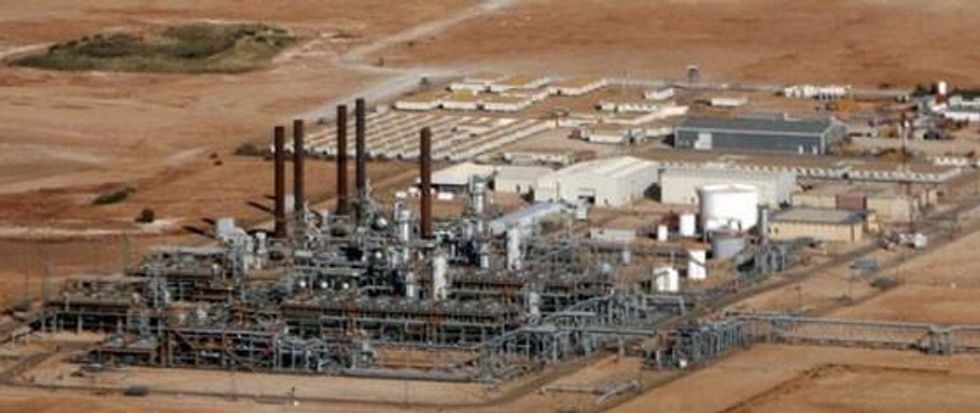 The hostage situation at the BP gas plant in the Algerian desert reached a bloody conclusion Saturday as the official Algerian news agency reported that the army had launched a final assault on the gas field taken over by an Islamic resistance group, killing 11 of them, but only after they had executed the remaining hostages.
BP said on Saturday 14 of its 18 staff at the In Amenas plant were safe, including Mark Cobb, the American manager of its Algerian joint venture, after the plant was taken over by al Qaeda-linked fighters three days ago.
BP Chief Executive Bob Dudley told reporters the fate of four of its staff at the desert gas plant was still unknown.
The Associated Press is reporting:
In a bloody finale, Algerian special forces stormed a natural gas complex in the Sahara desert on Saturday to end a standoff with Islamist extremists that left at least 19 hostages and 29 militants dead. Dozens of foreign workers remain unaccounted for, leading to fears the death toll could rise.
With few details emerging from the remote site in eastern Algeria, it was unclear whether anyone was rescued in the final operation.
The siege at Ain Amenas transfixed the world after radical Islamists linked to al-Qaida stormed the complex, which contained hundreds of plant workers from all over the world, and then held them hostage surrounded by the Algerian military and its attack helicopters for four tense days that were punctuated with gunbattles and dramatic tales of escape.
* * *
# # #
We've had enough. The 1% own and operate the corporate media. They are doing everything they can to defend the status quo, squash dissent and protect the wealthy and the powerful. The Common Dreams media model is different. We cover the news that matters to the 99%. Our mission? To inform. To inspire. To ignite change for the common good. How? Nonprofit. Independent. Reader-supported. Free to read. Free to republish. Free to share. With no advertising. No paywalls. No selling of your data. Thousands of small donations fund our newsroom and allow us to continue publishing. Can you chip in? We can't do it without you. Thank you.