Our work is licensed under Creative Commons (CC BY-NC-ND 3.0). Feel free to republish and share widely.
Abby Zimet
Abby Zimet has written CD's Further column since 2008. A longtime, award-winning journalist, she moved to the Maine woods in the early 70s, where she spent a dozen years building a house, hauling water and writing before moving to Portland. Having come of political age during the Vietnam War, she has long been involved in women's, labor, anti-war, social justice and refugee rights issues. Email: azimet18@gmail.com
Plunging into totalitarianism, Tennessee's GOP has boldly decreed the best way to end the slaughter of kids by guns is to expel two young black lawmakers urging we end the slaughter of kids by guns. In "a farce" of stunning contrasts, poised, eloquent Reps. Jones and Pearson blasted a venomous GOP who ousted them for doing their job - giving voice to their constituents. Jones: "We called for a ban on assault weapons, you called for an assault on democracy." Now can we say they're fascists?
The bad-faith debacle in Tennessee, wherein a super-majority of right-wing, racist hypocrites in the birthplace of the KKK expelled two popularly-elected, extraordinarily gifted black Democrats for "minor-verging-on-made-up infractions" - while letting off the white lady who joined them - represented a ruthless erosion of rights that Rep. Justin Jones called "a lynch mob (of) the democratic process (that) will not stand." Jones and Justin Pearson, both 27 and both fiery orators, were evicted from the House for behavior last week that "brought disorder and dishonor to the House of Representatives" by chanting in support of a protest to save kids from our obscene gun violence. But, Jones piercingly noted, "How can you bring dishonor to an already dishonorable House?" "You have stolen the People's House," he charged in the session debating his audacity, ever-elegant in a white suit. "I walked up to the well because you are pushing my people back, and there comes a time when people get sick and tired of being sick and tired...What we did was act for our constituents who have been silenced (and) for a generation of young people who are letting you know - your time is up." With the unprecedented expulsion for a hollow breach of "decorum," he told the GOP, "You are showing the world that in Tennessee, democracy is no more."
The expulsion of Jones and Pearson - Gloria Johnson, 61 and white, kept her seat by one vote - was the latest in a long history of grotesqueries committed by a corrupt, racist GOP whose members once freaked out when they mistook a new mop sink at the Capitol for a Muslim foot-washing basin after passing a bill to make some Muslim practices a felony - that's who they are. Thanks to their debased proclivities, they've only expelled colleagues three times in 200 years: In 1866, six bigots for refuting the 14th Amendment making former slaves citizens; in 1980, a guy who took a bribe to kill a bill; in 2016, finally, a guy accused of sexual misconduct by 22 women. In 2019, theydeclined to expel a perp who'd molested teenage girls, declaring that power should be used "rarely if ever," in "extreme circumstances," and besides he said he'd been "forgiven by God." In blatant contrast, the actions of Jones, Pearson, Johnson were neither illegal nor unethical, which is why lawmakers from 35 states condemned the GOP move as "anti-democratic...There is nothing 'disorderly' about courageously standing in solidarity with the people we are elected to serve." A local Circle of Elders also praised their "action in the spirit of Rep. John Lewis to protest 'business as usual' (amidst) outcries of pain," citing Lewis' ideal of "a beloved community" - apt, given that Jones often sports a "Good Trouble" button.
When they went to the well last week, the three Dems - representing over 200,000 voters in Memphis, Knoxville and Nashville, which due to gerrymandering doesn't even have its own representative - were joining in solidarity with thousands of people who've gathered to demand basic gun control after the Covenant shooting, and then to protest the threats against the newly named Tennessee Three. On Thursday, crowds of kids from around the state thronged the Capitol, furious chants echoing: OUR BLOOD YOUR HANDS, THE PEOPLE UNITED WILL NEVER BE DEFEATED, YOU BAN BOOKS, YOU BAN DRAG - KIDS ARE STILL IN BODY BAGS. Emotions ran high: They exultantly cheered the three as they entered, fists in the air; after speaker Cameron Sexton shut down the half-full gallery, they yelled, "Let Us Up!"; in the chamber, an angry GOP staffer ripped down a banner proclaiming, "Rural TN Against Fascist GOP." The almost 10-hour proceedings were infuriating, inspiring, surreal, positing impassioned, persuasive rhetoric from Dems against a GOP barrage of staggering stupidity and pettiness about House rules, what is "yelling," when recess was called, who wore what button, how a bullhorn got into the chamber, what "No action, no peace" means and other vital elements of Warren Zevon's famed "disorder in the House." Throughout, protesters' muted chants resounded from the Rotunda.
As GOPers pushed to suspend the rules to show an inflammatory video of the "insurrection" - aka three people speaking up against the murder of children - Dems persistently took the high road and long view, focusing on the deadly issue at the heart of it all: "We are here because six people died, and hundreds of Tennesseans before them...Voices have been silenced, time and time again... (The three Dems) raise issues you don't want to hear about...Decide to be on the right side of history... Martin Luther's 'God's grace received must be bestowed.'" And on the looming expulsions, "If you want to set this precedent, think long and hard - that dog bites twice." Repubs sputtered in rage and racism. A repugnant Rep. Andrew Farmer, who sponsored the expulsion move, came this close to saying "boy" as he sneered that the stately Pearson "just wanted attention" with his "temper tantrum"; Pearson, in response, was the essence of dignity. After Jones charged the GOP was beholden to the gun lobby, Rep. Gino Bulso attacked him for his "disrespect," "lack of remorse," and "mutiny" as the gallery chanted, "Fascist!" Jones retorted, "What he's essentially saying is that Justin Jones is an uppity Negro...How dare he act like he's your equal? How dare he come before this body and not bow down?" "I'm not here to make friends," he declared. "I'm here to make change. Children get ready."
After the GOP abruptly moved to end debate and vote on expulsion, frustrated Democrats erupted about the lack of due process, the other lawmakers scheduled to speak, the affront to decency "when children are dying of gun violence." Speaker Sexton curtly ruled each out of order. In a fierce summary, encircled by (often black) Dem colleagues, Jones reiterated he was "acting for the kids out there saying, 'Do something, do something'...This is not about me, it's about all those young people. I pray that we uphold our oath on this floor, because the world is watching." The final vote: 72 to 25 for expulsion. A mournful, enraged "NO!" spilled from the crowd in the gallery. Gloria Johnson spoke more briefly; her vote was 65 to 30, one shy of the 66 needed to expel. Asked to explain her different fate, she wryly noted, "It might have to do with the color of my skin." Pearson, last, was explosive on the moral mandate to be "disruptive to a status quo that silences the minority...Just because you have power doesn't give you the right to abuse it." His vote was 69 to 26; again, the crowd shouted "NO!" Observers were furious and heartbroken: "Shame...Democracy officially died in Tennessee today...This is what fascism looks like...Jesus wept." As Jones and Pearson exited the chamber, GOP vermin lounged, fidgeted, turned their backs on them.
The grand, win-the-battle-lose-the-war irony, of course, is that the GOP's malfeasance has galvanized a growing national gun-control movement; evidence suggests "justice and Karma are just getting warmed up," and new icons Jones and Pearson have now replaced an old white guy in Florida as the country's most famous former office holders. "They are better, more talented, and braver than Republicans ever dream of being," said one supporter. "And they, along with every Gen Z-er, are about to be Republicans' worst nightmare." "He will go farther and do more good than any of the people remaining in that chamber," wrote environmentalist Bill McKibben of fellow organizer Pearson. "You ding-dongs have just launched a rocket." The state's GOP is already fundraising off their descent into fascism, smugly bragging about "having the conviction to protect the rules, the laws, and the prestige (sic) of the State of Tennessee." But they are clearly dumber, meaner and less popular than their worthy opponents. "They're going to do what they do," Pearson calmly said before the foreordained-by-the-numbers vote. "They want you to stop clapping, they want you to stop marching, they want you to stop protesting, they want you to stop saying that kids' lives matter. But we have to keep fighting. If we never quit, we never lose."
They are both
fighting
. Jones is
exploring
his legal options, and has re-started
fundraising.
Pearson is
comforting
victims of gun violence, and loudly
speaking out.
Experts say both could be
returned
to the House within days if City Council members choose to seat them, and they cannot be expelled again for the same offense. Wherever they land is good and hopeful news. If you want to know why, see and hear them
here,
or
here,
or
here,
or
here
, or all of it from
WaPo
here
. Arguing that to "truly fight" can
mean
"breaking some of the decorum rules (to) go to the well of democracy," Pearson is a powerhouse who sometimes eerily echoes both MLK Jr. and Malcolm X. In his fire-and-brimstone
conclusion,
he summoned a country founded on protest: "You who celebrate July 4, 1776, who pop fireworks and eat hot dogs - you say to protest is wrong because we spoke out of turn, spoke up for people who are marginalized, spoke up for kids who won't ever speak again...This, in a country built on people who speak out of turn." Nonetheless, he said, "Resurrection is a promise, and it is a prophesy. It is a prophesy that came out of the cotton fields, it came out of the lynching tree, (it) still lives in each and every one of us...We are still here, and we will never quit." At that, he raised his fist. The gallery exploded. The speaker pounded his gavel. "Out of order," he roared. "Out of order."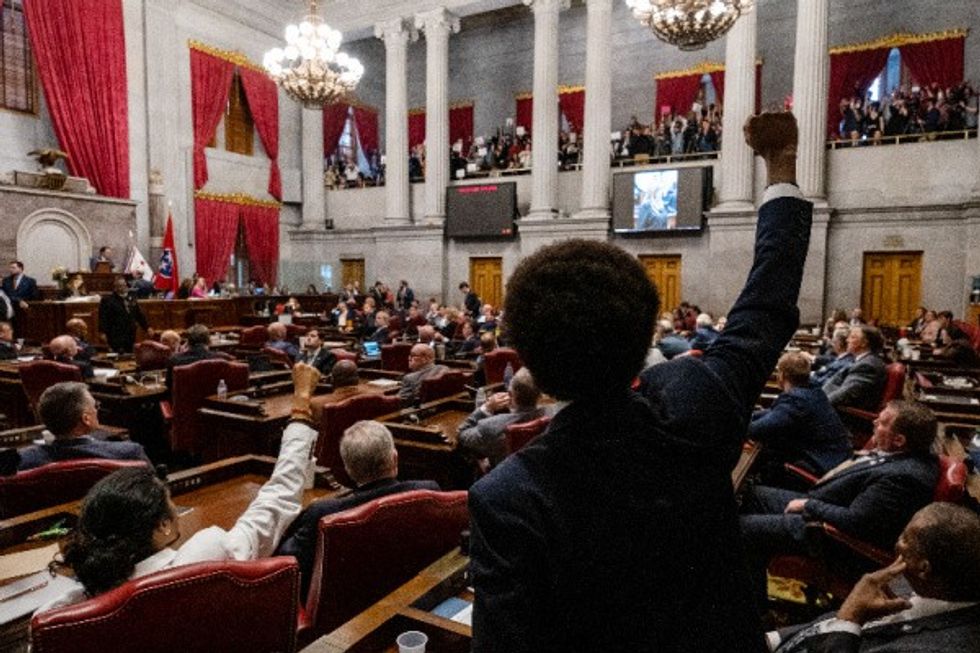 Rep. Justin Pearson - with Rep. Justin Jones seated - are not going away.Photo by Seth Herald/Getty Images
\u201c\u201cWe called for you all to ban assault weapons, and you respond with an assault on democracy.\u201d\n\n\u2014 Tennessee State Rep. @brotherjones_ (D) defends himself ahead of an expulsion vote against him and two other members for protesting gun violence on the House floor\u201d

— The Recount (@The Recount) 1680808444
\u201c\ud83d\udde3\ufe0f @Justinjpearson: \u201cWe are still here, and we will never quit!\u201d \n\nPearson takes the House to church right before Republicans vote to expel him along with @brotherjones_ \u2014 2 young Black Democratic reps who stood up for the people.\u201d

— The Tennessee Holler (@The Tennessee Holler) 1680826278
We've had enough. The 1% own and operate the corporate media. They are doing everything they can to defend the status quo, squash dissent and protect the wealthy and the powerful. The Common Dreams media model is different. We cover the news that matters to the 99%. Our mission? To inform. To inspire. To ignite change for the common good. How? Nonprofit. Independent. Reader-supported. Free to read. Free to republish. Free to share. With no advertising. No paywalls. No selling of your data. Thousands of small donations fund our newsroom and allow us to continue publishing. Can you chip in? We can't do it without you. Thank you.