Our work is licensed under Creative Commons (CC BY-NC-ND 3.0). Feel free to republish and share widely.
Abby Zimet
Abby Zimet has written CD's Further column since 2008. A longtime, award-winning journalist, she moved to the Maine woods in the early 70s, where she spent a dozen years building a house, hauling water and writing before moving to Portland. Having come of political age during the Vietnam War, she has long been involved in women's, labor, anti-war, social justice and refugee rights issues. Email: azimet18@gmail.com
Amidst an ugly rise in anti-LGBTQ hate - note to right-wing bigots who missed the memo: words matter - hundreds of New Yorkers have turned out to honor O'Shae Sibley, a black queer dancer stabbed to death by a white teenager as he and his friends were joyfully dancing to Beyoncé at a Brooklyn gas station. Asserting "the power of community" and their right to exist - and dance - allies insist, "No one should have to live in fear of violent attacks (for) being themselves."
Sibley, 28, was a Philadelphia native who moved to New York City in 2019 for his dance career - Mayor Eric Adams: "He was coming to the city to express himself the way New Yorkers are allowed to do" - and was returning from the beach on the steamy night of July 30 when he and his friends stopped for gas at a Mobil station in Midwood, Brooklyn. As one friend fueled up, the others began dancing, or voguing - a stylized, improvisational dance of model-like poses originating in 1980s Harlem and now popular in the LGBTQ+ ballroom scene. As they danced, shirtless in the heat, to Beyoncé's latest album Renaissance, several white teenagers emerged from the station, demanded the group of black gay dancers stop, and began hurling slurs at them like, "Get that gay shit out of here." "You don't know us - we're just having a good time and enjoying our lives," Sibley reportedly told the men. "It's all respect, we're allowed to be here just like you." Surveillance video shows the two groups in a heated encounter; at some point, most of the young men left but one remained face-to-face with Sibley alongside a friend, taunting them; they began scuffling, and the teen eventually stabbed Sibley in the chest, puncturing his heart.
Sibley stumbled back, falling into the arms of Otis Peña, a close friend whose birthday the group was celebrating that day. In a tearful Facebook video hours after the attack, Peña recalled holding Sibley, his blood soaking Peña's hands and clothes as he lost "the one thing I had closest to my heart." Sibley had "the power to touch everyone's heart," he said; his friend died "just because he's trying to let people know that we're gay, we exist....We're not going to live in fear. We're not going to live in hiding." Sibley's funeral last week in Philadelphia, where he grew up and performed with the dance company Philadanco, drew over 200 relatives and friends, among them Peña, who reiterated his sense of Sibley as "a beacon." "Just when I thought the world couldn't get any darker, it went black," he said in tears. "I know O'Shae would've done everything in his power to stand up for what he believed in...He encouraged us to stand out and be us. He danced with us, he made us sing, even though he sounded like a cat" - bittersweet laughs from the crowd - "but there was a beauty in it all. It was the power of brotherhood, the power of family, the power of community." "Remember, in dark times there is always light," Peña ended. "And for everyone in this room, that light is O'Shae."
Sibley's murder sent shockwaves through New York's LGBTQ community and beyond at a time when violence and threats against LGBTQ+ people have soared nationwide, with nasty rhetoric increasingly spiraling into "real world harm." While hate crimes generally, and those targeting LGBTQ people specifically, are hard to document and famously under-reported, experts cite at least 356 anti-LGBTQ "incidents" in the last year and up to 11,000 hate crimes in 2021, the most recent data available, up 12% from the year before. Calling Sibley's death "a sobering snapshot" of the hate targeting the LGBTQ community, advocates hope it can "serve as a wake-up call." "We have to call out hate for hate," said the ADL's Jonathan Greenblatt. "Homophobia is homophobia, and a violent act predicated on prejudice is not a point of view. It is an act of hate." Still, even a brief, queasy look at comments about Sibley's death also serve as a wake-up call to the malevolence unleashed by today's right-wing bigotry. As in: "Stop exaggerating the special treatment for these people....Celebrate Me, Celebrate Me, Celebrate Me! It's just getting old...If they minded their own business and left kids alone they would be all right. People are getting tired of them shoving their lifestyle in their faces...You DON'T need to prance around while getting gas. Get your gas, and move on." (And otherwise, clearly, die.)
On Aug. 10, a week after Sibley's death, his assailant Dmitry Popov turned himself in. A 17-year-old high school senior who lives nearby with his Russian mother, he has been charged with two counts of second-degree murder as a hate crime, second-degree murder, two counts of first-degree manslaughter as a hate crime, first-degree manslaughter, fourth-degree criminal possession of a weapon, second-degree menacing and second-degree aggravated harassment. A spokesperson for the D.A's office explained the double hate-crime counts stem from legal theories based on "intentional" violence and "depraved indifference." Popov will be tried as an adult; he faces a minimum of 20 years in prison, and has pleaded not guilty. His grandmother says he was defending himself from Sibley and his friends: "There were four of them...Strong big men and intoxicated...If he did not do it, (they) would have killed him." She also refuted initial reports the family is Muslim; she said they're Christian, her grandson isn't racist, and "he does not understand gay or not gay." "We are going to stand up for Mr. Sibley: for the right he has to dance, to be exuberant, (to not) stop dancing because it offended someone else," said D.A. Eric Gonzalez of the charges, citing today's "intolerance (of) people who are different than ourselves." "That's a right all New Yorkers share..to not (be) afraid to live your true self."
New Yorkers have, nonetheless, been shaken by the "cold-blooded murder" of "a gentle spirit (who) loved dancing" on the streets of "the best city in the world to be yourself." Still, notes a local, "Being visibly queer in this world, even in a 'liberal' city like New York, is like walking outside with a target on your head." For those like Sibley who've found a safe space in the ballroom scene, voguing is seen as "the dance of our people" and "an act of resistance." Said one dancer. "We come to ballroom to be peaceful, and that's exactly who O'Shae was." His death reverberated through a close-knit Black queer community where "we have each other's backs (because) it's so much against us already" and "it could have been so many of us....We all listen to Beyoncé. We all dance...It could have been anybody...To be Black and gay, we share one skin." Since the murder, people have held vigils, marches, memorials, dance pits, at the gas station and Chelsea's LGBTQ+ Center, wearing orange (O'Shae's fave) and bearing signs: "Stop Hate," "Dancing Isn't A Crime - Murder Is," "We're Here, We're Queer, Get Used To It." They've wept, laughed, danced, grieved, declared, "This is our city too" and vowed to "continue to live out loud" in an America where "being Black and queer...always feels like you're being left behind." "O'Shae Sibley should be alive," yelled activist Qween Jean at the gas station. "We are done dying in silence."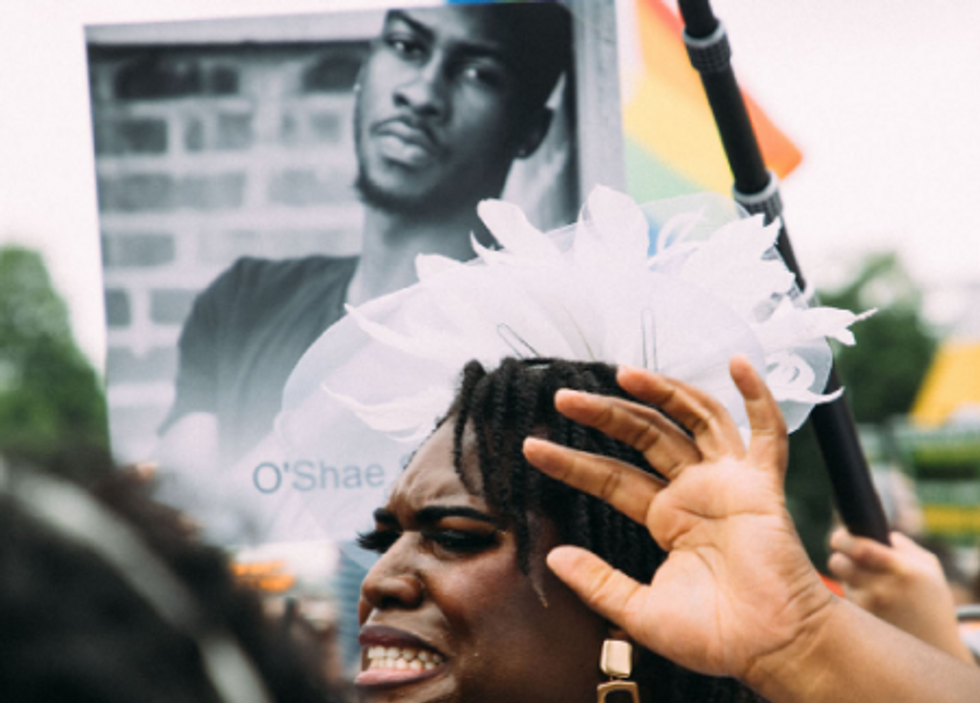 Activist Qween Jean spoke at a memorial for dancer O'Shae SibleyPhoto by Hyperallergic
We've had enough. The 1% own and operate the corporate media. They are doing everything they can to defend the status quo, squash dissent and protect the wealthy and the powerful. The Common Dreams media model is different. We cover the news that matters to the 99%. Our mission? To inform. To inspire. To ignite change for the common good. How? Nonprofit. Independent. Reader-supported. Free to read. Free to republish. Free to share. With no advertising. No paywalls. No selling of your data. Thousands of small donations fund our newsroom and allow us to continue publishing. Can you chip in? We can't do it without you. Thank you.