Our work is licensed under Creative Commons (CC BY-NC-ND 3.0). Feel free to republish and share widely.
Abby Zimet
Abby Zimet has written CD's Further column since 2008. A longtime, award-winning journalist, she moved to the Maine woods in the early 70s, where she spent a dozen years building a house, hauling water and writing before moving to Portland. Having come of political age during the Vietnam War, she has long been involved in women's, labor, anti-war, social justice and refugee rights issues. Email: azimet18@gmail.com
It makes perfect sense, in a when-pigs-fly sort of way, that Concerned Women for America, a group that "promotes Biblical values and Constitutional principles" and declaims it's "always abounding in the work of the Lord," chose as keynote speaker for their summit a twice-impeached, thrice-married, multi-indicted, pussy-grabbing predator who's been charged with sexual harassment and assault by over two dozen women, and found guilty of raping one. If we were them, we'd be concerned too.
Thus will said dirtbag make a rare visit to D.C. this weekend, not to appear in court as a criminal defendant justifiably facing multiple crimes and misdemeanors but to blather to Concerned Women, which calls itself the "largest public policy women's organization in the U.S.," though the Southern Poverty Law Center calls it a "hate group". Friday night, Trump will speak to them and the Family Research Council, another hornet's nest of bigotry that preaches "Faith, Family and Freedom" except to practice homosexuality or end an unwanted or unviable pregnancy. Starting out in 1979 concerned about feminism, today's CWA are concerned about rainbow flags on military bases, "all forms of pornography," protecting "an unborn life," school "indoctrination", a "vicious trans activism," the Disney movie Frozen, and, still, feminism. It defines its agenda as "supporting the Biblical design of marriage," "protecting the sanctity of human life," "defending religious liberty" and "impacting the culture for Christ" through prayer, education, and - the scary part - advocacy on "all levels of public policy."
Their website clamorously declares those fervid priorities. Its prayer for public officials beseeches, "Heavenly Father...Have mercy on us." A newly hired "legislative strategist" rails against "the attempt to erase the very category of 'woman' from society, from the track field (to) even my niche, Irish dance" and affirms their Christian "duty to shine the light of truth (on) the mission that God has called us to." A "salt-and-light follower of Christ" is praised for "exposing the filth being taught to our children in public schools" when he reads from a "lewd book" and is ejected from a Florida school board meeting; after some parents join him, the board votes to remove several dozen books as required under an insidious DeSantis law. CWA President Penny Nance, a longtime anti-choice, anti-woman crusader who opposes the Violence Against Women Act, lauds moron and Sen. Tommy Tuberville's inane blockade of military nominees, aka "courageous attempt to protect both life and American taxpayers," with, "Courage begets courage." (Also, in this case, ignorant idiocy.)
A former Cruz-supporter and critic of the Orange Menace - "I am thrilled to have been wrong about this" - she went on to embrace the access afforded fascists at Trump's White House and her "blessed...role speaking as a modern day Esther." She once expected to be tapped as Trump's Ambassador-at-Large for Global Women's Issues, tasked with overseeing State Department programs to end gender-based violence and empower women around the world, though critics politely noted her hateful stances "seem counter-productive to the role." That gig seems not to have materialized, but in July Trump signed CWA's presidential pledge to "recognize the unique dignity of women and motherhood" - so did Pence, Haley, Vivek - and now he and Nance are all good. Before Friday's confab, Nance said she was "excited to hear from President Trump (sic) and honored he has prioritized this gathering to lay out his vision (sic) for our country." The summit, sponsored by the zealous likes of Liberty University and Patriot Mobile, will also hear from multiple right-wing cranks like Cruz, Blackburn, Hawley, Tuberville and DeSantis, who's desperately, abruptly gone all Faith and Family-y for the occasion.
While all loathsome characters, the choice of the pussy-grabbing, especially loathsome Trump as keynote speaker prompted some singular ire. "Of course, a misogynistic indicted criminal would speak to a conference of women determined to block access to reproductive healthcare and move backward instead of looking toward the future," said NOW president Christian Nunes. "We seek truth and accountability from our elected officials," and Trump - having made 30,573 false claims during his reign in the White House, and perhaps double that since - "doesn't know the meaning of those words." Today, of course, he faces 91 criminal charges under four indictments, two for lies about the election at state and federal levels, plus charges for stealing/lying about classified information and paying off Stormy Daniels and a Playboy model. But sure, Alex, we'll take promoting Biblical principles for $500. He's also been found liable for sexual abuse of writer E. Jean Carroll in a civil suit whose judge deemed him an adjudicated rapist. Heavenly Father (or Mother), have mercy on us.
Finally, the guy recorded boasting he'd just "grab 'em by the pussy. You can do anything" now speaking to a roomful of women about "protecting the sanctity of human life" has been accused of sexual harassment and assault of at least 26 women spanning 4 decades; over a dozen of those accusations are for assault, more than half involve models or beauty pageant contestants, and many come with repulsive, bone-chilling stories - a hand up a skirt, a tongue forced down a throat, "very gropey hands all over my butt, my breasts, my back, everything...like suction cups on an octopus." Sorry, and ewww. Still, here he is, out in the land of the free, lying and babbling, receiving accolades at football games, his manhood celebrated for posterity, wrestling for power with another cretin who actually lays claim to the (exceedingly relative) moral high ground compared to Trump's manifest "drivel," and poised with his icky suction-cup hands to spew his ever-eloquent oratory on the lofty subject of the dignity of women, with presumably nary a resultant shoe thrown at him. Pigs can, it seems, fly. What a time to be alive.
Update: In his "speech," he charged radical Democrats are "killing babies after birth" and railed you have to show I.D. to buy a loaf of bread at the grocery. Yeah, let's give power to this guy.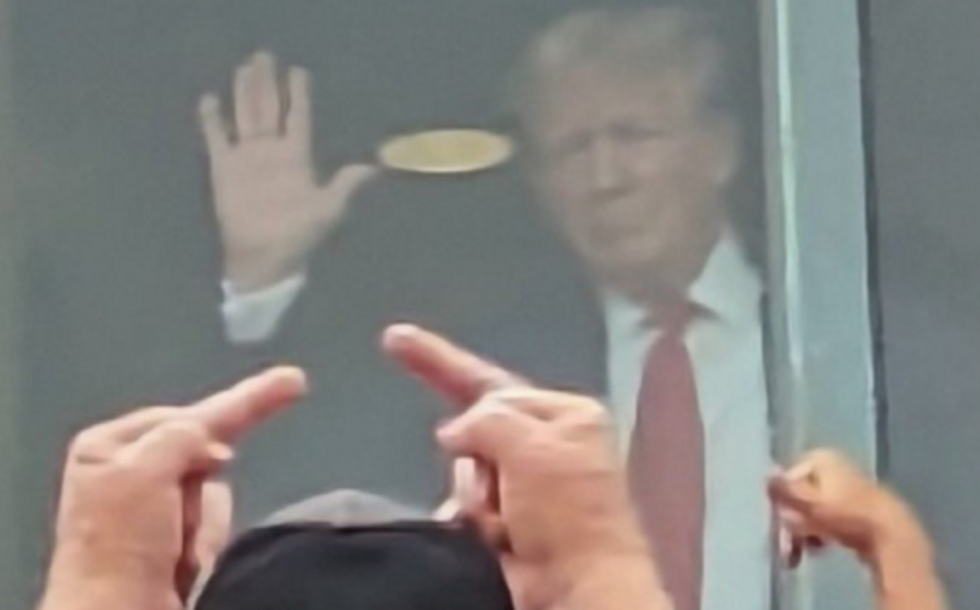 Spectators alternately cheered, booed and flipped off Trump at the annual Iowa-Iowa State football game Photo from X, formerly Twitter
We've had enough. The 1% own and operate the corporate media. They are doing everything they can to defend the status quo, squash dissent and protect the wealthy and the powerful. The Common Dreams media model is different. We cover the news that matters to the 99%. Our mission? To inform. To inspire. To ignite change for the common good. How? Nonprofit. Independent. Reader-supported. Free to read. Free to republish. Free to share. With no advertising. No paywalls. No selling of your data. Thousands of small donations fund our newsroom and allow us to continue publishing. Can you chip in? We can't do it without you. Thank you.