Our work is licensed under Creative Commons (CC BY-NC-ND 3.0). Feel free to republish and share widely.
Abby Zimet
Abby Zimet has written CD's Further column since 2008. A longtime, award-winning journalist, she moved to the Maine woods in the early 70s, where she spent a dozen years building a house, hauling water and writing before moving to Portland. Having come of political age during the Vietnam War, she has long been involved in women's, labor, anti-war, social justice and refugee rights issues. Email: azimet18@gmail.com
Another week in a teetering America: Fascists on the rise; threats and shutdowns loom; crooks, clowns, nihilists imperil democratic governance. But all politics is local, so we take heart from an unincorporated California mountain town where determinedly non-partisan Mayor Max lll conveys unconditional love, does as many good deeds as possible, vows "We don't do anything divisive, ever," and pledges on his food bowl to "faithfully execute my duties." He's a dog, but still. GOP, take note.
Deemed an "alpine paradise" and "a nature-lovers' oasis," the small, "census-designated" Idyllwild-Pine Cove, population 3,000-ish, is nestled high in the San Jacinto mountains amidst old-growth pine, fragrant cedar and the 14,000-acre Mount San Jacinto State Park, with miles of hiking trails. A quirky, artsy, walkable town that's "kept its 'small town' atmosphere," it offers locally-owned shops, restaurants, cafes, breweries, gem shops, vintage record stores etc close by rock-climbing and bird-watching. With the Maxes, it also offers key lessons in grace, good, wit, acceptance, loss and moving on.
Idyllwild remained blissfully free of human politicians until 2012, when its local Animal Rescue Friends (ARF) decided to sponsor the town's first-ever, four-legged mayoral election in 2012 as a fundraising project. Pet-owners nominated 14 dogs and two cats, and residents were "encouraged to buy the election" with a $1 donation per vote; they happily raised $31,000 - all went to benefit ARF - with two-thirds coming from supporters for Mayor Max l, a sweet, calm Golden Retriever who carried what his hard-campaigning chief of staff and owner Phyllis Mueller calls "a special divinity."
In 1979, Mueller and her husband Glenn Warren, both "passionate humanitarians," founded a successful marketing agency in hopes of making a fortune they could donate to those in need. In 1984, when they got their first Golden - and after an incident involving his testicles we won't go into - she felt she'd found "the perfect vessel (to) achieve world peace." Several dogs later, they moved to Idyllwild just as ARF announced its mayoral election, news that "shot me right in the heart." Max' win was pre-ordained: "He looked his townspeople deep in the eyes...He'd funnel his love into you."
Thus began the reign of the first of three wildly popular, deeply democratic, politically independent Mayor Maxes, with a fleet of mayor-mobiles," a Facebook page, a store and many videos.Their platform has been consistent: daily downtown visitation hours; trips to schools, hospitals, hospices, nursing homes to "help those in need know they are loved (and) perfect in my eyes;" fruitful fundraising events: "More people go because they want to see the mayors"; meeting and listening to the needs of citizens (with Mueller's help); sniffing out and cleaning up litter, including the dog kind.

Seeking to render the Maxes role models "for all canines, felines and humines," Mueller maintained hat and tie closets for them all with up to 3,000 ties; they often ate them at first. Max l was so popular residents successfully petitioned ARF to extend his one-year term until 2014, but sadly he served just nine months before dying of cancer in office. His successor Max ll, or Maximus Mighty-Dog Mueller II, was sworn in shortly after and went on to serve as "beloved dog of the people for nine years. He and deputy mayors Mikey and Mitzi, all related to Max 1, were often called "the Mayor and the spares."
Max ll served through COVID, with Mueller arranging masked visits outside their home; at times, cars lined up the length of her driveway waiting their turn. She's also documented sundry Max adventures: Learning to shake, "doing zoomies around the house," a coveted "macaroni and cheese run," the bachelor party where, "I did get pretty frisky (and) chew on a few people, but I (was) gentle," the grand plan to make a custom fragrance line of "the extraordinary smell of wet dog," Mitzi and Mikey happily reporting, "We all have burger breath from dinner at the Dairy Queen, also ice cream. We are living the dream!"
Max ll died unexpectedly in July 2022 after emergency surgery as Mueller held him in her arms; deeply spiritual, she whispered in his ear asking him to come see them at home, and says he did. Overcome with grief, she considered retiring the mayoralty, but began to sense its impact after getting thousands of letters from mourning fans: "No finer politician have I ever had the pleasure to know...May he bark in peace...The one public official we could trust has died." "He had a wonderful life - he loved going to work," she says. "I know his love for people and the love they felt for him endures."
Last fall in Utah, after a nationwide search, the couple knew they'd found "their next humble leader" when he began chewing on Warren's pants; they brought Mayor Max lll, "a hedonist with a penchant for hamburgers," home with his sister Meadow, now Vice Mayor. More exploits followed: A trial run to see if they could be reunited "without me trying to make babies with my sister - I gave them their answer in less than seven seconds," a gift card for "our long awaited scrambled eggs and blueberry pancakes with blueberry compote" from an IHOP that was out of it: "We survived this incident because we are Golden Retrievers and we will eat anything."

A couple of weeks ago, about 1,000 people celebrated Max' and Meadow's first birthday with free food, music and (dog) ties, large and small. Guests of honor included Storm, "mother of the mayors," their brother Hawkins from Maine, and their cousins Mitzi and Mikey, who offered "to chew and shred something you have. We are happy to go to work on it right away!" Each mayor, says Mueller, carries the joyful spirit of his predecessor; each "loves unconditionally." "With the mayors, I want to remind people that there is good in the world," she says. "These dogs here, they are living angels."
Living angels are, of course, pretty hard to find elsewhere in today's increasingly totalitarian, potentially violent American politics. The multi-indicted etc former guy, eager for power just to pardon himself and wreak vengeance on his enemies, just went "full fascist" charging US media, notably Comcast, "should be investigated for Country-Threatening Treason" (pot/kettle); meanwhile, his party of sycophants rails against voting, democracy, governance itself, which they can't seem to do. See the "cannibal circus" of a squabbling House "indistinguishable from a motorcycle gang after the 15th beer run of the day."
Amidst the chaos wrought by "a wrecking-ball caucus," a hapless, flailing "Speaker-in-name-only" Kevin McCarthy - one pundit: "Can he tie his shoes?" - desperately weaves, dodges, deflects, projects. Lately, he's been trying to steer away from a staggeringly pointless, needless shutdown to ramp up an embellished "border crisis the President continues to ignore." "They continue to fail," he charged. "We're watching the Biden Administration destroy our nation." Meanwhile, in his FAQ's, Mayor Max lll says he hasn't ruled out a bid for President. But he's still young, and jumping on tables.. Maybe start with House Speaker?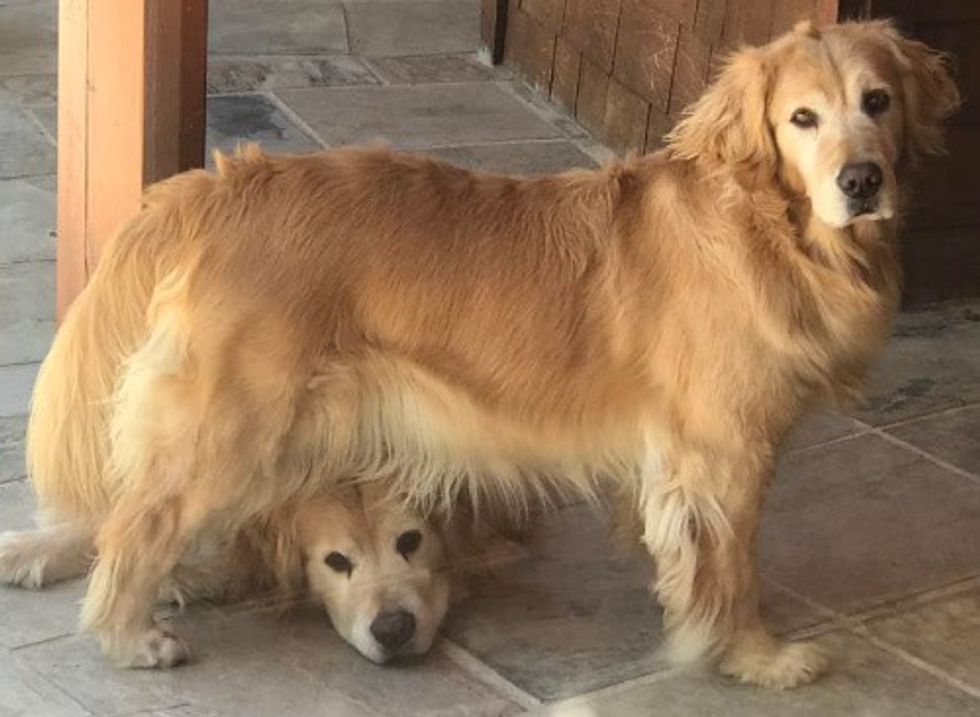 Dogs gonna dog: Deputy Mayors Mitzi and Mikey play hide and seek.Facebook photo
We've had enough. The 1% own and operate the corporate media. They are doing everything they can to defend the status quo, squash dissent and protect the wealthy and the powerful. The Common Dreams media model is different. We cover the news that matters to the 99%. Our mission? To inform. To inspire. To ignite change for the common good. How? Nonprofit. Independent. Reader-supported. Free to read. Free to republish. Free to share. With no advertising. No paywalls. No selling of your data. Thousands of small donations fund our newsroom and allow us to continue publishing. Can you chip in? We can't do it without you. Thank you.