Our work is licensed under Creative Commons (CC BY-NC-ND 3.0). Feel free to republish and share widely.
Abby Zimet
Abby Zimet has written CD's Further column since 2008. A longtime, award-winning journalist, she moved to the Maine woods in the early 70s, where she spent a dozen years building a house, hauling water and writing before moving to Portland. Having come of political age during the Vietnam War, she has long been involved in women's, labor, anti-war, social justice and refugee rights issues. Email: azimet18@gmail.com
Amidst a national wave of frenzied assaults by right-wingers suddenly obsessed with the existential threat posed by trans people and their genitals, the saga of Montana Rep. Zooey Zephyr played out with a bitter, petty coda that would've been ludicrous if it wasn't so ugly. Barred from the House for truth-telling, Zephyr took to working on a bench outside the chamber - until some spiteful, smirking wives of GOP pols commandeered it to spend their days dutifully harassing someone who freaks them out.
For many, the current hysteria among blindly bigoted, supposedly God-fearing troglodytes eerily echoes the white fear and hate that spewed forth during the Civil Rights Movement, when oppressed Black people dared to seek polite entry to the nation's schools and lunch counters. Today, the anti-trans/queer/other delirium has reached such fever pitch that a Texas school district just cancelled a planned field trip to see a theater production of James and the Giant Peach - wherein a young orphan boy escapes cruel relatives in a giant magic peach, embarks on a whirlwind, surreal journey with similarly giant magic insects, and learns about friendship and tolerance - because some of the actors dress as the other gender to play their insect and human parts. "We are keeping our son home (about) the drag queen role," parents squawked. Also, "Do you see how they are coming after our kids? They sneak it in!" and, "That's drag to me. It's all grooming no matter how you dissect it." Sigh.
Unimaginably, this is the bonkers, toxic environment in which first-term, duly elected, transgender Rep. Zooey Zephyr, representing 11,000 constituents in relatively liberal Missoula, has bravely fought to claim her place. From the moment the ugly GOP-controlled legislative session began, said one queer, Indigenous ally, "There are truly new lows being explored by the super-majority." "There is such disdain, such animus, such disgust with queer people, Indigenous people, people that don't fit in within their vision of what Montana is," he said, "they're now weaponizing the institutions to exclude us." During last month's debate of a GOP bill to ban gender-affirming care for youth (because it's definitely the most vital issue facing the state), Zephyr was silenced when she argued GOP perpetrators would have "blood" on their hands" in the bill's tragic fallout. Afterwards, hundreds of outraged protesters showed up to chant, "Let her speak!" Capitol police in riot gear were deployed, seven people were arrested, and the GOP majority voted to ban Zephyr from the House floor for using "uncalled-for language."
Nevertheless, she persisted: Along with Montana's ACLU, Zephyr sued, arguing her censure violated her 1st Amendment rights, denied the right of her constituents to "just representation," and was a "direct threat to the bedrock principles that uphold our entire democracy." She endured vicious harassment: Bigots taunted and misgendered her; mockingly posted pre-transition photos though she'd never hidden she was transgender; and, when her partner trans journalist Erin Reed announced she'd been "swatted" - calling in a SWAT team against an innocent target - the vitriol on "self-caused hate crimes" was savage: "Oh poor victim...On today's episode of 'Things That Didn't Happen'...What a narcissist." Meanwhile, a rabid GOP forged ahead with its anti-trans health bill, which the governor's own non-binary son denounced as "immoral, unjust (and) a violation of human rights." They also passed an anti-drag bill so vague - no "parodic persona with glamorous or exaggerated costumes and make-up" - it could bar music concerts, Shakespeare plays, Halloween costumes and Lady Gaga.
After her banishment - though Speaker Matt Regier tried to stop her - Zephyr began working on a bench outside the chamber; an orange Post-It note declared the ad-hoc office Seat No. 31, her desk on the Floor. "I am here working on behalf of my constituents," she wrote, "as best I can given the undemocratic circumstances." This week, a judge put an abrupt end to the standoff by barring her return to the House, ruling he couldn't interfere with "legislative authority." The GOP called the decision "a win for the rule of law"; Zephyr slammed it as an "affront to democracy...(The) House is the People's House, not Speaker Regier's." At the same time, wives of GOP legislators began arriving early each day to park themselves on the bench Zephyr had been using; photos show them mean, smug, sneering like the racist crowds that met the Little Rock Nine and lunch counter warriors of the civil rights era. The resilient Zephyr calmly moved to a nearby lunch counter, where - irony alert - she stood. "Seat 31 has moved," she tweeted. "I'm up and ready to work. Plus, I hear standing desks are all the rage these days."
But her supporters were enraged by petty, hateful "Christo-fascist bigots" with such a "small, sad life." "Imagine telling your family, 'I'll be gone all day because I have to oppress (someone) my religion doesn't like,'" wrote one. Also, "JFC, did they tell her to get to the back of the bus too?" They swiftly organized revolving crews into a "Blue Bench Brigade" to arrive early each day, claim the spot, and "make sure @ZoAndBehold (is) surrounded by kind people who support her." Many celebrated the small, sweet action: "This. is. awesome" and "I never thought we'd be fighting over a bench, but here we are." A grateful Zephyr thanked the "lovely friends who saved me a spot" so "seat 31 is back to its home-away-from-home"; she thanked "folks who brought me the earrings and corsage," "everyone who sent flowers," those whose "love and support filled that room...I am carrying your kindness with me." When the Legislature abruptly adjourned, she was still in the hall, yet still sanguine: "Despite all the cruelties, I believe people saw a glimpse of what our country can be if we stand up for democracy & one another." A glimpse, just barely. God bless Zephyr's strength: She - we all - will need it.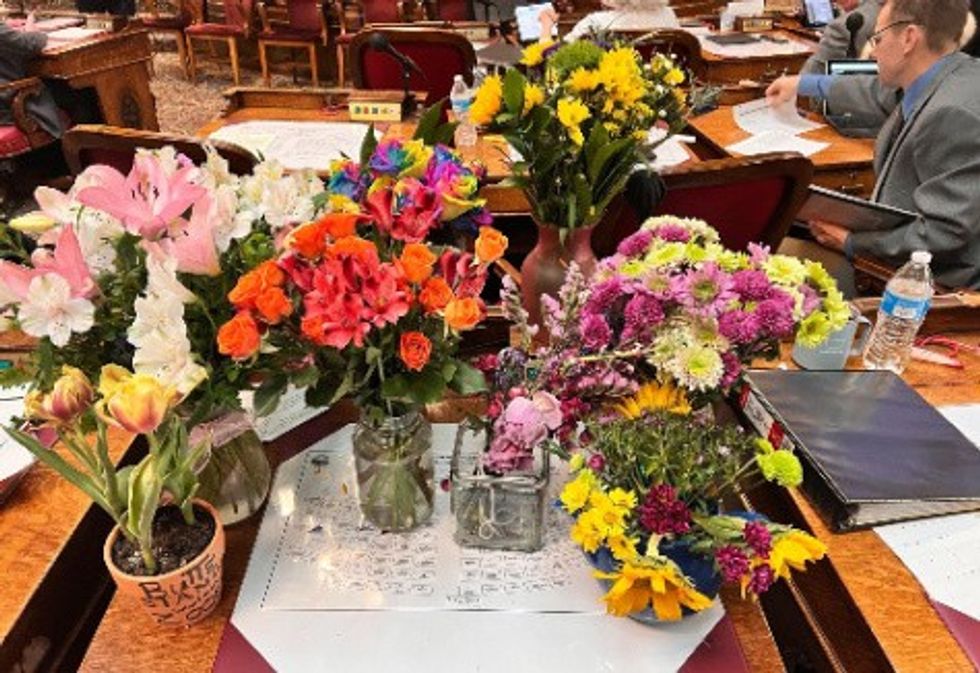 She remained banned, but Zephr's desk overflowed with flowers sent by supporters.Twitter photo.
We've had enough. The 1% own and operate the corporate media. They are doing everything they can to defend the status quo, squash dissent and protect the wealthy and the powerful. The Common Dreams media model is different. We cover the news that matters to the 99%. Our mission? To inform. To inspire. To ignite change for the common good. How? Nonprofit. Independent. Reader-supported. Free to read. Free to republish. Free to share. With no advertising. No paywalls. No selling of your data. Thousands of small donations fund our newsroom and allow us to continue publishing. Can you chip in? We can't do it without you. Thank you.